Just about everyone loves this Classic Southern Deviled Eggs Recipe without vinegar. It's always one of the first things to go at any cookout or gathering.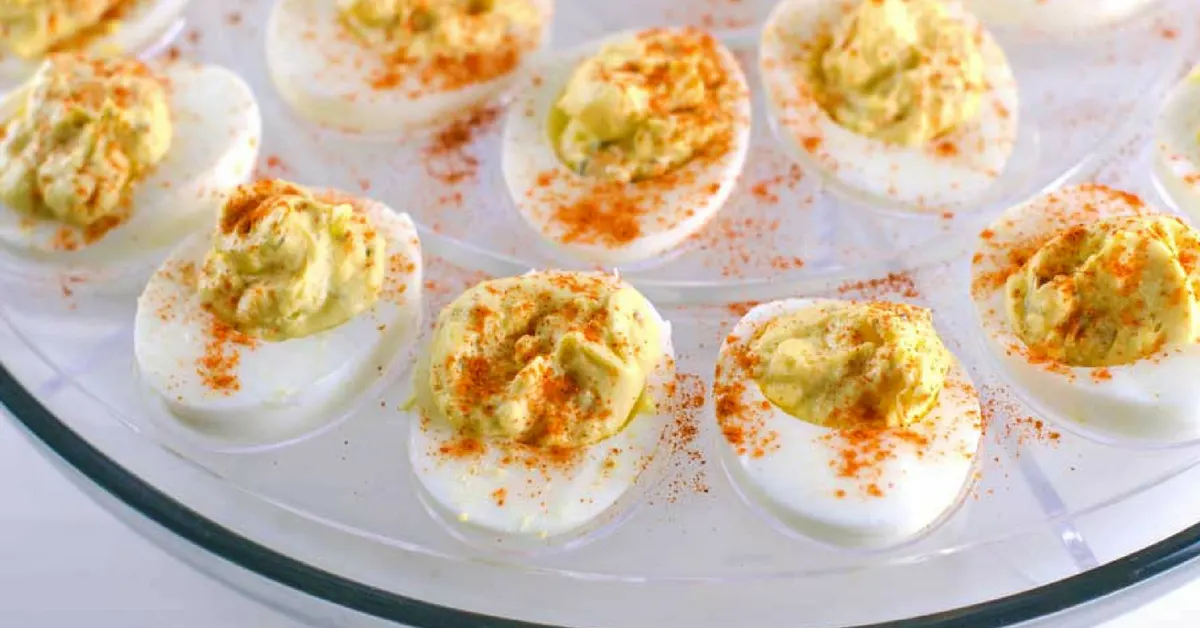 Deviled eggs are a requirement at any southern gathering whether it's a holiday, birthday, family reunion, or cookout for no reason at all.
Did you know deviled eggs are loved so much there's even a National Deviled Egg Day on November 2nd?
They're commonly served with BBQ items like ribs along with potato salad since you have to hard-boil eggs anyway.
Some of you may be wondering why this traditional Southern deviled eggs recipe doesn't have vinegar in it.
I've found over the years that some southern families use vinegar, but many also don't.
My mother actually made hers with both vinegar and sugar.
They were good but I was never a fan as it was always too soupy and just didn't need the sugar, so I make mine without either.
Jump to:
Ingredients
The ingredients to make deviled eggs are pretty simple, cheap, and pantry friendly. The only fresh item you need is eggs.
Large eggs, hard-boiled and shell removed
Mayonnaise - Duke's Mayo is the traditional southern mayo to use but I also like Hellmann's
Pickle relish - I prefer using dill pickles but sweet relish is fine if you prefer it
Pepper - I think using white pepper looks a bit nicer in the filling
Garlic powder (optional)
Paprika (optional) - I usually use a smoked paprika
See the recipe card below for quantities.
Instructions
Making deviled eggs is pretty simple too. The main thing people struggle with is the first step.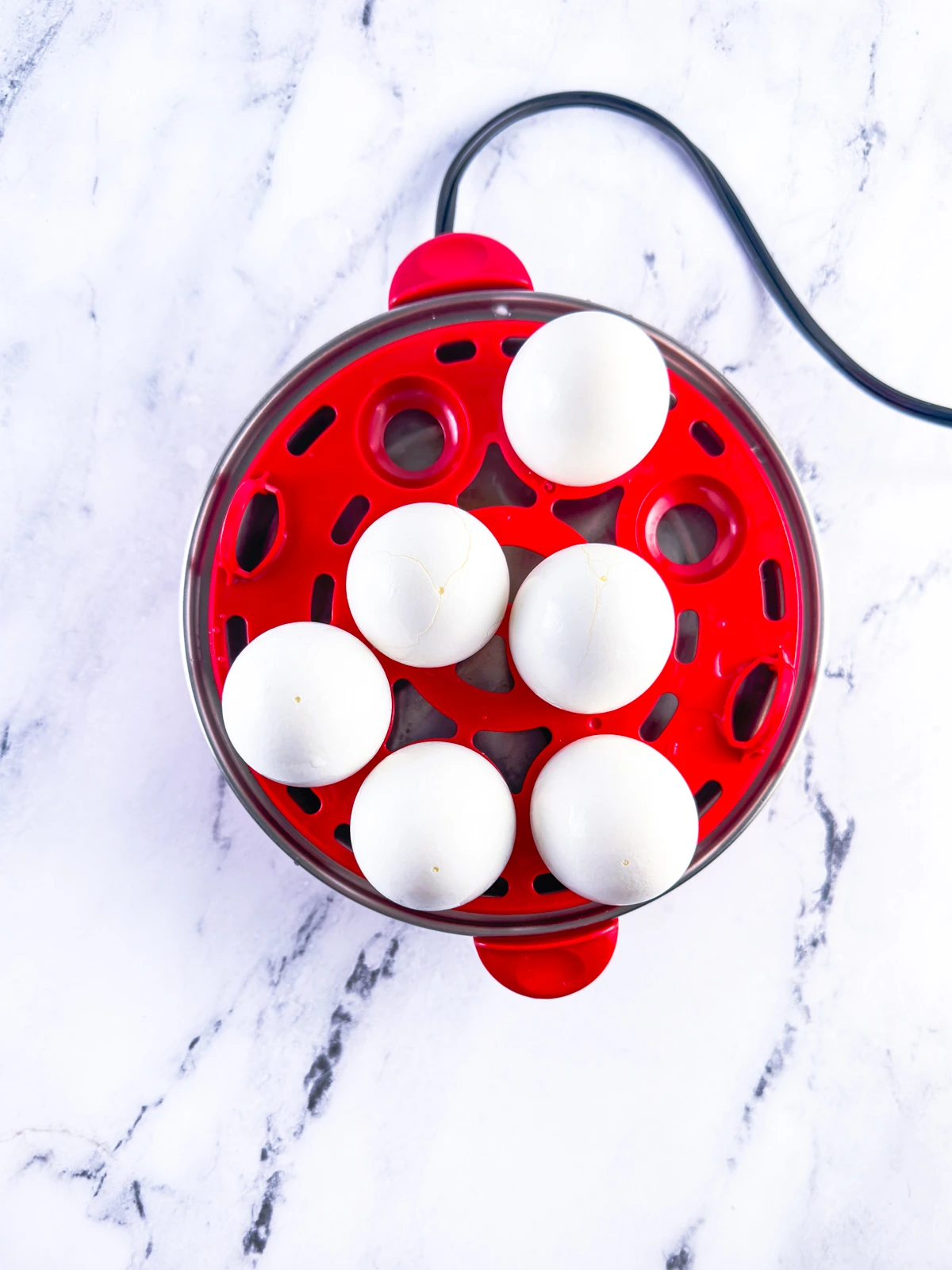 Hard boil your eggs. I take the guesswork out by using my DASH Rapid Egg Cooker.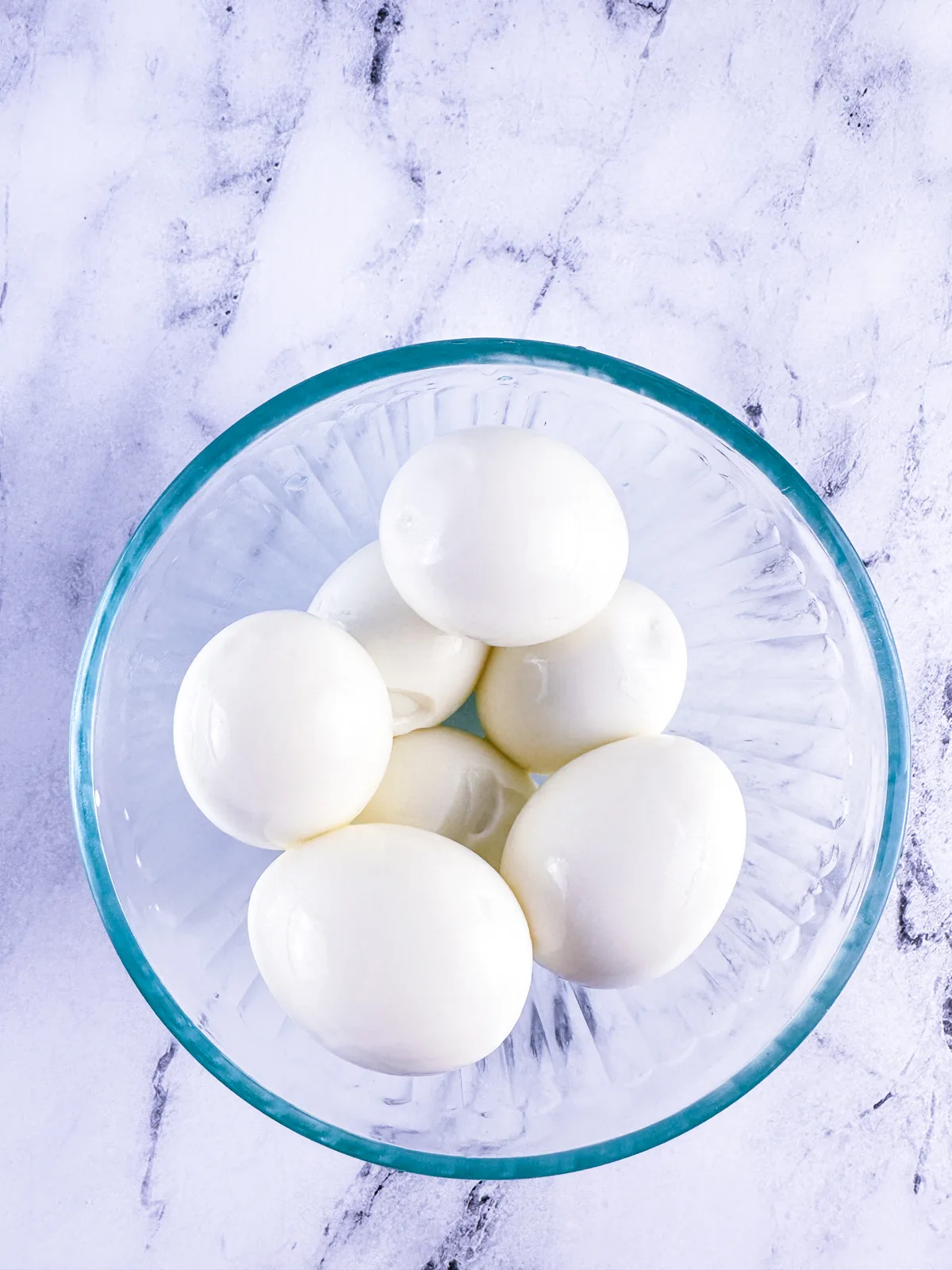 2. Peel your hard-boiled eggs.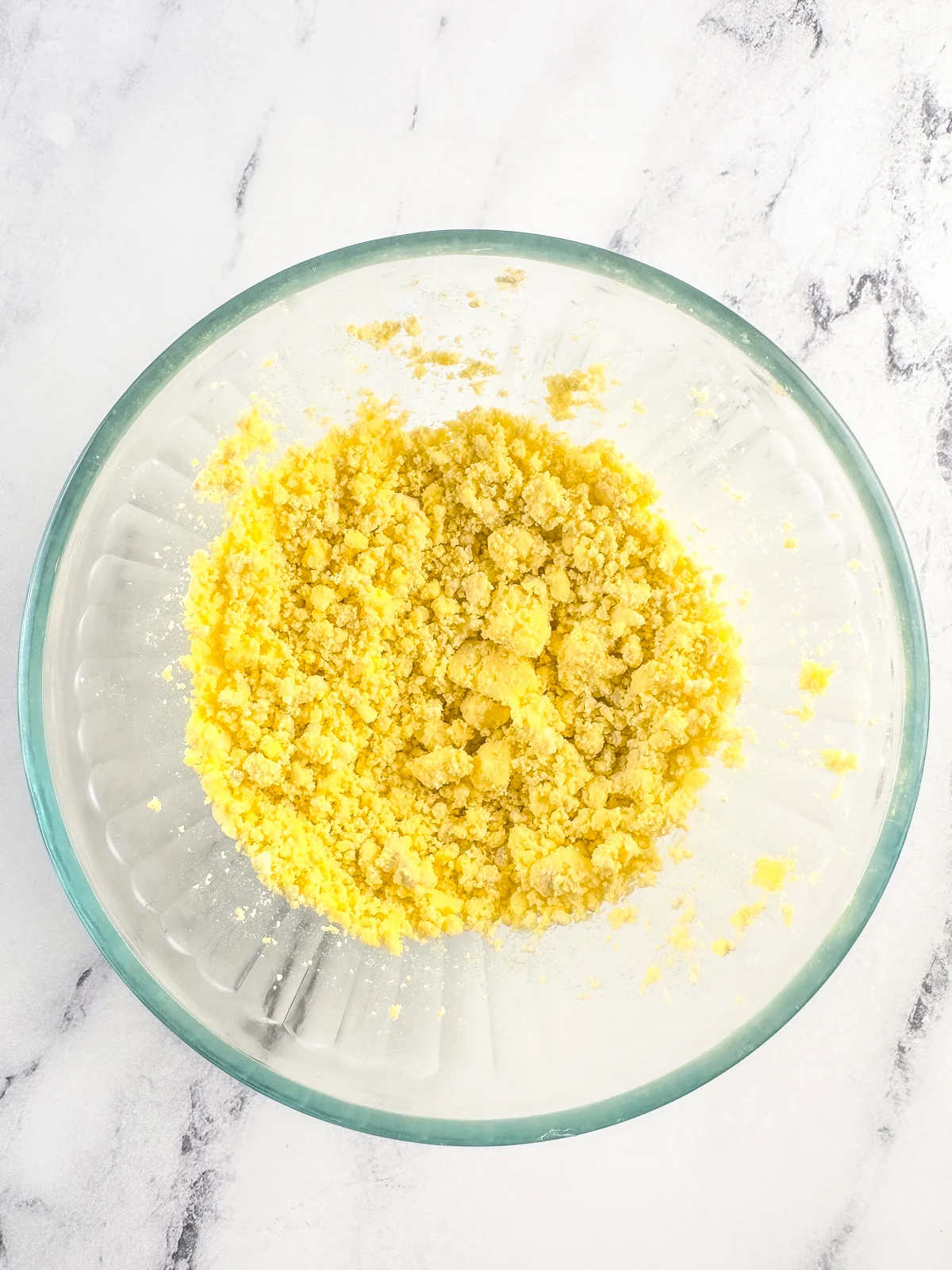 3. Cut eggs in half lengthwise. Chop the egg yolks finely into a bowl. I like using a fork. Place the egg white halves aside into a deviled egg platter or other serving dish.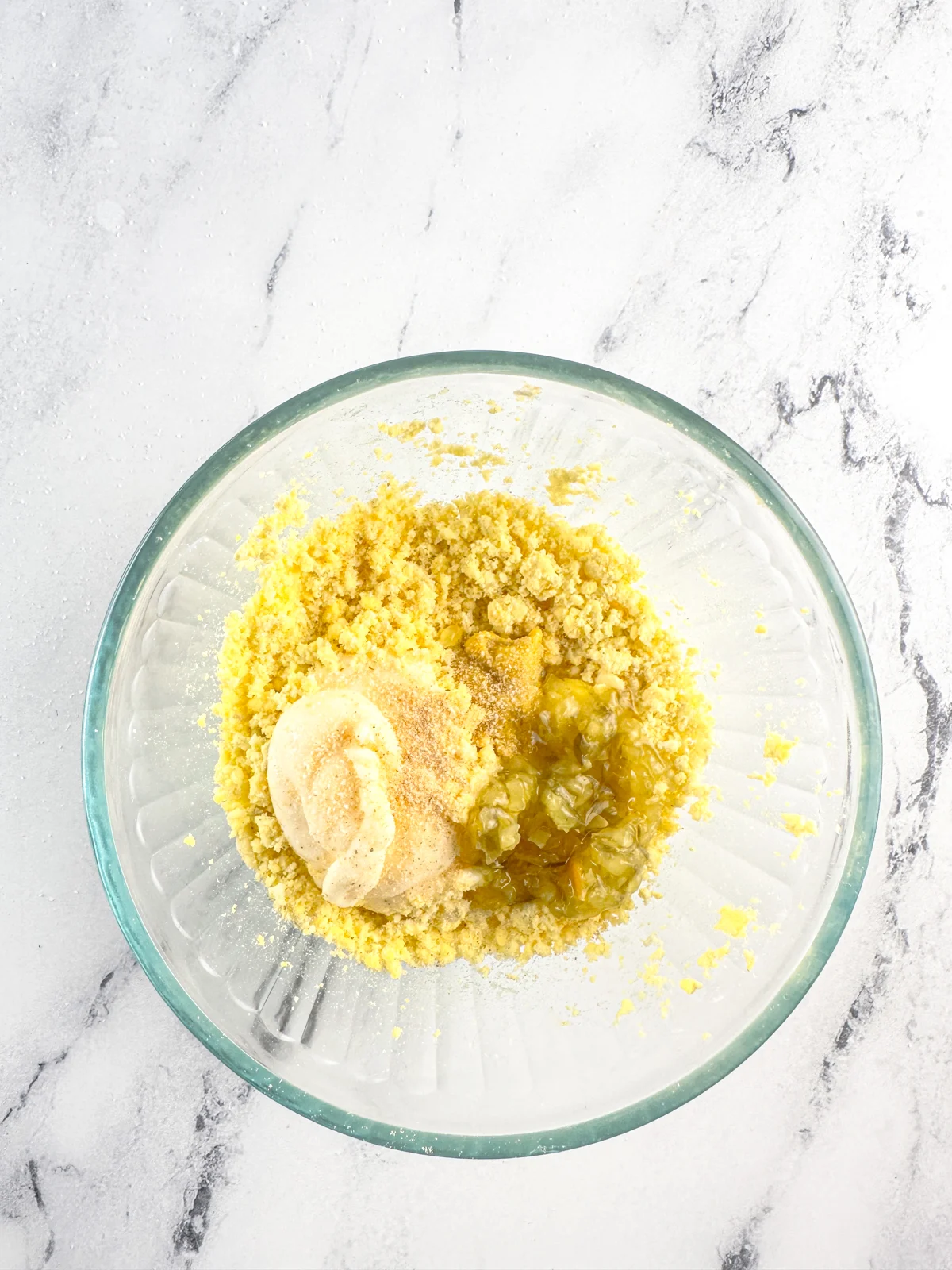 4. Add mayo, mustard, relish, onion powder, salt, pepper, and garlic powder to the yolks.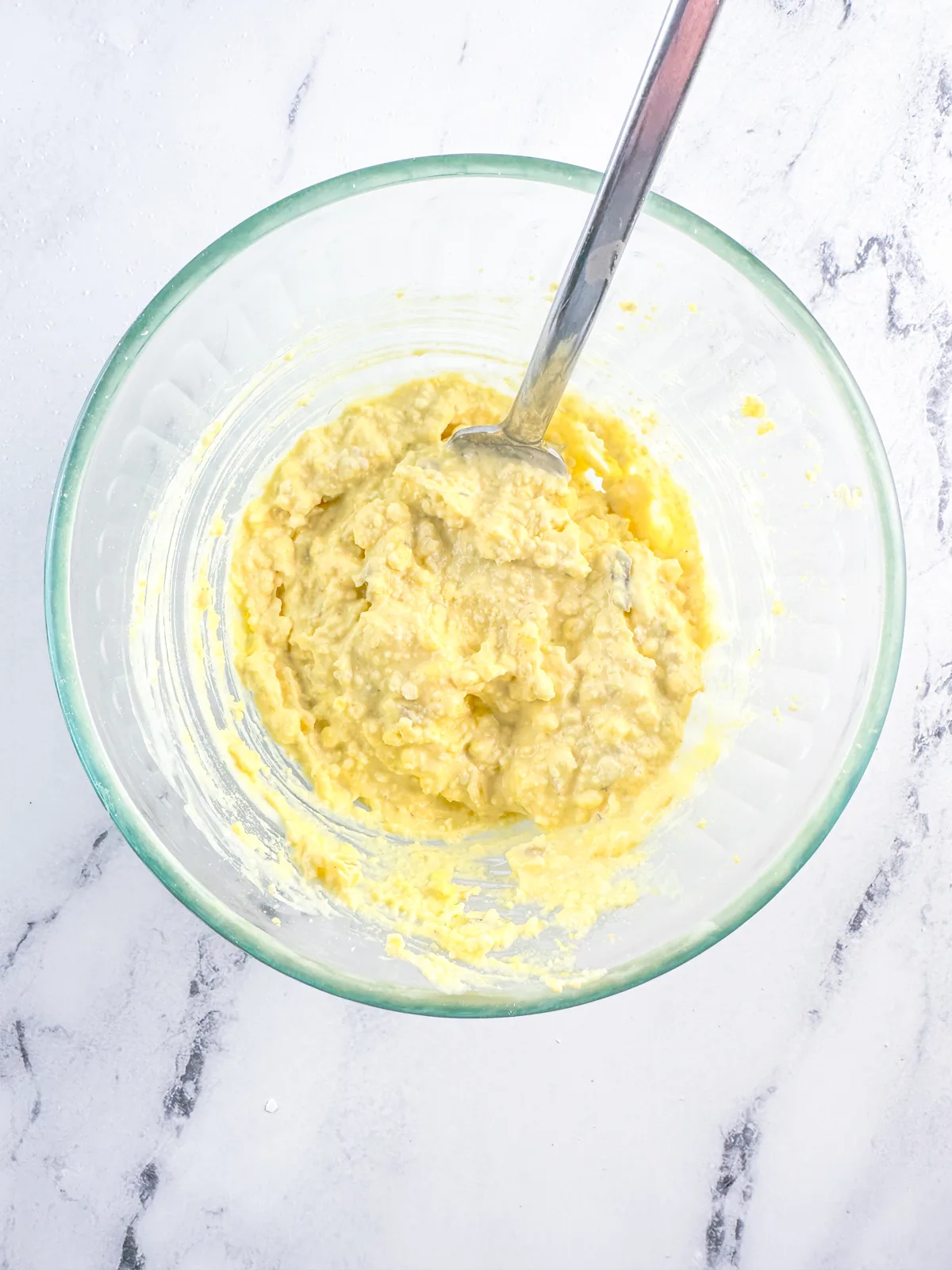 5. Mix everything together thoroughly until you have a creamy filling. If it's too dry, add just a touch more mayo. Taste for seasoning.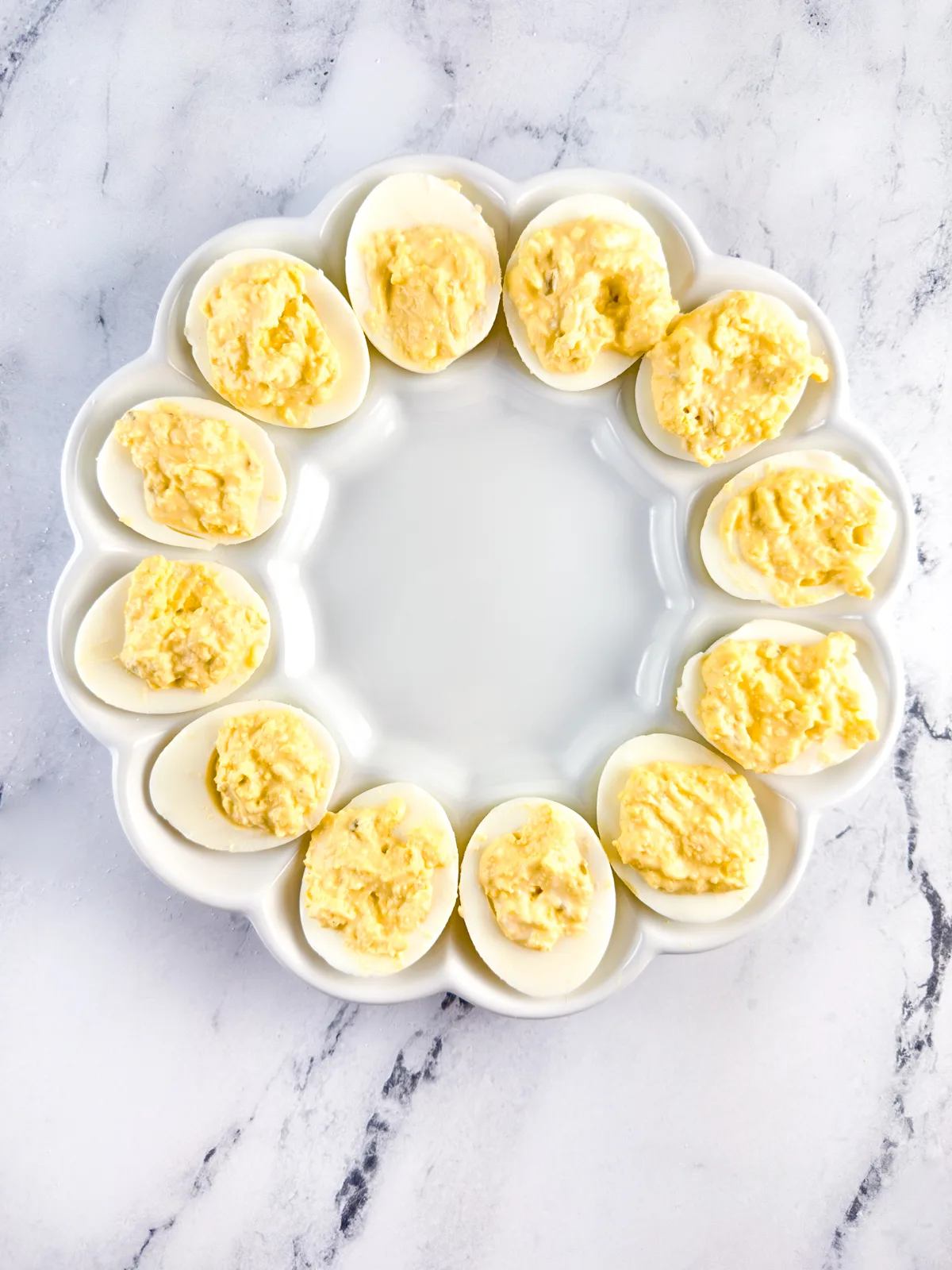 6. Pipe or spoon into the egg halves.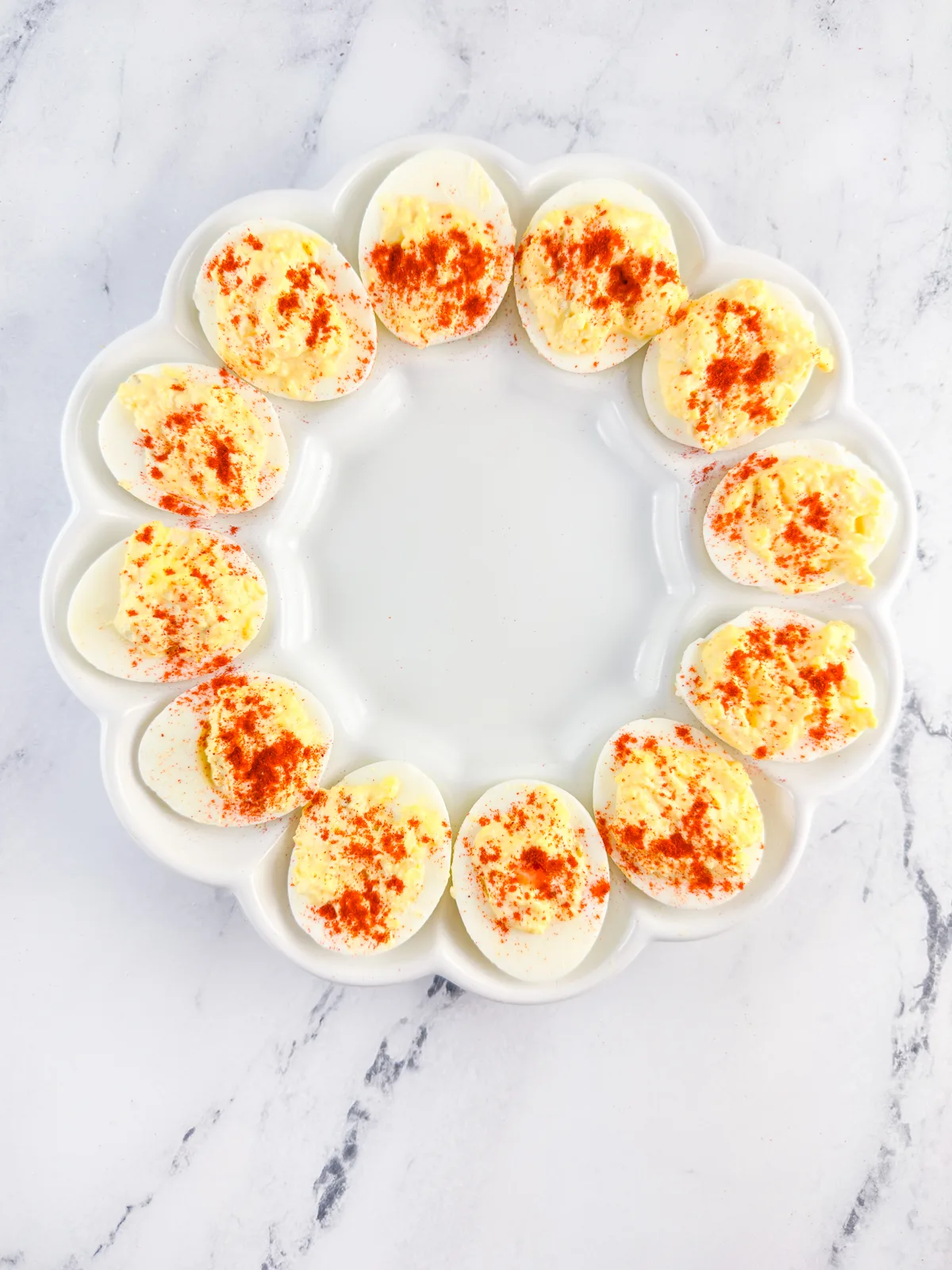 7. Add a sprinkle of smoked paprika or cayenne to the top if desired. Refrigerate if not serving immediately. I do suggest covering them if not serving within an hour or two.
Hint: If you're piping the filling into the eggs here's an easy way to fill deviled eggs without a mess.
Place the middle of your piping bag, or just a plastic ziptop bag, into a glass or mug, leaving the edges spread down around the top of the cup.
This way you don't have to worry about doing funky arm yoga positions while trying to fill the bag.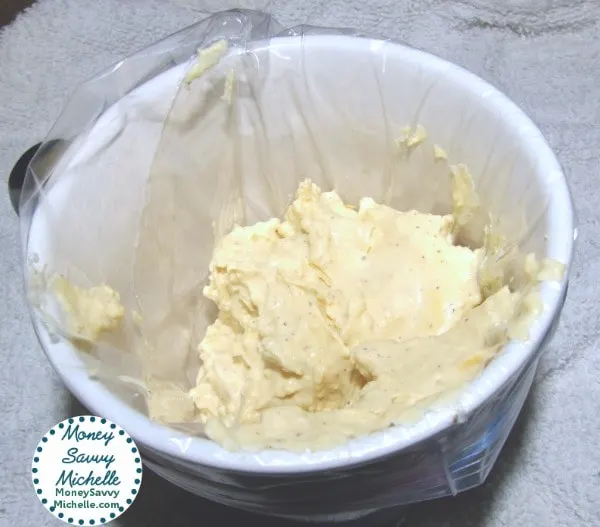 Then spoon your filling into the bag, and remove the bag from the cup.
Push all the filling into one lower corner of the bag if using a zip-top bag and snip off just the tip of the corner to use as a piping bag.
Remember it needs to be small enough that gobs of the filling don't come out at once but large enough that the relish bits can come out.
You can even mash all the ingredients together in the bag, but I do find the filling mixes together better in a bowl first.
Substitutions
Relish - If you don't have pickle relish you can just finely chop up some of your favorite pickles.
Mayo - You can use Miracle Whip if you must. Greek yogurt would probably work too.
Onion - I like the texture of onion powder in this recipe but you can also use dried onion flakes or finely chopped fresh onion if preferred.
Keto/Low Carb - These are already pretty low carb, just make sure the mayo or relish doesn't have sugar. Duke's mayonnaise shouldn't have sugar and you can chop up your own pickles for the relish if need be.
Variations
Deviled eggs are very versatile. Here are some variation ideas.
Spicy - Use cayenne powder instead of paprika on the deviled eggs and add a couple of dashes of hot sauce or even sriracha into the filling.
Kid-friendly - Some kids may not be a fan of the pickle bits. If you still want pickle flavor you can use some pickle juice instead. You may need to use less mustard to make sure it doesn't get too soupy.
For more ideas check out my recipe for Bacon Deviled Eggs along with 50 Mix-In and Topping Ideas for Deviled Eggs.
Equipment
Here's what I use to make my favorite deviled eggs.
Storage
If you aren't serving your deviled eggs immediately they should be refrigerated.
If you're serving them within a couple of hours, I wouldn't bother covering them. If it will be longer, I'd cover them so they don't dry out
They should last in the refrigerator for 2 to 3 days.
You can certainly make and refrigerate them the night before to have less work to do the day before a family gathering, etc.
Top tip
Worried about green rings on your egg yolks? If you find them, that means you over-cooked your eggs.
The Dash cooker really helps with this but the best tip for this is to immediately put your eggs into ice water once they're done cooking.
This not only immediately stops the cooking but also usually makes them easier to peel.
If you don't have ice available, you can at least put cold tap water in a bowl and stick it in your fridge or freezer to chill down while the eggs cook.
Then peel the eggs as soon as they are cool enough for you to safely and comfortably handle.
FAQ
Should I use older eggs or fresh eggs?
Some say older eggs peel easier. I'd agree with that from experience, but older eggs also seem to have more indentions on the tip after cooking that don't exactly make for nice-looking deviled eggs so I opt for fresher eggs.
What are deviled eggs called in the South?
Some prefer to not associate food with the word devil so they are sometimes called stuffed eggs or salad eggs.
Is it better to make deviled eggs the day before or the day of serving?
Either is fine. If you have a lot more food to make the day you want to serve them it's totally okay to make them the day before and refrigerate. Here's a highly rated covered deviled egg container to store them in the fridge.
Can I boil my eggs in advance?
Yes, you can boil your eggs a day or two before. I'd still immediately cool them down after cooking, and peel them too. You can choose to cut and separate the white and yolk or wait until you make them, but refrigerate them either way.
What can I put in the middle of a deviled egg tray?
Most trays have an empty spot in the middle that looks rather bare. You can fill it with more deviled eggs, or small appetizers like olives, pickles, or cubes of cheese. Placing a bowl of potato salad is also common where I'm from.
Related
Looking for more Southern recipes like this? Try these:
Pairing
These are my favorite dishes to serve with deviled eggs: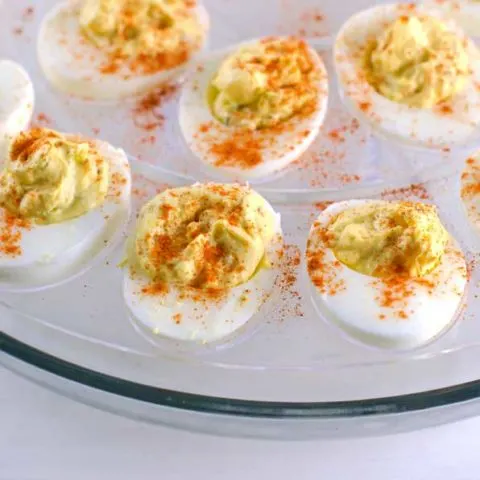 Classic Southern Deviled Eggs Recipe
This classic southern deviled egg recipe is quick and easy to make with everyday ingredients.
Instructions
Slice peeled hard boiled eggs in half, placing yolks into a small bowl and the whites onto a plate or serving dish.
Mash yolks with a fork.
Season with salt, pepper, and garlic, if desired.
Add in mayo, mustard, onion, and pickle relish.
Mix until thoroughly combined and taste for seasoning. If you want a creamier mix - add a bit of mayo, if you want it to be a bit more tart – add a bit of mustard.
Spoon or pipe filling into egg whites.
Sprinkle deviled eggs with paprika or cayenne, if desired.
Cover and refrigerate until serving. Refrigerate any leftovers for up to 3 days.
Notes
I do sometimes use extra-large eggs in this recipe and use 6 eggs instead of 8.
Nutrition Information:
Yield:

16
Serving Size:

1 egg half
Amount Per Serving:
Calories:

52
Total Fat:

3g
Saturated Fat:

1g
Trans Fat:

0g
Unsaturated Fat:

1g
Cholesterol:

93mg
Sodium:

33mg
Carbohydrates:

3g
Fiber:

0g
Sugar:

1g
Protein:

4g
Food safety
Here are some general food safety tips when making deviled eggs.
Don't leave deviled eggs sitting at room temperature for an extended period of time - no more than 2 hours, 1 hour if the temperature is above 90°F
The USDA says hard-cooked eggs can be refrigerated for up to 7 days as long as they are refrigerated within 2 hours (source)
Remember that your refrigerator should be set to 40°F or below and can be checked with a refrigerator thermometer