Just about everyone loves this Southern Style Deviled Eggs Recipe. It's always one of the first things to go at any cookout or gathering.
November 2nd is National Deviled Egg Day - since that's months away and I use my Southern Style Deviled Eggs recipe SO often during the spring and summer months for appetizers and sides at all the cookouts and gatherings, I knew I had to share it now!
Related: 10+ Tip for Stress-Free Holiday Entertaining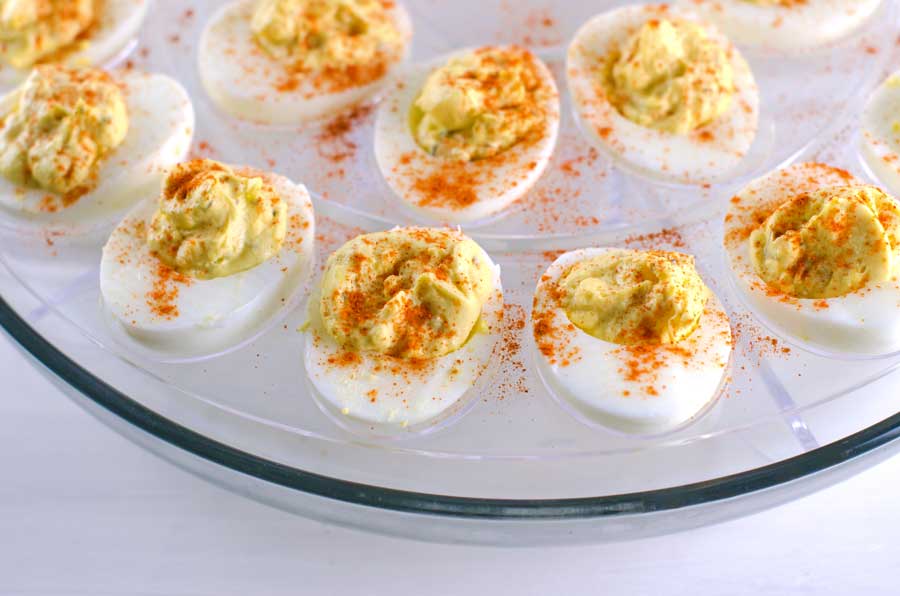 Some of you may be wondering how this can be a Southern deviled eggs recipe without having white vinegar and sugar in it. I've found that it's really not needed and you can get an excellent flavor from just mustard and mayo.
Plus, I remember my poor mom making a recipe with sugar and vinegar many times during my childhood. It was good, but more often than not the filling would end up as soup instead of having a pipeable structure.
Southern Style Deviled Eggs Recipe
Also, if you hate filling the whites for deviled eggs, here's a handy trick for how to fill deviled eggs without a mess. Just take a plastic sandwich bag and press the middle of the bag into a coffee mug and then spread the edges of the bag down around the top of the cup.
This way you don't have to worry about doing funky arm yoga positions while trying to fill the baggie. Then spoon your filling into the baggie and remove the baggie from the cup.
You can also add all the ingredients to the baggie and smash them together, but I find things get mixed up better and I can taste test and add seasonings more easily if I mix in a bowl first.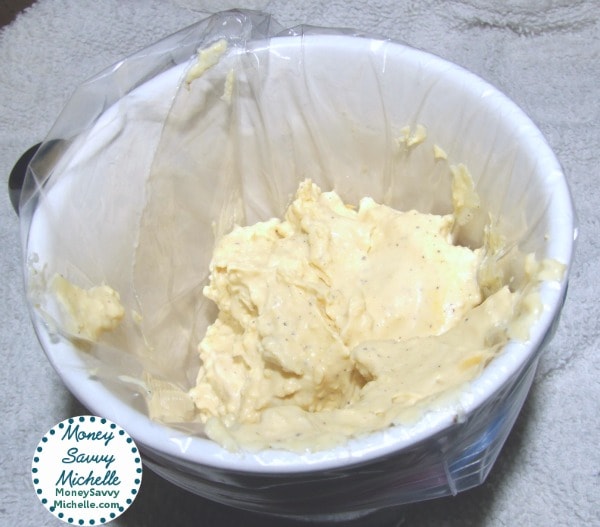 You'll then want to push all the filling to one lower corner of the bag and twist the top portion of the bag until it looks similar to an icing or decorating bag. Just snip off a small portion of the corner and you're good to go.
Just remember to make the hole small enough so you don't have gobs of filling coming out all at once, but big enough that any onions, pickles, etc. that you mixed in can come out. Simply pipe the filling into the egg whites - it's much easier and a whole lot less messy than spooning in the mixture!
Can This Southern Style Deviled Eggs Recipe Be Made Low Carb?
Yes, these are already pretty low carb deviled eggs. To make sure they are as low as possible, use mayo that doesn't have sugar.
Southern staple Duke's mayonnaise is a good choice for this if you don't do homemade. Also make sure your pickle relish has no sugar, which means you will probably want to use a dill relish or chop up your own pickles.
To further reduce carbs you can omit the onion and garlic, but with the amount used they don't add a lot of carbs but certainly add a ton of flavor.
These are some of my must-have products to make the best deviled eggs. I especially like the serving tray because it can be used for both deviled eggs, chips or veggies & dip, etc.
Anchor Hocking Presence 3-Piece Multi-Use serving Tray-Deep Serving Tray with Egg Insert and Veggie Insert
Ziploc Sandwich Bag, 90 Count
Heinz Dill Relish, 26 Ounce
McCormick Cayenne Pepper, 14 oz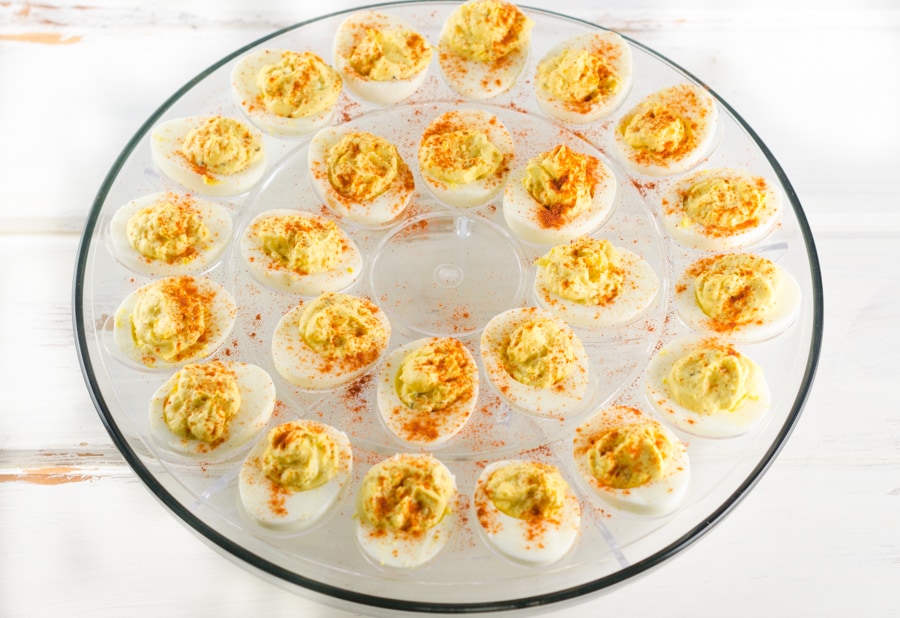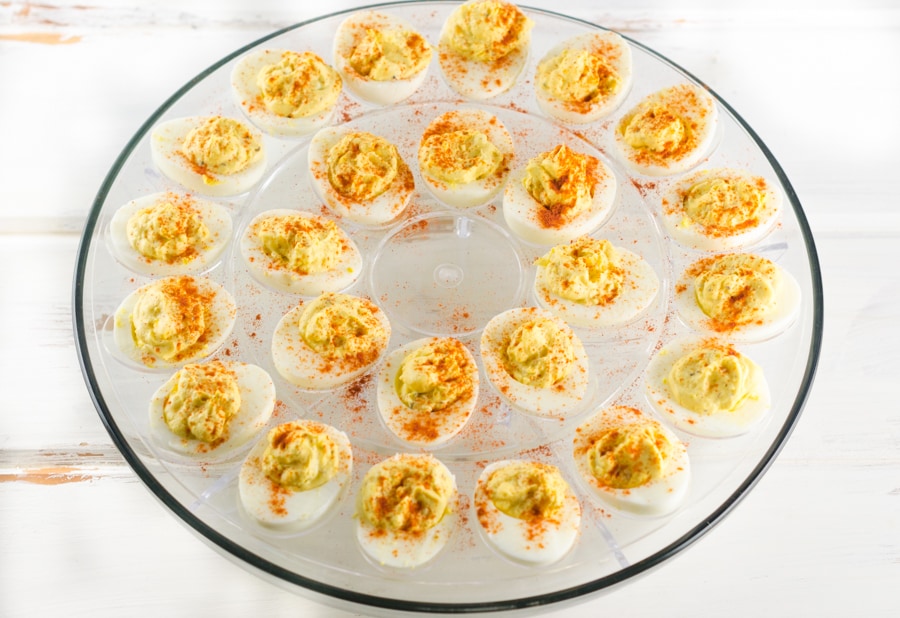 Our favorite recipes to serve these deviled eggs with:
Looking for more topping ideas for deviled eggs? Check out our list of 50 mix-ins and toppings for deviled eggs!
More Deviled Egg Recipes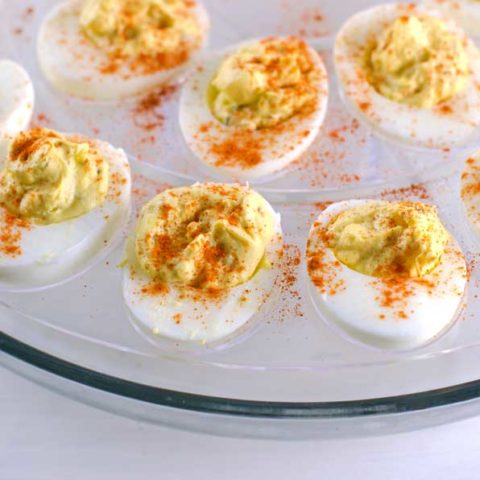 Southern Style Deviled Eggs Recipe
This southern deviled egg recipe is quick and easy to make with everyday ingredients.
Instructions
Slice peeled hard boiled eggs in half, placing yolks into a small bowl and the whites onto a plate or serving dish.
Mash yolks with a fork.
Season with salt, pepper, and garlic, if desired.
Add in mayo, mustard, onion, and pickle relish.
Mix until thoroughly combined and taste for seasoning. If you want a creamier mix - add a bit of mayo, if you want it to be a bit more tart – add a bit of mustard.
Spoon or pipe filling into egg whites.
Sprinkle deviled eggs with paprika or cayenne, if desired.
Cover and refrigerate until serving. Refrigerate any leftovers for up to 3 days.
Notes
I do sometimes use extra-large eggs in this recipe and use 6 eggs instead of 8.
Nutrition Information:
Yield:

16
Serving Size:

1 egg half
Amount Per Serving:
Calories:

52
Total Fat:

3g
Saturated Fat:

1g
Trans Fat:

0g
Unsaturated Fat:

1g
Cholesterol:

93mg
Sodium:

33mg
Carbohydrates:

3g
Fiber:

0g
Sugar:

1g
Protein:

4g