This classic Southern hot dog slaw recipe is crisp, cold, and creamy. It's the perfect summer side dish or sandwich topper.
I'm pretty certain that creamy coleslaw is a popular side dish all across the states. Here in the South, though, it sometimes feels like we put it on everything, too.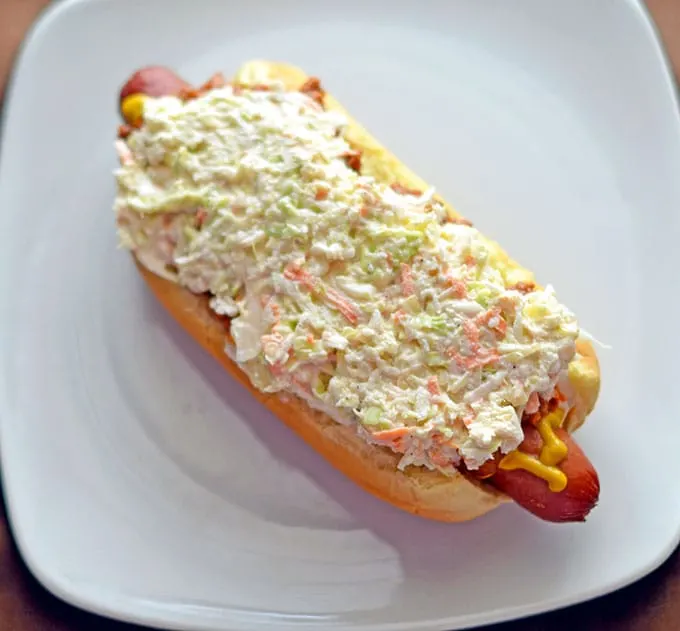 While there are all types of coleslaw recipes out there, I've always been partial to this buttermilk coleslaw recipe that goes perfectly on hot dogs, but also pulled pork and burgers too.
I grew up in North Carolina where Carolina-style hot dogs (also called Carolina slaw dogs or southern slaw dogs) were the most popular way to eat a hot dog.
You take your favorite hot dog, stick it in a toasted bun, then top it with hot dog chili made with ground beef (no beans), this coleslaw, chopped raw onion, and a squeeze of yellow mustard.
You can use a grilled hot dog, boiled hot dog, or pan-fried. Either way, I think it makes for the perfect hot dog.
After making this homemade coleslaw so much I have to admit I just don't care for the premade grocery store stuff anymore.
Jump to:
Ingredients
Shredded cabbage - can use all green cabbage or a mix of green and purple (red); if you want a really fine slaw that is common in the south you can hand grate or chop the cabbage and carrot to a finer consistency with a food processor
Shredded carrot
Finely chopped Onion
Mayonnaise - Duke's mayo is a common brand used in the South
Buttermilk
Sugar
White vinegar
Salt
Ground black pepper
Garlic powder
Instructions
1. Once you have your cabbage, carrot, and onion prepped, put the onion, mayonnaise, buttermilk, sugar, vinegar, salt, pepper, and garlic powder, if using in a large mixing bowl.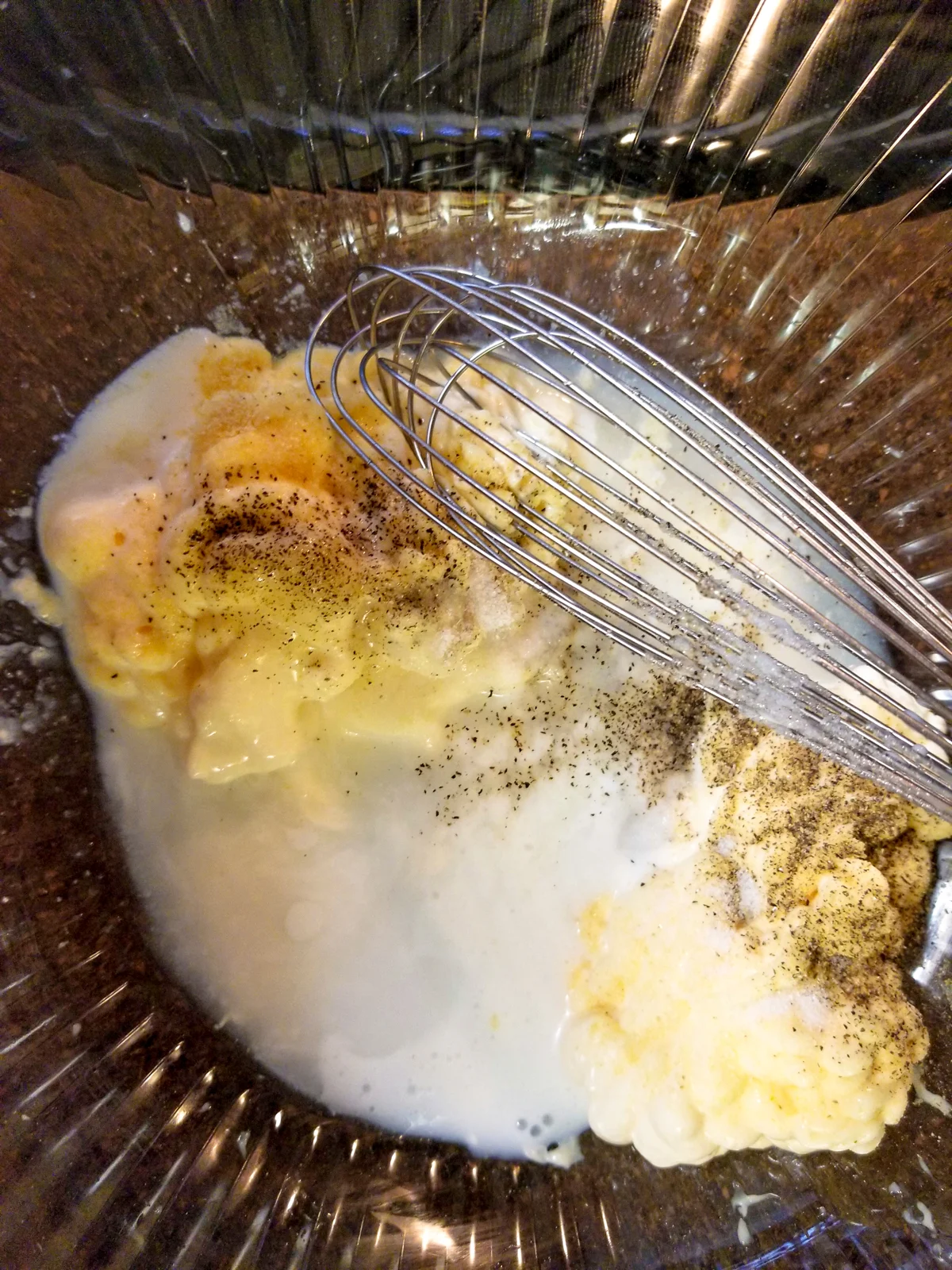 2. Whisk the coleslaw dressing ingredients together until thoroughly combined for a creamy dressing.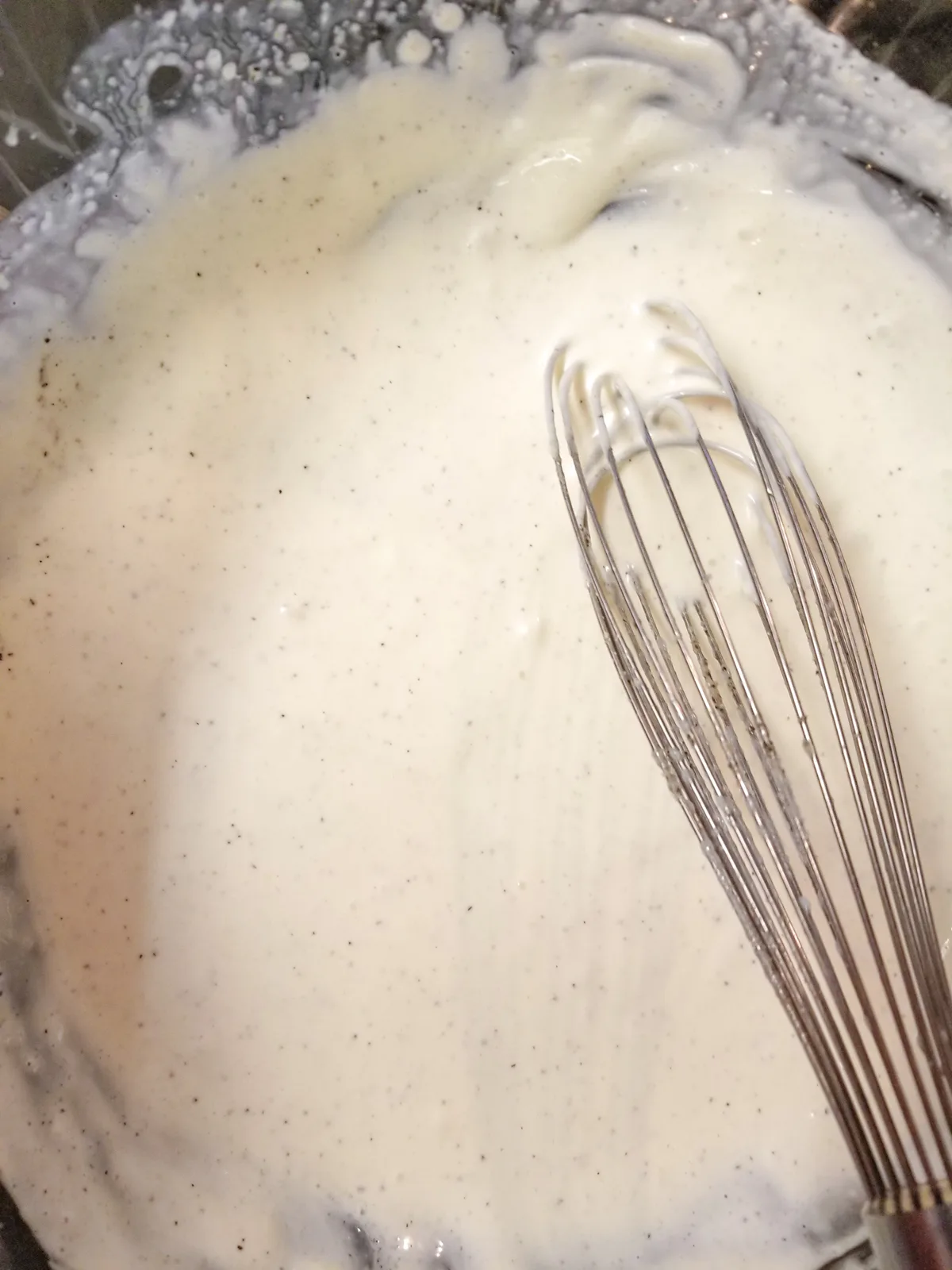 3. Add half of the cabbage mixture to the dressing. Mix to combine. Add in the rest of the vegetables and mix until everything is evenly coated.
Taste for consistency and flavor. Add in a splash of vinegar if you want it tarter.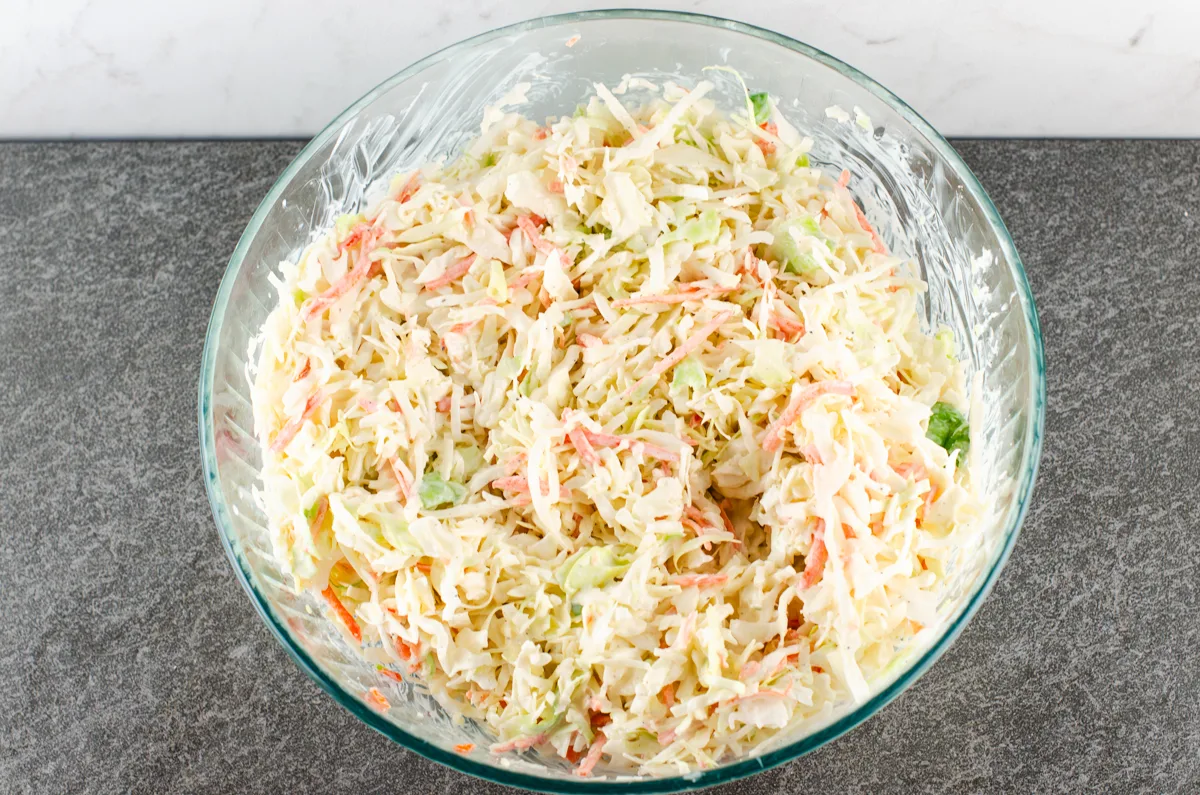 4. Cover and refrigerate for at least a couple of hours or overnight to allow the flavors to marry. Give another stir before serving.
Hint: Keep in mind that as the hot dog slaw sits in the fridge it will break down a bit and become creamier. You may want to wait to add more mayonnaise until just before serving so it doesn't get too wet if you initially think it's too dry.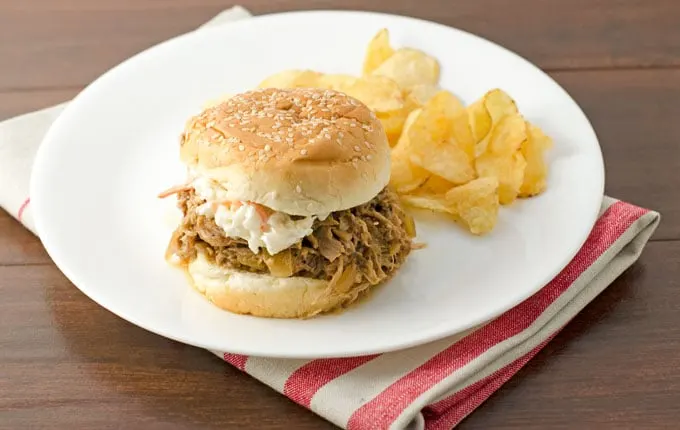 Substitutions
To make preparation quicker, use a bag of pre-shredded coleslaw mix instead of shredding your own cabbage and carrot. A 1-pound bag is preferable, but 14 oz or so bags are more common these days.
Onion powder can be used instead of fresh onion as well as fresh garlic instead of garlic powder.
If you don't like mayo, you can use Miracle Whip, just don't let me know (laughing). I haven't tried it, but I think Greek yogurt could also work well, potentially with using less vinegar as it may be too tart
Don't have buttermilk? You can instead use milk or half and half and add an additional splash of vinegar
Apple cider vinegar can be used instead of the traditional white vinegar
You can turn this into a lower-carb slaw by omitting the carrot and using a low-carb sugar substitute or leaving it out if it's not too tart for you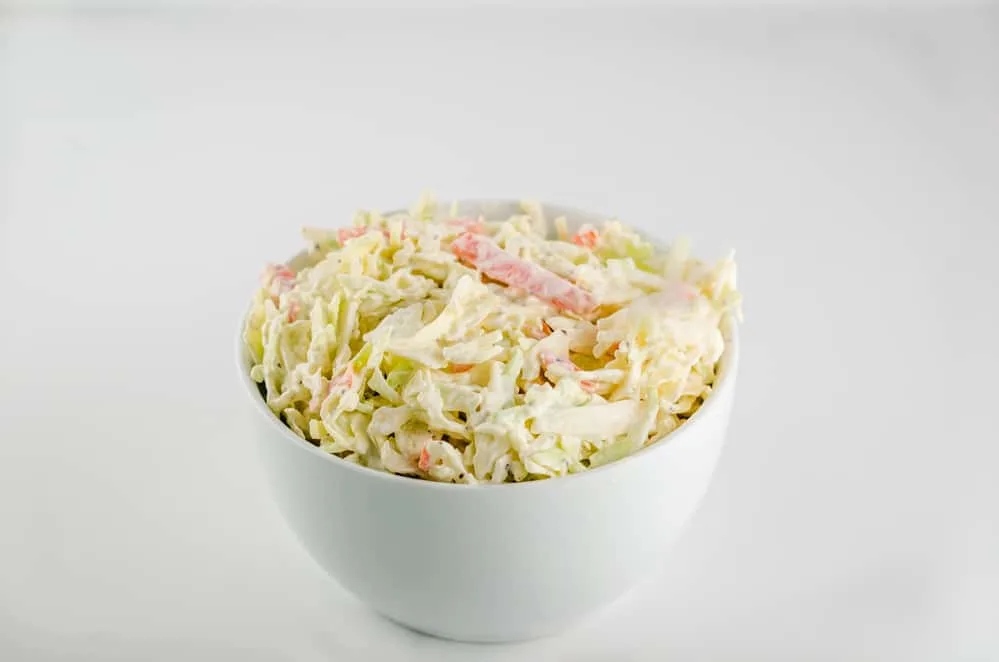 Variations
Looking to change things up a bit?
Spicy - Add in a pinch of cayenne or a drizzle of sriracha sauce
Herbs - Add some of your favorite fresh chopped herbs like parsley or dill or some chopped green onions
Equipment
Here are some of the items I like using to make this coleslaw.
I have had a version of these mixing spatulas for over 10 years without them falling apart. I like the spoon type as they can even be used for serving.
I love these Pyrex mixing bowls, especially the large bowl, as you don't have to dirty multiple dishes and they also have lids to go straight into the refrigerator.
A quality whisk is useful for getting the dressing thoroughly mixed together.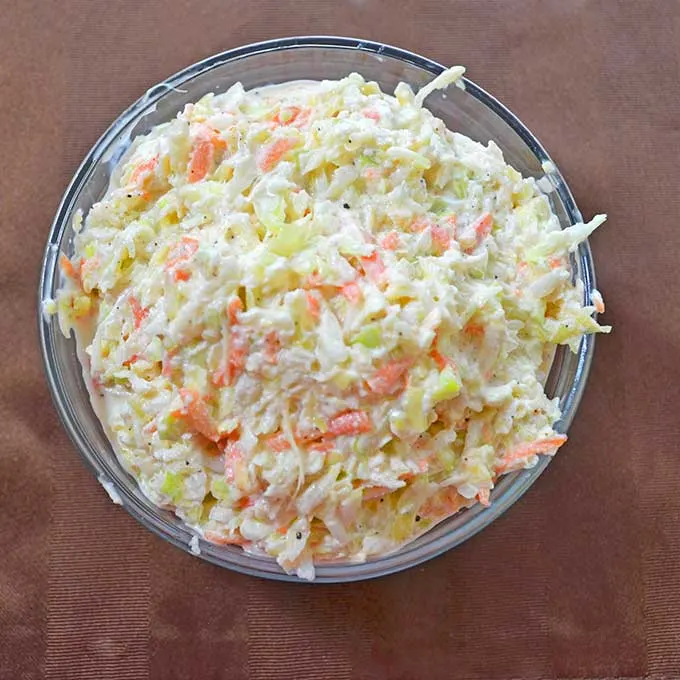 Storage
As per the USDA, food should never be left out of refrigeration for more than 2 hours, less if the temperature is above 90°F.
As long as it's kept at the proper temperature and covered, slaw should be okay for up to 3 days in the refrigerator.
Keep in mind that cabbage is mostly water and that the dressing will slowly bring the water out the longer it sits.
While the slaw is best after sitting in the fridge for a while for flavors to marry, you can also expect it to start getting more watery after the first day.
Related
Looking for other similar side dishes like this? Give these a try:
Pairing
These are my favorite dishes to serve with this coleslaw.
Chili and slaw are perfect together on a hot dog, while slaw is a great topper for a pulled pork sandwich or a side dish for ribs and grilled meats.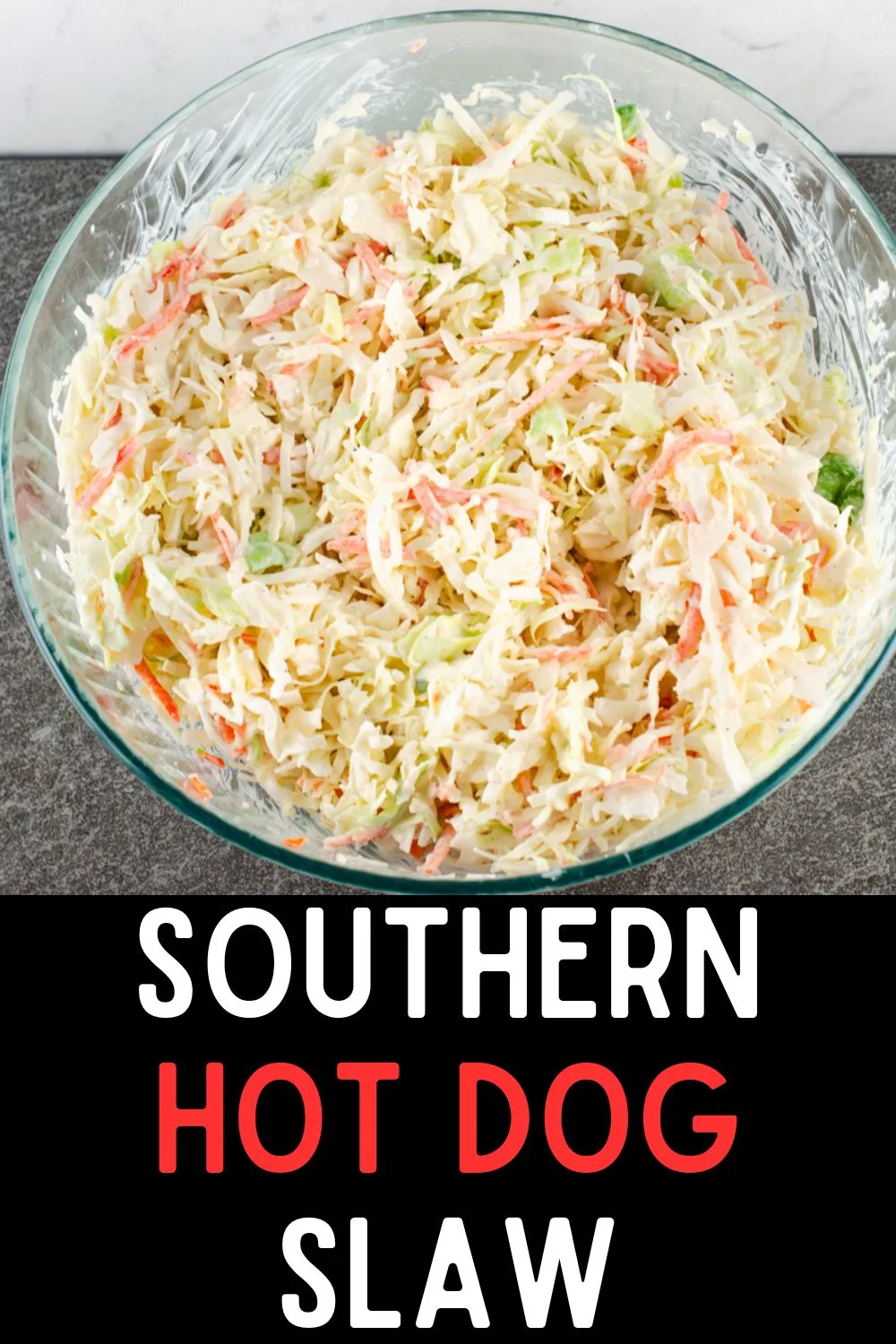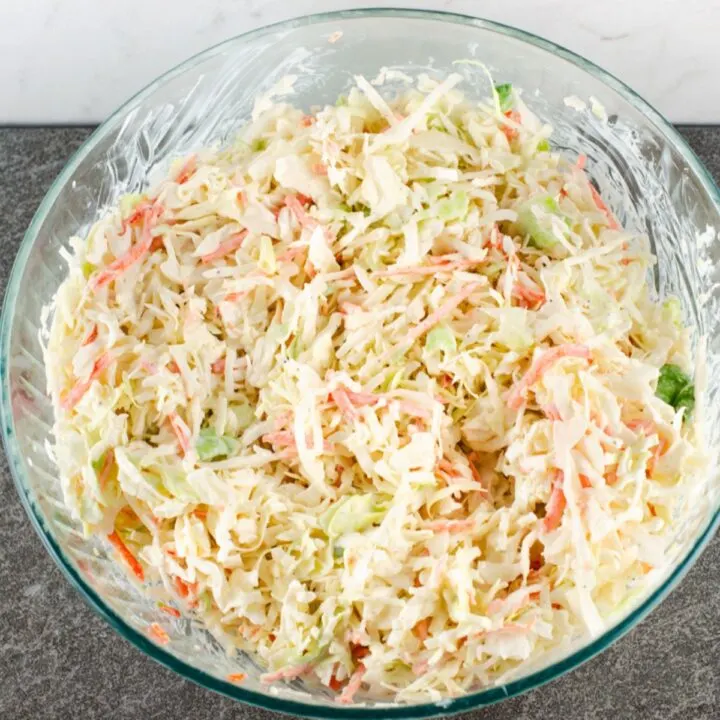 Southern Hot Dog Slaw Recipe
Total Time:
2 hours
5 minutes
This Southern Hot Dog Slaw is a classic hot dog topper or side dish with its creamy refreshing flavor.
Ingredients
1 lb shredded cabbage (or use 1 14 - 16 oz package coleslaw blend)
1 large carrot, shredded (skip if using packaged blend)
2 Tablespoons finely chopped onion
2 Tablespoons buttermilk
Instructions
In a large mixing bowl, mix together 2 tablespoons of finely chopped onion, ½ cup mayo, 2 tablespoons buttermilk, ½ teaspoon sugar, 1 teaspoon vinegar, ½ teaspoon salt, ¼ teaspoon pepper, and ¼ teaspoon garlic powder, if using, thoroughly.
Pour half of the cabbage and carrots (or pre-shredded mix) over the dressing and mix until well combined. Then add the rest of the veggies and mix until the veggies are evenly coated.
Taste for seasonings and moisture, adding more salt/pepper/garlic, vinegar or mayonnaise, if needed. Keep in mind the slaw will usually get moister the longer it sits.
Cover and refrigerate for at least 2 hours or until serving.
Notes
Looking to change things up? Add a bit of spice with cayenne or dose of freshness with chopped fresh herbs or green onion.
Nutrition Information:
Yield:

6
Serving Size:

⅙th of recipe
Amount Per Serving:
Calories:

151
Total Fat:

14g
Saturated Fat:

2g
Trans Fat:

0g
Unsaturated Fat:

11g
Cholesterol:

8mg
Sodium:

185mg
Carbohydrates:

6g
Fiber:

2g
Sugar:

3g
Protein:

1g
Nutrition information may not be accurate. Nutrition information is calculated automatically by and provided by Nutritionix. Exact nutrition information depends on the specific ingredients, brands, and amounts you use.