Whether you're looking to grill some ribs, smoke a pork butt or cook just about any other cut of pork, this is hands down the best dry rub recipe for pork.
While I have a huge sweet tooth, one of my favorite things to eat is meat. Beef is probably my favorite meat to eat, but being from the south I love me some pork and will choose it over chicken any day.
Cooked properly, pork is full of juicy, tender flavor. These days pork is certainly leaner than it used to be so it can definitely stand up to some bold seasoning. Insert what I think is the best dry rub recipe for pork here.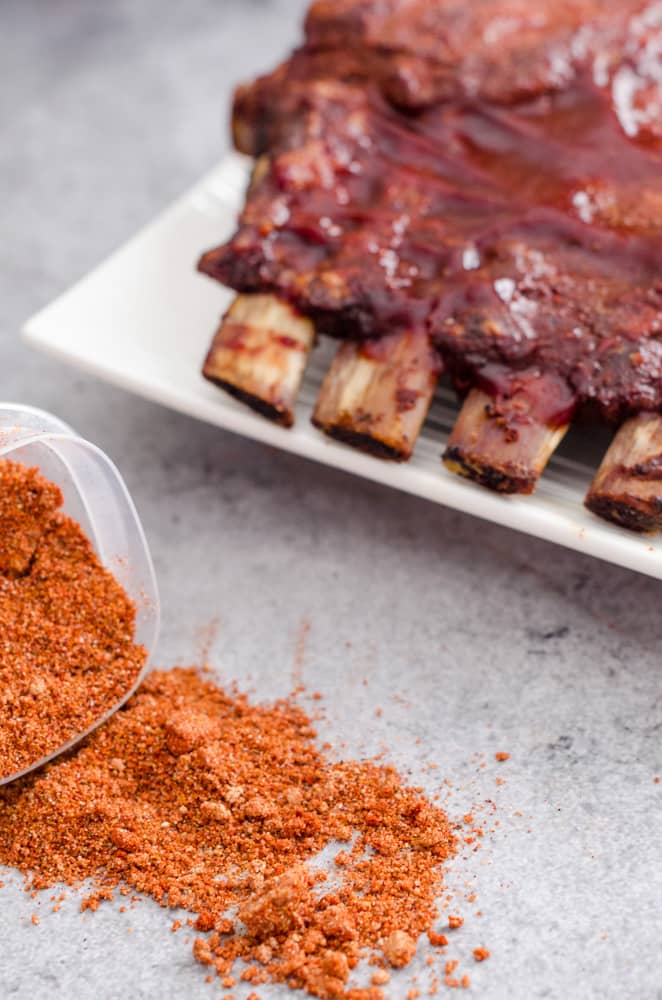 I put this together when I was trying to figure out the best way to cook ribs in the oven, which is something I'll share another day. Either way, this pork dry rub is something I now use not only on ribs, but also pork butt (like this super easy slow cooker pulled pork if I already have some made), chops, and even chicken and beef.
I love bursts of flavor so I will often pair this rub up with my favorite bbq sauce when serving. But, I like starting off with a dry rub for a few reasons.
Reasons To Use A Dry Rub
First, it's something you can make ahead and keep in an air-tight container among your other spices for up to around 6 months which is good for my always packed fridge. I especially like these spice containers because it can store this recipe as doubled, and has both a shaker and spoon side.
Anchor Hocking TrueSeal Glass Food Storage Containers with Airtight Lids, Green, 1 Cup (Set of 6)
Spice Containers 6 sets - 16 oz. clear plastic pet spice jars storage container bottles with red sifter spoon caps - 6 bottles with caps - plus white spice lablels
I also like dry rubs because I prefer adding sauces closer to the end of the cooking time as they have a tendency to burn. A rub also just seems to merry with the natural juices of the meat better to create a slight crust of spicy savory flavor you don't want to stop shoving into your mouth.
The Best Dry Rub Recipe For Pork
As far as flavor, this pork rub is really balanced. It's not too sweet but it's also not really spicy in that you need to have some milk on standby kind of way. It's a little sweet, it's a little savory and a seasoning I now always have in my pantry.
Wholesome Sweeteners, Organic Light Brown Sugar, 24 Oz
McCormick Paprika, 18.4 oz
McCormick Dark Chili Powder, 20 oz
Here's how to put this pork dry rub together.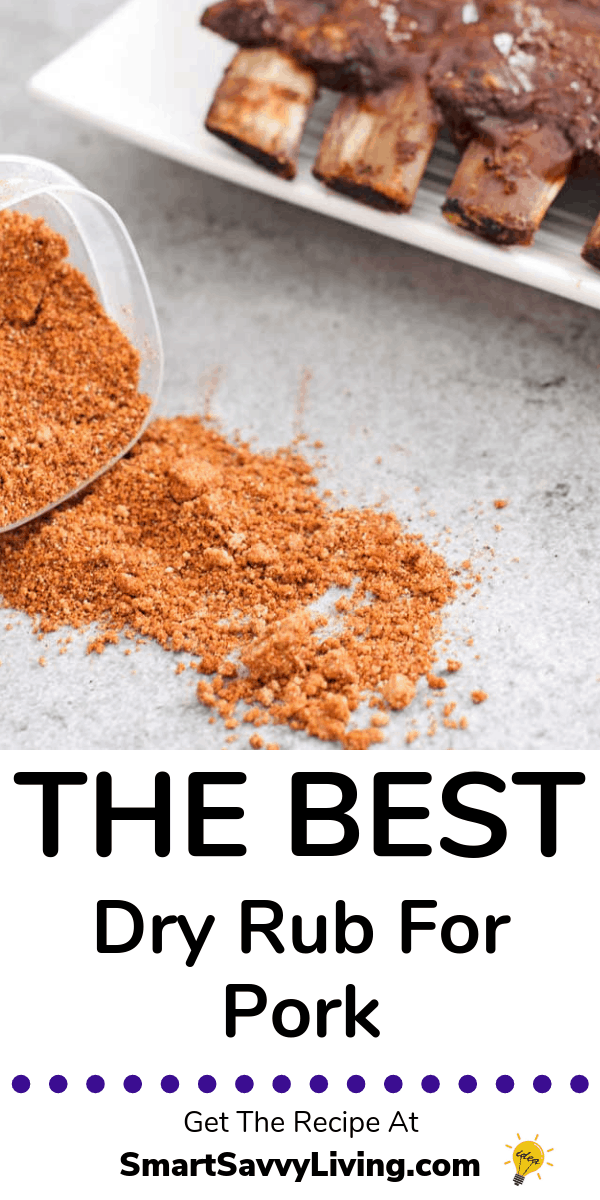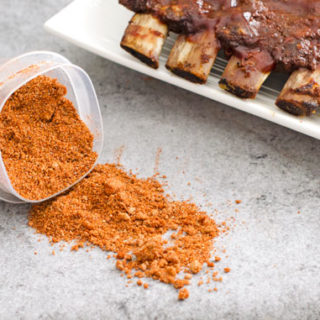 The Best Dry Rub Recipe For Pork
The best dry rub recipe for pork whether you're making ribs, chops or pulled pork.
Instructions
Whisk all ingredients together in a medium-sized bowl breaking down as many lumps as possible.
Store in an air-tight container at room temperature for up to 6 months.
Use: Sprinkle liberally over all sides of meat and rub in. This recipe makes the perfect amount of rub for 2 racks of pork ribs.
Nutrition Information:
Yield:

1
Serving Size:

1 Recipe
Amount Per Serving:
Calories:

604