This mustard potato salad recipe is a southern staple. It's great a great side dish to ham and at all your cookouts.
I love all sorts of fruit and vegetable salads all year long, but by the time summer rolls around I'm especially craving this mustard potato salad recipe. What's not to love when you combine potatoes, eggs, onions, mustard, mayo, and pickles, right?
I also love the versatility of being able to enjoy the potato salad warm or cold and have it be just as delicious. Did you know that if you put potato salad together while the potatoes are still warm, the potatoes will absorb some of the dressing and make it even more delicious?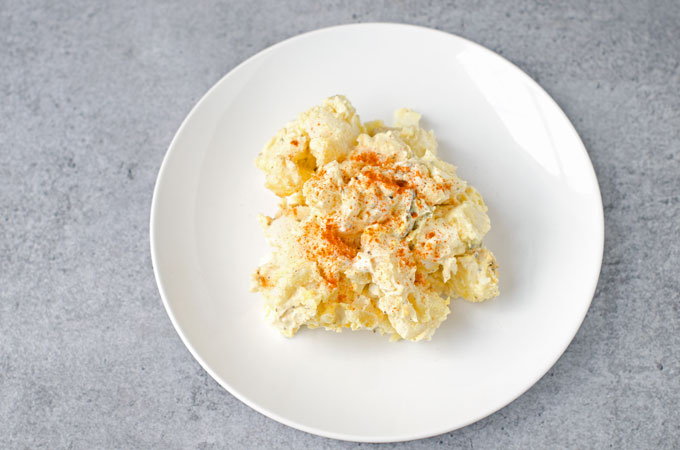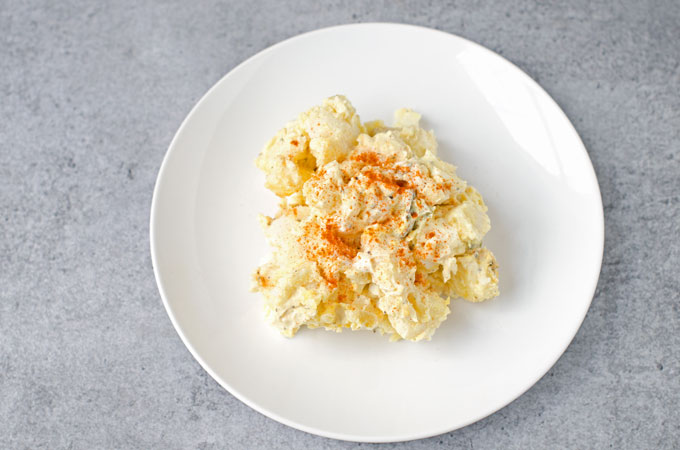 I'll even admit to sometimes having the potato salad leftovers in a sandwich or tortilla with a bit of cheese. Sounds weird, I know, but it's actually quite a tasty lunch.
Being a southern girl, I do love adding mustard and pickles to my potato salad and I find it adds such a yummy flavor pop. I know a lot of people like celery in their potato salad recipes as well.
I'm not personally a fan, but you can of course add some if you like. I do also like to add a bit of cayenne on top for a bit of a color pop and heat, but if you are making this with kids in mind or don't like spice, you can also substitute with the more classic paprika.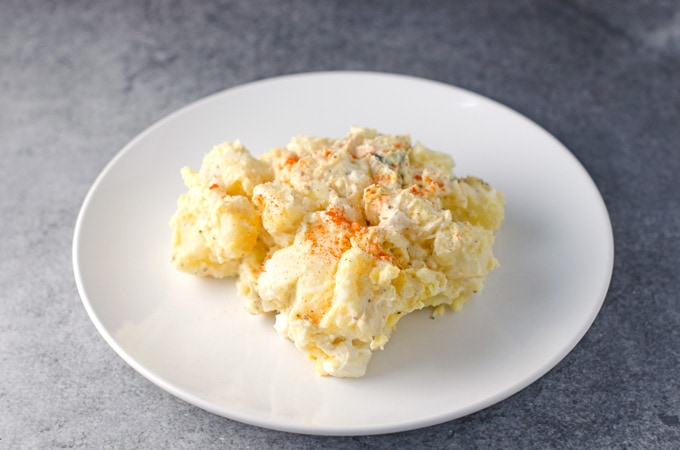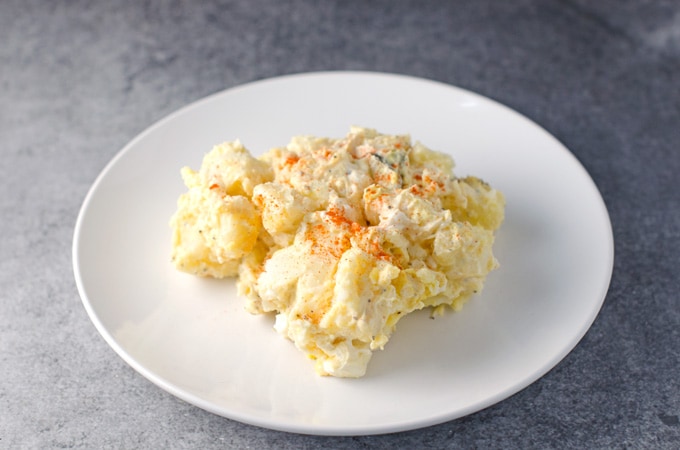 I've tried several potato salad recipes over the years but this my favorite mustard potato salad recipe that I always come back to. I feel like during the late spring and summer I make it at least once a month because we love it so much.
Note that the measurements are pretty flexible. We never seem to be able to cook the same amount of potatoes each time and everyone, of course, has different tastes.
Just start on the light side and add more as you taste. One of my top rules in the kitchen is to remember you can always add to but you can't take away from, and you want a really creamy potato salad, but not to the point that it's mushy.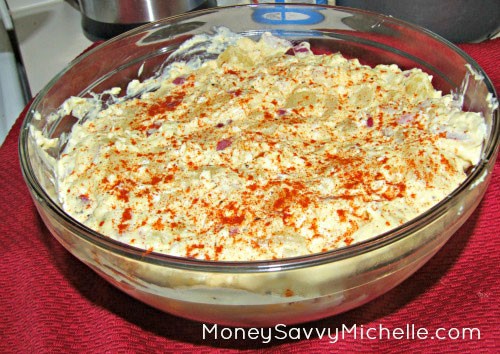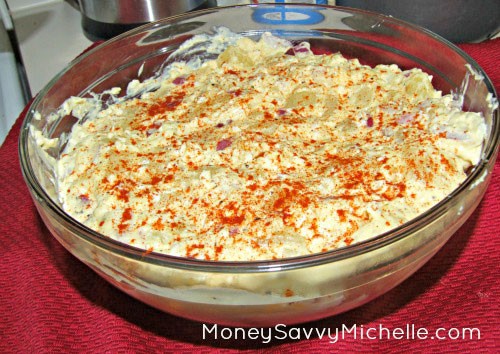 Recommended Equipment
Here are some of my favorite kitchen tools to use when making this mustard potato salad.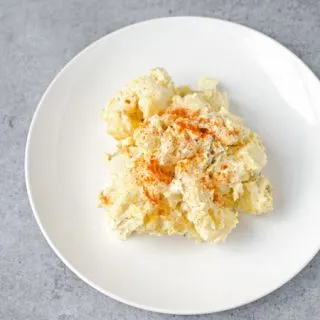 Mustard Potato Salad Recipe
This cookout classic potato salad has a couple extra ingredients for a change from the same old same old.
Ingredients
Potatoes of your choice - I like using red or Yukon golds ( depending on size, about 8 - 10 small, 4 - 6 medium or 2 - 4 large)
4 large eggs that have been hard boiled and peeled
½ - 1 cup mayonnaise
1 - 2 Tablespoons yellow mustard
1 small onion, diced (optional - can use whatever color you like most)
1 stalk celery, diced (optional - I don't add this, but I know a lot of people like celery in their potato salad)
1 - 2 Tablespoons pickle relish, I usually use dill (optional)
Salt, pepper, garlic powder, and paprika or ground cayenne pepper, to taste
Instructions
Rinse and scrub the potatoes. Peel potatoes, if desired, and cut into chunks of similar size. Place into pot of cold salted water, bring to a boil, and cook until fork tender.
While the potatoes are cooking, chop up your eggs in a medium to large bowl with a fork.
Starting with the low side measurements, add mayo, mustard, salt, pepper, garlic powder and onion, pickle relish and celery, if using, and mix until well combined. You can add to, but you can't take from.
Once potatoes are fork tender, thoroughly drain and immediately add to the dressing you just made and delicately mix. This allows the potatoes to soak up some of the dressing and get really flavorful.
Taste for moisture and flavor, adding more mayo, mustard, and seasoning as you like.
Sprinkle the top with cayenne or paprika if you're not a fan of heat.
Cover with container lid or plastic wrap and refrigerate until serving. Can also be eaten warm. I recommend stirring before serving as sometimes a bit of moisture can collect at the top.
Notes
Change up the flavor by adding different spices, peppers, bacon, etc.
Serve This Mustard Potato Salad Recipe With