Whether you have no grill or it's just raining or too hot or cold outside - here's an Easy Oven-Baked Barbecue Chicken Recipe!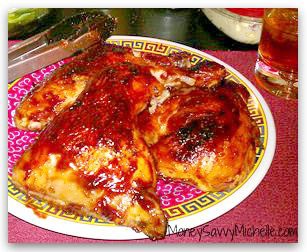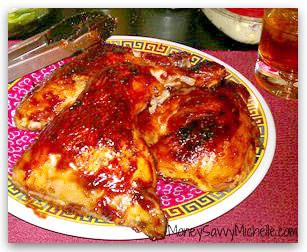 Some of my favorite Summer eats are salads, fresh fruit and barbecue anything with a nice tall glass of sweet iced tea or lemonade.
However, we aren't all lucky enough to have a grill or Mother Nature decides to rain on our parade - literally. What are we to do? Oven barbecue, of course!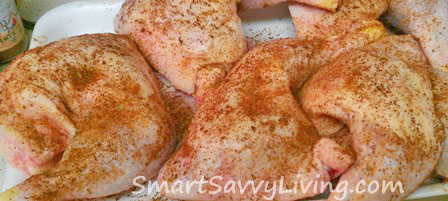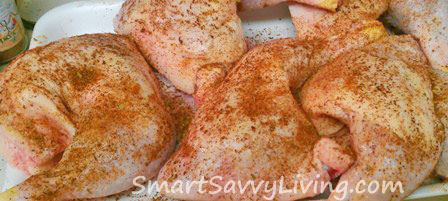 It may look like a lot of seasoning, but these are big pieces of chicken and some will come off during cooking.
The nice thing about this super easy oven-baked barbecued chicken recipe is that you can tailor it to your families' tastes and make a small or large amount very easily.
Prefer making your own bbq sauce or have a super secret family recipe for a barbecue rub? Feel free to use those instead!
Note that this recipe does brown the chicken first. You don't have to do this, but I much prefer a crispier rendered skin versus the tasteless flabby skin you sometimes get from just baking.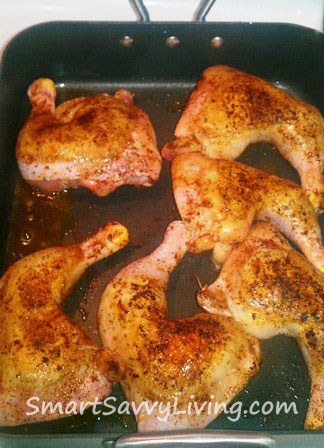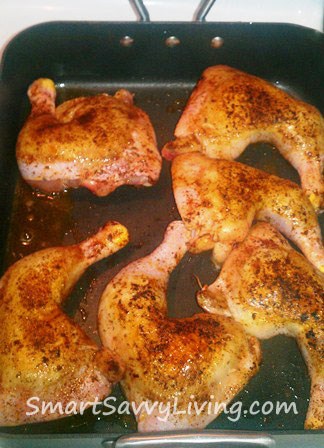 Doesn't browned skin just look more appetizing? I love having a good roasting pan to make this chicken.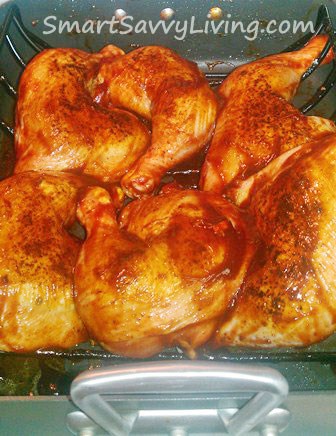 Sauced and ready to go into the oven.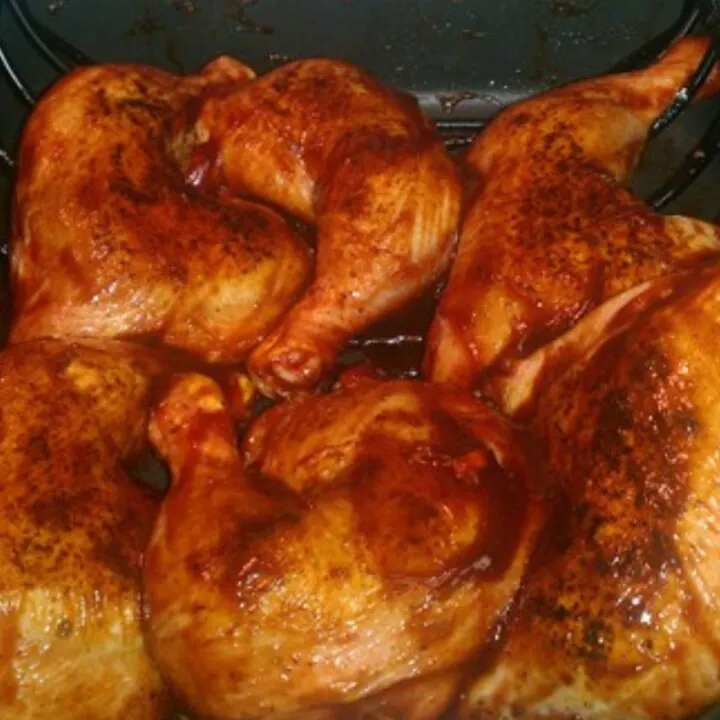 Easy Oven-Baked Barbecue Chicken Recipe
Ingredients
Recipe Ingredients:
Chicken in cuts and quantity of your choice - we tend to like leg quarters for this
BBQ Sauce, pre-made or homemade - whatever is your favorite
Seasoning - I had some Arizona Dreaming Seasoning from Penzeys that I used but I would otherwise suggest a mix of salt (seasoned salt would be perfect), black pepper, onion powder, garlic powder and cayenne or paprika if you don't like heat spice
Cooking Oil - I loved using Tropical Traditions Coconut Oil for this!
Recommended Equipment:
Tongs
Basting Brush
Baking or Roasting Pan
Rack (optional)
Frying Pan (optional according to your baking vessel)
Instructions
Preheat oven to 350° F with oven rack in middle position.
Pour enough cooking oil to coat into bottom of your baking dish if it can be used on the stove or into frying pan if it can't and heat over medium high.
While pan is warming up, season your chicken with dry ingredients. Your chicken will have more flavor if you take the time to season both the skin and under the skin.
Lightly brown chicken on both sides.
Cleaning Tip:
Brush both sides of chicken with barbecue sauce. Again, if you brush under the skin, the chicken will be more flavorful.
Cover with foil if you don't like the skin on the darker side.
Exact baking time will depend on the cuts you use and your oven. For the 6 leg quarters, I baked uncovered for about 1 hour and 15 minutes. If you have a meat thermometer, you'll want to bake to an internal temperature of 165°F, remembering that the temperature will rise a couple degrees after you remove the chicken from the oven.
Baste chicken every 30 minutes with more bbq sauce, removing foil about 30 minutes before it's done or broiling a few minutes, if you like your barbecue chicken to be sticky versus saucy.
Tent with foil and allow to rest 5-10 minutes for juices to redistribute for yummily moist chicken.
Serve and enjoy!
I hope you enjoyed this Easy Oven-Baked Barbecue Chicken Recipe - be sure to check out our other recipes like my Mustard Potato Salad for a delicious side dish!