This baked macaroni and cheese recipe with eggs is one of the simplest yet tastiest macaroni and cheese recipes you'll ever try.
It's a southern-style macaroni and cheese so it's super quick and easy to make.
But don't worry. It's still rich and creamy with plenty of cheese so you won't even miss the sauce.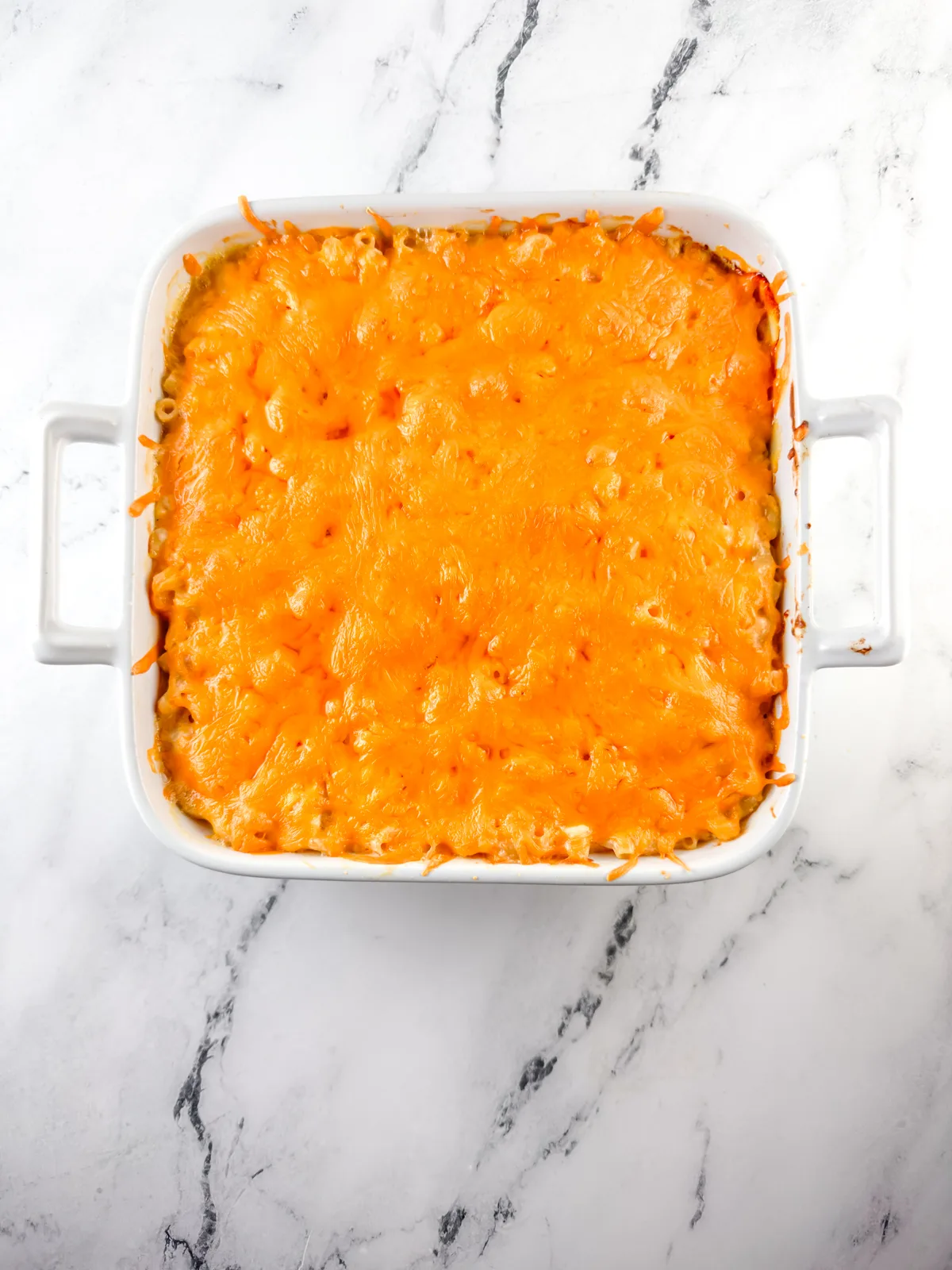 This no cheese sauce macaroni and cheese is a must-make for Thanksgiving, Christmas, Easter, and any time you need some comfort food.
I grew up in North Carolina and my family would frequent a restaurant called K&W Cafeteria. They served such a wide variety of dishes and one of the top favorites was their southern macaroni and cheese.
It was quite different than any you could get elsewhere but oh so good and this recipe is a copycat of K&W macaroni and cheese.
Whether you're looking for a side dish to serve with your holiday ham or something like BBQ chicken, I think you'll find yourself making this mac and cheese again and again.
Jump to:
Ingredients
The simplicity of ingredients is something that makes this macaroni and cheese recipe so quick and easy yet absolutely delicious.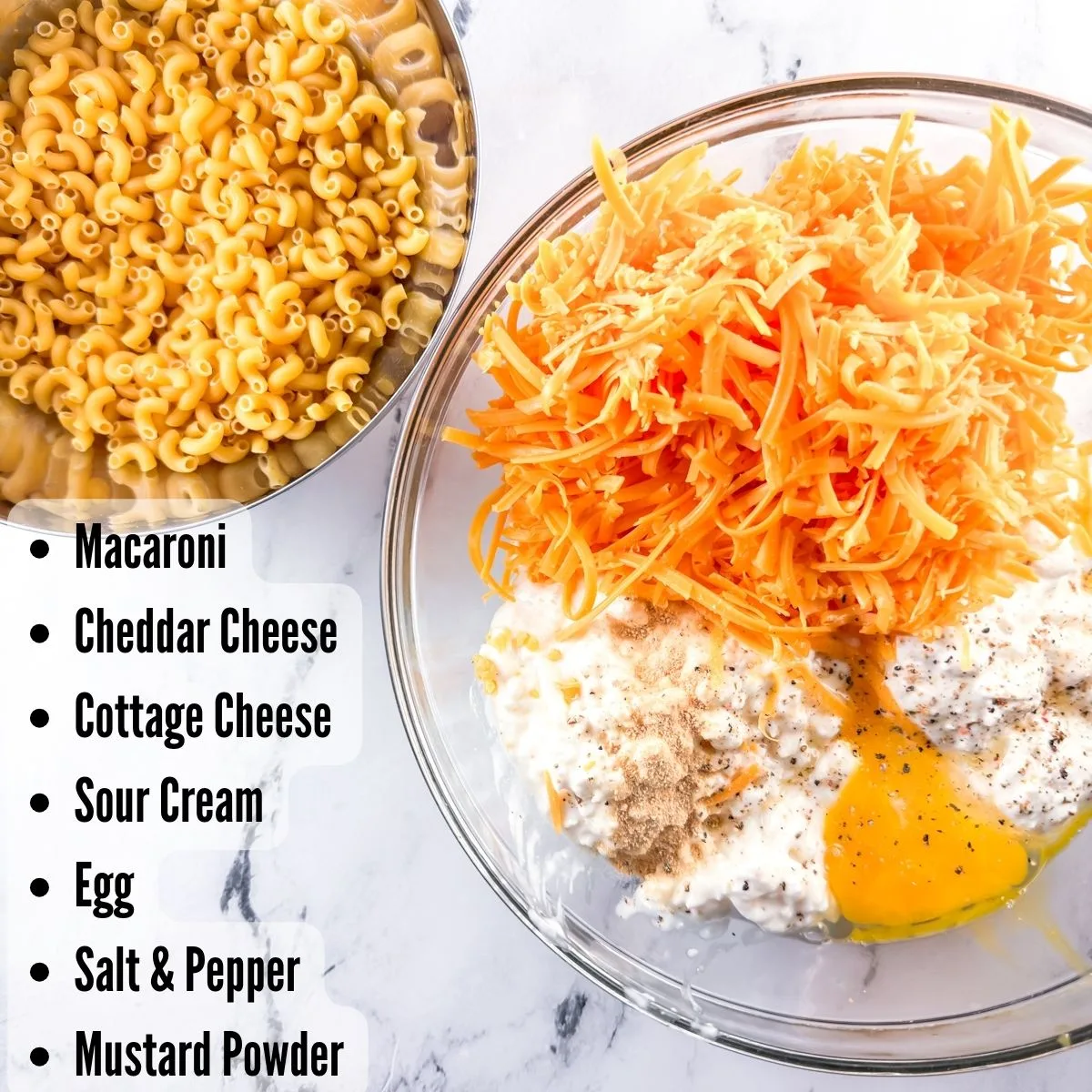 Uncooked elbow macaroni noodles
Salt - be very careful with the salt in the cheese mixture. I suggest tasting it before adding the egg because the saltiness of cottage cheese seems to vary by brand.
Cottage cheese - I use 4% milk fat small curd
Sour cream - I use Daisy full-fat brand
Egg
Sharp cheddar cheese, grated (preferably by hand)
Ground pepper - Can use white pepper if you don't like the look of black pepper specks in your mac and cheese.
Mustard powder
Cooking spray or butter - Butter will add more flavor. I use avocado oil spray.
See the recipe card at the bottom for quantities.
Instructions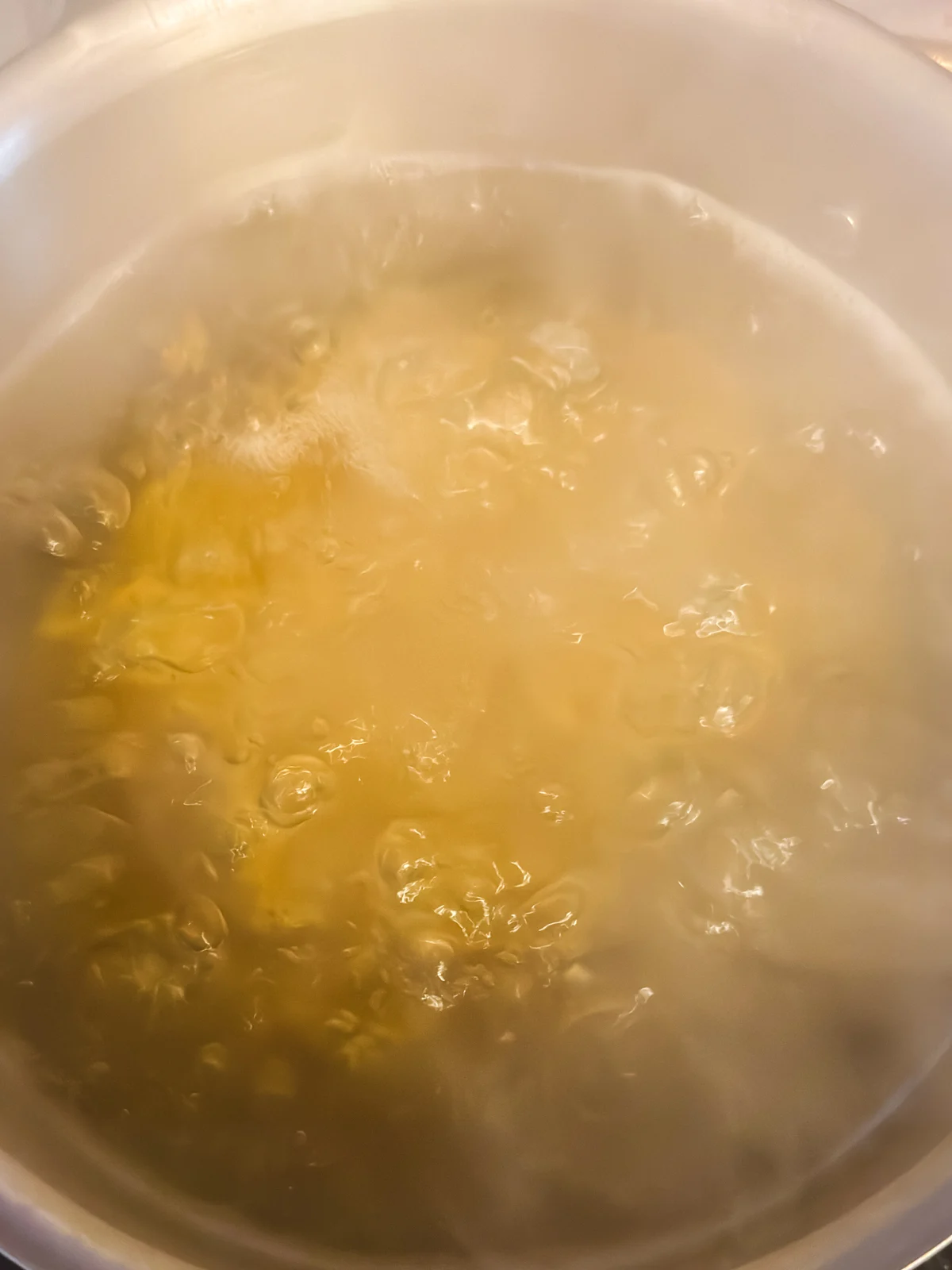 1. Preheat your oven to 350°F with a rack set on the middle level of the oven. Boil the macaroni in salted water following the package instructions but for one less minute than the suggested al dente time. This is because the noodles will continue cooking while baking.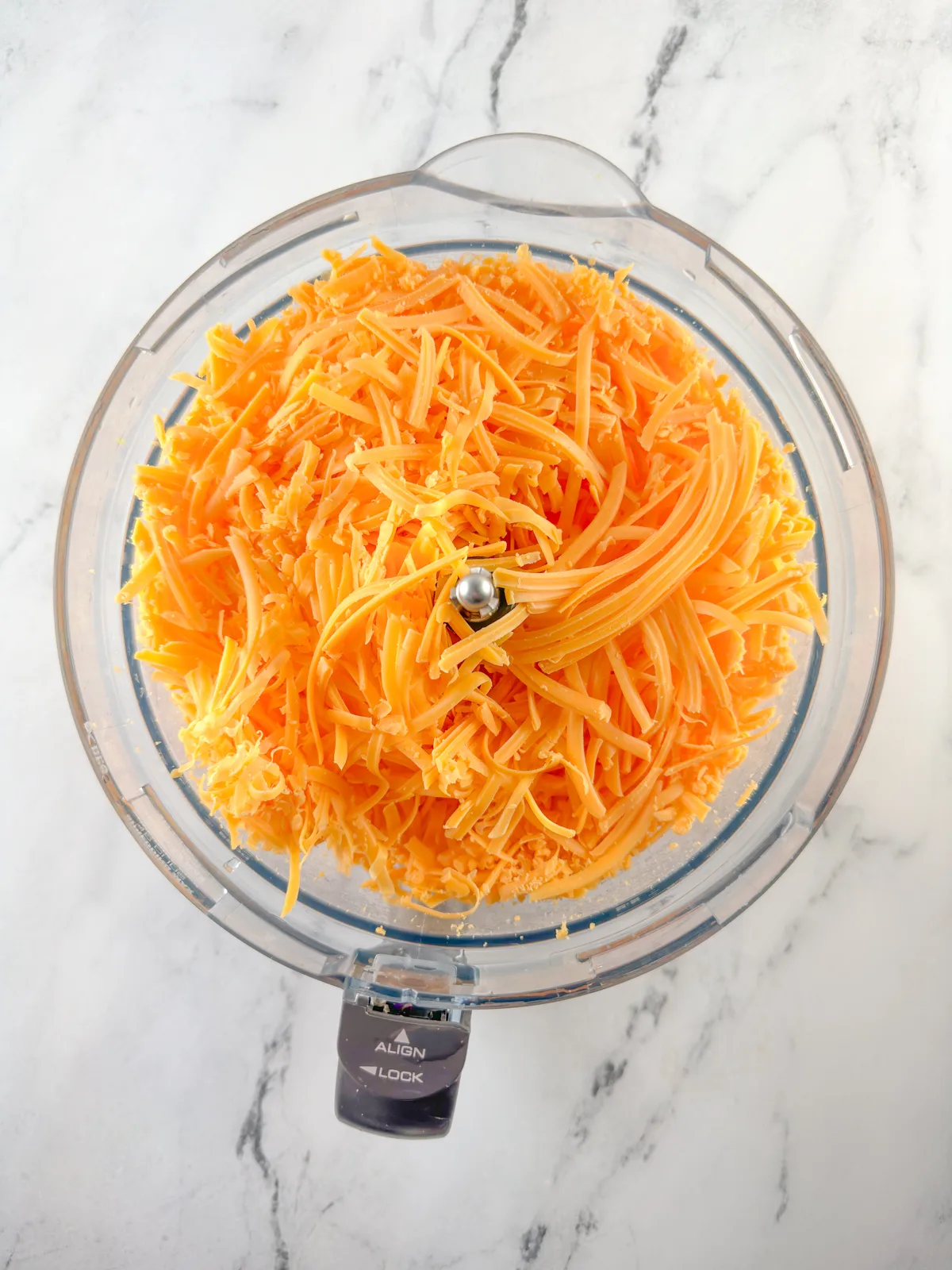 2. While the macaroni cooks grate three cups of cheddar cheese using a grater or food processor.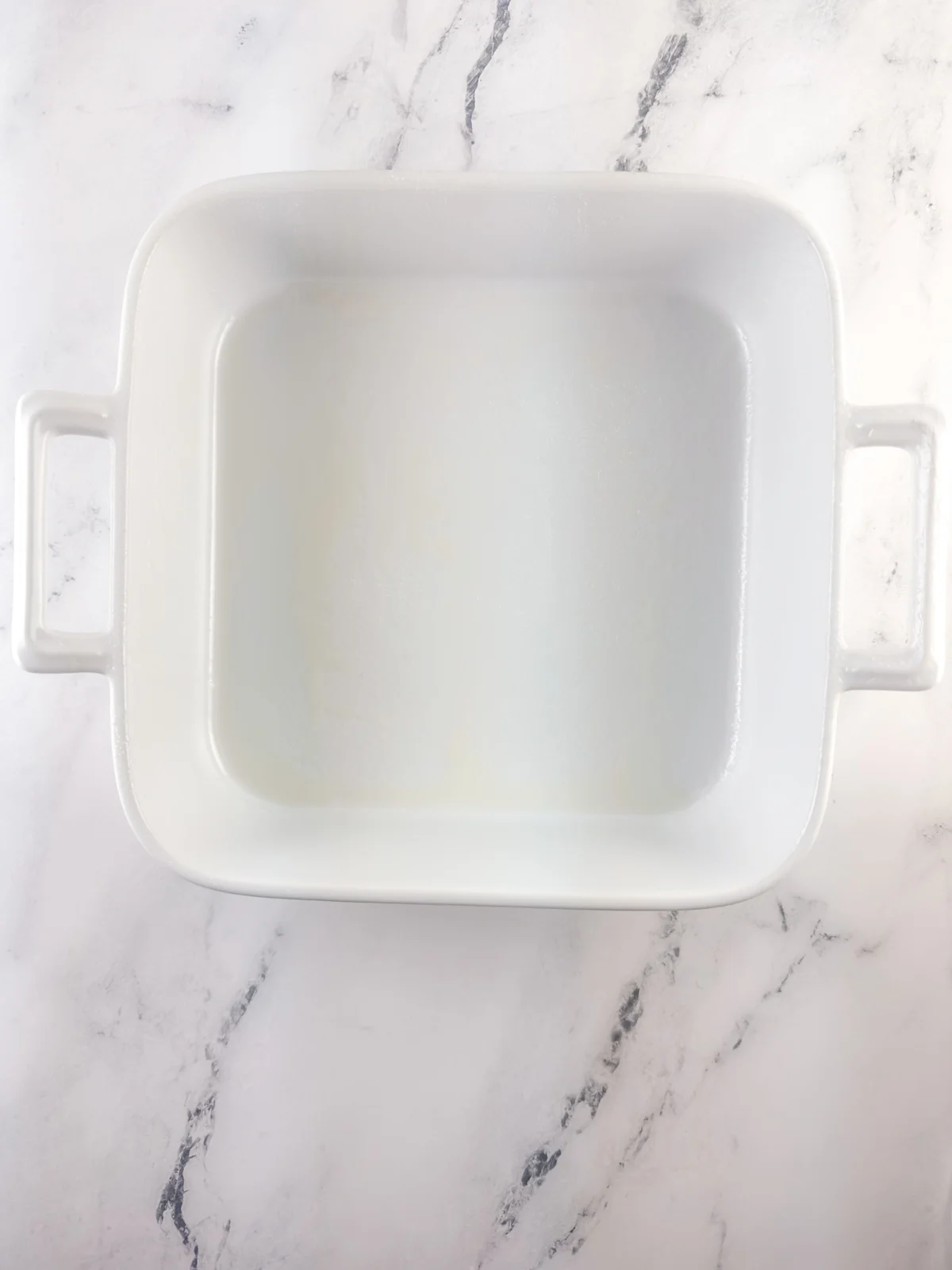 3. Grease the baking dish.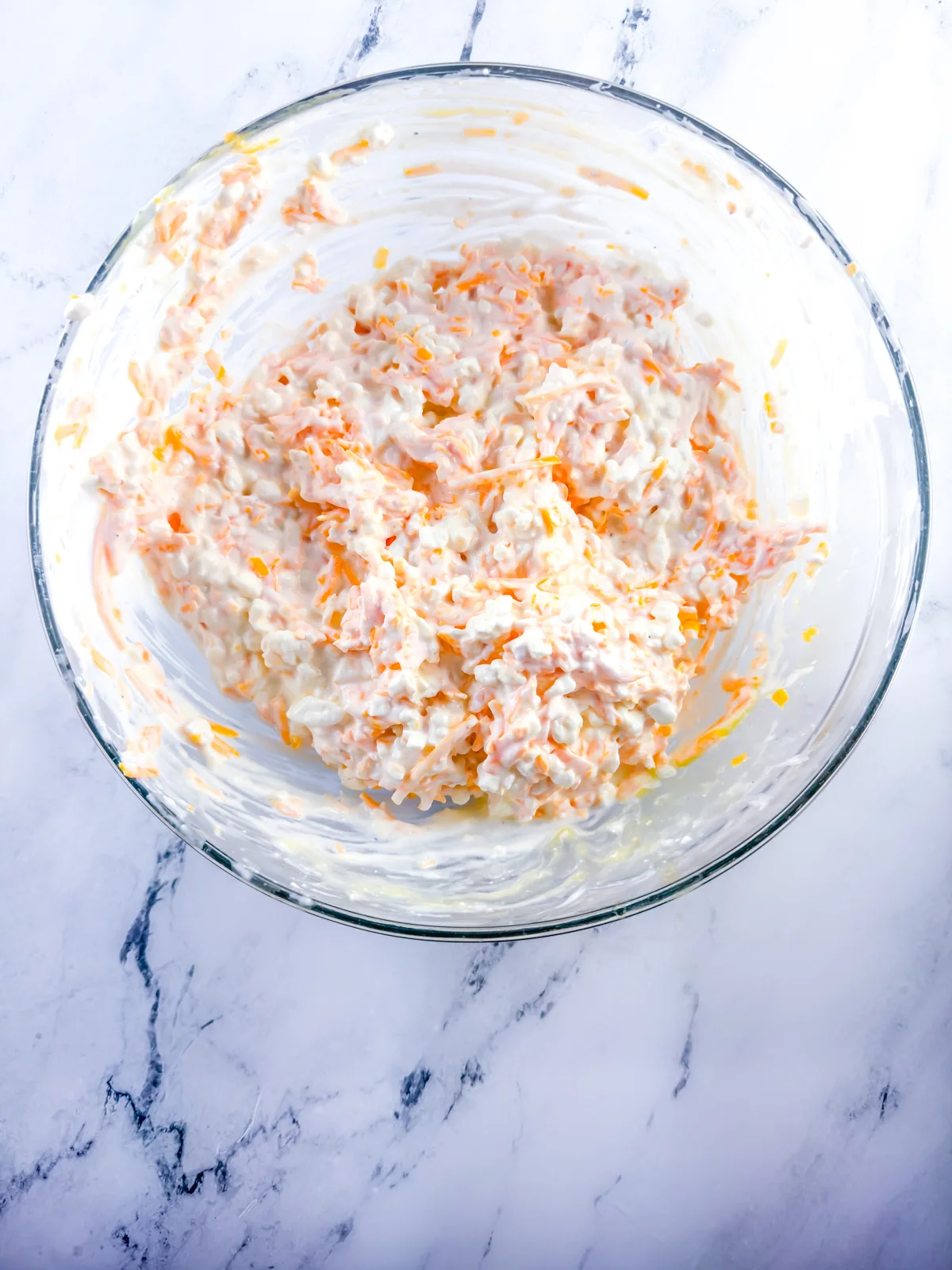 4. In a large bowl, mix together the cheeses, sour cream, salt, pepper, mustard, and egg.
5. When the macaroni is done, drain it well then add to the cheese mixture.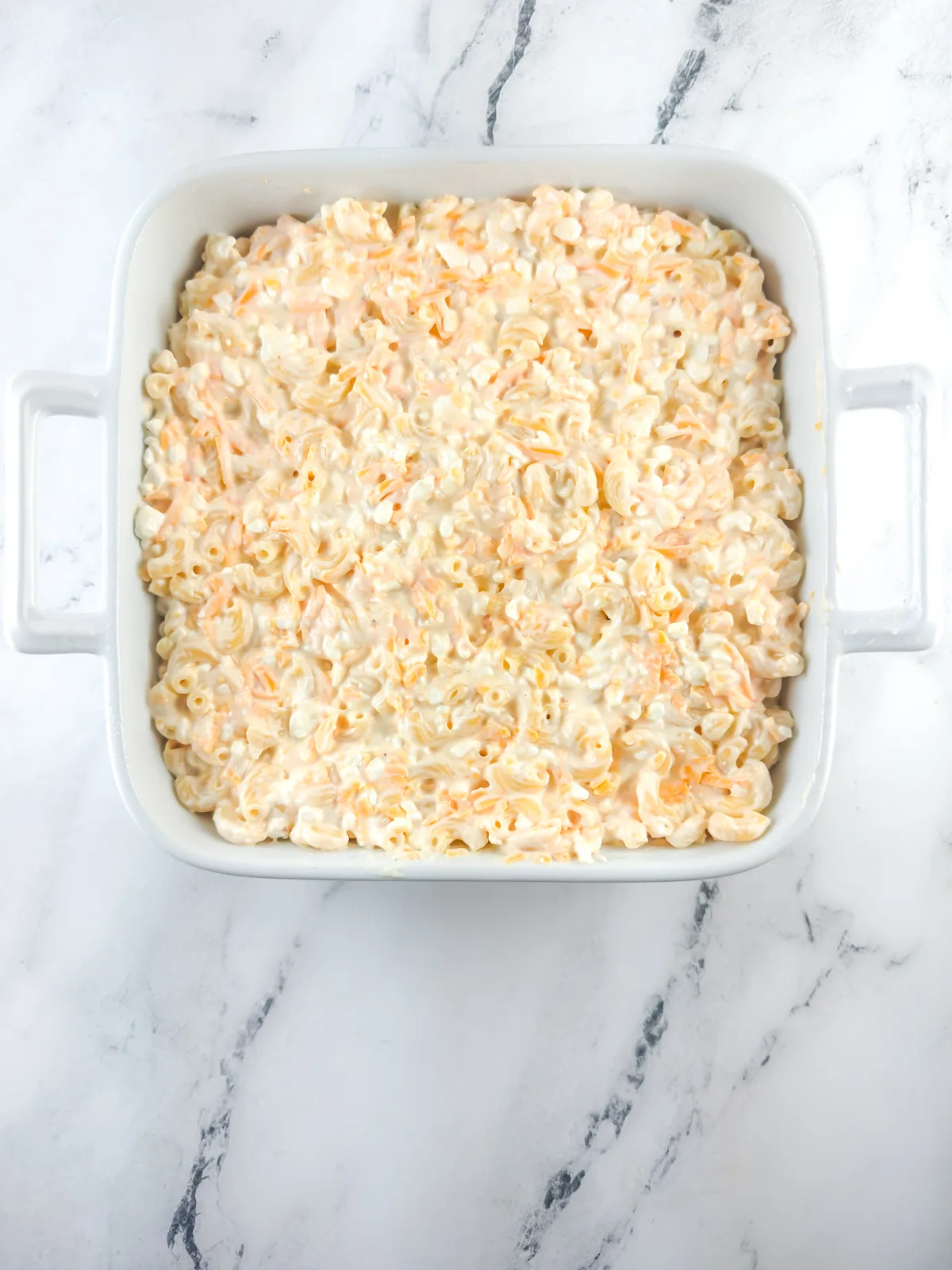 6. Pour into the greased baking dish, spreading out evenly with a spatula.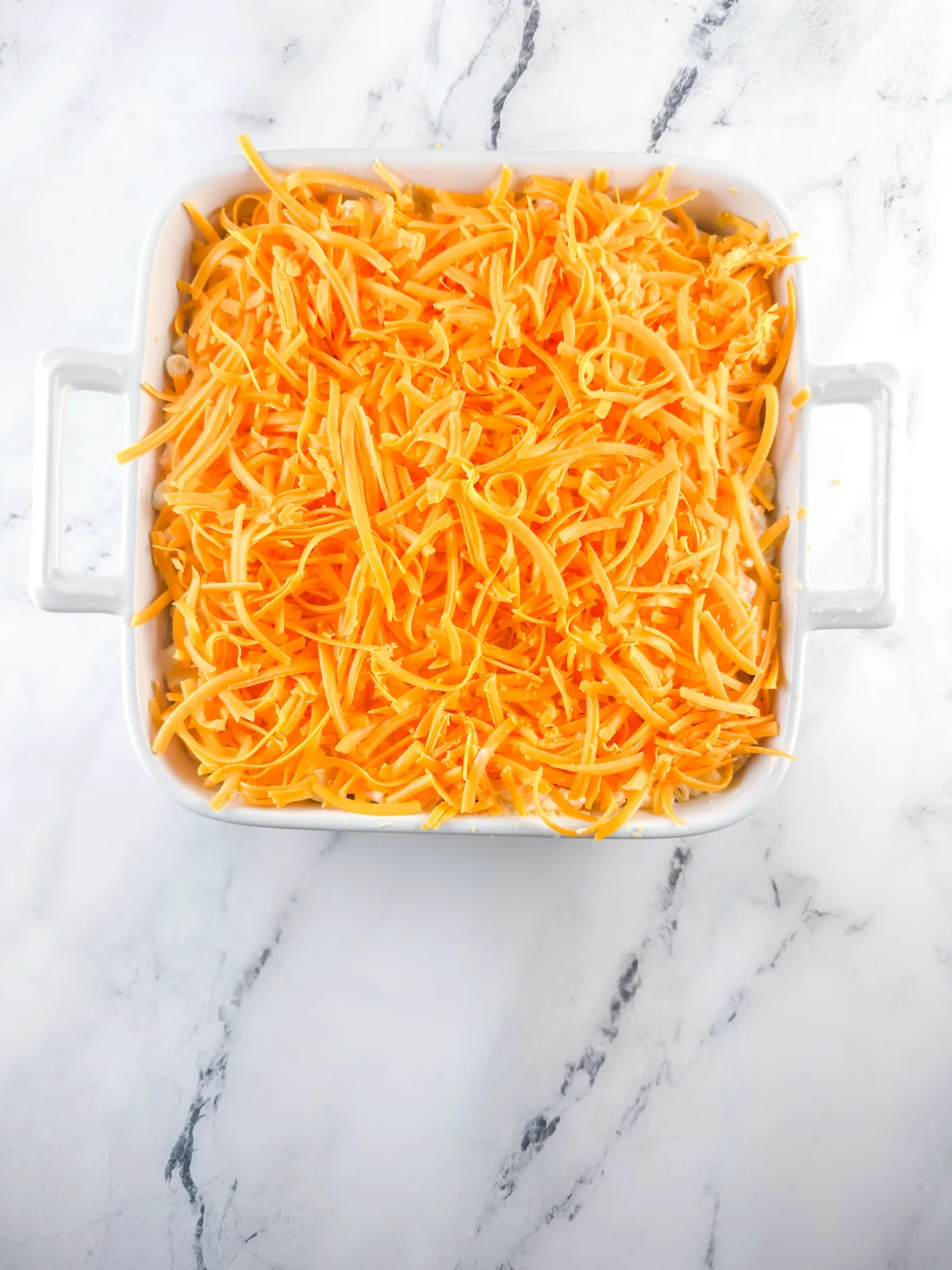 7. Top with the rest of the shredded cheese. I certainly won't judge if you use extra cheese.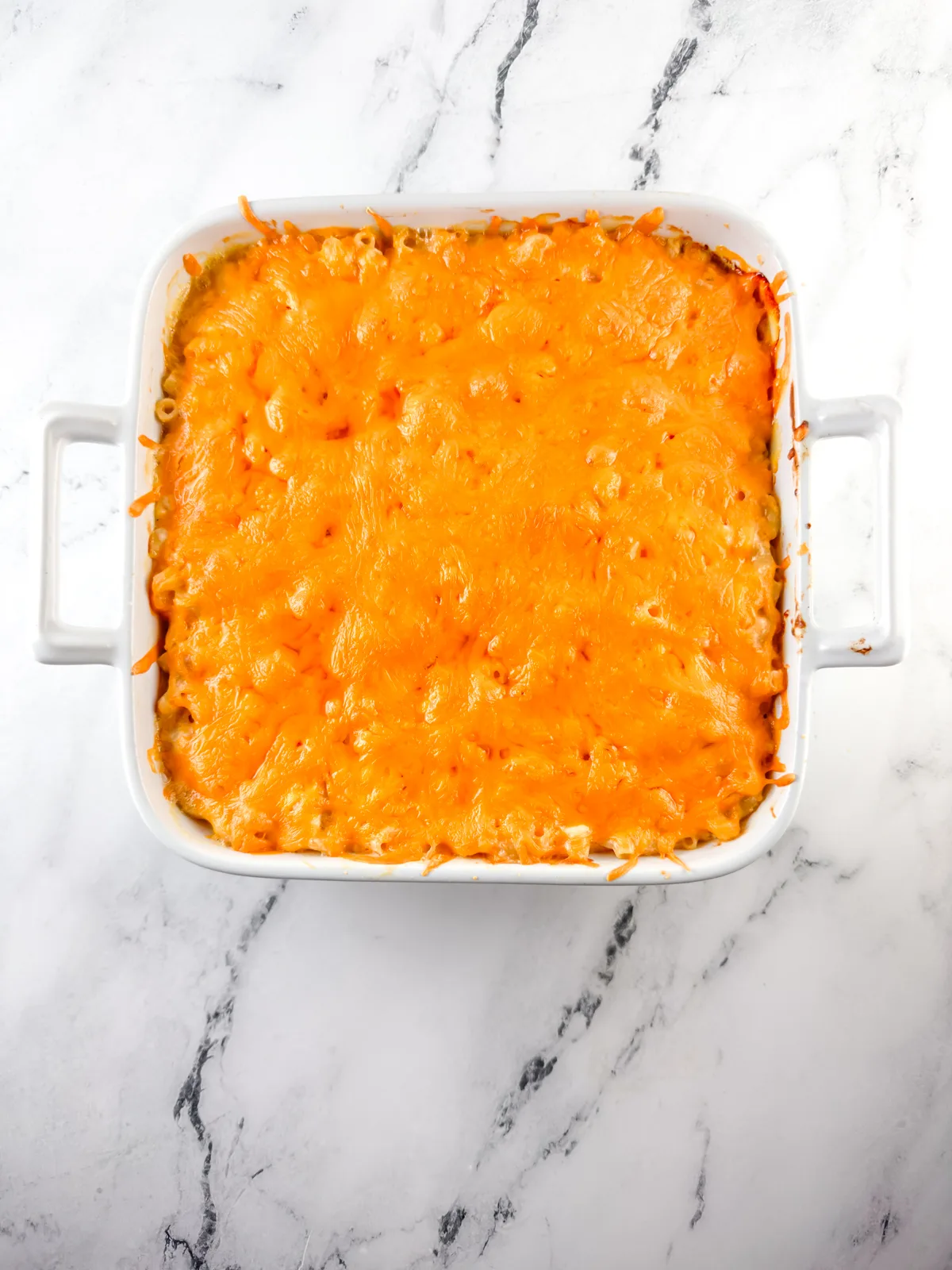 8. Bake until bubbly and the cheese has melted. Let sit for 5 to 10 minutes before serving.
Hint: Dry mustard doesn't have to be added but I consider it my "secret ingredient" to really step up the flavor for the best mac and cheese.
Substitutions
Macaroni - Other tubular or open pasta shapes can be used like ditalini, penne, or cavatappi.
Mustard powder - This is my "secret ingredient" to give a subtle flavor punch to macaroni and cheese. If you don't have the powder form you can add a small squirt of yellow mustard to the cheese/sour cream mixture.
Sharp Cheddar - I'm certainly not a fan of cheddar on its own but I think sharp cheddar is the best cheese in this mac and cheese. If you really like cheddar you may enjoy using an extra sharp variety. You could also use mild cheddar if preferred.
Low-Fat Dairy - I've never used anything less than 4% milkfat cottage cheese or full-fat sour cream and cheese to be able to say how exactly it would turn out with lower-fat varieties, but I think it should be okay just a bit less overall flavor.
Variations
Bread Crumb Topping - While I haven't tried it, I do think a breadcrumb topping mixed with the cheddar cheese you save to sprinkle on top would be a delicious combination.
9 x 13 - This recipe can be easily doubled if you need an amount for a large number of servings.
I bake the base recipe in a 9 x 9 but you can double the recipe as written and use a 9 x 13 instead. It just may need a few more minutes in the oven to get bubbly. You can cover with aluminum foil if your cheese starts browning.
Make-Ahead Macaroni and Cheese - While this mac and cheese reheats well you may wish to make it ahead of time and then bake the day you want to serve it.
This macaroni and cheese without milk recipe can be made up to 2 days ahead of time. Prepare the recipe until the baking step, then immediately cover and refrigerate it.
Let it sit on your counter while the oven preheats. It will take a bit longer to get bubbly since the ingredients are cold and you may need to cover with foil if the cheese starts getting too golden brown before the center is heated through.
Equipment
Pot - Made In Cookware is a bit pricey but I use them in my own kitchen and they are my favorite I've tried thus far for the price versus All-Clad.
Strainer/Colander - You want to drain the noodles well after cooking so your mac and cheese isn't soggy.
Grater or Food Processor - I really enjoy the ease of using my food processor for grating cheese instead of getting a workout with a box grater. The Breville isn't cheap but I've had mine for 8 years and it's still going strong.
Large Mixing Bowl - The glass bowl pictured is the largest bowl in this set. I use these all the time for both mixing and storage since they have lids.
Spatula - A quality spatula makes this recipe easy to mix together and even out in your casserole dish.
Baking Dish - I really like using stoneware for macaroni and cheese because it retains heat well, which keeps dishes warmer longer.
Trivet - A good idea to have around for cooling and/or serving hot baking dishes.
Serving Spoon or Server - I actually prefer using a lasagna type server for this dish as it is a pretty sturdy mac and cheese.
Storage
The macaroni and cheese can be stored covered in the refrigerator for up to 3 days after baking.
The leftover macaroni reheats well in the microwave or oven without drying out. I'd cover it if reheating in the oven so it doesn't get too brown or dried out.
You can mix in a bit of milk if it does dry out.
I haven't tried freezing it but I think it should hold up well.
Make sure to chill it completely in the refrigerator before bagging or wrapping portions and freezing. This will help ice crystals not form.
Thaw in the refrigerator overnight. I'd heat the thawed mac and cheese in the oven with a drizzle of milk and cover it so it doesn't dry out or get too brown until heated through and bubbly.
Top tip
As I mentioned before I really recommend using blocks of cheese for this recipe. Pre-shredded cheese is usually coated in starch to prevent it from sticking together but also affects the meltability.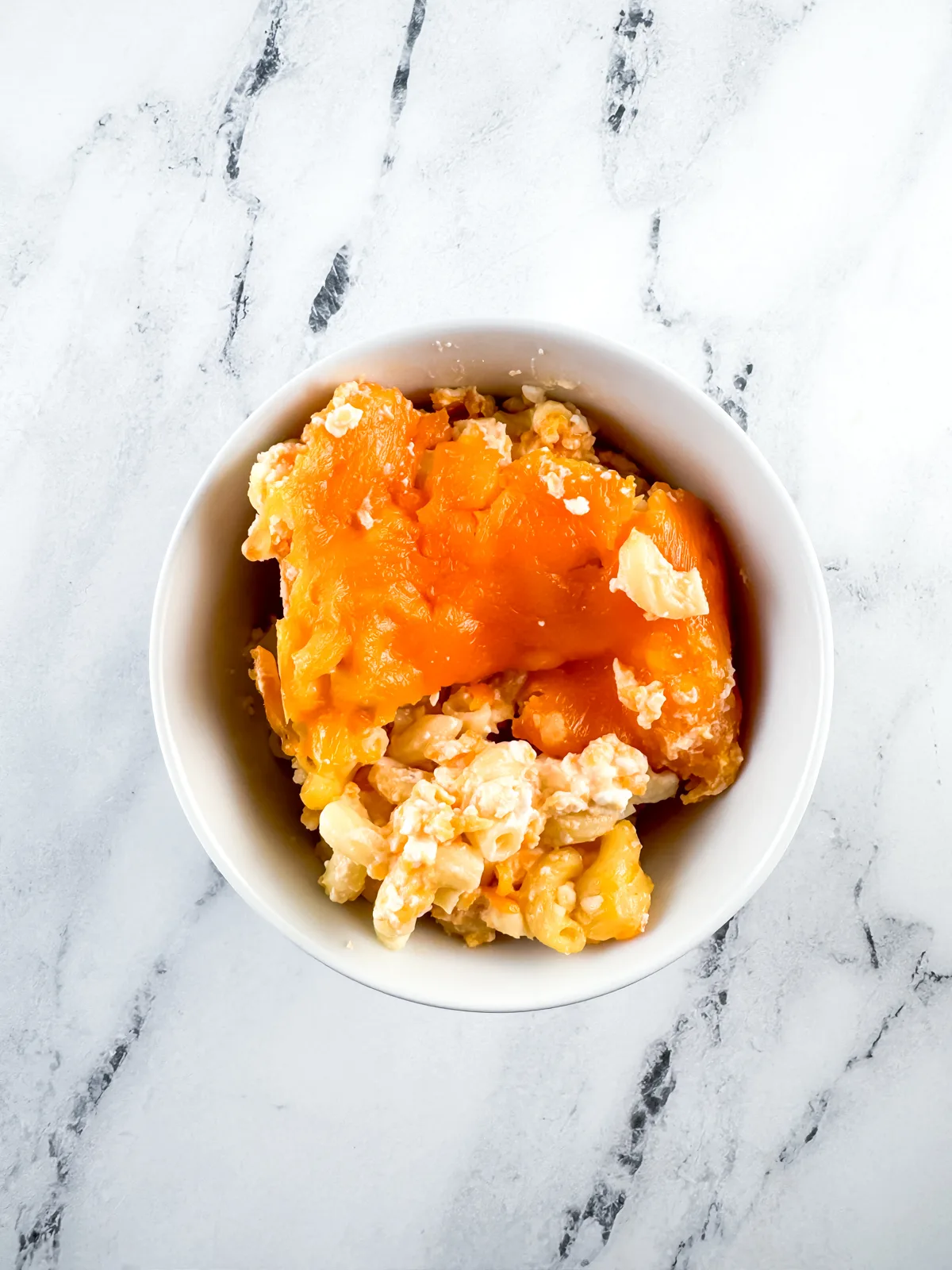 FAQ
Why do you put eggs in baked macaroni and cheese?
From my experience, adding eggs to mac and cheese makes it richer with a bit firmer consistency and creamy custardy texture.
How do you keep macaroni and cheese creamy when baking?
Keep things creamy by first using full-fat dairy and not skimping on the amount. Also, take care to not overbake the mac and cheese and cover it with foil if it needs to stay in the oven or warming drawer to keep hot until serving.
Should I cover mac and cheese while baking?
No, you don't need to cover mac and cheese while it bakes unless you need it to stay in the oven longer or the cheese starts getting browned.
Do you need to pre-cook macaroni before baking?
Yes, for this recipe you need to cook the macaroni first. However, you can cook it until quite al dente (or not super soft) because it will continue cooking in the oven while baking.
Related
Looking for other favorite recipes like this? Try these:
Pairing
These are my favorite dishes to serve with this baked macaroni and cheese recipe with eggs: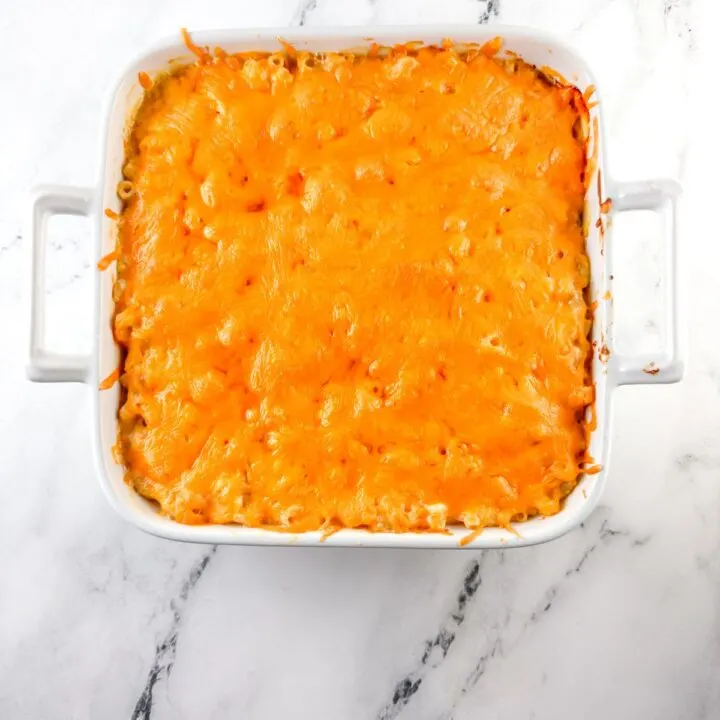 Baked Macaroni and Cheese Recipe With Eggs (K&W Copycat)
Additional Time:
10 minutes
Ingredients
8 oz uncooked macaroni noodles
Salt, divided
2 cups cottage cheese
1 cup sour cream
1 large egg, slightly beaten
3 cups sharp cheddar cheese, grated (preferably by hand)
¼ teaspoon ground pepper
⅛ teaspoon mustard powder
Cooking spray or butter
Instructions
Preheat your oven to 350°F with a rack in the middle level of the oven.

Cook the macaroni in salted boiling water as per package directions. Cooking one minute less than the time given for al dente is recommended because the pasta will continue cooking while it bakes.

While the macaroni cooks, grate 3 cups of cheddar cheese. Grating a block of cheese is recommended as pre-grated is covered in starch which can affect the meltability.

Grease a deep dish square pan, 9" x 9" recommended. You can use butter for extra flavor or cooking spray.

In a large bowl, mix together 2 cups of cottage cheese, 1 cup of sour cream, salt to taste, 1 large egg that has been slightly beaten, 2 ¼ cups of the shredded cheese (set the rest aside to sprinkle on top), ¼ teaspoon ground pepper, and ⅛ teaspoon dried mustard.

When the macaroni is cooked, drain it well and then gently fold it into the cheese mixture until everything is evenly combined.

Pour the macaroni mixture into your greased baking dish and top with the rest of the shredded cheese.

Bake in your preheated 350°F oven for 30 to 35 minutes or until the cheese is melted and the mac and cheese is bubbling.

Remove from the oven and let it sit for 5 to 10 minutes before serving.
Notes
You may want to taste for salt levels before adding the egg as the saltiness of cheeses can vary greatly from brand to brand.
This recipe can be doubled for more servings and baked in a 9x13 dish. It may take a bit longer to bake.
Nutrition Information:
Yield:

6
Serving Size:

1
Amount Per Serving:
Calories:

447
Total Fat:

31g
Saturated Fat:

16g
Trans Fat:

1g
Unsaturated Fat:

9g
Cholesterol:

122mg
Sodium:

754mg
Carbohydrates:

18g
Fiber:

1g
Sugar:

4g
Protein:

25g
Nutrition information may not be accurate. Optional ingredients, garnishes and toppings aren't included. Nutrition information is calculated automatically by and provided by Nutritionix. Exact nutrition information depends on the specific ingredients, brands, and amounts you use. For more precise nutrition values please input the exact ingredients, brands, and amounts into your preferred nutrition calculator.
Food safety
Do not use the same utensils on cooked food, that previously touched raw meat (including eggs)
Don't leave food sitting out at room temperature for extended periods - no more than 2 hours