Looking for a way to add a boost of flavor to your favorite hot dog? This hot dog chili sauce recipe is smooth yet meaty and the perfect accent to any hot dog.
Growing up when we had hot dogs, it was always topped with chili whether we had them at home or got them at a local restaurant. In fact, I didn't even realize that a lot of people ate hot dogs without chili until well into my teens.
Needless to say, to me, it's just not a good hot dog unless it has a thick, yet smooth meaty chili on top. I eventually found out this is what one would call a Carolina style hot dog chili, which is no surprise since I grew up in North Carolina.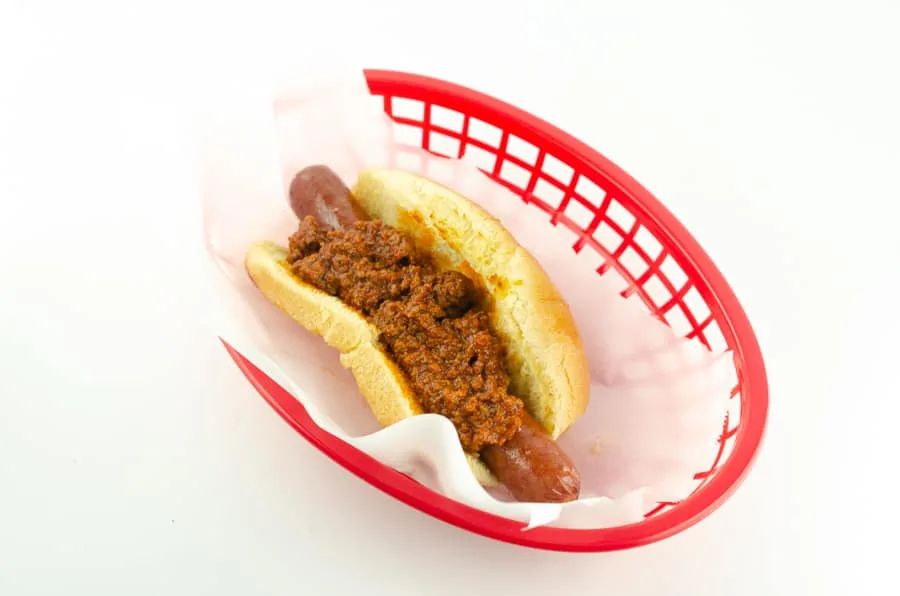 How To Make Smooth Hot Dog Chili Sauce
I personally don't care for a hot dog sauce that is chunky. It's tasty and if I were eating chili from a bowl I'd love it that way.
But when you're putting it on a bun you want something that can easily fit without falling off while eating it. Thus, I like to break down the ground beef to a consistency that might remind you of the ground beef filling you find at Taco Bell.
This little trick is great for any dish where you want to break down the ground meat into a smooth, consistent texture like this hot dog sauce recipe, taco meat, meat sauces, fillings for meat pies, etc.
All you have to do is take the raw meat and cook it in a liquid, in this case, water. Give it several good stirs and the liquid will cook off.
It helps the meat break down evenly without having to constantly poke it with a spatula or spoon, which still ends up with a pretty inconsistent texture in my experience.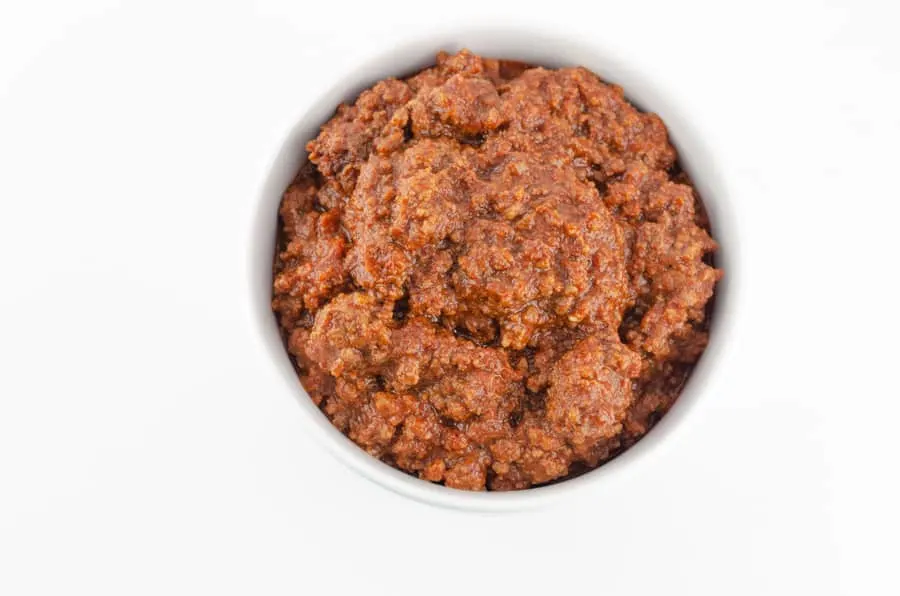 Ways To Use Leftover Hot Dog Chili
We love this chili so much I often make a double batch for various things including:
A side dish ala chili cheese fries or tots
Freezing in a Ziploc bag to always have some on hand
Making chili cheeseburgers
Topping with cheese, sour cream, guacamole, etc. for a dip or nachos - corn chips are a great dipper!
Putting over scrambled eggs or in an omelet
Baked potato bar topping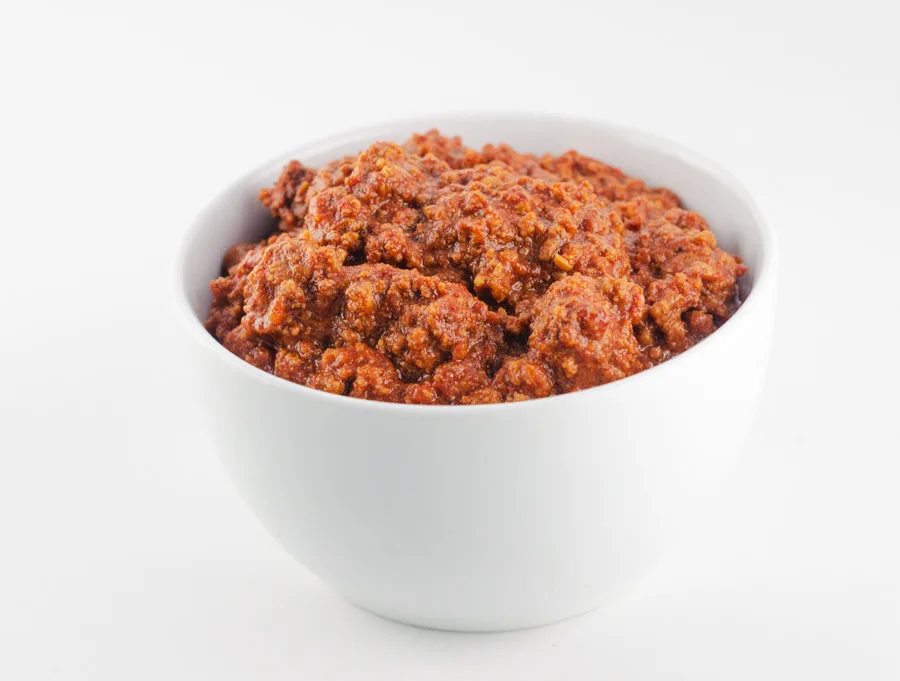 How To Make Homemade Hot Dog Chili
I've only had canned chili for hot dogs once when I was running short on time. The taste was nowhere near as good as my homemade hot dog chili recipe so I always just make my own now.
Here's my favorite recipe for when you're craving custard stand hot dog chili.
It's kind of like a meat sauce for hot dogs that is a great slightly spicy, but not in a hot way, accompaniment that doesn't overpower the flavor of the hot dog itself.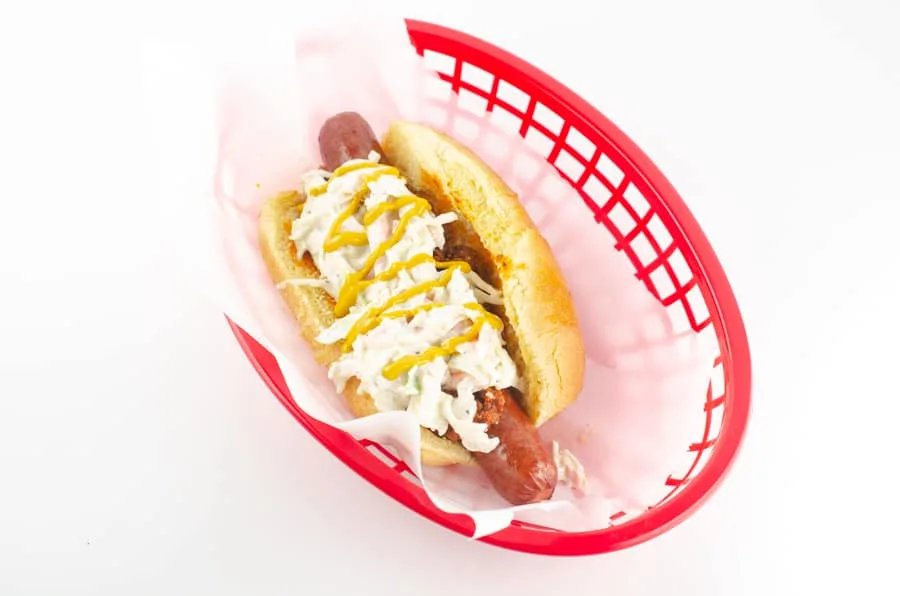 Side Dishes To Serve With Hot Dogs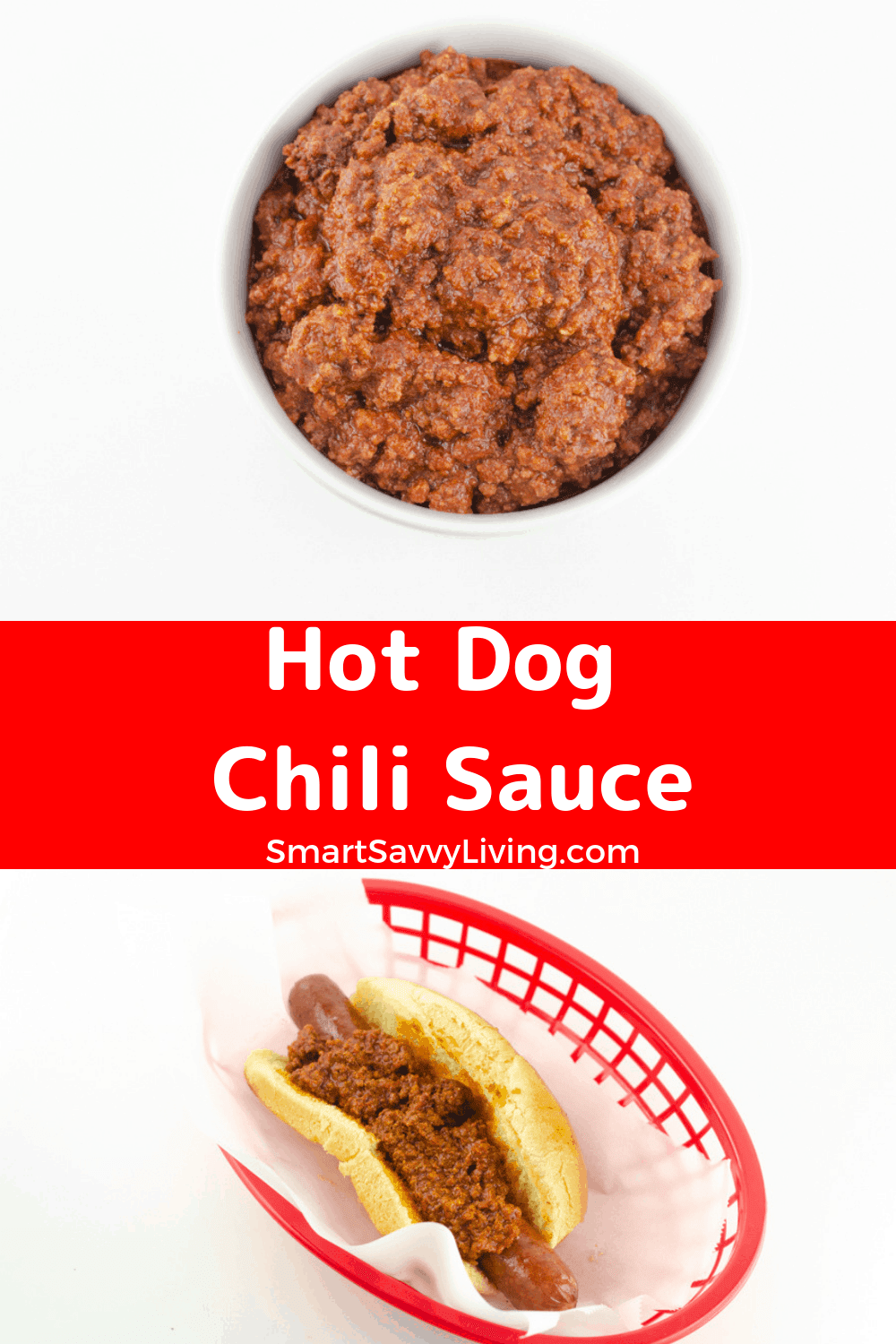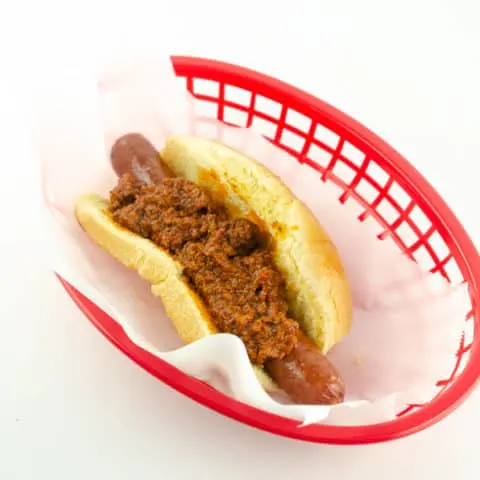 Hot Dog Chili Sauce Recipe
A Carolina style hot dog chili sauce. Great piled on a hot dog and topped with cheese or coleslaw.
Ingredients
2 cups water
1 ¼ pounds ground beef, leaner preferred to be less greasy
1 cup chopped yellow onion
1 6-ounce can tomato paste
½ cup ketchup
1 tablespoon chili powder
¼ teaspoon cayenne or pepper flakes (optional)
1 tablespoon Worcestershire sauce
1 teaspoon cider or white vinegar
1 teaspoon salt (seasoned salt or garlic salt preferred)
¼ teaspoon ground black pepper
Instructions
Place ground beef and water in a medium sized pot or dutch oven over high heat. Bring to a boil.
Add the onion, bring back to a boil, and then lower the heat to medium. Stir well to start breaking up the meat.
Add the tomato paste, ketchup, chili powder, cayenne or pepper flakes if using, Worcestershire sauce, vinegar, salt, and pepper.
Stir well until the tomato paste is thoroughly mixed in and the meat has broken up into a fine texture.
Keep at a simmer on low to medium-low heat until thickened, about 15 more minutes. Stir every 5 minutes or so to keep it from sticking to the bottom of the pan.
Serve warm piled onto your favorite hot dogs.
Notes
Leftovers can be refrigerated up to 3 days or frozen for around 2 months. If you'd like to up the flavor of the hot dog sauce I sometimes like to add a bit of cumin and/or garlic to taste.

Recommended Products
As an Amazon Associate and member of other affiliate programs, I earn from qualifying purchases.
Nutrition Information:
Yield:

8
Serving Size:

⅛ of recipe
Amount Per Serving:
Calories:

51
Total Fat:

0g
Saturated Fat:

0g
Trans Fat:

0g
Unsaturated Fat:

0g
Cholesterol:

0mg
Sodium:

539mg
Carbohydrates:

12g
Fiber:

2g
Sugar:

7g
Protein:

2g
Nutrition information isn't always accurate. Exact values will depend on the products you use.