Love beef stroganoff but wish there was a cheaper option? You'll love this beef stroganoff made with ground beef recipe!
While I love eating veggies, we definitely like our meat too. We honestly have very few meals without meat.
However, it feels like meat is constantly getting more expensive, especially our favorite, beef. So, I've been looking for cheaper ways to make some of our favorites, like beef stroganoff.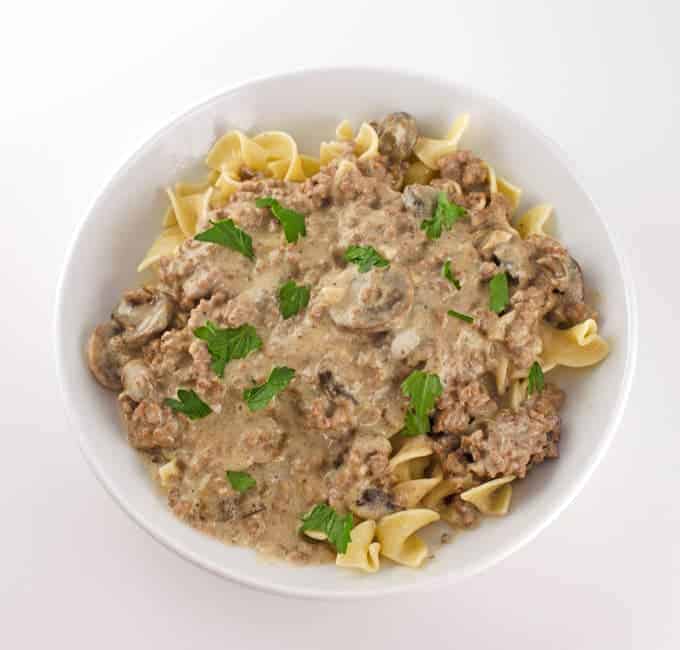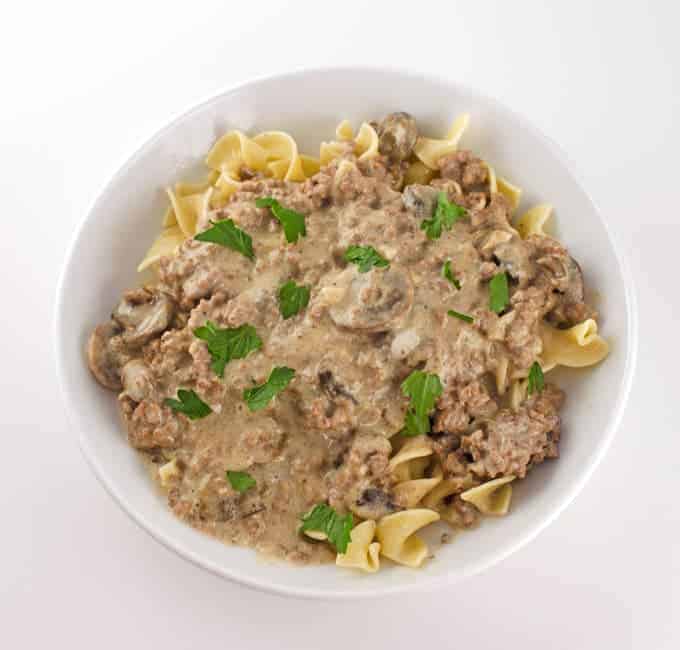 You can use a few different cuts of beef to make traditional beef stroganoff, but many of them cost $4 - 5 a pound, if not more. Luckily, you can make a pretty darn tasty version with ground beef using this beef stroganoff made with ground beef recipe.
You certainly have to keep an eye on the sales, but I do find ground beef on sale for $1.99 - $2.99 a pound here regularly. We always stock up then and load up the freezer as it's a huge savings compared to the price you usually find beef at.
This is a ground beef stroganoff recipe that doesn't use mushroom soup, like many other recipes you'll find as I like using fresh ingredients when possible. But, this beef stroganoff recipe is still super easy to make.
If you've never had stroganoff before, it's basically beef and mushrooms with a creamy gravy served over egg noodles, though I like it over mashed potatoes, too. It's not that fancy of a meal, but it's warm, hearty comfort food that I often crave.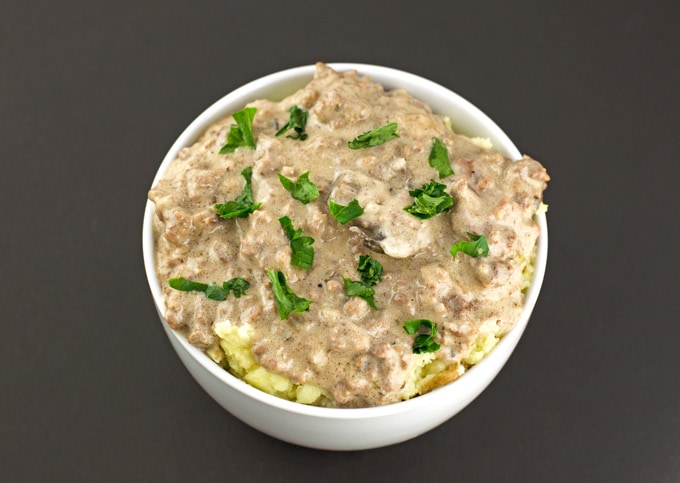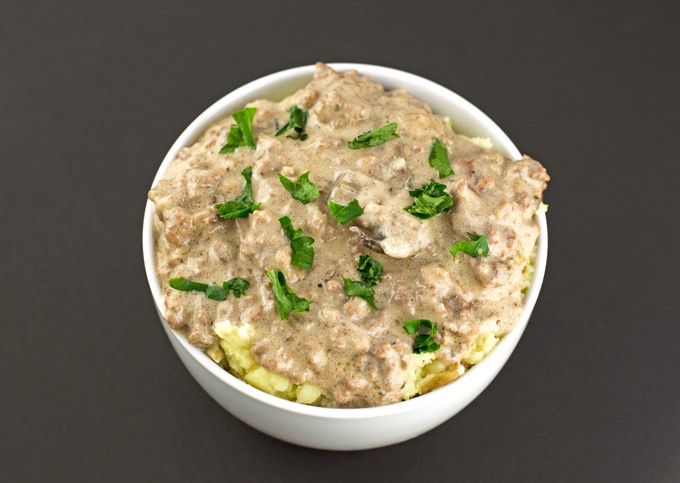 Recommended Equipment
I'm often asked what products I use in the kitchen when cooking, so here I'm sharing some of my must-haves to make this beef stroganoff made with ground beef recipe.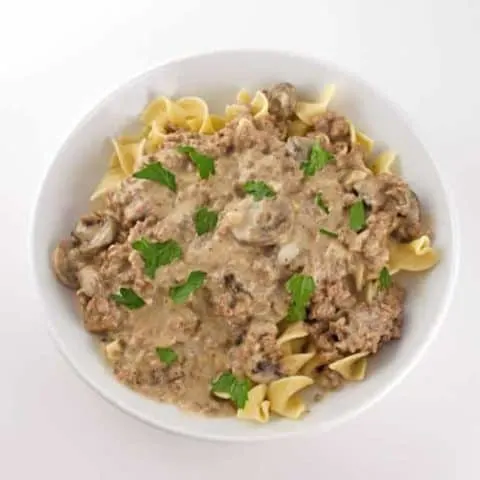 Beef Stroganoff Made With Ground Beef Recipe
Ingredients
2 pounds ground beef - I usually use around 85%
1 medium white or yellow onion, chopped
2 cloves garlic, finely minced (or use jarred crushed or garlic powder)
8 ounces mushrooms, sliced - I use white button or baby portabellas
4 ounces cream cheese, cut into small cubes
3 tablespoons all-purpose flour
2 cups beef broth, preferably low sodium
½ cup milk or half and half
1 tablespoon Worcestershire sauce
1 tablespoon cornstarch and water, optional for additional thickening
½ cup sour cream
Salt and pepper to taste
Cooked rice, mashed potatoes or, my favorite, egg noodles to serve with
Chopped fresh parsley (optional)
Instructions
Heat a large skillet or dutch oven over medium-high heat. Add in ground beef and start to brown. Once you start seeing fat from the beef cooking, add in chopped onion, garlic, and mushrooms. If using lean ground beef you may need to add a couple tablespoons of olive oil or unsalted butter to cook the onions and mushrooms in. Season with a pinch of salt and pepper and stir occasionally with a large spoon, breaking down the beef into bite-sized chunks. Cook until the mushrooms are browning and the beef is cooked through.
If you have more than a couple tablespoons of fat left from the beef cooking, drain the excess before moving onto the next step.
Turn down the heat to medium and add in the cream cheese. Let it start to melt without stirring, around 2 to 3 minutes.
While the cream cheese melts, measure 2 cups of beef broth into a large measuring cup and whisk in the flour until thoroughly combined without lumps.
When the cream cheese has melted, stir to thoroughly combine and then stir in the broth mixture.
Stir in the milk or half & half, Worcestershire sauce, and another pinch of salt and pepper. Bring the mixture to a simmer, stirring occasionally. Let simmer for 4 - 5 minutes or until the mixture thickens, still stirring occasionally.
If you want a thicker sauce, mix 1 tablespoon of cornstarch with 1 tablespoon of cold water until it dissolves. Then stir it into the stroganoff and let simmer until thickened.
Once the mixture has thickened turn off the heat and stir in the sour cream.
Serve immediately over cooked warm egg noodles, rice or mashed potatoes
Garnish with fresh chopped parsley if desired.
Serve This Ground Beef Stroganoff With