This homemade cloverleaf rolls recipe is a classic loved by everyone. This dinner rolls recipe is soft and buttery, perfect for serving with almost any meal.
There's just something so delicious about freshly baked bread. Even with the current low carb craze, you can steal almost anyone's heart if you bake up a batch of these dinner rolls from scratch.
These are a must-have for us at Thanksgiving, Christmas, and Easter dinners and I can't help but make them at least a few times a year, especially for special occasions.
These homemade dinner rolls have a super soft texture with plenty of buttery flavor in a traditional cloverleaf shape making them easy to pull apart and add a smear of fresh butter or to dunk into a gravy or sauce.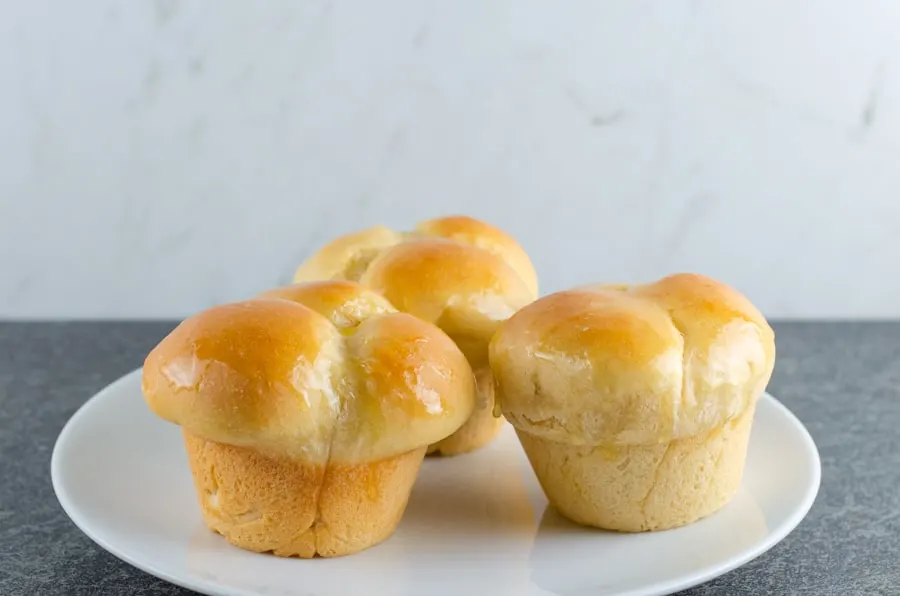 [lwptoc skipHeadingText="Love this post? Share it with your friends:|Ingredients|Instructions|Notes|Recommended Products|Nutrition Information:"]
What Are Cloverleaf Rolls?
Cloverleaf rolls have three sections in each roll that can easily be pulled apart. They are named for their shape, the clover plant whose leaves have three lobes.
The dough used to make cloverleaf rolls is a traditional yeast roll dough.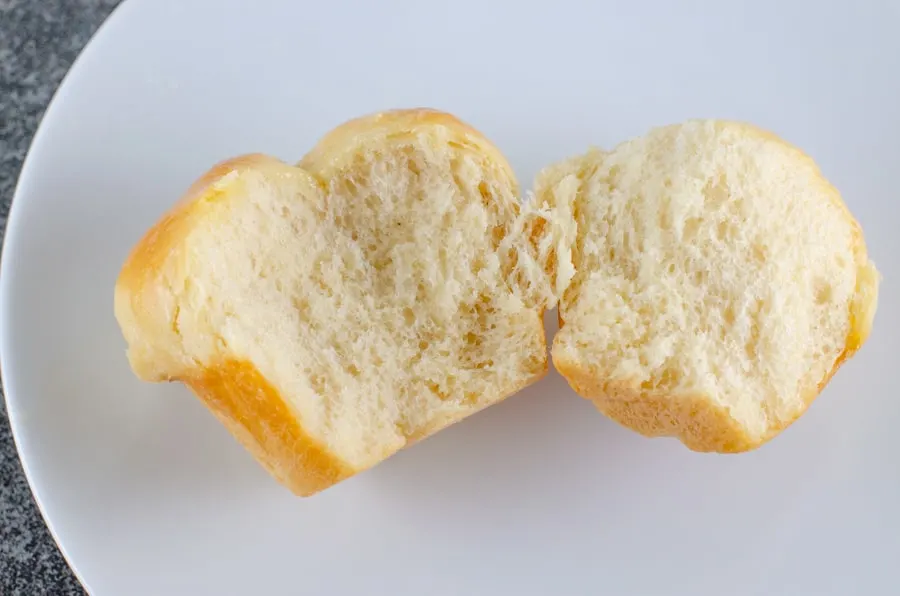 Cloverleaf Roll Ingredients
These cloverleaf rolls are made with simple, everyday ingredients including:
Yeast: I do a lot of baking and like to use a tablespoon from a bulk-sized package but a packet will also do. I only use instant yeast.
Warm water
Milk: I only use whole milk or sometimes even half and half in baking.
Unsalted butter: Over the years I've found that using an Irish-style butter will provide a bit richer flavor.
Egg
Sweetener: You can use sugar but I really like using honey.
Salt: I realize a lot of people have a salt-conscious diet so I do put a minimum amount of salt in this recipe I would like to note that we enjoy a saltier bread and I use 2 teaspoons of sea salt.
All-purpose flour: many yeast rolls recipes may use bread flour but I've always used all-purpose flour. My favorite brand is King Authur Flour though I have often used the bulk brand from Costco.
Oil or non-stick cooking spray
Soften butter for serving: Okay, so this doesn't go in the recipe but I think softened butter is a must to go with bread!
I used to always make my bread by hand but I have since invested in a stand mixer and they really do make the whole process much easier and quicker.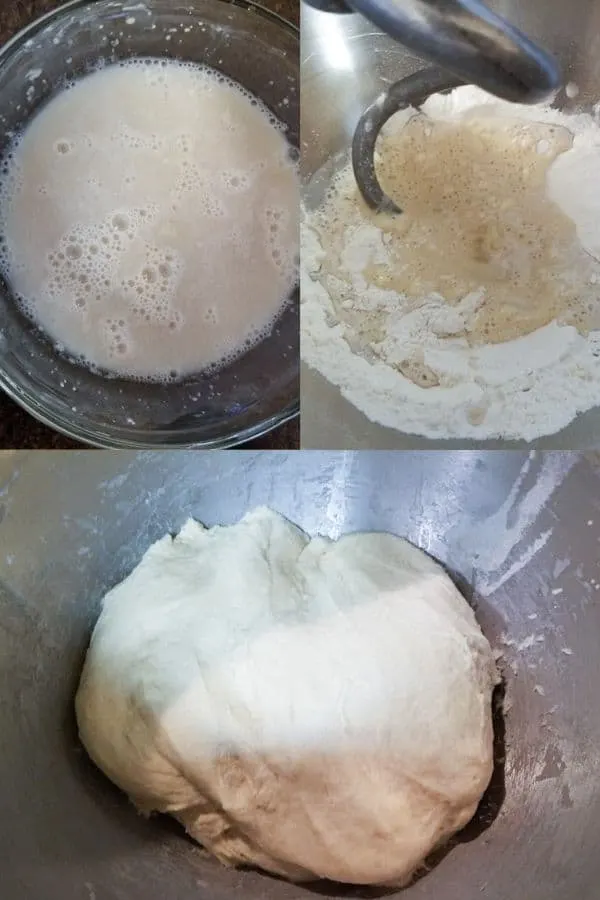 Can Cloverleaf Rolls Be Frozen?
Yes, yeast rolls can be frozen. I suggest freezing after baking the risen rolls and letting them cool completely.
It can be hard to get all the air out of a freezer-safe ziptop bag with odd shapes so I do wrap the rolls in foil or plastic wrap before placing them in the bag.
Use within 3 months. You can thaw on the countertop or remove any plastic and wrap in foil and reheat in a preheated 350°F oven until warmed through. You can do this from thawed or frozen.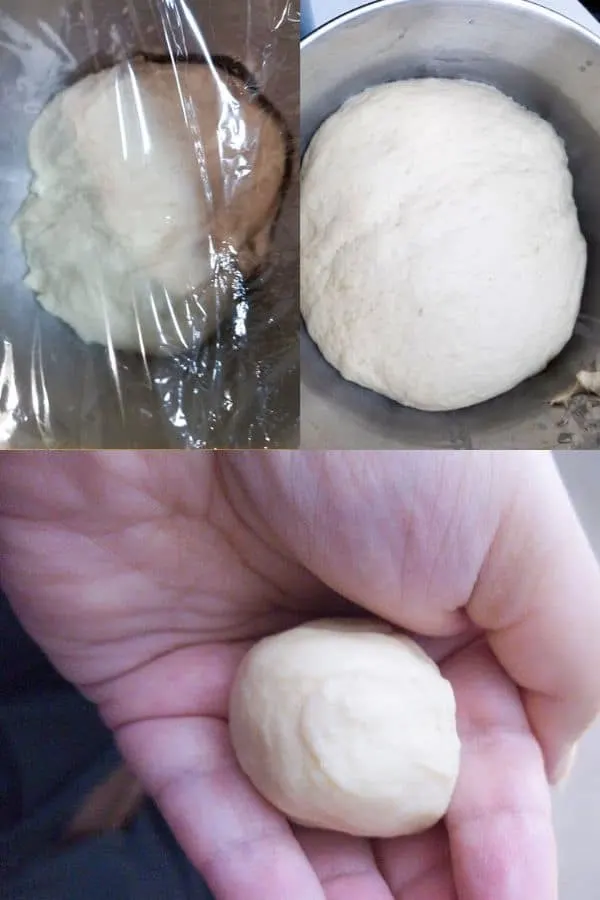 How To Shape Cloverleaf Rolls
Making a cloverleaf roll's unique shape is easy. Simply take the amount of dough you'd use for a regular-sized yeast roll and separate it into 3 similar-sized pieces.
Then roll each piece into similar-sized spheres. The smoother you make the top the prettier the rolls will be.
Then place the three spheres side by side in a greased muffin tin, let rise for about an hour and then bake.
If this seems a bit too time consuming for you right now you might prefer my Homemade Yeast Rolls Recipe. If this is your first time making bread or you haven't had a good experience before I also have these helpful yeast and homemade bread making tips.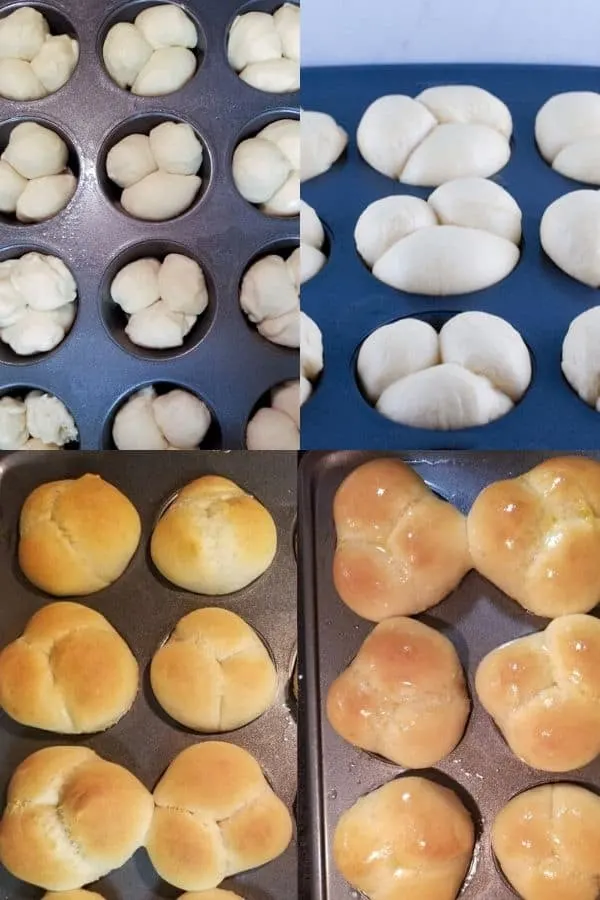 What To Eat With Cloverleaf Rolls
As I mentioned before I think homemade rolls can go with just about any meal. Here are some of my favorite main dishes to serve them with.
More Homemade Bread Recipes
Here are some of our other bread recipes made from scratch.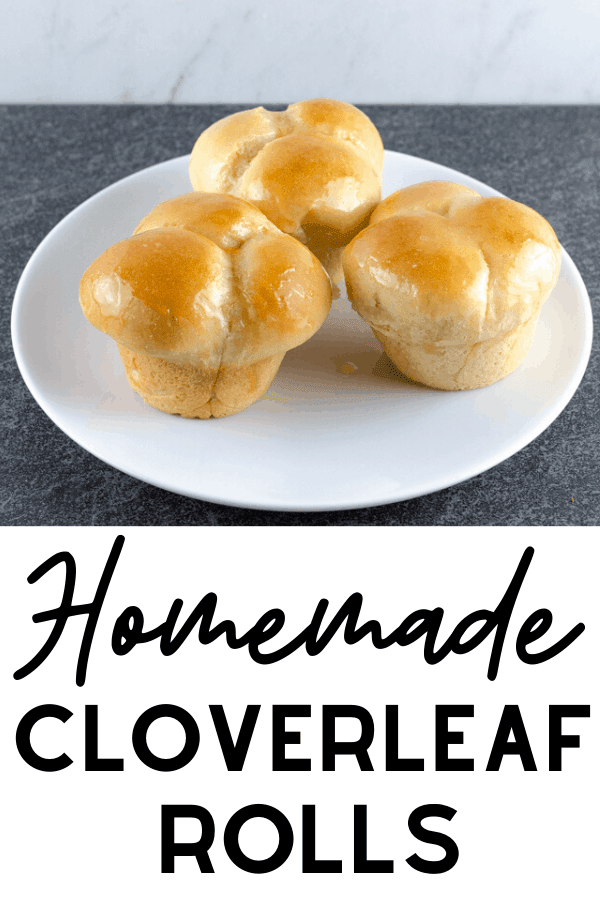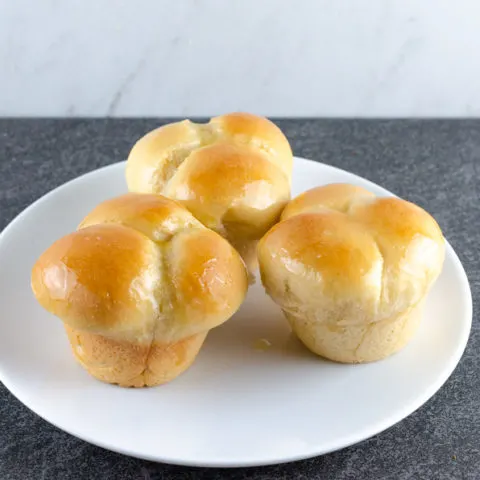 Homemade Cloverleaf Rolls Recipe
Total Time:
2 hours
35 minutes
This homemade cloverleaf rolls recipe is a classic loved by everyone. This dinner rolls recipe is soft and buttery, perfect for serving with almost any meal.
Ingredients
¼ cup warm water - not hot; should be around 105 - 115° F or comfortably warm to stick your finger in for several seconds
1 cup whole milk
4 tablespoons unsalted butter
1 large egg, beaten
Softened Butter
Instructions
Add the yeast to the ¼ cup warm water and whisk or stir to mostly dissolve. Set aside to bloom for 5 to 10 minutes. You should see some small bubbles on the surface as pictured above. If not, your yeast may have been dead or the water was too hot and killed it and you need to start over.
While the yeast mixture sits, place the 1 cup milk, 4 tablespoons butter, 2 tablespoons honey or sugar, and ¾+ teaspoon of salt into a microwave-safe bowl/cup or saucepan. Heat until milk is warm and butter is melted, around one minute in the microwave, longer on the stove over medium-low heat. Set aside to cool if needed. It shouldn't be warmer than you can comfortably stick your finger in as with the water.
Add the 1 egg and 1 cup of flour to the yeast mixture in a large mixing bowl or stand mixer bowl and stir with a spatula or mix on level 2 with a dough hook to combine. It doesn't need to be mixed perfectly and will look shaggy.
Once the milk mixture has cooled enough, add it to the flour mixture along with another 1 cup of flour and mix with a spatula or on level 2 with a dough hook.
Add another 1 cup of flour and mix in. At this point, the dough should be wet, sticky, and shaggy, yet pliable enough to start kneading by hand or in the mixer.
Flour your kneading surface lightly if doing so by hand. Knead the dough for about 6 to 8 minutes by hand or 4 to 6 minutes in the stand mixer, adding a small amount of flour to the surface when the dough starts to stick. The total amount of flour used will vary depending on the humidity of the day and even the flour you're using. You may need to add as much as 1 more cup. In the mixer, enough additional flour should be added so that a ball forms. It may stick some to the bottom of the bowl but it should not be wet enough to stick to the sides of the bowl.
Around the 6 to 8 minute mark by hand or 4 to 6 minutes in a mixer the dough should be noticeably smoother and be elastic. The dough should be soft and still slightly sticky. If the dough is overly sticky, add about two tablespoons of flour at a time until it isn't.
Take a large, clean bowl and coat it with a small amount of oil or cooking spray. Form the dough into a smooth ball by tucking the seam around a few times to the base. Place the bread "pretty" side down to coat with oil and then flip it so this side is now on top. If using a mixer, I just pat the dough down evenly in that bowl without oil. Cover with a clean towel or plastic wrap and let rise until doubled, about 1 hour.
In the meantime, grease a muffin tin with butter or non-stick spray. Once the dough has doubled, punch it down until the air is out. Divide dough into 12 equal parts. Divide each 12th into 3 equal pieces and roll each into a small ball. Place 3 balls into each muffin cup side by side.
Cover again and let rise until almost doubled in size, about 45 minutes to 1 hour. Preheat your oven to 350°F around the 30-minute mark.
Once the rolls have risen, uncover and bake on the middle rack for about 15 to 20 minutes or until golden brown. Remove the rolls from the muffin tin to the serving dish and brush with melted butter, if desired. Serve warm with softened butter.
Store leftovers in an air-tight container such as a ziptop bag for up to 3 days at room temperature or in the refrigerator. They may also be frozen for up to 3 months. Reheat by wrapping the rolls in foil and baking at 350°F in the oven until warmed through.
Notes
You can easily change up the flavor of the rolls by adding garlic to the butter when brushing the baked rolls. You can also sprinkle them with coarse salt or cheese.
Recommended Products
As an Amazon Associate and member of other affiliate programs, I earn from qualifying purchases.
Nutrition Information:
Yield:

12
Serving Size:

1
Amount Per Serving:
Calories:

217
Total Fat:

5g
Saturated Fat:

3g
Trans Fat:

0g
Unsaturated Fat:

2g
Cholesterol:

28mg
Sodium:

179mg
Carbohydrates:

36g
Fiber:

1g
Sugar:

4g
Protein:

6g
Nutrition information may not be accurate. Nutrition information is calculated automatically by and provided by Nutritionix. Exact nutrition information depends on the specific ingredients, brands, and amounts you use.