This easy corned beef dinner with vegetables recipe is a delicious classic one-pot meal.
One-pot meals seem to be all the rage lately, and rightfully so. The meals are usually warm and hearty and who doesn't appreciate having minimal dishes to wash?
While a lot of meals have been recreated to use one pot, there are some classics that have always been tasty and simple by being cooked in one pot. One of my favorites happens to be this easy corned beef dinner with vegetables recipe.
In fact, we love it so much we eat it year-round though it's most popular around St. Patrick's Day.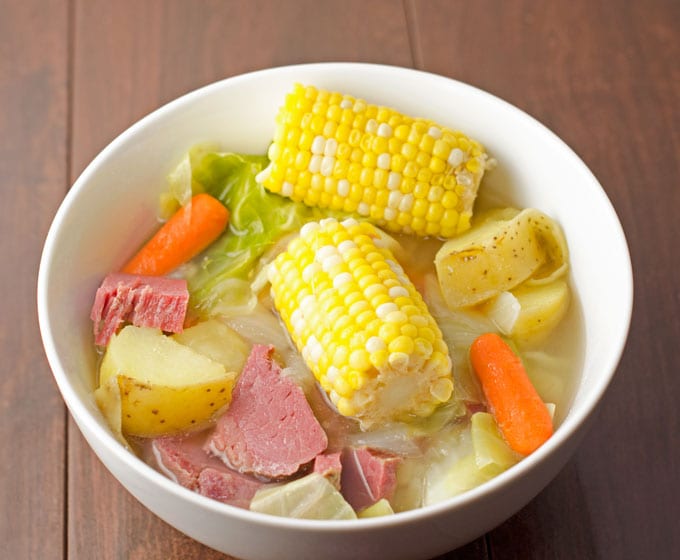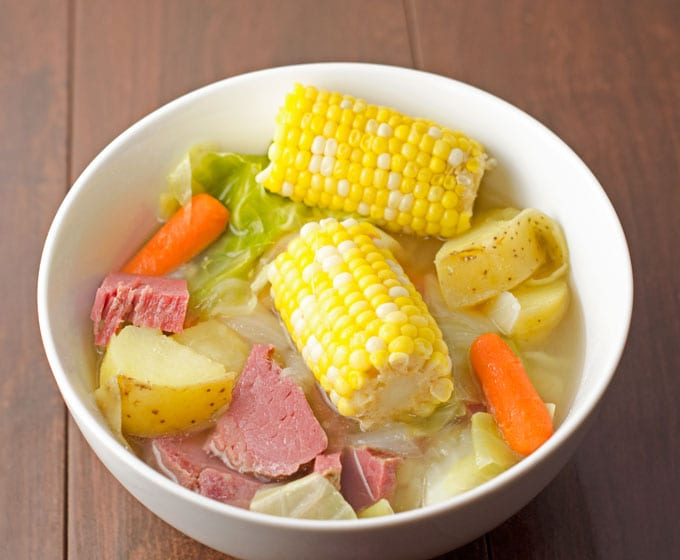 Boiled corned beef with vegetables is probably one of the easiest meals to put together, ever. You basically place the corned beef into a pot with some seasonings, cover with water, cook it, and then later add some veggies.
We normally have it what I consider to be the traditional way with potatoes, cabbage, carrots, and onions. I've also seen people add turnips, celery, and even green beans.
The last time I made this easy boiled corned beef dinner we had a few last ears of fresh summer corn in the fridge so I decided to toss it into the corned beef broth with the other veggies. I have to say, it was so tasty that I think it will now become a standard ingredient when I make corned beef and cabbage!
Here's how I put it all together. You'll need a few hours to cook the beef to make it tender and the most important part is to cut the veggies so that they all get done at the same time.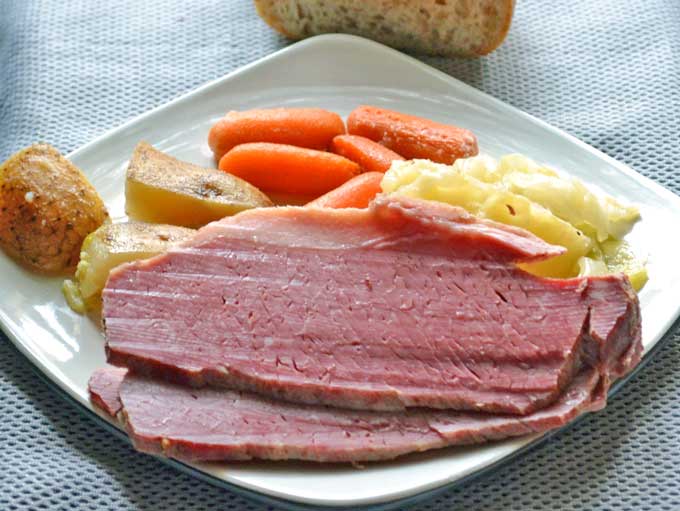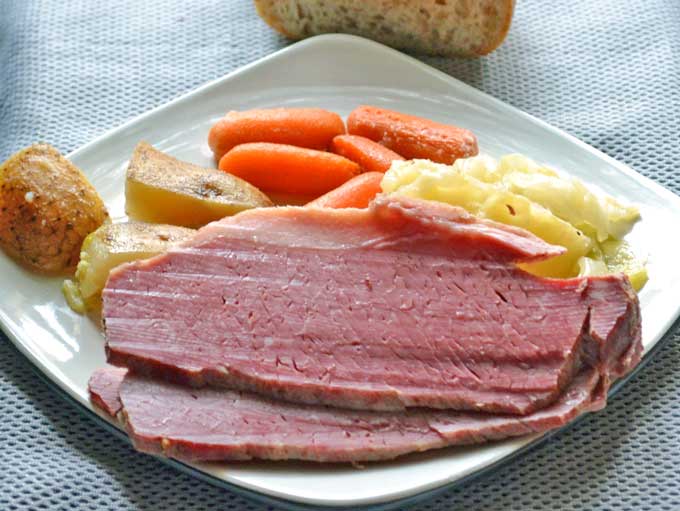 Recommended Equipment
Here are some tried and true products I use in my own kitchen to make this corned beef with vegetables.
Serve This Corned Beef Dinner With:
Related: 15 Recipes For Leftover Corned Beef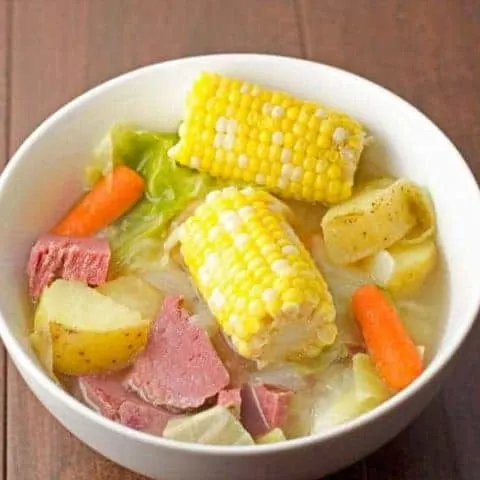 Easy Corned Beef Dinner With Vegetables Recipe
Total Time:
3 hours
10 minutes
This Easy Corned Beef Dinner With Vegetables Recipe is a delicious one-pot meal to enjoy all year long.
Ingredients
1 package uncooked corned beef with seasoning packet, at least 3 pounds
2 bay leaves
1 large onion sliced into half circles
Water
2 - 3 medium potatoes, peeled if desired and cut into large chunks
3 medium carrots, peeled and cut into large chunks, or about 1 cup baby carrots
1 medium - large head of cabbage, cored and cut into 6 - 8 wedges
2 ears of fresh corn, cut into thirds
Salt and pepper, to taste
Instructions
Remove the corned beef from the packaging and give a rinse with cool water. Pat dry.
Place the beef in a large dutch oven along with the seasoning packet (remove seasoning from the packaging as you would with a salt packet) bay leaves and onion.
Pour enough water over the beef until it's covered and bring to a boil over medium heat.
Lower temperature to low and cover. Simmer for about 2 to 2 ½ hours until meat is tender.
Once the meat is tender, move it to a cutting board and cover loosely with foil.
Add potatoes and carrots to the broth, bring back to a boil over medium-high heat. Once boiling, cover and cook for 10 minutes.
Add cabbage and corn, cover again, and simmer for another 10 - 15 minutes or until desired tenderness.
Slice beef as desired. Add it back to the broth to serve, or serve it on the side with the vegetables. Season broth to taste with salt and pepper and remove bay leaves before serving I love eating it almost as a soup as the broth is so flavorful at this point.
Notes
Add any other boiling vegetables you'd like or remove any you aren't overly fond of. It's totally okay to experiment. :)