Do you get tired of boring plain green beans? If so, you'll love the flavor punch of this sauteed green beans with bacon, cranberries, and almonds recipe!
This is a sponsored article written by Smart Savvy Living on behalf of Target. #TargetRun #MyTargetEssentials
As a person that loves cooking and eating, I really enjoy this time of year. During the holidays, I make several dishes that I usually only serve just once or twice a year.
You may think I might enjoy the desserts or turkey and ham most, but I actually really like to fill my plate with all the various side dishes.
You've got the cornbread dressing, richer-than-usual mashed potatoes, sweet potato casserole, creamed corn, and, of course, these sauteed green beans with bacon, cranberries, and almonds.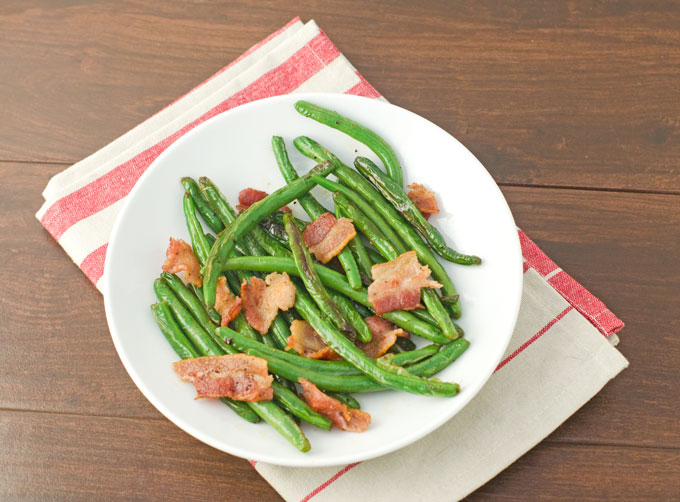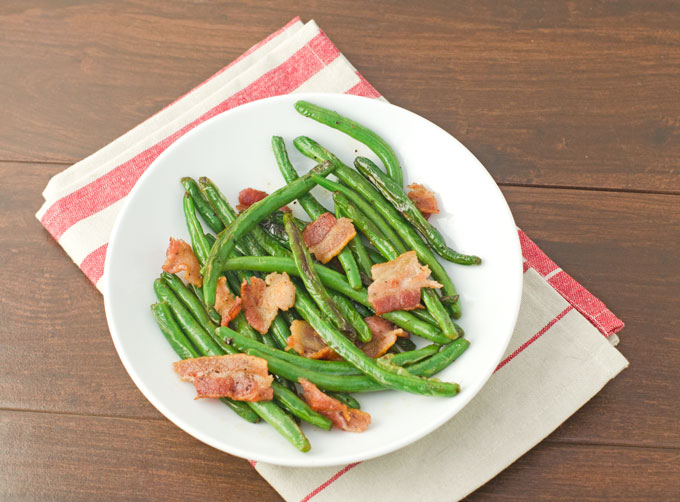 That may sound like a bit of a mouthful, but I promise it's a delicious mouthful of savory flavors, too.
This past weekend I stopped by Target to pick up a few things while we were out running errands and couldn't help but stroll through the holiday section, which got me craving some of my favorite holiday sides.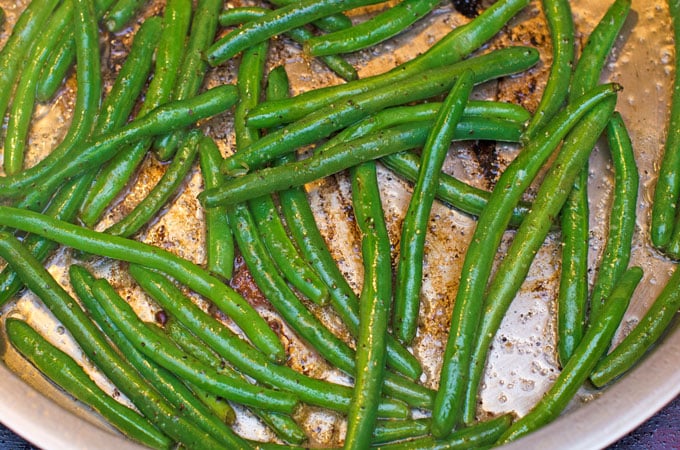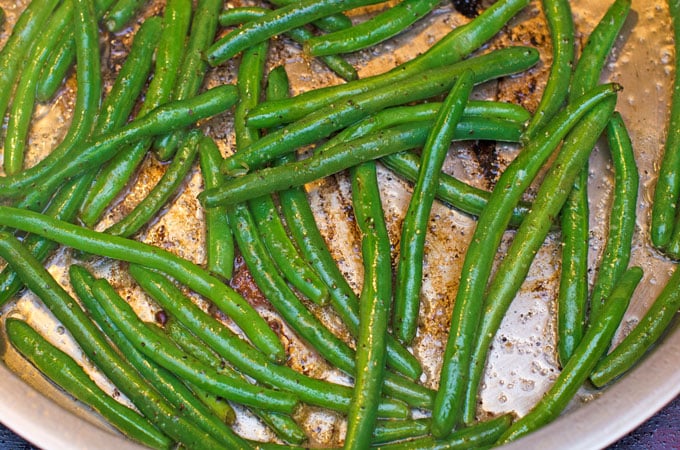 Since this green bean recipe is actually on the healthier side, I didn't think it would hurt to indulge a bit and got all the ingredients to make them while I was there.
I love this green beans with bacon recipe so much because, with the help of Target, it's actually super quick and easy to make.
The Archer Farms Green Beans are already prepped and ready to go, the Archer Farms Applewood Thick Cut Bacon is delicious, and the Archer Farms Cranberries & Sliced Almonds just need to be sprinkled over the top before serving.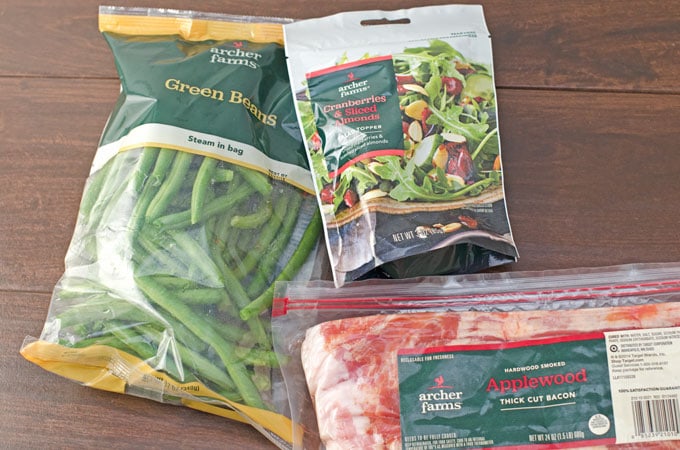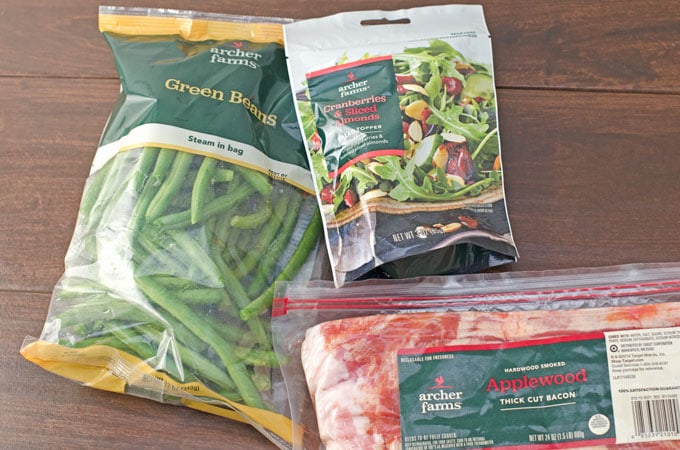 I love that Target has everything we need for the perfect Thanksgiving meal, including decorations, dishes, and the food. Now, being from the south I know the deliciousness of canned green beans with bacon and onion that have been pretty much cooked to death and don't look overly appetizing.
While I love those, I have also seen the beauty of fresh green beans lightly sauteed so that they're still crisp. You can, of course, used canned green beans, (or frozen, for that matter) in this recipe, but I really like the crispness of the fresh green beans.
The bacon adds a ton of salty meaty flavor that we all love while the cranberries add just a hint of sweetness and the almonds add a nutty crunch. Plus, the colors are just beautiful together this time of year.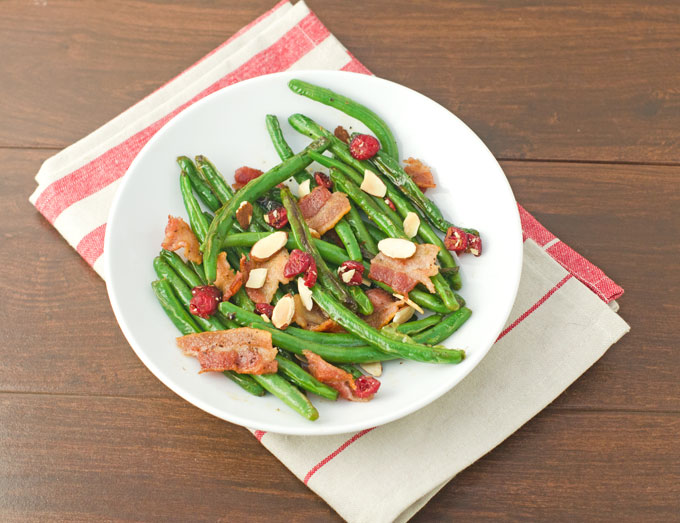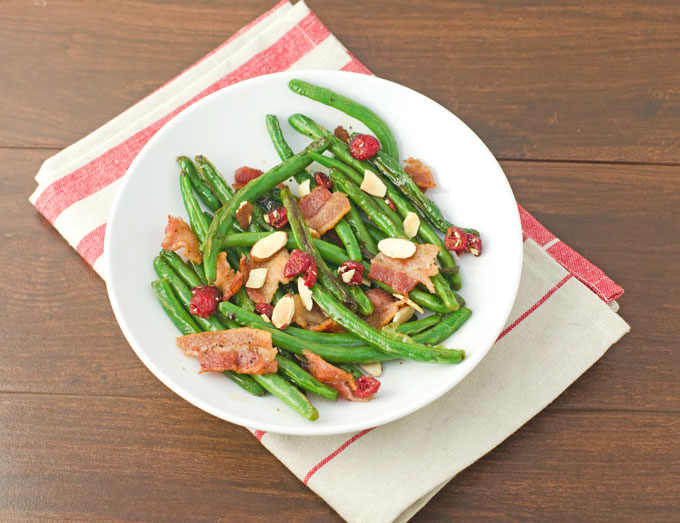 Here's how I make them.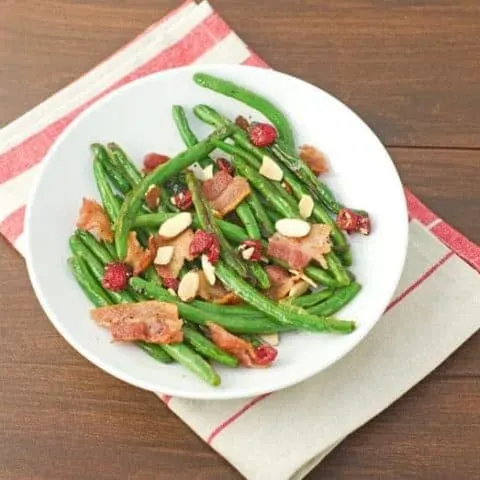 Sauteed Green Beans With Bacon, Cranberries, And Almonds Recipe
Do you get tired of boring plain green beans? If so, you'll love the flavor punch of this sauteed green beans with bacon, cranberries, and almonds recipe!
Ingredients
3 - 4 slices of Archer Farms Applewood Thick Cut Bacon
1 12oz bag Archer Farms Green Beans (found in fresh produce section)
1 Tablespoon unsalted butter
Salt & pepper to taste
1 3oz packet Archer Farms Cranberries & Sliced Almonds Salad Topper - Use as much as desired. I usually go with about half the package. or about 1 oz each dried cranberries and sliced toasted almonds
Instructions
In a large skillet over medium-low heat, cook the bacon until mostly crisp. When adding to green beans, I don't like to have it be super crisp, but you can, of course, cook it to your liking.
Once the bacon is cooked, remove it from the pan and place it on a plate lined with a paper towel to absorb excess grease. Leave about 1 - 2 tablespoons of bacon fat in the pan.
Sautee green beans in the bacon fat until crisp-tender, or your desired doneness, about 3 - 5 minutes. In the meantime, chop or crumble the bacon.
Once green beans are cooked as desired, turn off the heat. Add the tablespoon of butter and bacon to the green beans. Salt and pepper to taste and then stir everything together.
Place green beans in a serving bowl and sprinkle with cranberries & sliced almonds. Serve immediately or cover with foil and keep in a warm oven until serving.
Notes
These green beans are also delicious without the cranberries & nuts if you have guests that are allergic. I usually serve half without or keep the topping on the side just in case.