This sausage cornbread dressing recipe, or sausage cornbread stuffing recipe as some may like to call it, features a delicious crispy topping with a moist and creamy center.
One of the best, if not the best eating holidays of the year is obviously Thanksgiving. As much as I love turkey and all the desserts, what I really look forward to on Thanksgiving are the sides.
Mashed potatoes, sweet potatoes, butternut squash, green beans, creamed corn, cranberry sauce, rolls and, of course, the gravy all have me drooling in upcoming culinary heaven.
But, what I probably look forward to most is the cornbread sausage stuffing or dressing.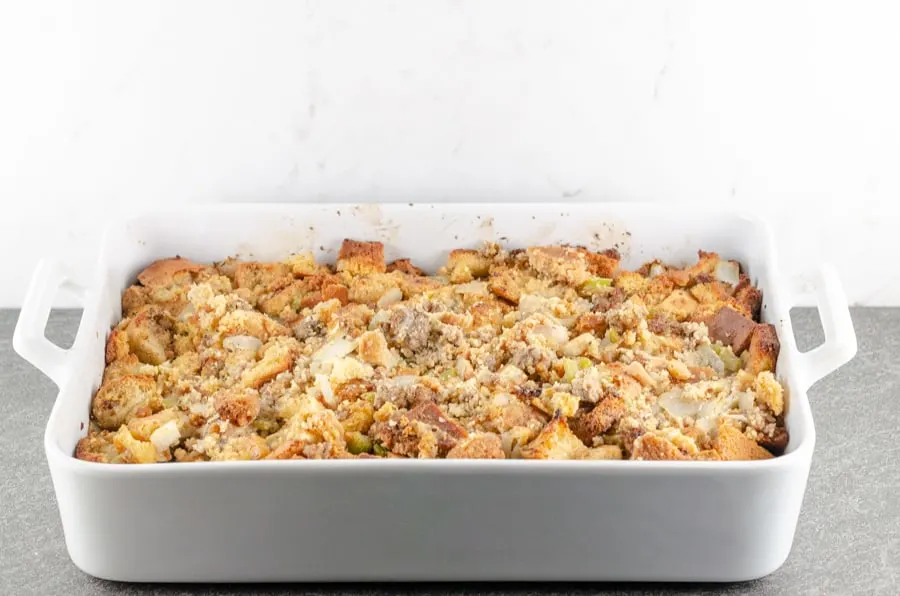 There's just something special about having turkey and rolls, but also having southern-style cornbread dressing finish out the meal with some extra carb and protein goodness.
After all, it's just one day a year, right? Well, I do love all the leftovers, too.
While I've tried a lot of stuffing and dressing recipes over the years, I honestly just keep coming back to this old fashioned cornbread dressing as I find it to be the best.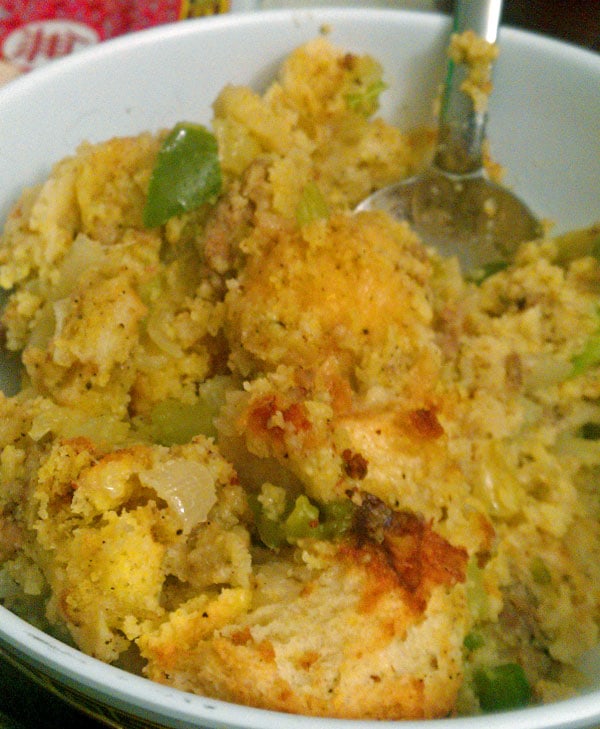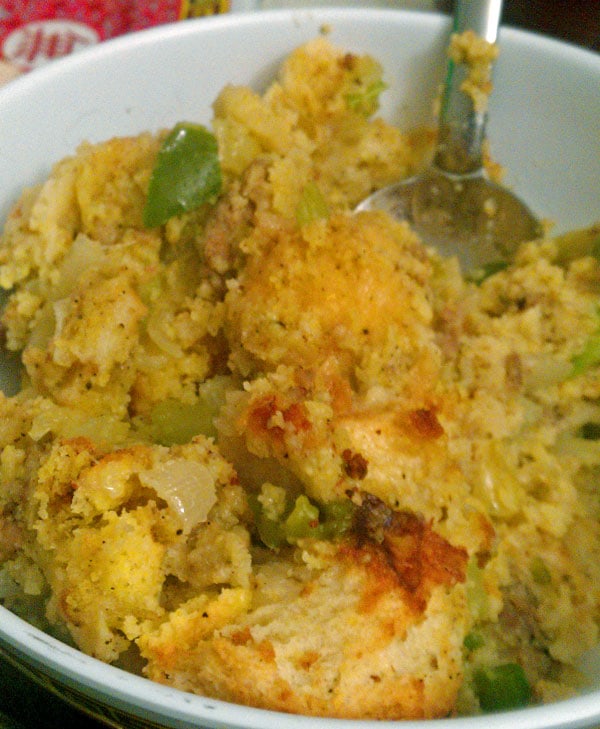 It's packed full of my favorite dressing flavors of cornbread, sage, and sausage. It stands up deliciously on its own or covered in gravy.
It's probably a southern thing, but, to me, the perfect stuffing or dressing hands down involves cornbread.
I know a lot of people don't like it because they think it has a weird texture, but that's usually from the cornbread stuffing having too much liquid or being crumbled into fine particles with no chunks.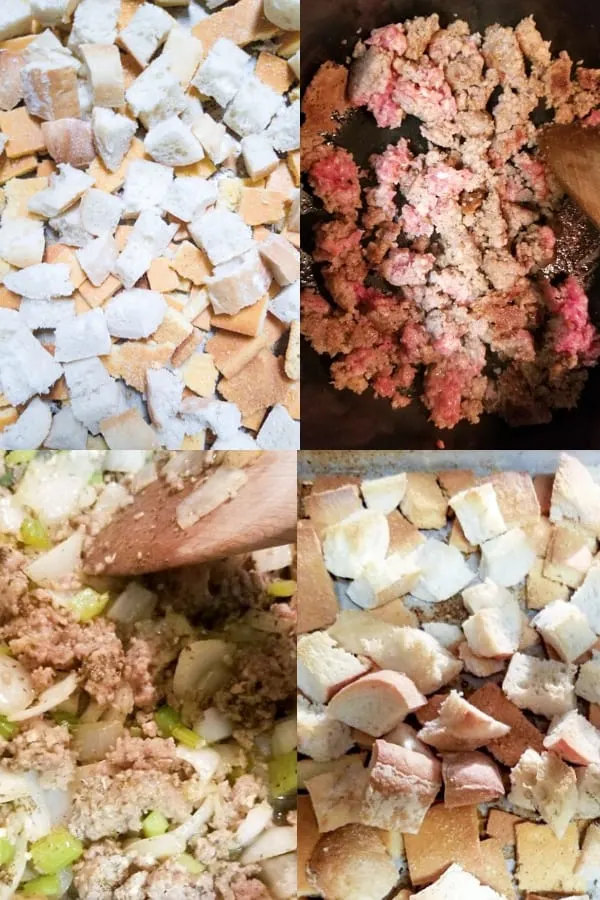 Growing up, I actually didn't have stuffing or dressing very much. My mom was a pretty good cook, but one thing she did not excel at was dressing no matter how much she tried.
However, I was lucky enough to grow up near a small restaurant chain called K&W Cafeteria. One of my favorite meals at K&W was the turkey and cornbread dressing.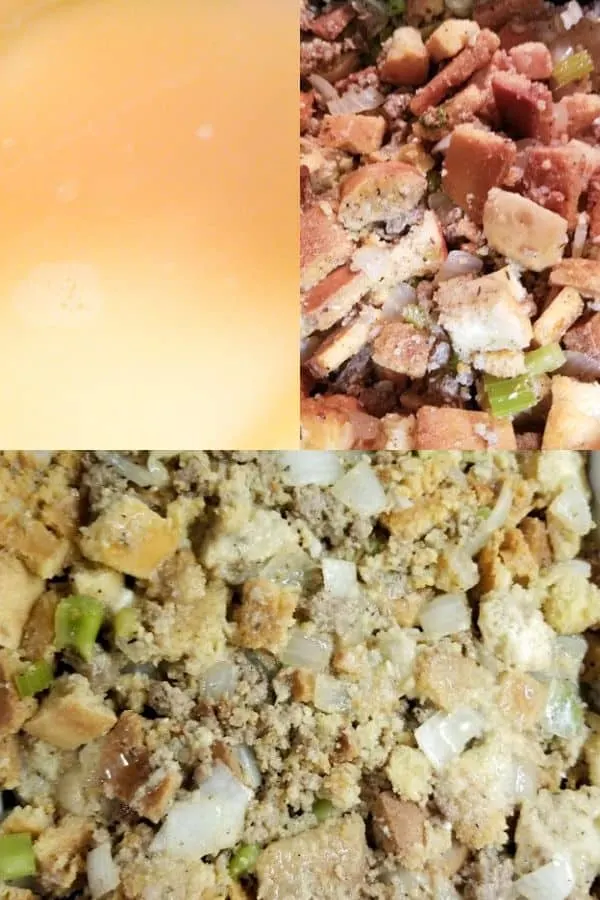 It had such a unique flavor, yet was moist and just perfect. So perfect that I ordered it every time I went there and they had it.
One of the most prominent flavors of the dressing was green bell pepper, so that is an ingredient I have chosen to carry forward with one of my own favorite cornbread stuffing recipes, along with a few other additions.
Southern Cornbread Dressing Variations
The nice thing about this Cornbread and Sausage Dressing Recipe is that it is rather versatile. You can:
Use different breads, though I recommend a white bread like French or sourdough
Change up the herbs
Use different types and flavors of sausage
Change up the size of the bread chunks to change the texture
Add fruits such as chopped apples, or dried raisins or cranberries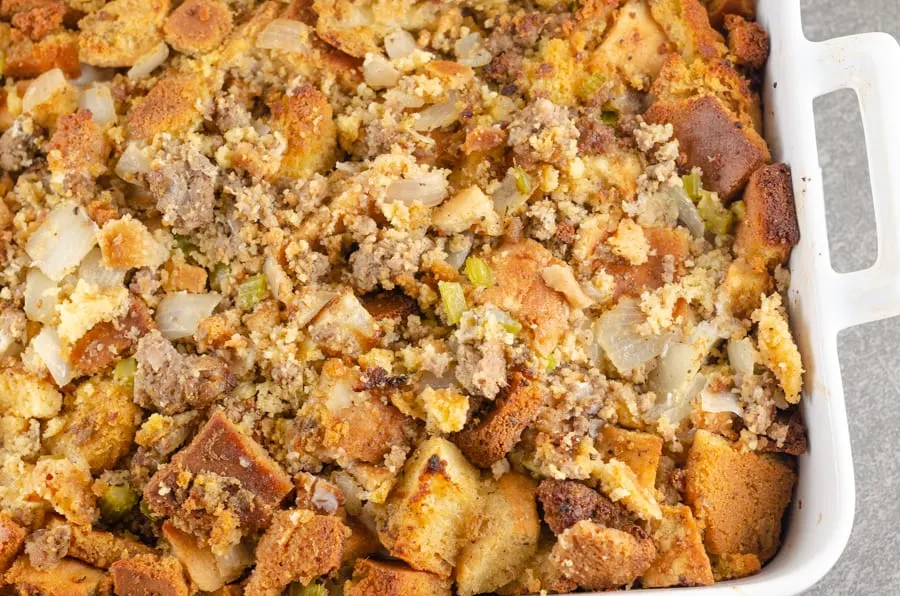 What To Serve With Sausage Cornbread Dressing
If turkey really isn't your thing or you were looking for leftover cornbread recipes here are some other entrees that go well with homemade cornbread dressing.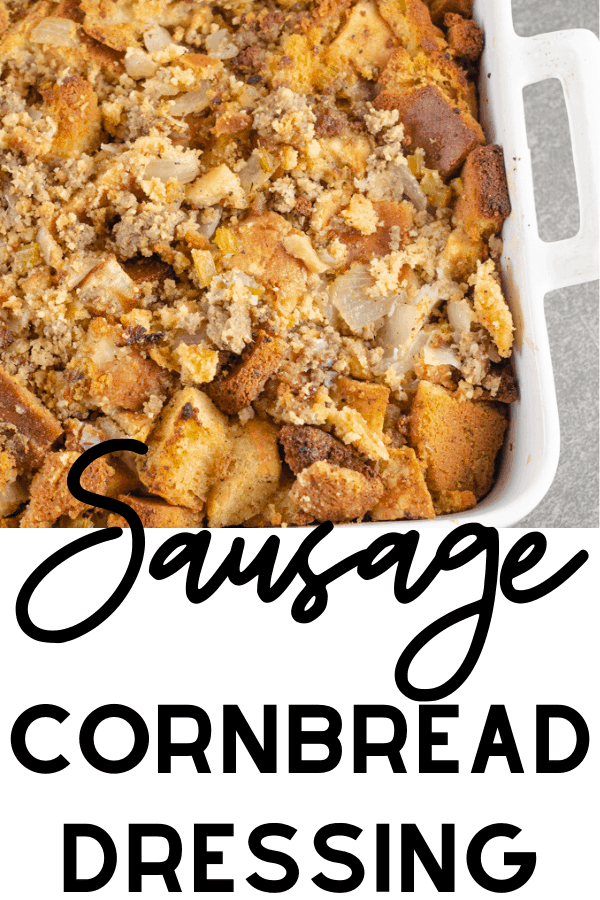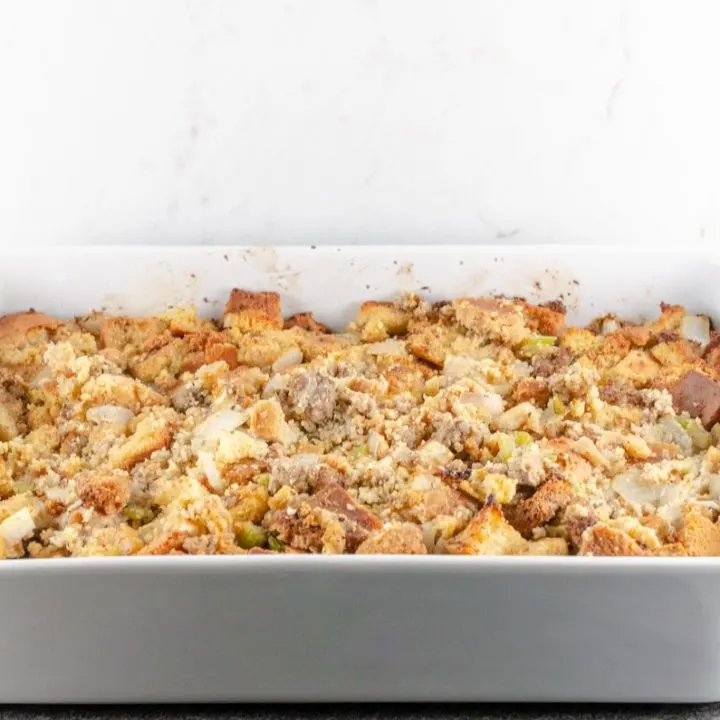 Sausage Cornbread Dressing Recipe
This sausage cornbread dressing recipe or sausage cornbread stuffing recipe as some may like to call it features a delicious crispy topping with a moist and creamy center.
Instructions
Preheat oven to 400°F for softer stuffing/dressing or 425°F for crunchier stuffing/dressing. I usually cook mine after the turkey comes out and is wrapped in foil to allow the juices to redistribute, but prep it while the turkey is cooking so it can go straight in.
Place stale bread and cornbread into a large mixing bowl and set aside. If it's not stale, cut into 1-inch cubes and toast it until slightly browned.
Brown sausage in medium to large skillet over medium-high heat, crumbling as it cooks. When the sausage is about halfway cooked through, add 2 tablespoons of butter and add the chopped onion, celery, bell peppers, and garlic. Stir occasionally and cook until vegetables are softened.
In the meantime, melt a stick of butter and make sure the broth is slightly warmed but not boiling hot. Once veggies have softened, season the mix with sage, poultry seasoning, thyme, salt and pepper to taste then pour over bread cubes and stir to combine.
Whisk three eggs into warmed broth until smooth. Again, you don't want the broth boiling hot so that the eggs don't scramble. Note that if you want to taste your dressing for flavor and don't like the idea of eating raw egg, you can skip this step and add in eggs prior to adding extra broth for moisture.
Pour broth mixture over the bread and veggie mix and lightly season with another sprinkle of sage, poultry seasoning, and thyme to build layers of flavor, and then gently stir until evenly blended.
At this point, test for seasoning and moisture, adding more seasonings or broth as desired.
Pour mixture into a greased 9 x 13 casserole dish, smooth the top, and then drizzle with melted butter.
Bake 20-30 minutes, uncovered if you want a crispier dressing or covered if you want a soft dressing. If dressing is too dry for your liking after baking, add a bit more broth and return to oven for 10-15 minutes. If you would like a crispier topping, continue baking until the desired doneness. I like a crisp top and moist inside, so I bake mine uncovered the entire time. Once done, serve immediately, or keep warm until ready to serve.
Leftovers can be stored in the refrigerator for up to 3 days. Best reheated covered in foil in the oven to retain crispness or reheat in the microwave to retain softness. Drizzle with broth before reheating if it has dried out.
Notes
This cornbread and sausage dressing or stuffing recipe goes great with turkey, but also pork and chicken.
Recommended Products
As an Amazon Associate and member of other affiliate programs, I earn from qualifying purchases.
Nutrition Information:
Yield:

12
Serving Size:

1/12th of recipe
Amount Per Serving:
Calories:

405
Total Fat:

19g
Saturated Fat:

8g
Trans Fat:

0g
Unsaturated Fat:

10g
Cholesterol:

122mg
Sodium:

782mg
Carbohydrates:

43g
Fiber:

1g
Sugar:

2g
Protein:

15g
Nutrition information may not be accurate. Nutrition information is calculated automatically by and provided by Nutritionix. Exact nutrition information depends on the specific ingredients, brands, and amounts you use.