This cornbread and sausage dressing recipe, or cornbread and sausage stuffing recipe as some may like to call it, features a delicious crispy topping with a moist and creamy center.
So now that Halloween is over, it's officially game on to start the search for the perfect Thanksgiving recipes, right? As much as I love turkey and all the desserts, what I really look forward to on Thanksgiving are the sides.  Mashed potatoes, sweet potatoes, butternut squash, green beans, creamed corn, cranberry sauce, rolls and, of course, the gravy all have me drooling in upcoming culinary heaven, but what I probably look forward to most is the cornbread and sausage stuffing or dressing.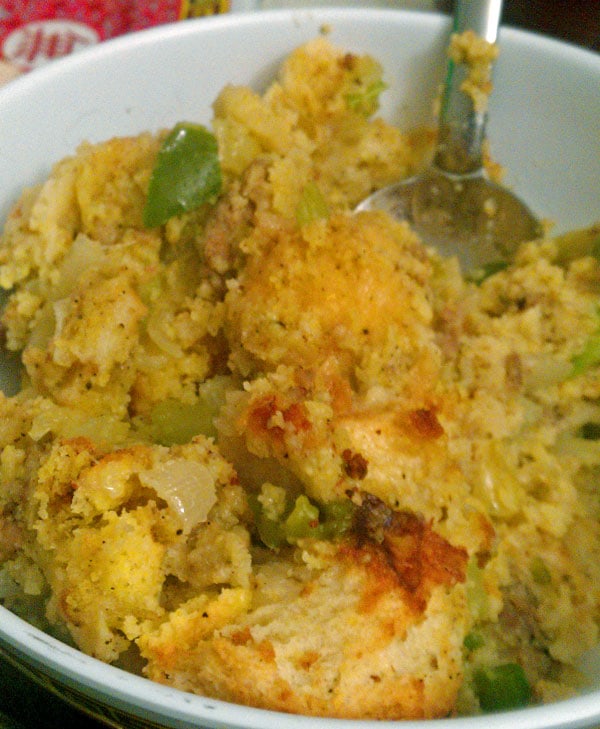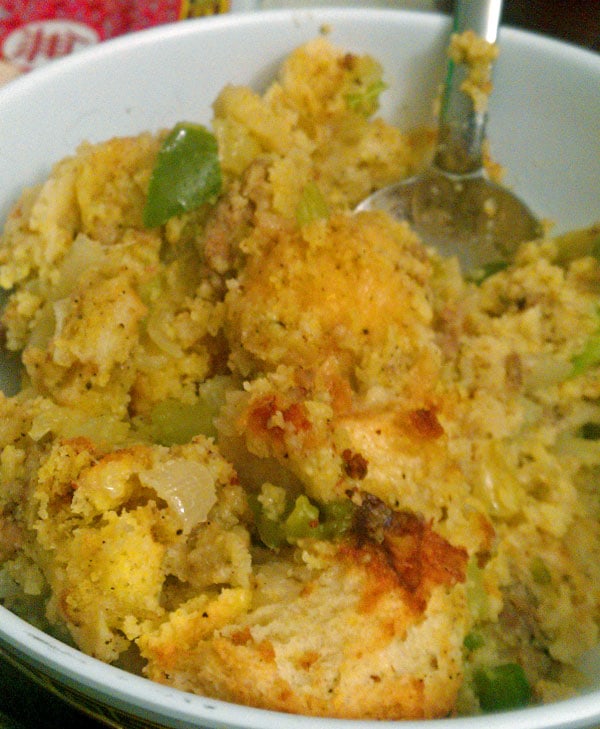 Please excuse the less than stellar pictures from last year before I got my fancy camera. :)
There's just something about having turkey and rolls, but also having stuffing or dressing finish out the meal with some extra carb and protein goodness.  After all, it's just one day a year, right?  Well, yeah, about that… Mr. Savvy and I decided to make it be two days this year.  We just couldn't keep passing up all the early nice turkey deals, so last week we had an early Thanksgiving meal.  This works perfectly for us as we love turkey and trying new recipes, so we can change things up a bit for Thanksgiving Day while getting all of our favorites in.  Plus, it's pretty awesome to have enough leftovers to not have to cook for a few days. ;)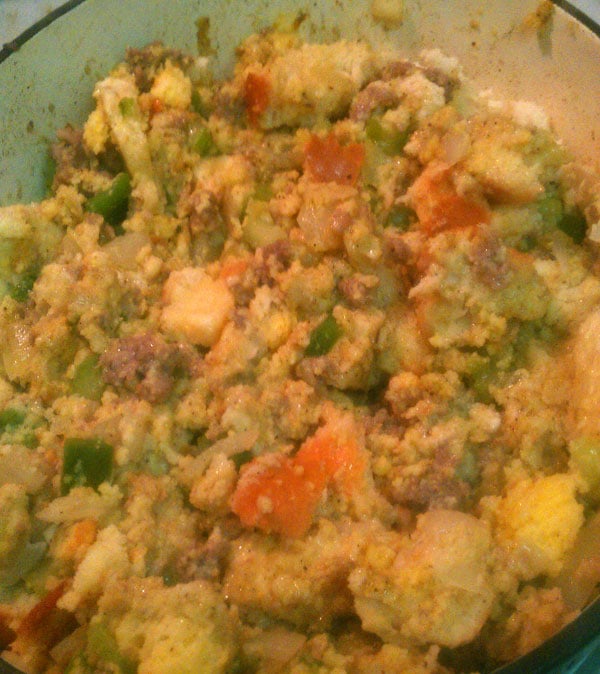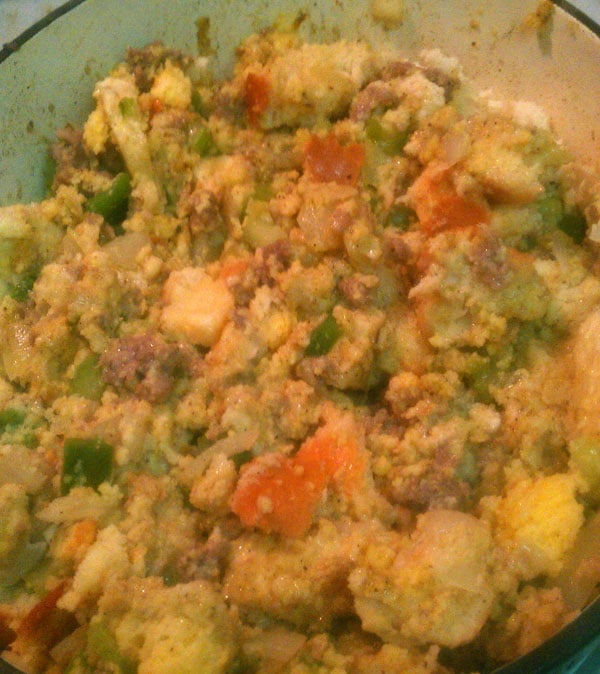 What the dressing looks like just before going into the oven.
While I've tried a lot of stuffing and dressing recipes over the years, I honestly just keep coming back to this cornbread and sausage dressing recipe. It's packed full of my favorite dressing flavors (cornbread, sage, and sausage) and stands up deliciously on its own or covered in gravy (is there really any other way?). It's probably a southern thing, but, to me, the perfect stuffing or dressing hands down involves cornbread.  I know a lot of people don't like it because they think it has a weird texture, but that's usually from the cornbread stuffing having too much liquid or being crumbled into fine particles with no chunks.  Growing up, I actually didn't have stuffing or dressing very much.  My mom was a pretty good cook, but one thing she did not excel at was dressing no matter how much she tried. However, I was lucky enough to grow up near a small restaurant chain called K&W Cafeteria.
Cornbread and Sausage Dressing Recipe
I so miss living near this restaurant as just about everything they served was tasty and you just couldn't beat the price.  One of my favorite meals at K&W was the turkey and cornbread dressing.  It had such a unique flavor, yet was moist and just perfect.  So perfect that I ordered it every time I went there and they had it.  One of the most prominent flavors of the dressing was green bell pepper, so that is an ingredient I have chosen to carry forward with one of my own favorite cornbread stuffing recipes, along with a few other additions.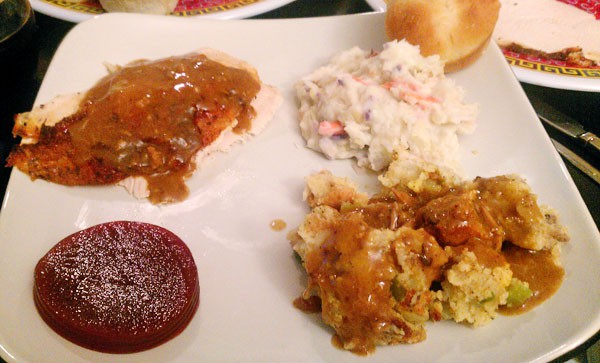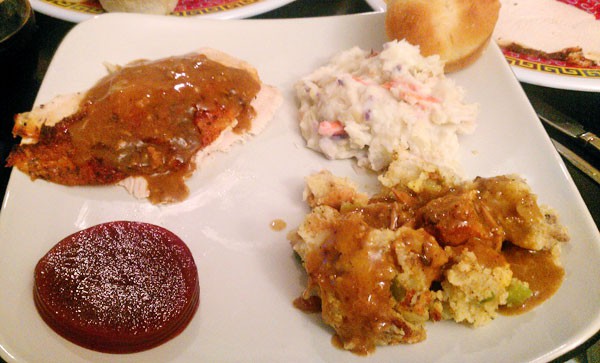 Our early Thanksgiving meal: Turkey with gravy, Colcannon (Irish style mashed potatoes), this dressing, homemade yeast rolls and cranberry sauce. Green beans were there somewhere too.
The nice thing about this Cornbread and Sausage Dressing Recipe is that it is rather versatile.  Don't add in any of the veggies you don't like and add in any others you may like such as mushrooms or apples, use whatever type of bread you like (though I do suggest white or sourdough) toasted or just stale and in whatever size chunks you prefer, change up the herbs, etc.  Now that I've written a short story, let's get on to the Cornbread and Sausage Dressing Recipe! ;)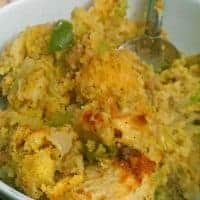 Cornbread and Sausage Dressing Recipe
This cornbread and sausage dressing recipe, or cornbread and sausage stuffing recipe as some may like to call it, features a delicious crispy topping with a moist and creamy center.
Ingredients
3-4 Cups stale cornbread, cubed (I often bake up 2 packs of Jiffy corn muffin mix the day before and leave out over night)
3-4 Cups stale bread, cubed and toasted, if desired (I use my yeast roll recipe and leave out about half a loaf or 6 rolls overnight)
1 lb (16 oz) breakfast or Italian sausage, whatever flavor you like
2 Tablespoons + 1 stick butter
1 large onion, peeled and roughly chopped
4 stalks celery,cleaned and roughly chopped
2 green bell peppers, cleaned and roughly chopped
Fresh garlic or garlic powder
Dried sage to taste (about 1-2 Tablespoons)
Poultry seasoning (about 1 teaspoon)
Thyme (about 1 teaspoon)
3 large eggs
2 cups chicken or turkey broth + up to 2 more cups, warmed
Instructions
Preheat oven to 400° for softer stuffing/dressing or 425° for crunchier stuffing/dressing. I usually cook mine after the turkey comes out and is wrapped in foil to allow the juices to redistribute, but prep it while the turkey is cooking so it can go straight in.
Place stale bread and cornbread into large bowl and set aside.
Brown sausage in medium to large skillet, crumbling as it cooks.
Remove sausage from pan, leaving drippings, and add to bowl with the bread.
Add 2 Tablespoons of butter to sausage drippings.
Place 1 stick of butter in small saucepan and let melt over low heat while continuing with recipe.
Add onion, celery, bell peppers and garlic (and any other veggies you want) to sausage drippings and butter mixture, sprinkling with salt, pepper, garlic (if using powder), poultry seasoning, thyme and sage and cook over medium heat until desired doneness, stirring every couple minutes. If you want your veggies crisper, only cook 2-3 minutes; if you prefer them softer, cook 5+ minutes.
While veggies cook, take 2 cups of broth (make sure it is only warm and not hot so eggs don't scramble) and add eggs, whisking until smooth.
Note that if you want to taste your dressing for flavor and don't like the idea of eating raw egg, you can skip this step and add in eggs prior to adding extra broth for moisture.
When veggies are done, add to bread, lightly season with salt, pepper, sage, etc. and mix lightly.
Pour over broth and egg mixture, again lightly seasoning to build layers of flavor, and then gently stir until evenly blended.
At this point, test for seasoning and moisture, adding more seasonings or broth as desired.
Pour mixture into 9 x 13 or other large casserole dish (or if you're like me and want less dirty dishes, I just use the same enamel cast iron dutch oven I sauteed the veggies in) and then drizzle the melted stick of butter over the top. If stuffing bird, pour butter over mixture before stuffing and cook as desired.
Bake 20-30 minutes, uncovered if you want a crispier dressing or covered if you want a soft dressing. If dressing is too dry for your liking after baking, add a bit more broth and return to oven for 10-15 minutes. If you would like a crispier topping, continue baking until desired doneness. I like a crisp top and moist inside, so I bake mine uncovered the entire time.
Notes
This cornbread and sausage dressing or stuffing recipe goes great with turkey, but also pork and chicken.
 I hope you enjoyed this Cornbread and Sausage Dressing Recipe!