Do you ever ask yourself can you make mashed potatoes without peeling the potatoes? The answer is yes with this skin-on mashed potatoes recipe!
If someone did a poll asking both kids and adults what their favorite side dish to go with dinner was, I'd be willing to bet that mashed potatoes would be near, if not the very, top answer.
I love mashed potatoes myself. They're warm and comforting and taste great whether you make them simple or add several other ingredients.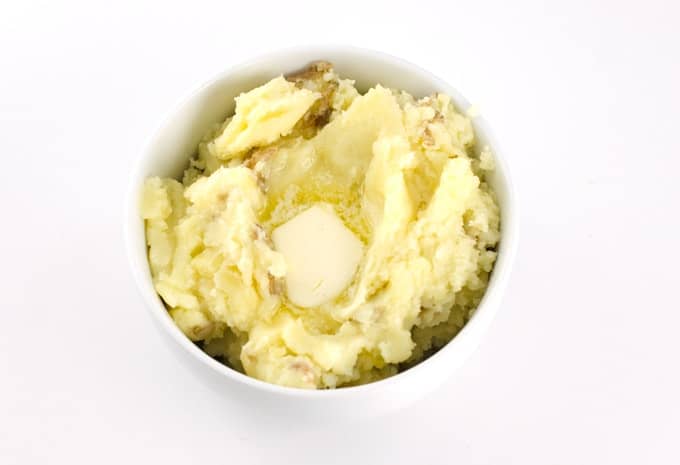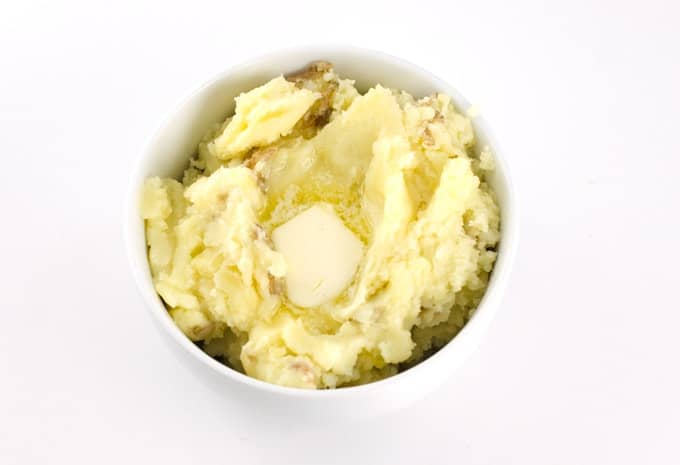 Mashed potatoes are fairly easy to make, too. Well, except for one of the kitchen chores I hate most: peeling potatoes.
It's not that peeling potatoes is hard, I just hate doing it.
Mr. Savvy is usually the one that buys the potatoes and for some reason seems to always get the smallest ones, which I think are more difficult and time-consuming to peel.
And yes, I have even cut myself with a vegetable peeler before. No, I don't understand how either.
Can You Make Mashed Potatoes With Skin?
Yes! You can make mashed potatoes without having to peel them with this skin-on mashed potatoes recipe.
You'll want to make sure to use fresh potatoes when making homemade mashed potatoes with skin.
You don't want to use potatoes on their way out or thick-skinned potatoes.
What Potatoes Are Best To Use For Skin-On Mashed Potatoes?
I also like to leave the potato skins on in my mashed potatoes because there are added health benefits like additional fiber and more nutrients.
I prefer using Yukon Gold for mashed potatoes but when leaving on the skin I also like to sometimes use Red Potatoes.
I find that Yukon Golds are good if you want smooth mashed potatoes while red potatoes are good for chunkier mashed potatoes as they are easier to over-mix into a glue-like consistency in my experience.
How To Make Skin-On Mashed Potatoes
Otherwise, skin-on mashed potatoes come together just like regular mashed potatoes in their creamy, buttery goodness.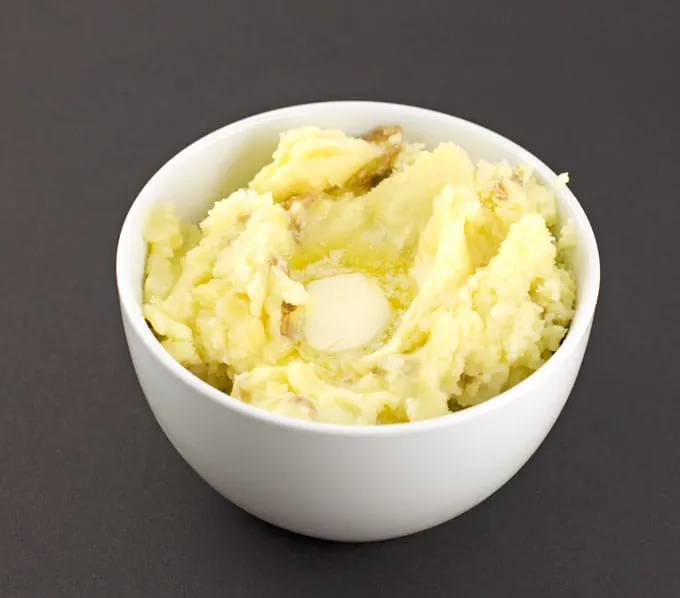 Recommended Tools For Making Mashed Potatoes
Here are some of my favorite products to use when making skin-on mashed potatoes.
Serve These Skinned-On Mashed Potatoes With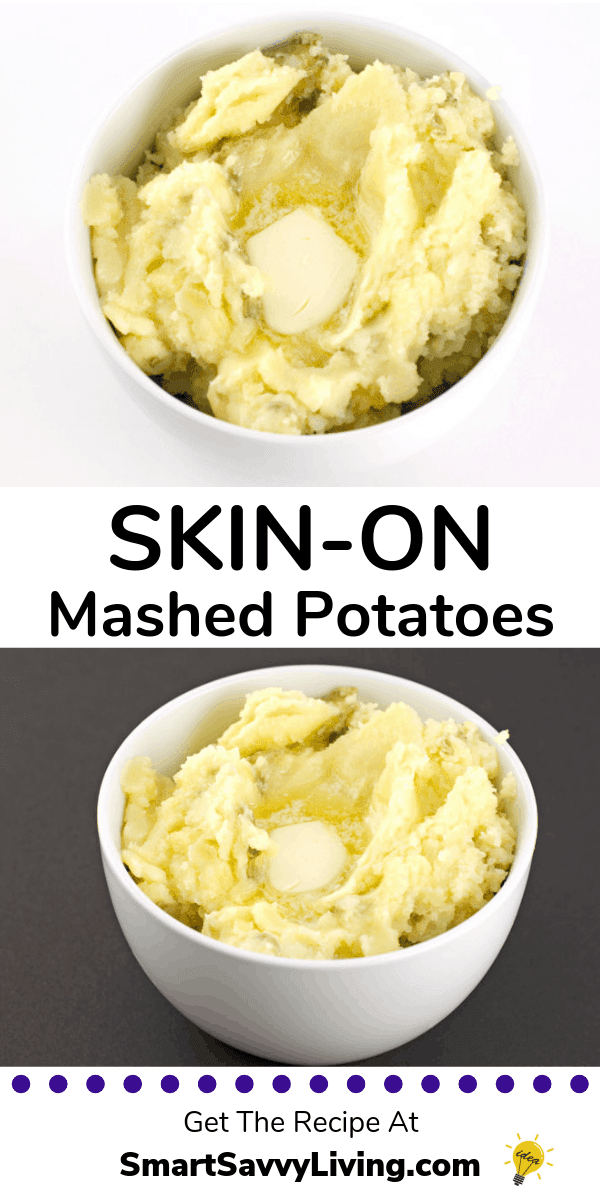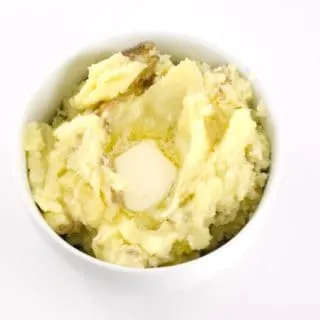 Skin-On Mashed Potatoes Recipe
Do you ever ask yourself can you make mashed potatoes without peeling the potatoes? The answer is yes with this skin-on mashed potatoes recipe!
Ingredients
2 pounds yukon gold potatoes
½ cup sour cream
½ stick butter (4 oz), preferably softened
½ cup half & half or cream
Salt to taste
Pepper to taste
Instructions
Set out sour cream to warm up slightly while preparing the other ingredients.
Thoroughly wash/scrub potatoes until they are very clean. Cut out any bad spots or eyes (though I suggest using potatoes that haven't sprouted eyes).
Cut unpeeled potatoes into large chunks that are as even in size as possible. Place potato chunks into a pot of cold, salted water (at least 1 ½ teaspoons salt), covering with at least an inch of water, and bring to a boil. Lower the heat to medium and boil the potatoes until they're fork-tender about 15 to 20 minutes.
While the potatoes boil, gently heat the half and half or cream and butter until slightly warmed and the butter melted, being careful to not boil the dairy.
Thoroughly drain potatoes in a strainer and place them back in the warm pot over low heat. If using an electric stove you may want to turn it off as they retain heat longer. Gently shake the pot (make sure to use pot holders) or stir for at least 1 minute (or let them sit in the pot for about 5 minutes) to help get rid of some of the steam. One key to great mashed potatoes is removing any water before mashing.
Turn off the heat or remove the pot from the warm burner.
If using a ricer, go ahead and remove the potatoes and rice back into the pot then gently stir in the butter mixture and sour cream being careful to not overmix.
If mashing with a potato masher, leave the potatoes in the pot and start mashing the potatoes while slowly streaming in the butter mix being careful to not overmix. Gently stir in the sour cream.
If the potatoes are too thick for your liking, add in more cream or half and half until the desired consistency.
Season with salt and pepper to taste, gently stirring to not overmix.
Top with extra butter, if desired.
Serve immediately. Leftovers can be stored covered in the refrigerator for up to 3 days.
Notes
To make extra special with a punch of flavor consider adding in shredded cheese, chopped green onion or chives, and/or crisp bacon.
Softened cream cheese can be used instead of sour cream, or a mix of both.
Nutrition Information:
Yield:

4
Serving Size:

⅛ of recipe
Amount Per Serving:
Calories:

433
Total Fat:

23g
Saturated Fat:

14g
Trans Fat:

1g
Unsaturated Fat:

7g
Cholesterol:

66mg
Sodium:

288mg
Carbohydrates:

51g
Fiber:

5g
Sugar:

5g
Protein:

8g
Nutrition information may not be accurate. Optional ingredients, garnishes and toppings aren't included. Nutrition information is calculated automatically by and provided by Nutritionix. Exact nutrition information depends on the specific ingredients, brands, and amounts you use. For more precise nutrition values please input the exact ingredients, brands, and amounts into your preferred nutrition calculator.
More Recipes For Mashed Potato