This colcannon (Irish-style mashed potatoes) recipe is a twist on the same old same old mashed potatoes.
While I'm not Irish, colcannon quickly became one of my favorite side dishes. As soon as I read the ingredients I knew Colcannon had to be good.
It's a great way to change up from the usual mashed potatoes that can quickly become boring. You can even use leftover mashed potatoes to make colcannon.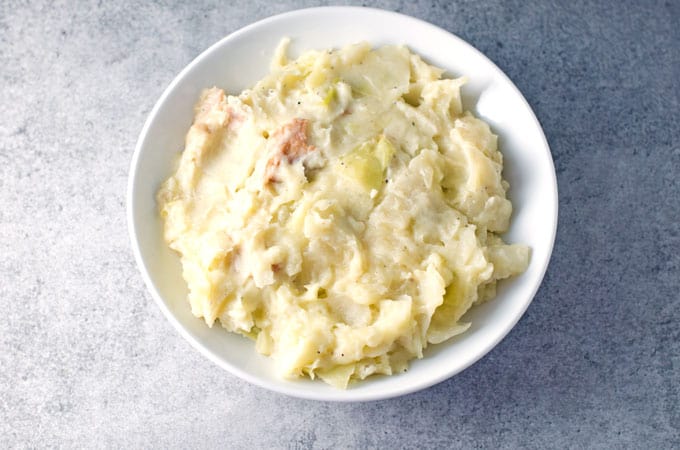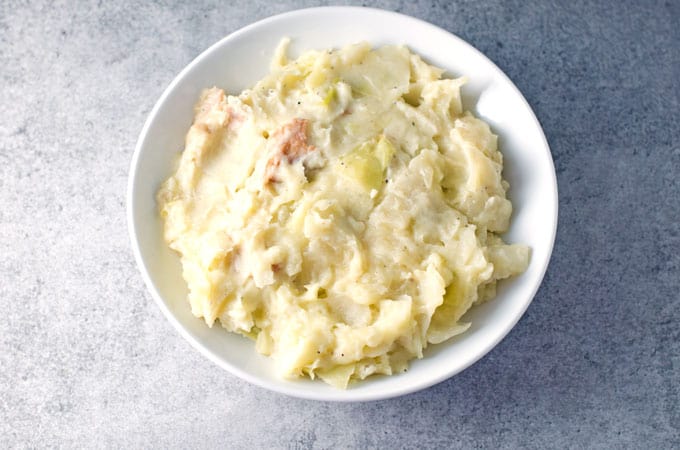 However, it's still a pretty frugal dish, which I have found to be a nice trick to impressing people without spending big bucks. All you have to do is simply change up a traditional dish by adding a special ingredient or two.
Think of Colcannon as Irish-style mashed potatoes of sorts. Colcannon is great with both corned beef and ham, for St. Patrick's Day, Easter, and the holidays. It's also great with steak dinners and really any protein that you're making for a special occasion.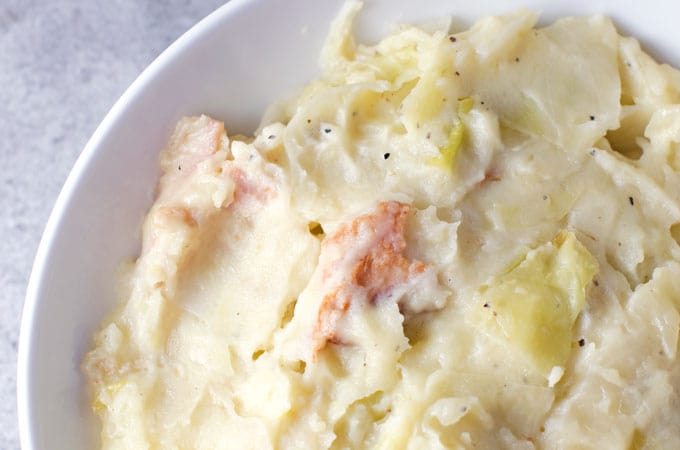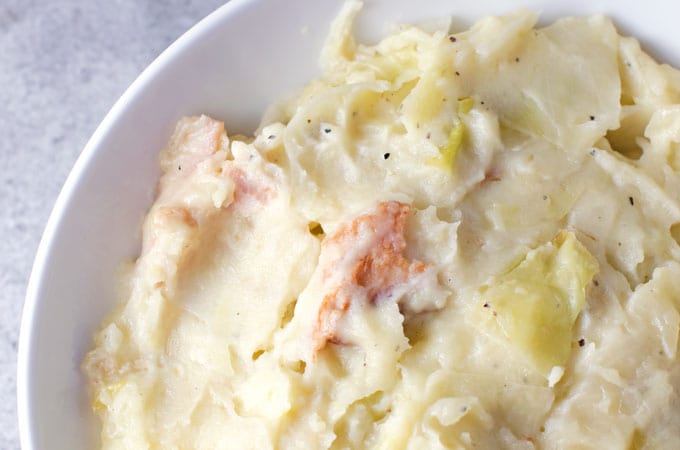 However, it is certainly on the rich side, so it's probably not a dish you're going to want to indulge in too often unless you wanted to make some healthier alternative swaps. We often enjoy it during holiday meals or special dinners, like birthdays.
If you take a peek around the internet, you're sure to find various instructions and ingredients in colcannon recipes with the traditional recipe being made with kale. But, we really like colcannon made with cabbage. Really, how can you go wrong with potatoes, butter, cabbage, and, of course, bacon?
Savvy Tip: Want to get super smooth mashed potatoes? You might want to invest in a potato ricer. For the perfect mashed potatoes, you also want to make sure you dry your potatoes super well after cooking. I drain well in a colander and then add them back to the warm dutch oven to get rid of any residual water.
OXO Good Grips 3-Quart Stainless Steel Colander
Lodge EC6D43 Enameled Cast Iron Dutch Oven, 6-Quart, Island Spice Red
OXO Good Grips Stainless Steel Potato Ricer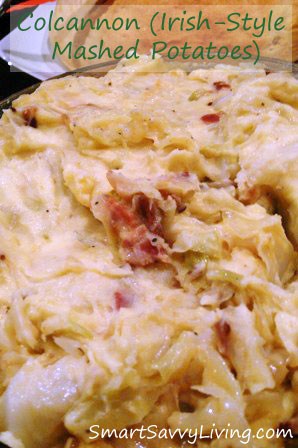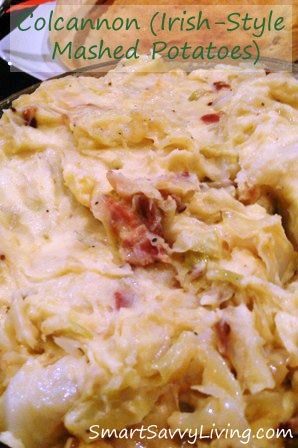 What To Serve With Colcannon
More Delicious Mashed Potato Recipes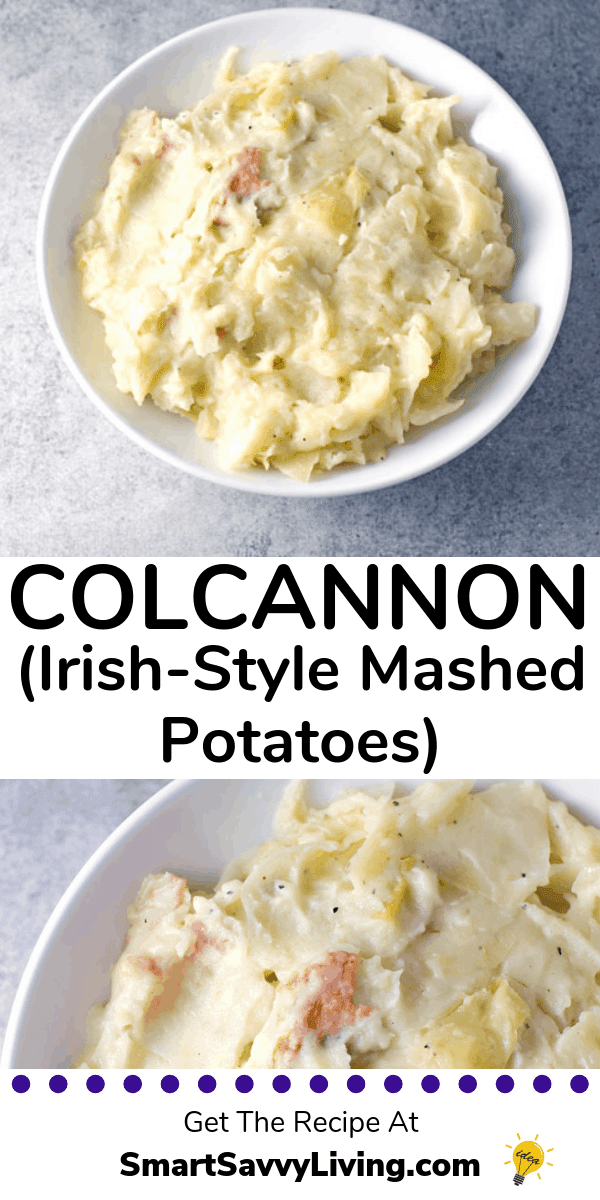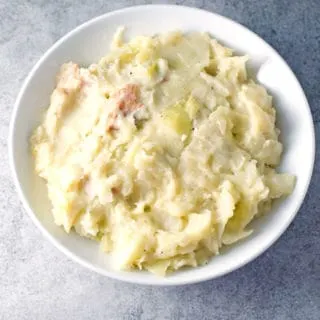 Colcannon (Irish-Style Mashed Potatoes) Recipe
This colcannon (Irish-style mashed potatoes) recipe is a twist on the same old same old mashed potatoes.
Ingredients
3 pounds potatoes (preferably yukon gold or russet), scrubbed, peeled and cubed
¾ - 1 pound bacon, preferably thick-cut
1 small to medium head of cabbage - cored and chopped or shredded (or a large bag of coleslaw mix if you're feeling lazy like I often do)
1 large onion, chopped
1 cup milk or heavy cream, warmed
1.5 sticks unsalted butter, softened or melted
Salt and pepper
Olive oil (optional)
Extra Butter (optional)
1-2 cloves of garlic (optional)
Instructions
Place potatoes in a large dutch oven. Cover with water and add a large pinch of salt. Boil until fork tender for mashing.
While potatoes boil, cook the bacon over medium-low heat until crisp in a large skillet or your preference of doneness.
Remove bacon and set aside once cooked. Pour off the grease if you have more than a tablespoon or 2. Alternatively, if you used really lean bacon, you may need to add some olive oil for the next step.
Add onion and garlic, if desired, to remaining grease and cook until crisp-tender, 2-5 minutes.
Add chopped cabbage or slaw mix and cook until softened, about 7-10 minutes.
When the potatoes are done, drain and then add them back to the hot pot over low heat to make sure they are dry.
Add butter and warmed milk or cream and mash as usual, adding salt and pepper to taste.
Stir in the bacon and cabbage/onion mix. Test again for seasoning.
Place in serving dish and enjoy!
Notes
Note that the traditional way to enjoy colcannon is with a well in the center of the bowl filled with melted butter, thus the optional butter listed above. I usually skip this step since I add the butter to the dish itself, but enjoy it however you like!