This Homemade Cinnamon Rolls with Cream Cheese Frosting Recipe is the perfect way to start the weekend! Flaky layers of slightly sweetened yeast dough are filled with a buttery cinnamon filling and topped with the perfect cream cheese frosting for cinnamon rolls.
As I've mentioned in the past, I find it tough to eat breakfast during the week. However, on weekends and holidays, I really enjoy going to the trouble to making a nice homemade breakfast or brunch.
One of our favorite indulgent breakfast and brunch foods just so happens to be this homemade cinnamon rolls with cream cheese icing recipe.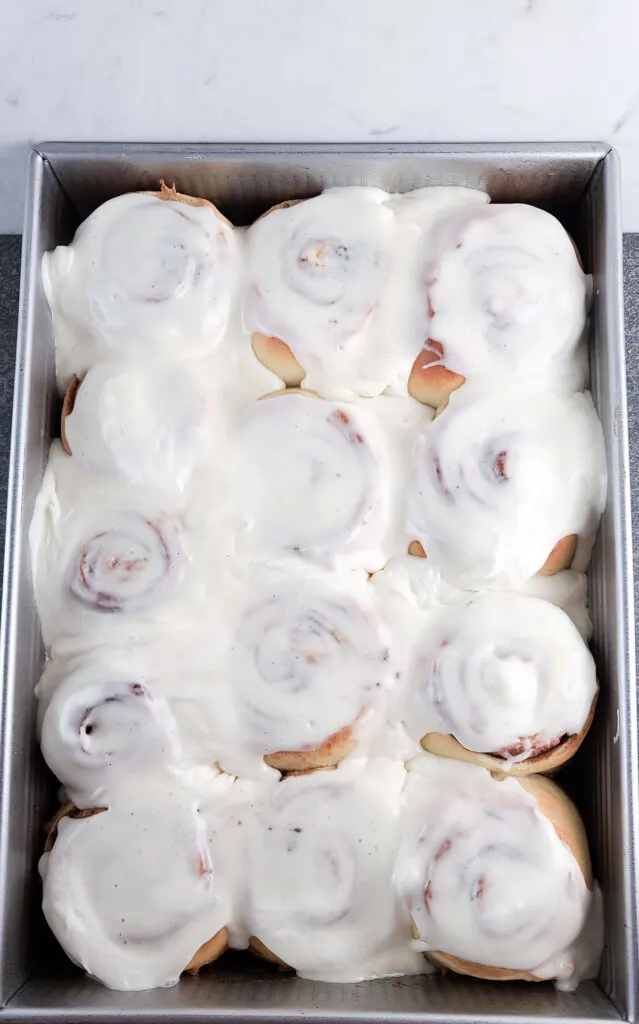 Sure, you could hit up the local Cinnabon. But I find there is just something extra special about going to the trouble of making homemade cinnamon rolls.
These homemade cinnamon buns are perfect to bake while opening presents on Christmas morning. They're also a favorite for Easter brunch or even just because.
I know a lot of people are a bit scared to work with yeast. We've all heard horror stories of going to all the trouble and ending up with inedible hockey pucks. I've certainly been there.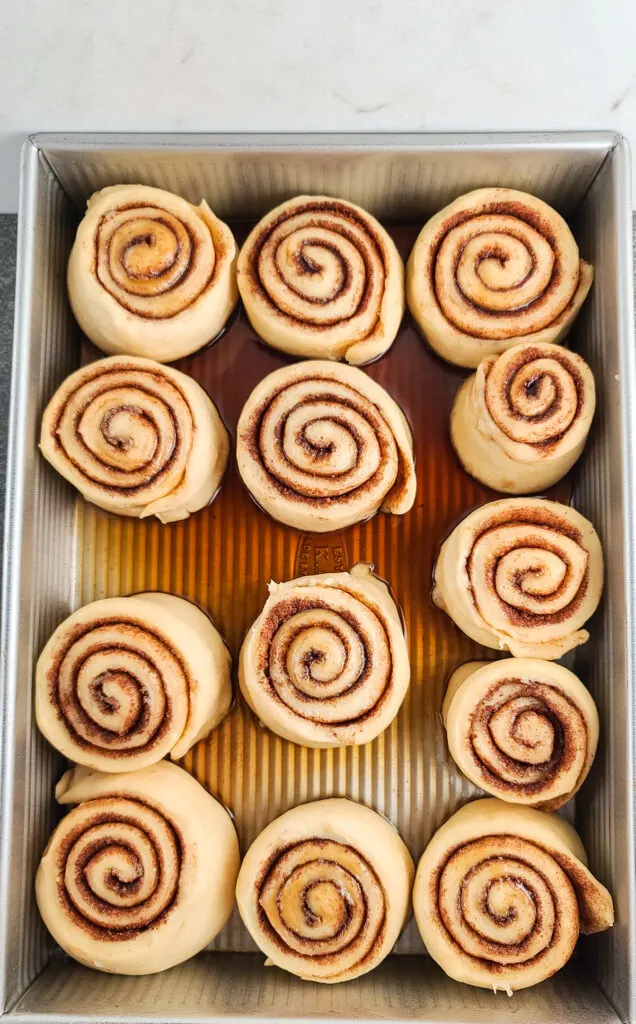 Just take your time and go through the steps carefully until you get the hang of it. it's really not something to totally stress yourself out over.
Using a stand mixer or bread machine can take out a lot of the guesswork, but kneading can be just as easy with some practice. I've even shared several tips for using yeast to help make sure your rolls are a success.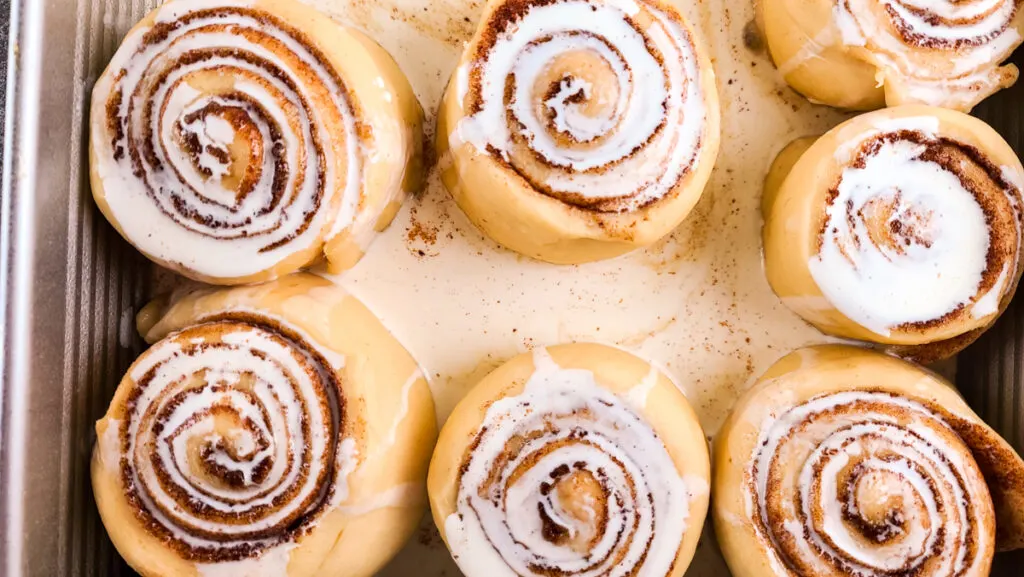 Homemade Cinnamon Rolls with Cream Cheese Frosting Recipe
These rolls are made up of traditional cinnamon roll flavors that let the cinnamon flavor really shine through without being too potent. Of course, if you're like me, the frosting is actually your favorite part.
As always, you can change up the recipe to your liking. For example, I added raisins to the filling. I'd add them to the dough itself next time, though, so they don't fall out of the roll so easily.
You could also add nuts or instead of using cinnamon, opt for lemon or orange zest, which would also make a great addition to the icing.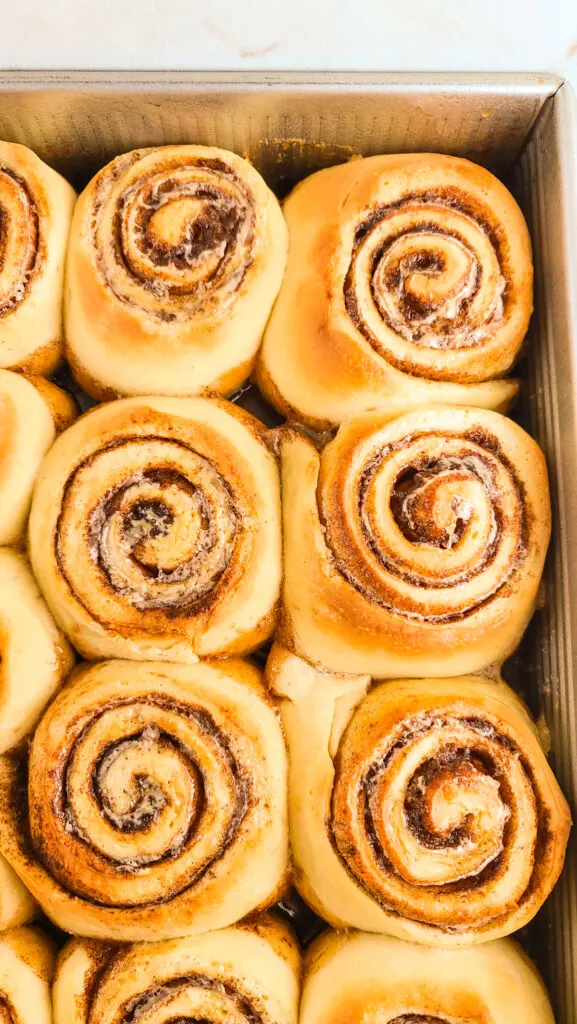 Smart Savvy Tip For Quick Homemade Cinnamon Rolls
Homemade cinnamon rolls are a bit time consuming due to rise time if you're like me and don't like getting up super early.
So, my super smart savvy tip is to make the dough, let it rise, then make the cinnamon rolls, place them in the pan, cover with plastic wrap and leave in the fridge overnight. You could also freeze them at this point.
I then take them out of the fridge and leave on the counter to warm up and rise a bit more while I get ready and the oven preheats. Then, make the cream cheese frosting while the rolls bake or you can make it the night before as well.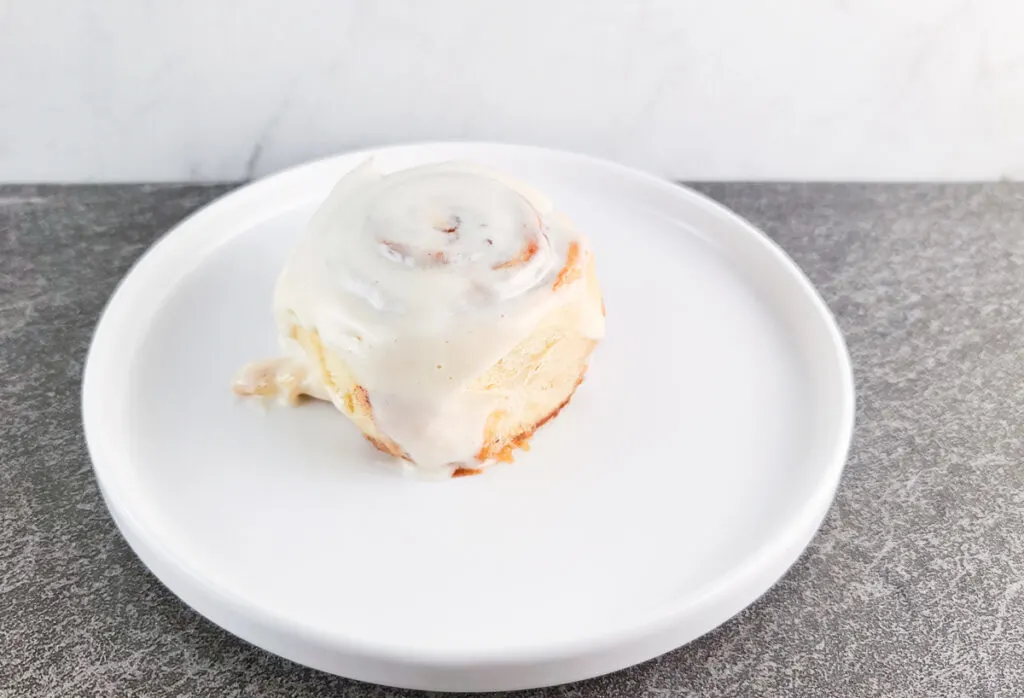 More Brunch-Friendly Recipes
Tools For Making Homemade Cinnamon Rolls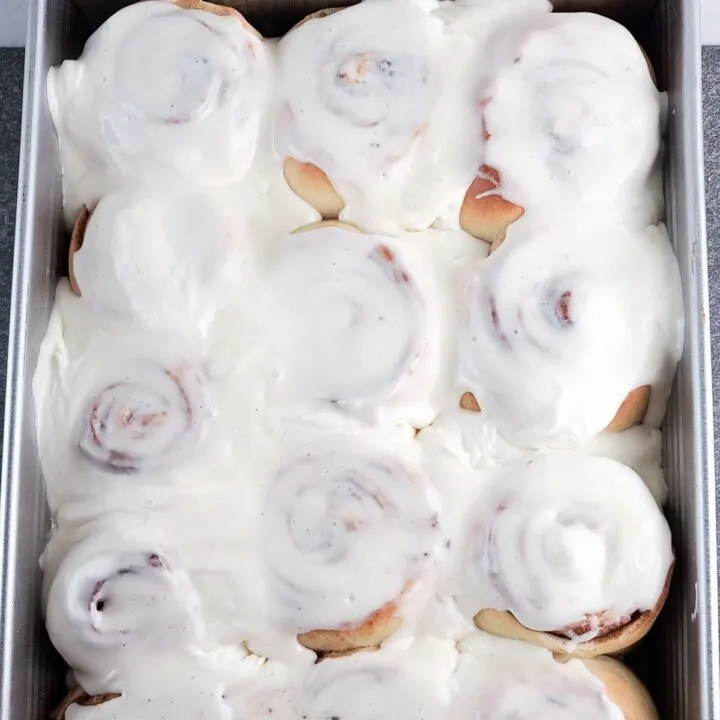 Homemade Cinnamon Rolls with Cream Cheese Frosting Recipe
Yield:
12+ cinnamon rolls
Total Time:
2 hours
40 minutes
These cinnamon rolls do take a while to make but are totally worth it and will make you the star of your next brunch or gathering!
Ingredients
Ingredients for Dough:
1 cup whole milk (you can probably use 2% but I always use whole when baking)
⅓ cup unsalted butter, melted
1 teaspoon salt
2 large eggs, room temperature
½ cup heavy cream (optional for extra gooey cinnamon rolls)
Ingredients For Filling
⅓ cup unsalted butter, softened
Ingredients for Cream Cheese Frosting:
3 oz cream cheese, softened
¼ cup unsalted butter, softened
Instructions
Heat milk to lukewarm, between 100-115°F. Any hotter and the yeast could die. I always use an instant-read thermometer to be sure.
Once heated, pour milk into a large mixing bowl or the bowl of a stand mixer. Stir or whisk in the yeast until dissolved. Let sit for 5-10 minutes until frothy. If you see no bubbles, the yeast was either killed or may be bad and you'll need to start over with fresh yeast.
Add sugar, butter, salt, and eggs to yeast mixture and thoroughly combine.
If using a stand mixer for kneading, add in the yeast mixture and 3 cups of flour to the mixer bowl and attach to the mixer with the dough hook. Turn on to the appropriate dough setting and wait for the flour to be thoroughly mixed in. Add the remaining cup of flour, adding more, if needed, a tablespoon at a time, continuing to run the mixer until the dough forms a ball in the bowl and is elastic - about 10 minutes.
If kneading by hand, add all 4 cups of flour and stir or mix with your hands until the dough has come together enough to knead. Place dough on a lightly floured clean surface and knead for 5-10 minutes until dough is smooth and elastic, adding more flour as needed to prevent sticking.
If desired, lightly mix or knead in raisins and pecans.
Lightly oil or spray a large clean bowl. Shape dough into a large ball, place upside down in the oiled bowl to coat, then turn right-side up, cover with plastic wrap or a clean kitchen towel, and leave to rise until doubled in a warm place 1 - 2 hours.
Once the dough has doubled, thoroughly punch it down and then turn it out onto a lightly floured surface.
Using a rolling pin, or pat with your hands, roll out the dough into approximately a 16 x 21-inch rectangle (the long side facing you), adding a bit more flour if it starts to stick.
Spread softened butter all over the rolled out dough and then sprinkle evenly with brown sugar and cinnamon.
Starting with the side closest to you, begin rolling the dough tightly to the top edge. Pinch the top edge to the dough roll, and then roll over the roll so that the pinched edge is now on the bottom.
At this point, you can cut the rolls into whatever size you desire with a knife, unflavored floss or thread. I usually just use a serrated knife.
Place the rolls into a pan that has been sprayed with non-stick spray. I find that the rolls bake up best in a 9 x 13 baking dish or 2 cake pans. Having the filling ooze out can be a common problem with cinnamon rolls and I find the best solution is to leave just a bit of room for the rolls to rise and double so they will be touching and supporting each other.
Cover pan(s) of rolls with plastic wrap or a clean towel and allow to rise until doubled in size in a warm area - about 30 minutes to 1 hour. I usually make my cinnamon rolls the day before and stick the pan in the fridge at this point to slowly rise overnight. Then I set them out on the counter for about 1 - 2 hours first thing in the morning.
While rolls rise, preheat your oven to 400°F. For extra gooey cinnamon rolls pour ½ cup heavy cream directly over the rolls and let sit at least 5 minutes before baking. The rolls won't completely absorb the cream until baked.
Once preheated, bake the rolls for about 15-20 minutes, or more depending on how large you made yours, until golden brown.
In the meantime, make the frosting by beating together the softened cream cheese, butter, sugar, vanilla, and salt.
One rolls are browned, remove from the oven and slather with frosting. You may want to let them cool a few minutes before frosting as it will melt.
Serve and enjoy!
Cover and refrigerate any leftovers for up to 3 days. Frosted rolls can also be frozen. Rolls will reheat best in a dish covered with foil in a 350°F oven though can be microwaved for 30 seconds - 1 minute as well.
Nutrition Information:
Yield:

12
Serving Size:

1 large cinnamon roll
Amount Per Serving:
Calories:

517
Total Fat:

26g
Saturated Fat:

11g
Trans Fat:

0g
Unsaturated Fat:

13g
Cholesterol:

77mg
Sodium:

249mg
Carbohydrates:

65g
Fiber:

4g
Sugar:

28g
Protein:

8g
Nutrition information may not be accurate. Nutrition information is calculated automatically by and provided by Nutritionix. Exact nutrition information depends on the specific ingredients, brands, and amounts you use.