This post with my no-bake berry cheesecake parfaits recipe is part of a sponsored post written by me on behalf of Mondelez.
Looking for a super easy 4th of July dessert recipe that's also portable? Check out our no-bake berry cheesecake parfaits recipe!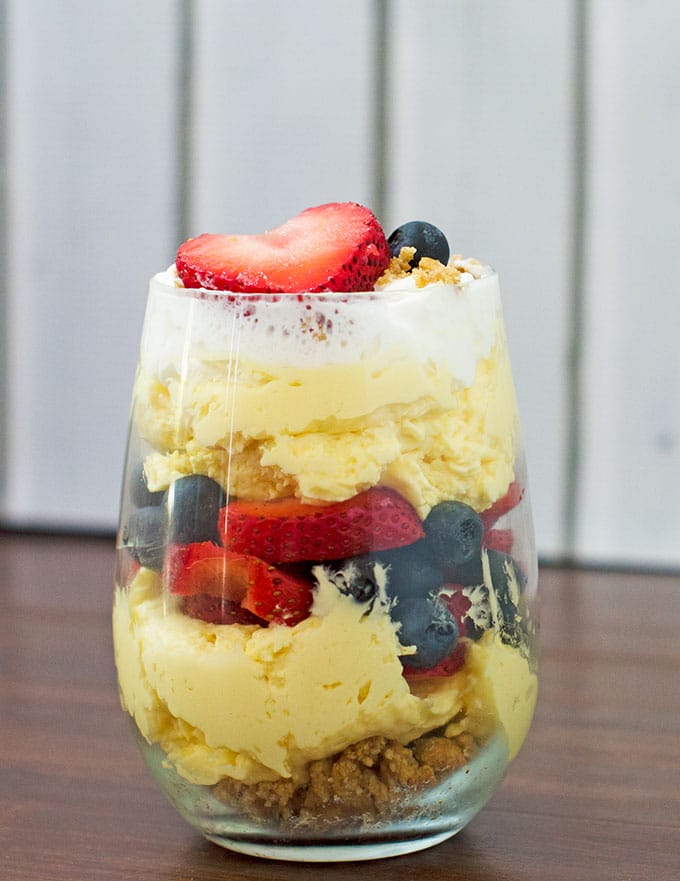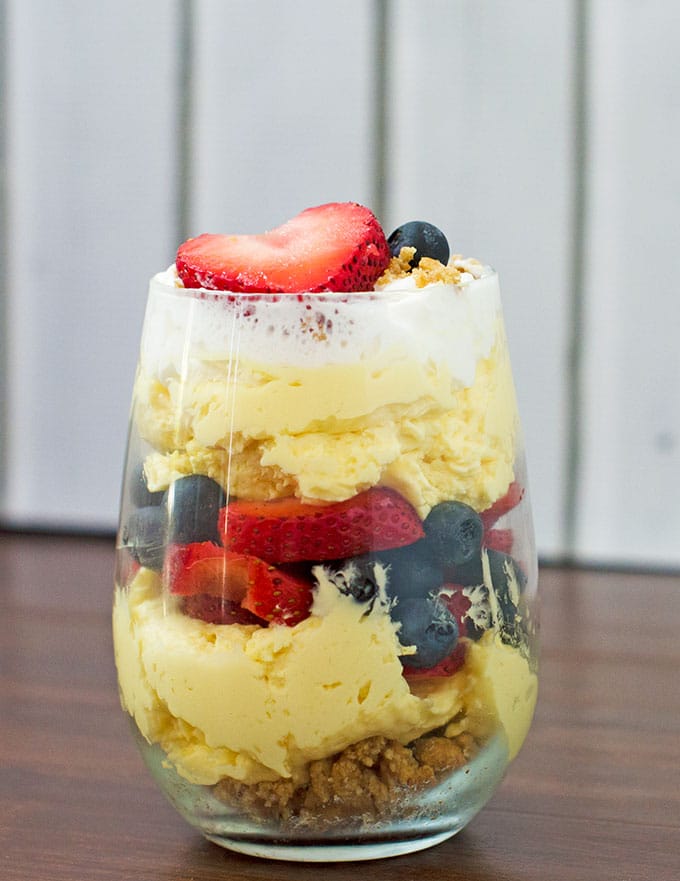 Being born and raised in the south, a lot of our family traditions involve food. No matter what you may be celebrating or remembering, no matter how many people or their ages, there are always a few dishes you know you can be guaranteed to see. Since the 4th of July is coming up soon, I had to share one of our family's 4th of July recipe traditions: cheesecake with fresh summer berries. Yes, the main menu may change from year to year, but the dessert always remains the same. And, while most people probably love the filling most, I'm all about the buttery, slightly sweet graham cracker crust.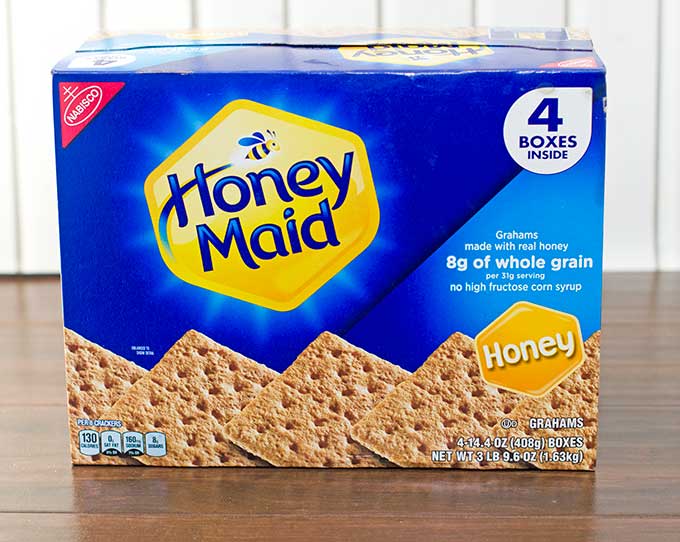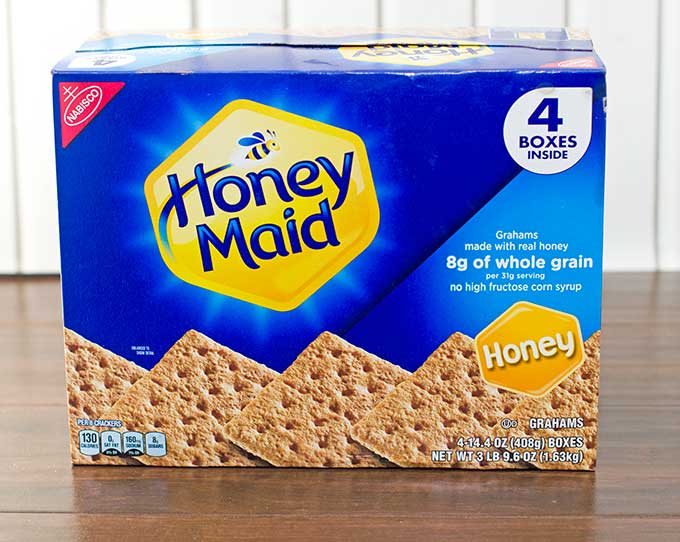 Said graham cracker crust must be made with Honey Maid Graham Crackers. No other brand will do. I've enjoyed Honey Maid Graham Crackers ever since I can remember, and still love them so much today that I buy the warehouse sized boxes regularly for the family. Growing up, I often had them for snacks alone or with peanut butter. Then, I remembered my mom dunking them into hot coffee as a treat on weekends. She'd also warm up some milk or hot chocolate for me so we could bond over them as an after-breakfast treat. These days, I still enjoy them on their own because they are such a wholesome snack made with real ingredients. Mr. Savvy and I even let our inner child out regularly by making them into s'mores. I still find it amazing that I actually introduced him to s'mores as he grew up in Germany and never had them there.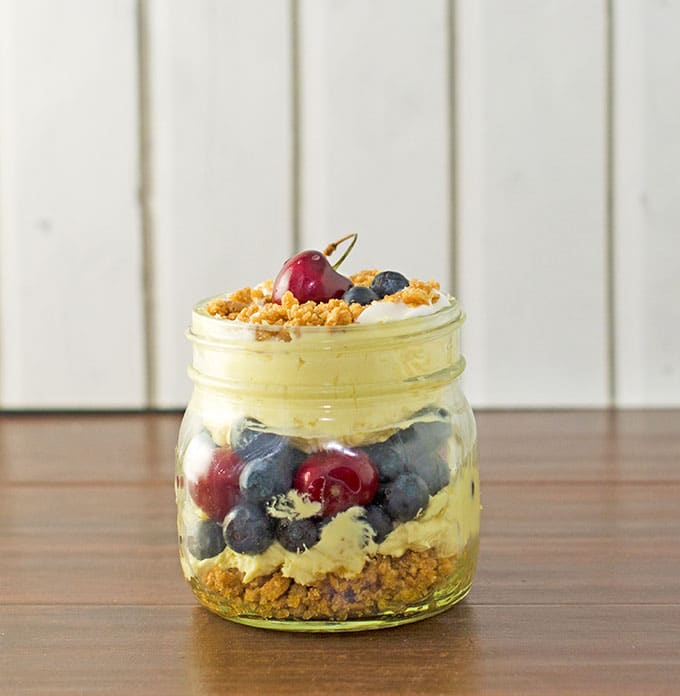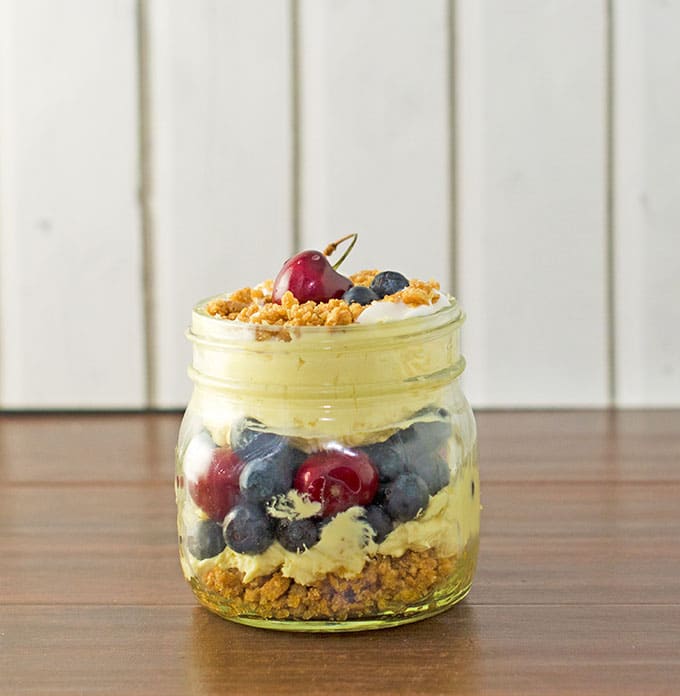 Going back to the cheesecake, while the crust always remains the same with my beloved Honey Maid Graham Crackers, the cheesecake itself changes form. Sometimes we have traditional cheesecake, others have been more of a pie and even pizza. This year I've decided to change it up a bit and make it even more simple by making this No-Bake Berry Cheesecake Parfaits recipe. They look stunning, and like you put in a lot more work than you really did. Plus, you can make them ahead of time and in mason jars for easy transporting to a family cookout or as a tasty take-home favor. I know I've been enjoying sneaking in a few bites for a snack now and then since it's full of whole grains, dairy and plenty of fresh berries. My favorite thing about this cheesecake parfait recipe is that you have the flavor of creamy cheesecake we all love, without even having to turn the oven on.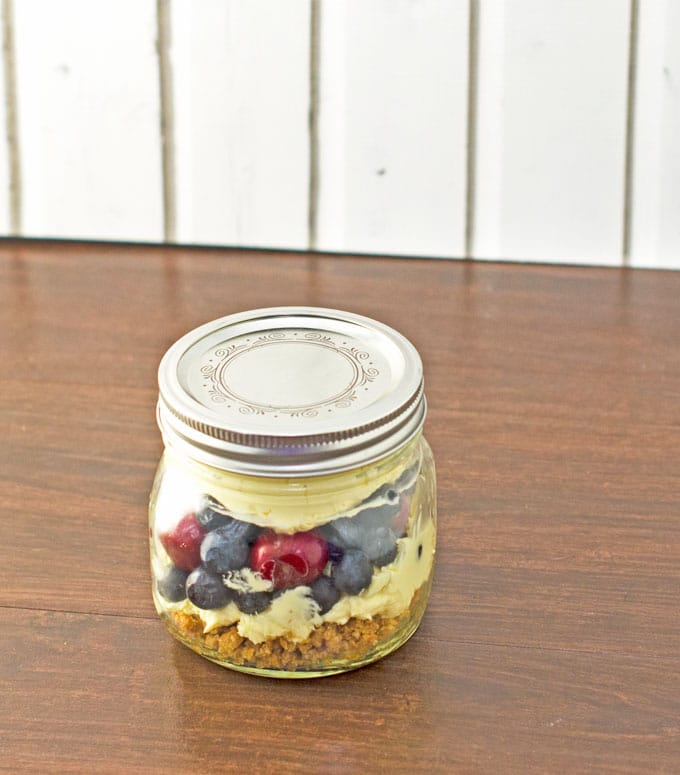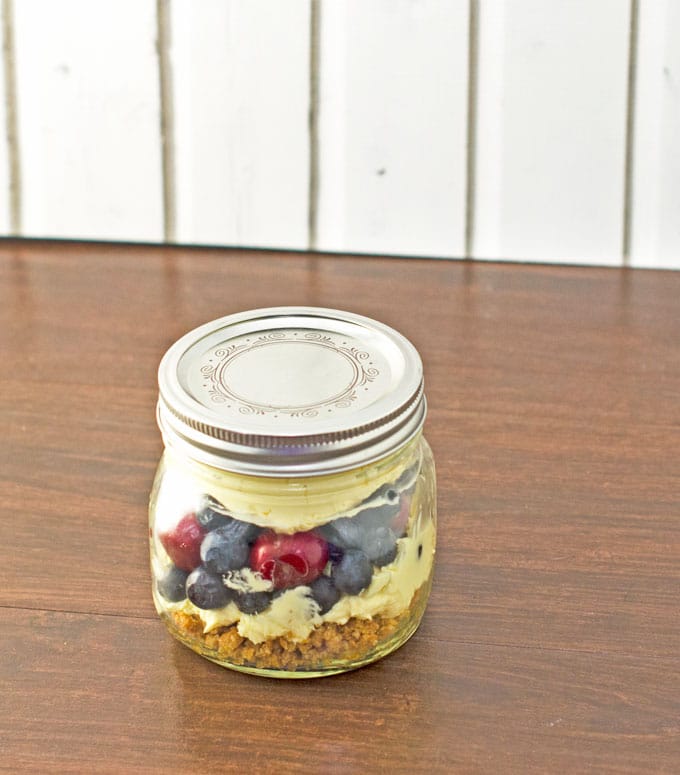 Making these no-bake berry cheesecake parfaits in a mason jar makes them easy to transport or prepare in advance of your 4th of July party.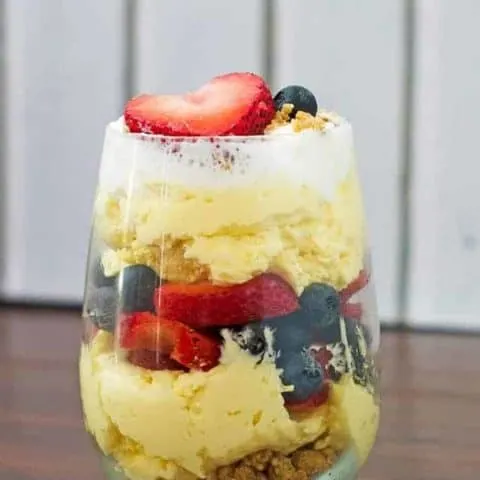 No-Bake Berry Cheesecake Parfaits Recipe
This no-bake berry cheesecake parfaits recipe is the perfect 4th of July or summer dessert.
Ingredients
• 8 Honey Maid Graham Cracker Sheets (or 1 bag) in Honey or Cinnamon Flavor
• ¼ teaspoons salt, divided
• ⅛ teaspoon cinnamon (optional)
• ⅛ teaspoon nutmeg (optional)
• 5 Tablespoons unsalted butter, melted
• 1 teaspoon sugar
• 1 8-oz package cream cheese, softened
• 2 cups cold milk (I use whole, but you can use 1 or 2%)
• 1 3.4-oz package cheesecake (or French vanilla) instant pudding mix (can use sugar-free)
• 1 teaspoon vanilla extract
• 2 cups fresh sliced strawberries, or whole raspberries, or pitted cherries, washed and dried
• 1 cup fresh blueberries, washed and dried and picked through to remove stems
• Whipped cream(follow link for recipe)
Instructions
In a food processor or plastic food baggie, add Honey Maid graham crackers and process or crush until they are crumbs, like you would want for a crust. Mix in cinnamon and nutmeg, if desired, along with butter, sugar and ⅛ teaspoon salt until crumbs are moistened. Cover and set aside until ready to serve.
Put softened cream cheese in a medium-sized bowl or bowl of a stand mixer and mix until smooth and thoroughly softened. With mixer on low, slowly stir in all of the milk and mix until mixture is smooth; it will be very liquid-y.
Sprinkle pudding mix, vanilla extract and salt over liquid mixture and then beat at medium for 1 - 2 minutes until mixture thickens to a texture thicker than usual pudding, but not quite as thick as a baked cheesecake. Cover and store in a refrigerator until ready to serve.
In a tumbler, mini trifle glass, mason jar or other single serving dish layer the ingredients to make your parfait. I like to do so as follows: graham cracker crumbs in the bottom, topped with cheesecake pudding mixture, topped with mix of berries, topped with more cheesecake pudding, a thin layer of whipped cream, sprinkle of more graham cracker crumbs and a few more berries for garnish.
You can pre-make the single servings up to 24 hours prior to serving as long as they are covered and stay cold. Store leftovers covered in the fridge for up to 3 days.

No matter how things change, what makes us wholesome never will. Honey Maid provides wholesome snacks for every wholesome family. What are some ways your family enjoys Honey Maid snacks?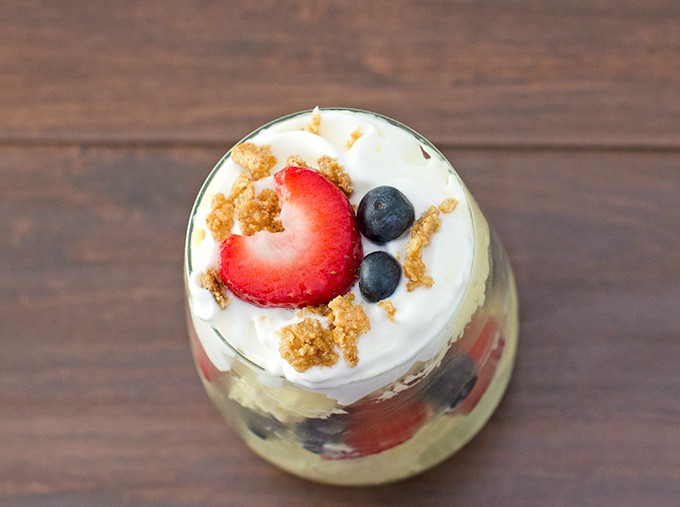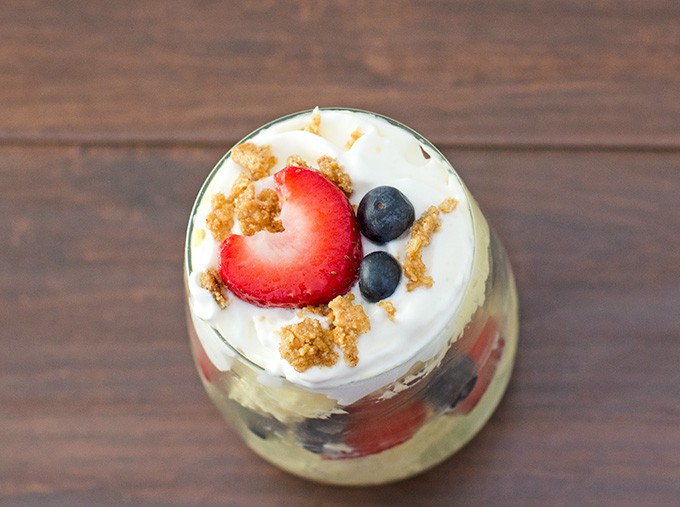 Don't you just want to dig in with a spoon?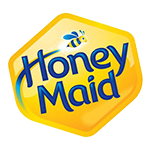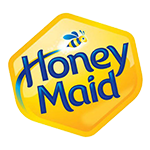 //