This sausage, roasted red pepper, and spinach quiche recipe is great for breakfast, brunch, or even dinner. Leftovers are great warmed up for lunch, too!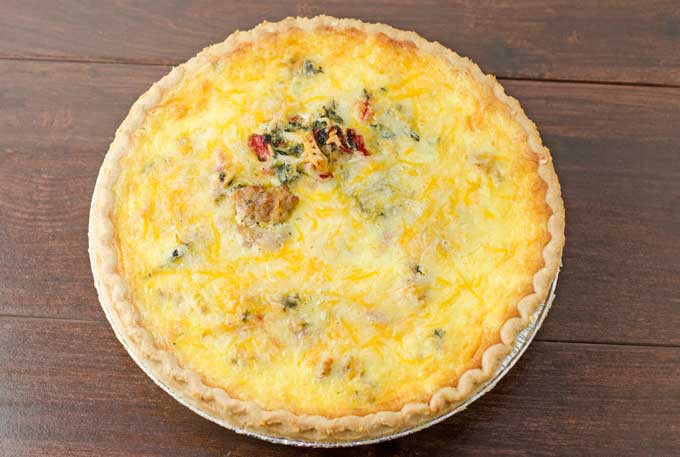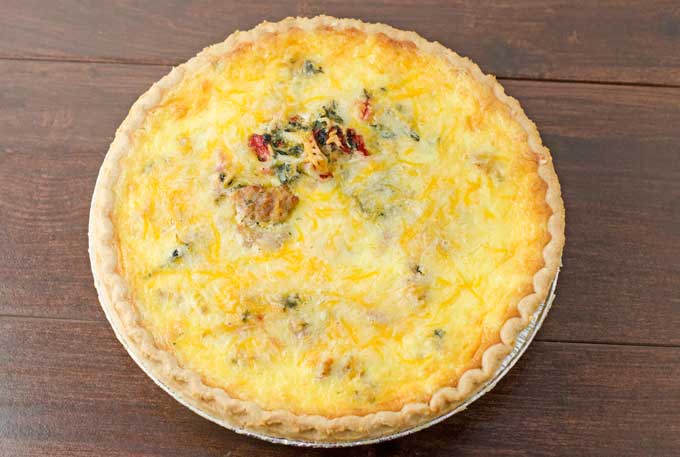 One thing that I always wish I liked more is eggs. They're relatively cheap compared to many other proteins and are so easy to cook.
But, I just don't overly care for the taste of them by themselves. I can't do hard boiled eggs unless they're in a salad or turned into deviled eggs.
I don't even overly like scrambled eggs unless they're covered in cheese and flavored with some bacon fat. As you can tell, I prefer eggs when they don't really taste like, well, eggs.
So, when I need to use up some eggs, one of my go-to recipes is to make a quiche. I love quiche because you can flavor them however you want, they come together in minutes, and you don't have to babysit them that closely while they cook.
Today I'm sharing one of my favorites, my sausage, roasted red pepper, and spinach quiche recipe.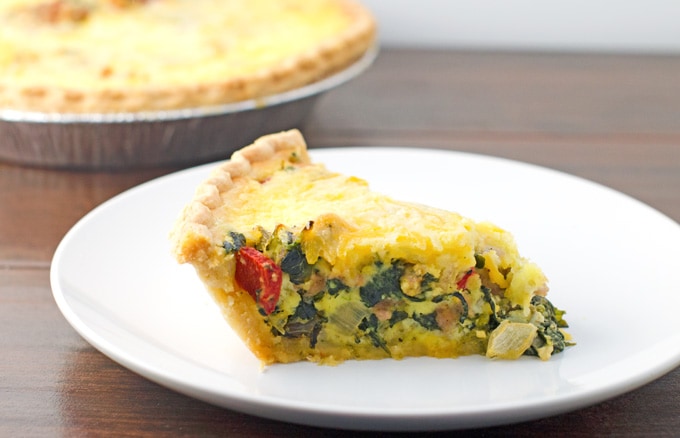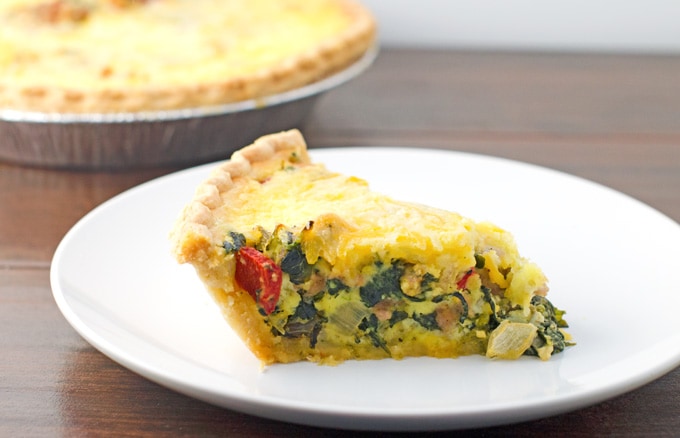 This easy quiche recipe is full of savory flavors and is simple to make thanks to jarred roasted red peppers and a pre-made pie crust, if you like. All you need to do is spend a few minutes cooking the sausage and vegetables, toss it all into a pie crust with a couple eggs and into the oven it goes.
It's perfect for breakfast and even dinner. Since it can be served warm or cold, it's also a great recipe for brunch. Here's how to put this sausage quiche together.
Recommended Equipment
Here are some of my favorite kitchen items to use when making this homemade quiche recipe.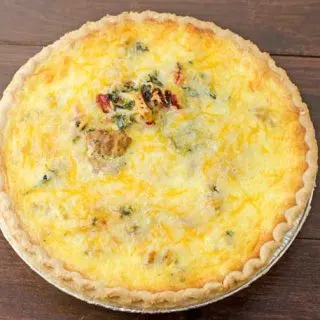 Sausage, Roasted Red Pepper, And Spinach Quiche Recipe
This sausage, roasted red pepper, and spinach quiche recipe is perfect for any meal of the day.
Ingredients
1 9-inch deep dish pie crust, fresh or frozen
1 pound sausage, breakfast or Italian
½ medium onion, chopped
1 10-oz bag frozen spinach, thawed, thoroughly drained, and chopped
½ cup roasted red peppers, chopped
2 large eggs
1 cup heavy cream or half and half (or ½ cup milk & ½ cup cream)
½ teaspoon salt, or to taste
¼ teaspoon ground black pepper, or to taste
¼ cup shredded cheese, I used a Mexican blend
Instructions
Preheat oven to 350°F.
Place pie crust into pie plate if needed. I often just use a frozen pie crust.
Heat a large skillet over medium-high heat and add start cooking sausage. Use a spatula to break the meat apart into bite-sized pieces as it cooks.
Once the sausage starts browning and releasing fat, add the onion. Stir occasionally, cooking until the sausage is cooked through and onion starts turning translucent.
Once the sausage is cooked through, remove any excess fat from the skillet and then stir in the spinach and red pepper.
In a large bowl, whisk together the eggs and cream or half & half until thoroughly combined. Whisk in salt and pepper.
Gently stir the sausage and veggie mix into the egg mixture.
Pour the mixture into the pie shell. Don't fill all the way to the top as the mixture will expand.
Sprinkle shredded cheese on top.
Place the quiche onto a baking sheet just in case it overflows. Place in the oven and bake until the top is starting to turn golden brown and the filling has firmed up, about 45 minutes. If the crust starts browning too much you can cover it with foil while it finishes baking.
Cool for at least 15 minutes before serving.
Notes
If you have extra egg mixture you can cook it up as scrambled eggs or pour into a muffin tin for mini frittatas.
Serve This Quiche Recipe With