Looking for turkey leftover ideas for the turkey leftovers sitting in the back of your freezer? This easy turkey pot pie recipe makes delicious use of both white and dark turkey meat for the ultimate comfort food dish.
One of my favorite ways to save money throughout the year is to stock up on really good deals on things that freeze rather well, like fresh meats and berries.
A well-stocked freezer not only lets us enjoy things like local strawberries all year long, but is also such a nice help when money is tight because of an unexpected expense.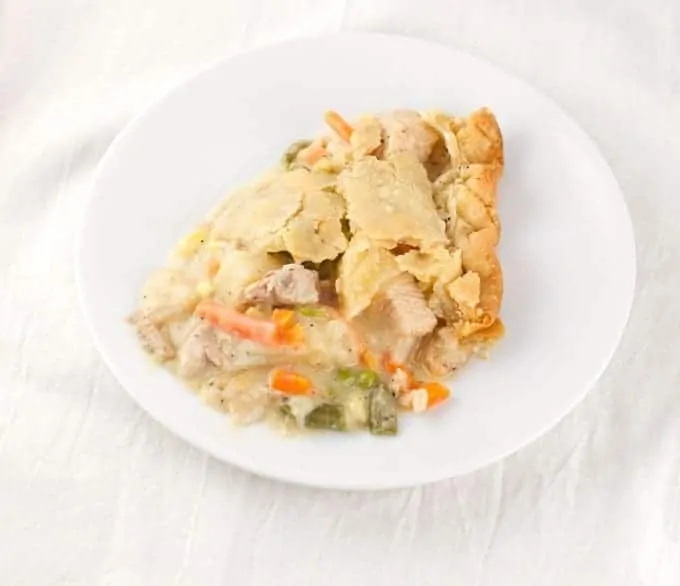 During the holidays, we always buy an extra turkey or two to enjoy later on while they are at really good prices. I love Mr. Savvy's roasted turkey, but we opted to take it easy last year since work was hectic for us both and had a delicious, and, my favorite part, little mess and work, Popeyes Cajun Turkey.
Now that things have slowed down, I couldn't wait for him to make his turkey. However, a 20-pound turkey for just the 2 of us meant a lot of leftovers, though I'm sure our cats would have happily eaten it all if we let them.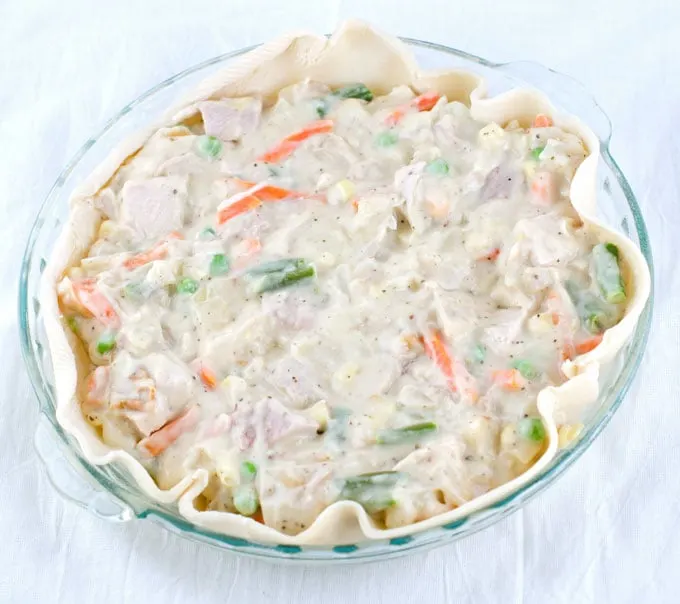 There are so many things you can do with turkey leftovers, but my favorite is always turkey pot pie. Comfort food doesn't get much better than turkey and veggies swimming in a delicious creamy gravy and all wrapped up in a flaky pie crust.
You can find 60+ other ideas for what to do with leftover turkey here, too.
In fact, we love this easy turkey pot pie recipe so much that I will often triple it so we can have a second pot pie later in the week and, yes, one to freeze for a couple of months from now when I don't feel like cooking. When I have the time, I will go to the trouble of chopping all the fresh veggies and making my own pie crust.
But, honestly, if you don't have the time you can do what I do when I'm in a rush and use pre-chopped celery and onion, refrigerated pie crust, and frozen mixed veggies. In my taste book, homemade pie crust will always juuust edge out refrigerated pie crust, but when I'm in a hurry, refrigerated will most definitely do.
Here's how to put my favorite easy turkey pot pie recipe together quickly, but anyone you serve it to will think you slaved hours over the stove to make it.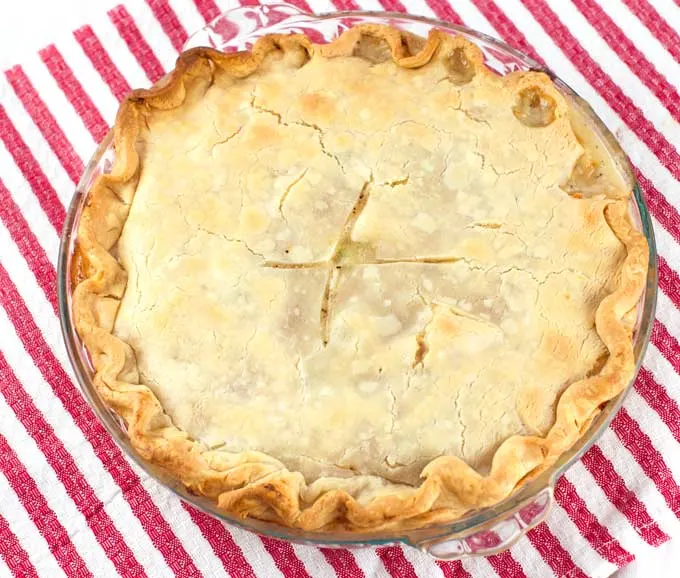 Recommended Equipment
I often get asked what tools, dishes, and ingredients I use to make my recipes. So, here I'm sharing some of my must-haves to make this turkey pot pie.
More Pot Pie Recipes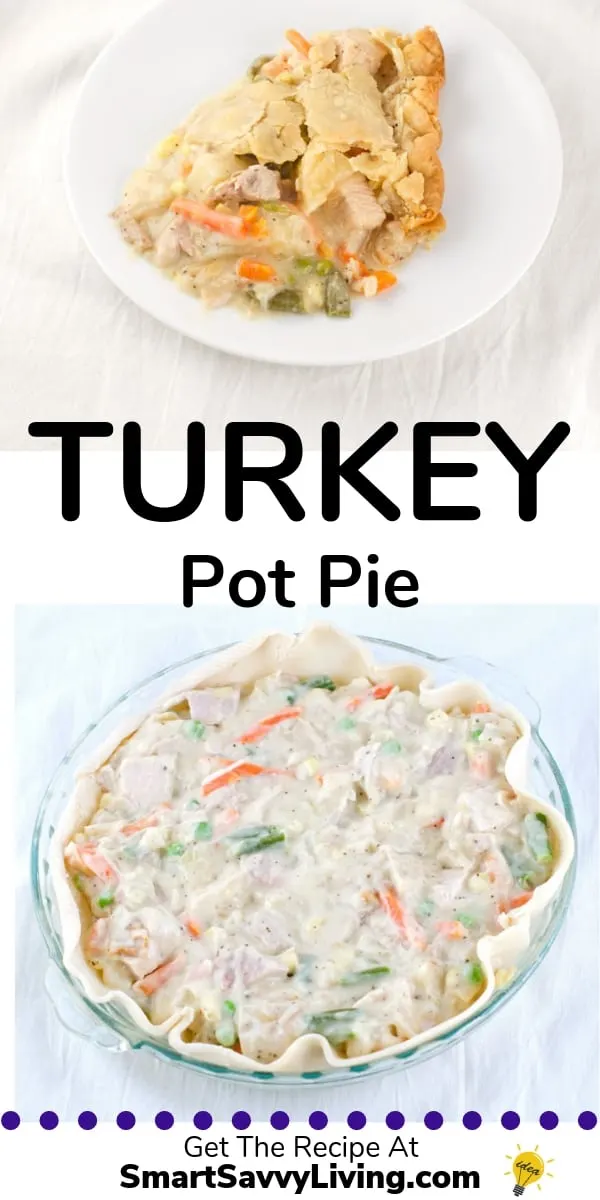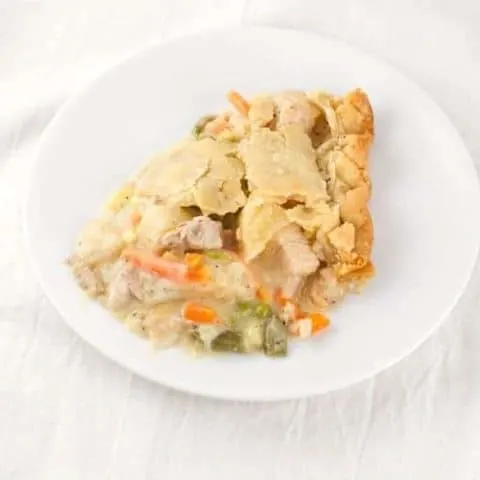 Easy Turkey Pot Pie Recipe
Total Time:
1 hour
15 minutes
This easy turkey pot pie recipe is a great way to use leftover turkey while still having a delicious, comforting meal.
Ingredients
⅓ cup unsalted butter
1 cup yellow or white onion, chopped
1 cup celery, chopped
1 cup potatoes, chopped (which ever kind of potato you like baked)
1 clove garlic, finely diced
½ cup all-purpose flour
½ cup milk
½ cup cream
2 cups chicken (or turkey if you have it) broth or stock, preferably low-sodium
1 teaspoon salt
¼ teaspoon pepper
4 cups white and/or dark turkey meat that has been cooked, deboned, and chopped
1 cup frozen mixed vegetables (I like the organic pea/carrot/green bean/corn blend from Costco)
2 pie crusts (sometimes I'll skip the bottom crust and just put puff pastry on top)
Instructions
Preheat your oven to 400°F.
In a large dutch oven, melt butter over medium heat. Once melted, add onion, celery, potatoes, and garlic.
Sautee the veggies for about 10 minutes, or until softened, stirring often.
Once veggies have softened, add flour to the mixture and stir continuously for one minute to cook out any flour taste.
Slowly stir in milk, cream, and chicken broth. Let continue to cook, stirring often, until the mixture bubbles and is thickened. You should be able to dip a spoon into the sauce, take it out, and then run your finger over the back of the spoon, leaving a clean line without any of the sauce dripping into the clean line.
Sprinkle in salt and pepper and stir.
Turn off the heat and fold in turkey meat and frozen vegetables until all the ingredients are evenly distributed.
Place one pie shell in the bottom of your pie plate so that all sides are as even as possible.
Spoon the cooked filling evenly into the bottom pie shell, not going over the top edge of the pie shell. You may have extra filling that you can make mini pot pies with, or add more broth and cream to for a pot pie soup.
Place the second pie shell on top of the filling, trying to make all the sides as even as possible. Fold the edges of the top pie shell under the bottom and then pinch together or crimp with a fork.
Cut a couple slits in the top of the pie to let the steam be able to escape while baking.
Place the pie on a baking sheet, just in case it cooks over, on the middle rack of your oven and bake for about 45 minutes, or until the pie crust is golden brown and the filling is hot and bubbly. I like to check about 30 minutes in and cover the pie with foil if the crust is getting too brown.
Allow the pie to sit for about 5 - 10 minutes before serving to cool a bit and have the filling settle.
Refrigerate any leftovers for up to 3 days. The pie is best reheated in the oven so the pastry stays crisp.
Notes
You can, of course, use chicken instead of turkey. You may also use 1 cup of half & half instead of the milk and cream if you have it on hand.