This beef pot pie recipe features rich beefy flavor with the hearty touch of veggies and includes a buttery and flaky crescent roll topping.
Compensation for my time creating this beef pot pie recipe was provided by General Mills via Glam Media. The opinions expressed herein are those of the author and are not indicative of the opinions or positions of General Mills.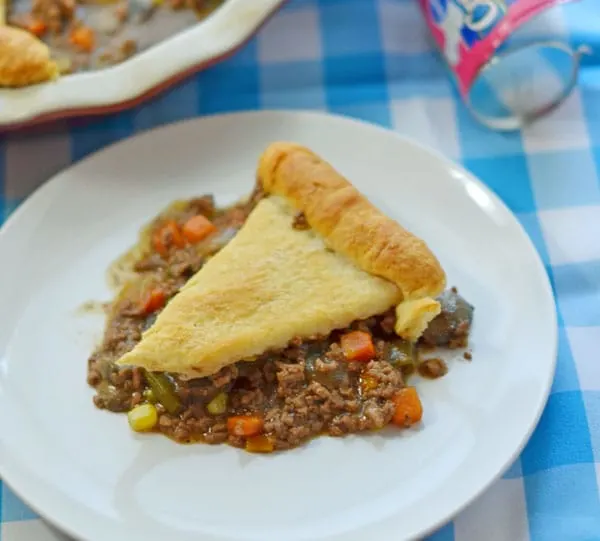 Ahh, fall is finally in the air here. I have been waiting so long to be able to open the windows and enjoy some fresh, cooler air.
With temperatures in the 60's and low 70's as highs and lows dipping into the 50's at night I've started craving fall foods as well, especially the one-dish hearty meals.
One of our favorite hearty fall recipes is chicken pot pie, but we've had a lot of chicken lately, so I wanted something different.
Another conundrum about making pot pie from scratch is that it can take what seems like FOREVER.
Cooking the meat, making the broth, the pastry, the roux, all the chopping...then putting it all together to bake nearly an hour.
That just won't do for weekday meals around here when Mr. Savvy and myself have a ton of project deadlines at the moment.

I had the idea to make a ground beef pot pie since cooking the meat would be so much quicker to prepare and Mr. Savvy had the awesome idea to use Pillsbury Crescent Rolls as the crust topping. Genius!
We've both loved Pillsbury Crescent rolls since we can remember, but they were usually a treat during the holidays for both of us growing up. Now days, though, I look at crescent rolls as a super quick, yet tasty way to help get dinner on the table fast.
They can be used for so much more than a simple dinner roll, though that's wonderful as well.
Many foods that I adored from my childhood admittedly seem like they have changed over the years with cheaper ingredients that barely even mimic the deliciousness they once were, but Pillsbury Crescent Rolls luckily still have the buttery flakiness I remember so fondly from each Thanksgiving.
To further help get dinner on the table quickly, I also opted to use ground beef compared to the usual stew cut that is used in beef pot pie since it would cook much quicker.
I also used a bag of frozen pre-cut vegetable mix (but you can use fresh if you prefer, of course) along with a store-bought beef broth.
If you want to make this beef pot pie recipe even faster, you could use a couple cans of pre-made beef gravy, but since the gravy for this recipe is quickly made with corn starch, I skipped the gravy.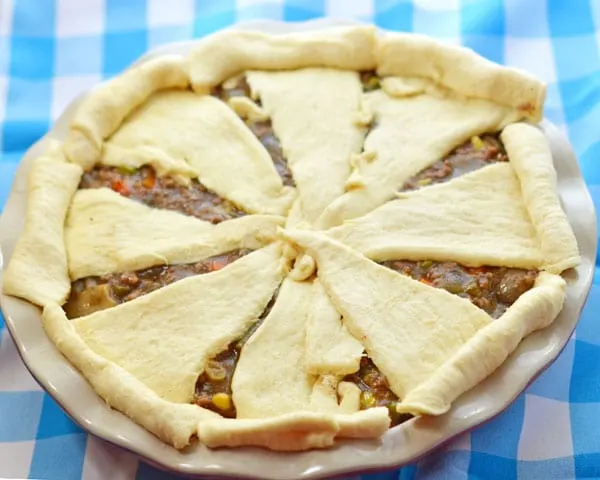 The crescent rolls make a quick and easy topping that's something different from the same old same old.
The resulting pot pie was delicious, and beautiful to boot, if I do say so myself.
Plus it only took about a half hour to put together and was on the table within the hour - while still looking so good that I'd happily serve it to company!
The beef filling has a slight meaty richness to it, while the potatoes and mushrooms with the other veggies make it thick and hearty.
Then there's my favorite part, the Pillsbury Crescent Rolls which get beautifully golden brown and flaky. While you could also make this in a 9 x 9 square inch dish, I loved using a deep dish pie plate so that all the servings were already "cut".
I just love making homemade meals like this that are impressive but don't take hours to make!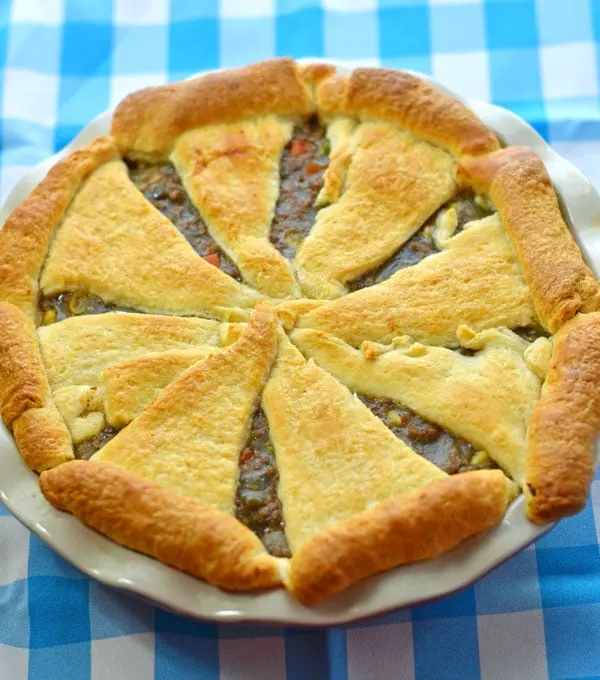 P.S. Even though we are very much carnivores, I know we have readers that are vegetarian eaters and I think you could also make a delectable vegetarian version as well with vegetable broth and using more mushrooms and other veggies while skipping the meat.
More Pot Pie Recipes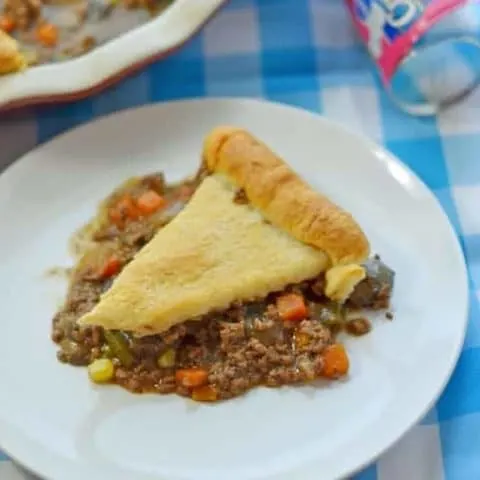 Ground Beef Pot Pie
Additional Time:
10 minutes
Change things up from the norm with this quick and easy, yet deliciously hearty ground beef pot pie recipe.
Ingredients
1 - 1.5 pound ground beef (I used 80/20) - can use other cuts of beef but will take longer to cook
1 medium onion (I used yellow), chopped
3 small - medium potatoes, chopped (I used red with the skin left on)
1 lb chopped mushrooms (I used white button)
2 Garlic cloves, chopped (can also use garlic powder)
Salt (I used seasoned salt)
Ground black pepper
Ground cayenne (optional - I used about ¼ teaspoon)
1 ½ teaspoons Worcestershire sauce
32 oz carton of Beef Broth or Stock (with ⅔ cup set aside)
½ teaspoon low-sodium beef base (optional)
1 14-ounce bag frozen mixed vegetables
6 Tablespoons corn starch
1 8-count tube of crescent rolls
Instructions
Brown 1 - 1.5 lbs ground beef in a large dutch oven over medium-high heat. Once the beef is almost cooked through, drain excess fat, leaving about 2 tablespoons of fat in the pan.
Turn the heat to medium and add 1 chopped onion, 3 chopped potatoes, 1 lb sliced mushrooms, and 2 chopped garlic cloves and let cook another 5 - 10 minutes until the onion starts turning translucent, stirring occasionally. Season to taste with salt, pepper, and cayenne, if desired.
Turn the heat back to medium-high and stir in 1.5 teaspoons Worcestershire sauce, beef broth (make sure to set aside ⅔ cup), and ½ teaspoon beef base, if desired. Go easy on beef base as it will add extra salt that can be too much before you realize it. Let simmer another 10 - 15 minutes until potatoes are just fork tender. While it simmers preheat your oven to 375°F.
Once potatoes are tender, stir in the 14-ounce bag of frozen vegetables.
Mix together 6 tablespoons corn starch and reserved room-temperature beef broth until dissolved. Stir the broth mixture into beef mixture and let cook until thickened and then turn off the heat and check for seasoning once more.
Pour mixture into greased deep-dish pie plate, leaving about ¼ - ½ inch to the top so it doesn't cook over. You may have some filling leftover, which is great over rice as well.
Open crescent rolls and pull apart into the 8 rolls, pinching together pieces that break if needed. Roll the widest edge of the roll up 2 - 3 times as needed to create a "crust edge". The goal is to have the roll be just long enough to reach from the edge of the pie plate to the very center. Place the rolls on top of the meat mixture, with the widest edges just touching. You don't need to cut any steam vents since the rolls aren't fully overlapping.
Bake in the preheated oven for 15 - 25 minutes, or until rolls are cooked through, golden brown and flaky.
Remove from oven and let cool for 10 - 15 minutes to let gravy have time to thicken before serving.
Notes
A vegetarian version can be made with the use of more vegetables and vegetable broth.
Nutrition Information:
Yield:

8
Serving Size:

1
Amount Per Serving:
Calories:

345
Total Fat:

14g
Saturated Fat:

5g
Trans Fat:

0g
Unsaturated Fat:

6g
Cholesterol:

63mg
Sodium:

667mg
Carbohydrates:

30g
Fiber:

5g
Sugar:

5g
Protein:

25g
Nutrition information may not be accurate. Nutrition information is calculated automatically by and provided by Nutritionix. Exact nutrition information depends on the specific ingredients, brands, and amounts you use.