Eating leftover turkey doesn't have to meat dried out meat or a ton of plain sandwiches. Check out these 60+ recipes for what to do with leftover turkey for plenty of ideas.
One of the best things about Thanksgiving or roasting a whole turkey is all the leftovers. However, after a while, it's a bit monotonous eating the same old turkey or a plain turkey sandwich.
Here are several ideas and leftover turkey recipes that will have you wanting to cook turkey more than once a year just for all the fabulous recipes you can make with turkey leftovers.
How Long Is Leftover Turkey Good For In The Fridge?
First of all, it's important that any turkey left at room temperature for more than 2 hours is discarded.
Leftover cooked turkey stored properly before then can then be eaten cold or when reheated.
My general rule for any sort of leftovers is that after 3 to 4 days it gets thrown away.
If you don't think you'll use all your turkey leftovers before then, I like picking the meat off the bones and freezing it with my Foodsaver or you can use a freezer-safe ziptop bag or container.
The cooked turkey meat can be frozen and used within 2 to 6 months for the best quality and taste. You can find the USDA's full guide to turkey roasting and leftovers safety here.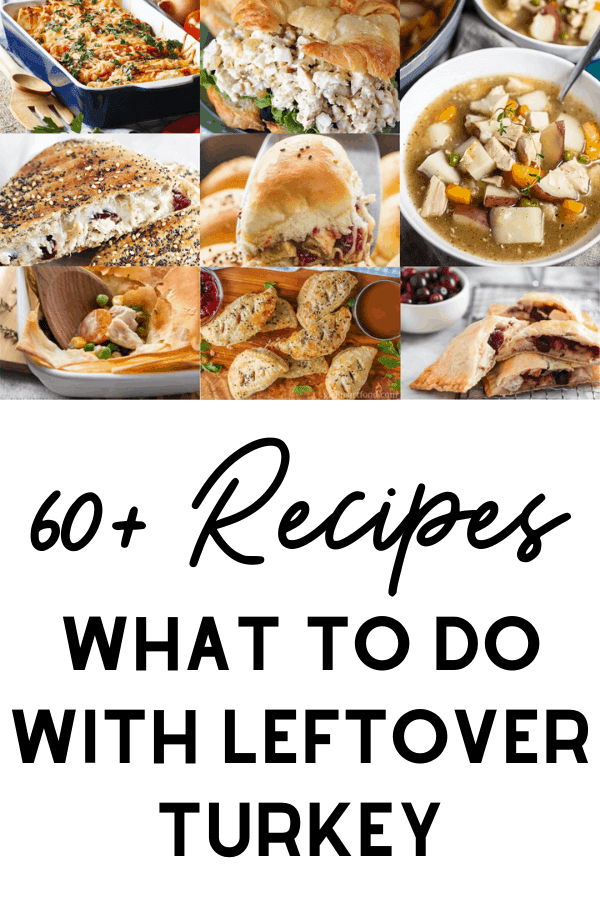 Leftover Turkey Pie Recipes
From pot pies to hand pies leftover turkey in a pie is a delicious creamy way to change things up.
Leftover Turkey Casseroles
Turkey casserole recipes are a great way to use leftover turkey and have it feel like an entirely different dish.
Leftover Turkey Sandwich Ideas
Who says a leftover turkey sandwich has to be boring?
Leftover Turkey Soup Recipes
Leftover Turkey Pizza Recipes
Photo Credit: www.farmfreshfeasts.com
Deep Dish Thanksgiving Leftovers PizzaThanksgiving leftovers (turkey, cranberry, stuffing and sides) tucked under a blanket of colby jack cheese for a deep dish pizza version of the traditional leftover bake.
Photo Credit: homecookingmemories.com
This Easy Leftover Turkey and Pear Pizza recipe uses leftover Thanksgiving turkey, sliced pears, mozzarella cheese and a drizzle of balsamic vinegar for a delicious appetizer or meal.
Photo Credit: www.4theloveoffoodblog.com
Here's a fun twist for Pizza night: pizza topped with all your favorites from Thanksgiving dinner! Sweet Potatoes, Green Bean Casserole, Roasted Turkey, and Cranberry Sauce all top crunchy pizza crust for an epic pizza creation!
More Recipes For Leftover Turkey
Ideas for what to make with leftover turkey including Mexican-style dishes and more.
More Ways To Use Leftovers
A lot of people say they hate eating leftovers but I love making a previous dish into an entirely new meal. Check out these other ways to use leftovers including:
What are some of your favorite ways to use leftover turkey?