This shop with my cherry bacon brussels sprouts recipe has been compensated by Collective Bias, Inc. and its advertiser. All opinions are mine alone. #PotPiePlease #CollectiveBias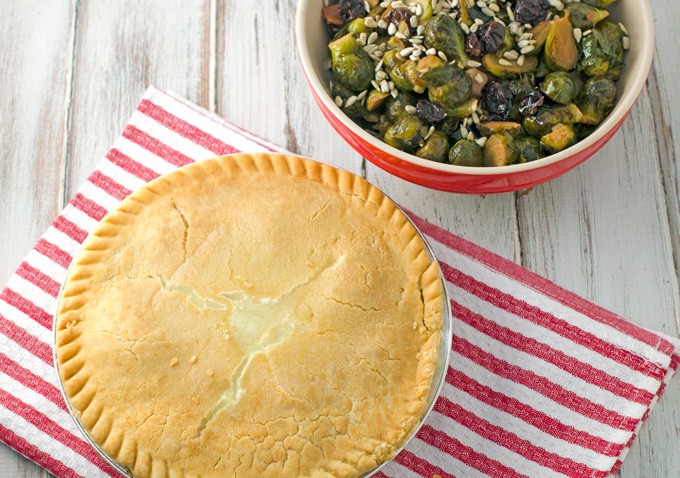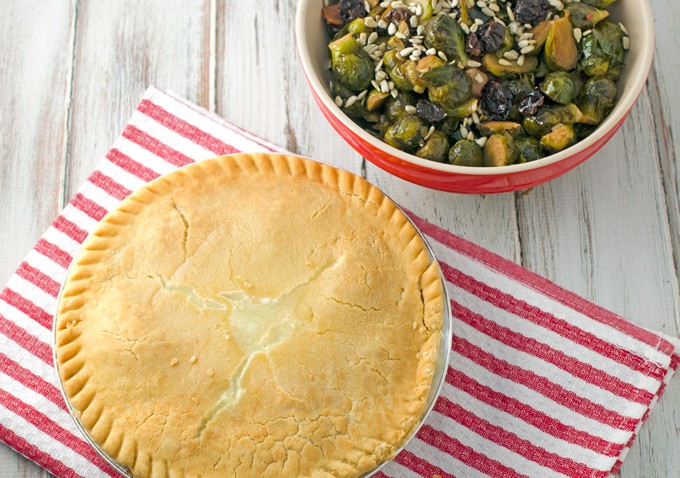 Doesn't this just look like comfort in a golden, flaky crust?
For most of us, this time of year is SUPER busy. Even though my work hours almost double this time of year, it's still important for me to be able to sit down to a warm, hearty dinner that we can talk about our day over. While I love cooking, I just don't have the time to make a full from-scratch meal right now, so I love having items like Marie Callender's Pot Pies on hand. While the individual pot pies are awesome, I was excited to see that Marie Callender's now also makes a family size chicken pot pie when I was browsing Walmart the other day. I don't know what it is, but serving up a big pot pie that you cut into for everyone just makes it taste even more delicious and homemade.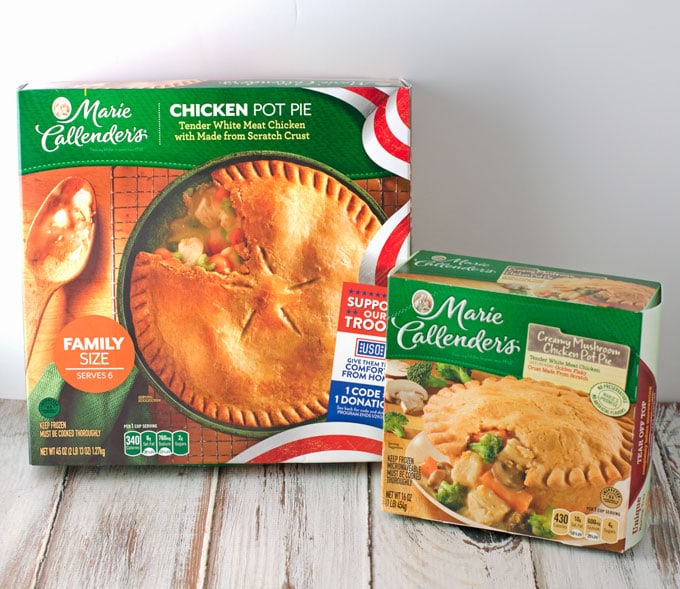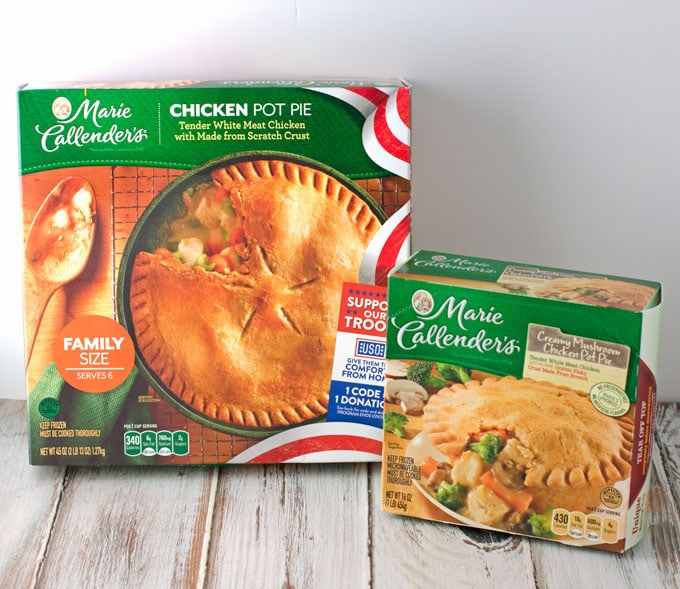 I love that there are a variety of sizes and flavors for everyone's tastes.
I'm usually pretty picky about my pot pies and make a pretty awesome one if I do say so myself, so I demand high quality and great taste from frozen pot pies. To be honest, if I were blindly served a Marie Callender's Chicken Pot Pie, I'd think it was homemade. Since chicken pot pie is full of chicken and veggies, it is certainly the perfect all-in-one meal, but I do like to try to eat some fresh veggies when possible. One of my favorite veggies are brussels sprouts, and they have pretty minimal prep (most bags have already been washed and are ready to cook these days), along with taking on additional flavors really well. Mr. Savvy didn't even really like brussels sprouts until he met me and saw that they could be cooked deliciously.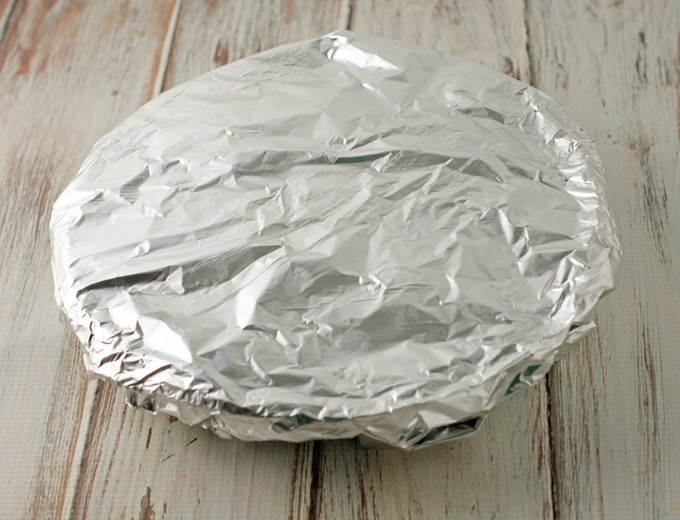 Smart Tip: Prevent your crust from burning while baking by covering the pie with foil until the last 10 - 15 minutes of baking.
I really like this cherry bacon brussels sprouts recipe because it has bacon, of course. But, it also has a slight sweetness and flavor pop from the dried cherries and a slight crunch from some toasted sunflower seeds. I would normally use almonds, but Mr. Savvy does have a tree nut allergy so I use sunflower seeds instead. It's full of entirely different flavors than the pot pie that pair together really well, in my opinion, so it's nice that you don't feel like you're eating the same dish twice.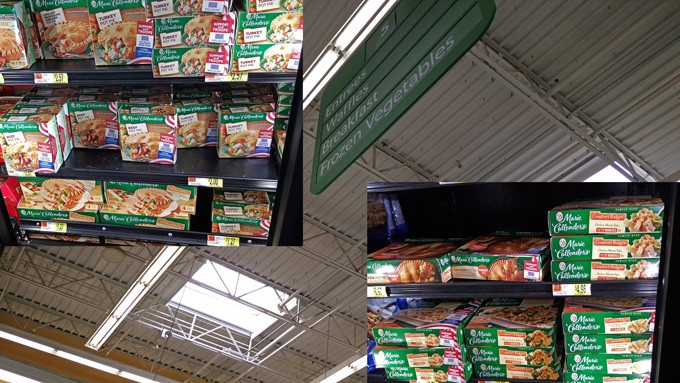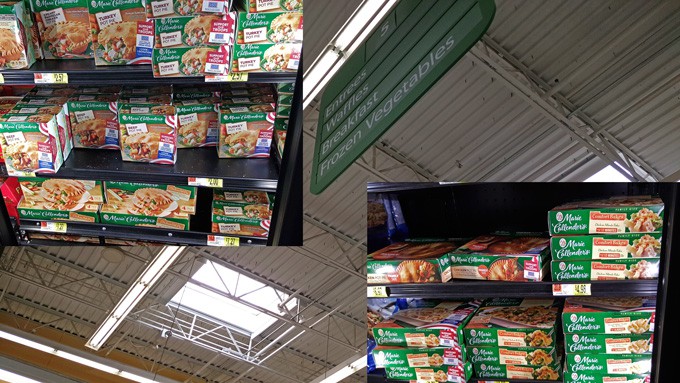 Head's up: if you're looking for the family size chicken pot pie be sure to look in the area of the other family size Marie Callender's products. While the individual pot pies and family size were on the same aisle, they weren't side by side.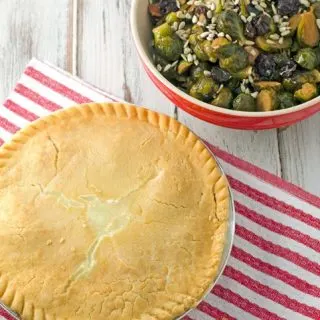 Cherry Bacon Brussels Sprouts Recipe
Even the Brussels Sprouts haters will love this Cherry Bacon Brussels Sprouts recipe.
Ingredients
2 pounds fresh brussels sprouts
5 slices thick-cut bacon
1 - 2 tablespoons butter
⅓ cup water or chicken broth
⅓ cup dried cherries
salt and pepper
⅛ cup shelled and roasted sunflower seeds or almond slivers
Instructions
Wash, dry, and pick over brussels sprouts, removing any brown or yellow leaves and tough ends, and slicing larger sprouts into halves or quarters.
If you are using sunflower seeds or almonds and need to toast them, heat a large skillet over medium-high heat and add the seeds or nuts once the pan has heated up. Stir seeds/nuts constantly until they are lightly browned, about 2 - 3 minutes. Remove from pan and set aside.
Reduce heat to medium-low and slowly cook bacon in the same skillet. You want to cook the bacon slowly so it renders a good amount of fan into the pan.
Once the bacon has cooked, remove it from the pan and place on paper towels to absorb any excess grease.
If needed, add 1 or 2 tablespoons of butter to the bacon fat. You want about 3 - 4 tablespoons of fat to cook the brussels sprouts in.
Turn the heat back up to medium and place the brussels sprouts in the pan. Cook for 6 minutes, stirring every 2 minutes so they can brown a bit.
Add in water or chicken broth and dried cherries, cover with a lid, and cook for about 5 - 10 minutes or until the desired doneness.
In the mean time, chop up the cooked bacon.
When the sprouts are done, turn off the heat and season to taste with salt and pepper.
Stir in bacon and seeds/nuts just before serving.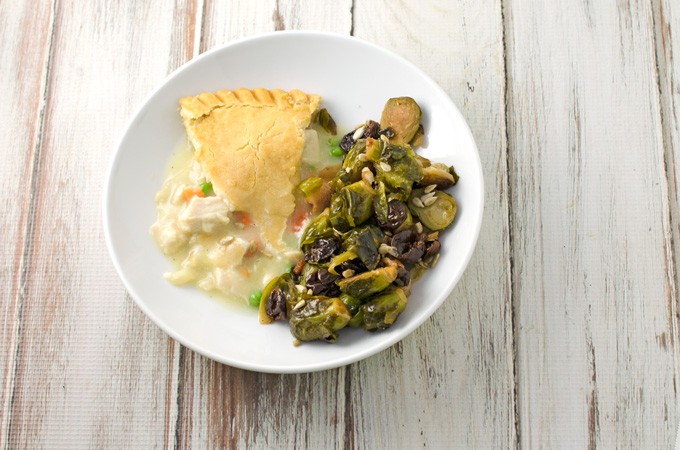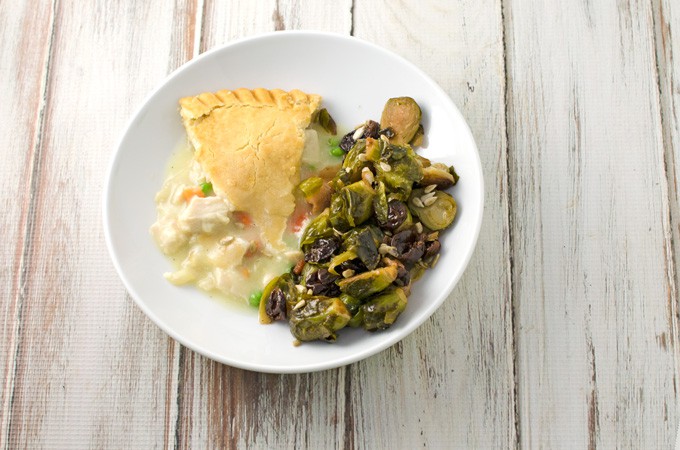 If you'd like to try out Marie Callender's pot pies, be sure to grab these printable coupons from the Marie Callender's website. You can also get cash back by using these Ibotta offers for the single pot pies ($.50 back) and family size pot pies ($2 back).