This creamy cucumber salad recipe, also known as gurkensalat in German, is cool, creamy and oh so refreshing for the warmer months.
Growing up, my family had a raised postage stamp garden just about every year. What they say is true – it's really amazing just how much better home or locally raised produce is than what you buy from the grocery store!
It's also pretty impressive how much produce you can get from just a few plants. Each summer I couldn't wait for all the fresh squash, zucchini, and, my favorite, cucumbers.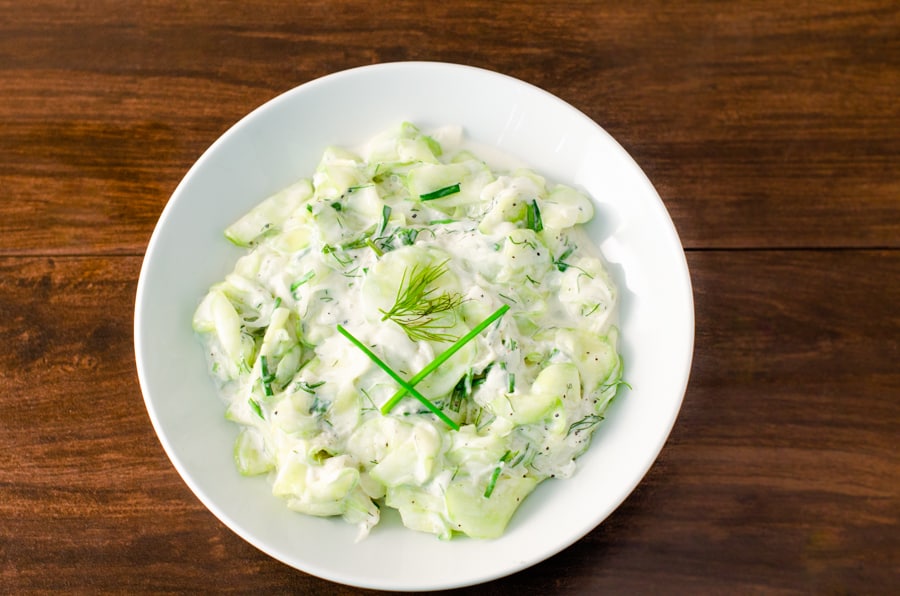 We often turned them into a salad with tomatoes and cucumbers with a homemade dressing with an Italian touch. When I met Mr. Savvy and learned he was half German and spent the first 10 years of his life there I was introduced into a whole new world of German food.
I'm so glad I was because so many German dishes are now some of my favorites. I love cooking for others and showing them how much I care about them that way so it was, of course, important to me to learn how to make some German recipes well.
Gurkensalat, or creamy cucumber salad, just so happens to be one of his favorite German side dishes and one of the best cucumber recipes ever.
When we moved to Hampton Roads, VA a few years ago, he immediately found this awesome German restaurant, which unfortunately is no longer there. But we both tried and loved their creamy cucumber salad so I knew it was a recipe I wanted to master.
After a few tries to perfect my cucumber salad recipe, he asks me to make this cucumber salad year round!
This easy creamy cucumber salad recipe is super easy to make with simple ingredients blended together to make a deliciously fresh side dish. This cucumber salad can take a while to make but is very little work and so worth it because it's more of an hurry up and wait.
The Secret To The Best Creamy Cucumber Salad
We're all in a hurry these days but to make the best creamy cucumber salad it does take a bit of time. But don't worry, it's a set and forget type of deal.
All you need to do is put the sliced cucumbers in a strainer and sprinkle with salt so the excess moisture can leech out. This will help the texture of the cucumbers soften and also help your salad to not get watery.
The flavors of the salad meld deliciously when given time to sit overnight but you also don't want your cucumbers in a pool of milky water. Bleh.
You can also peel the cucumbers or not. I like it both ways, but Mr. Savvy prefers them peeled.
The peeled the cucumbers get a bit softer, while if you leave the skin on, they stay a bit crisper, but the salad is traditionally supposed to be on the softer side.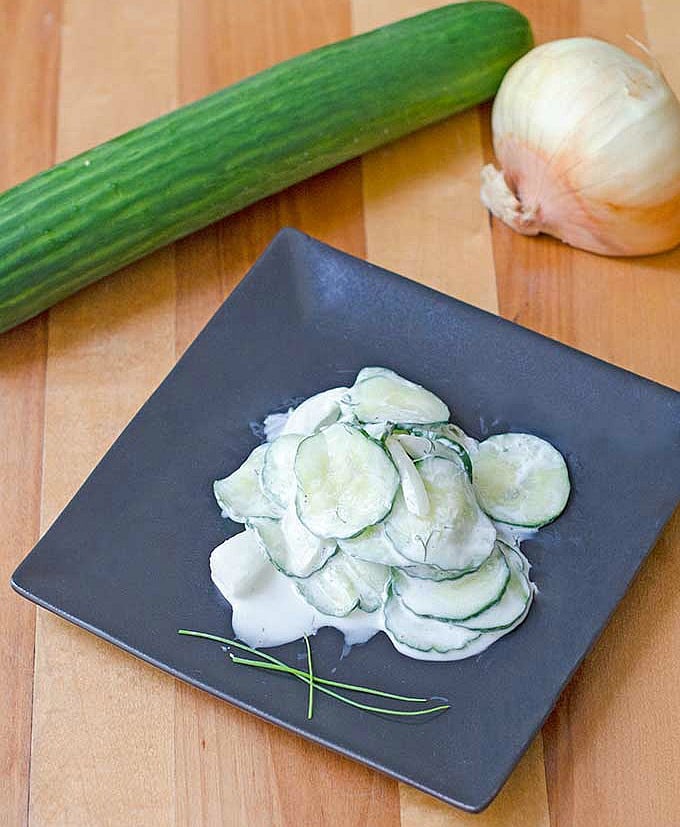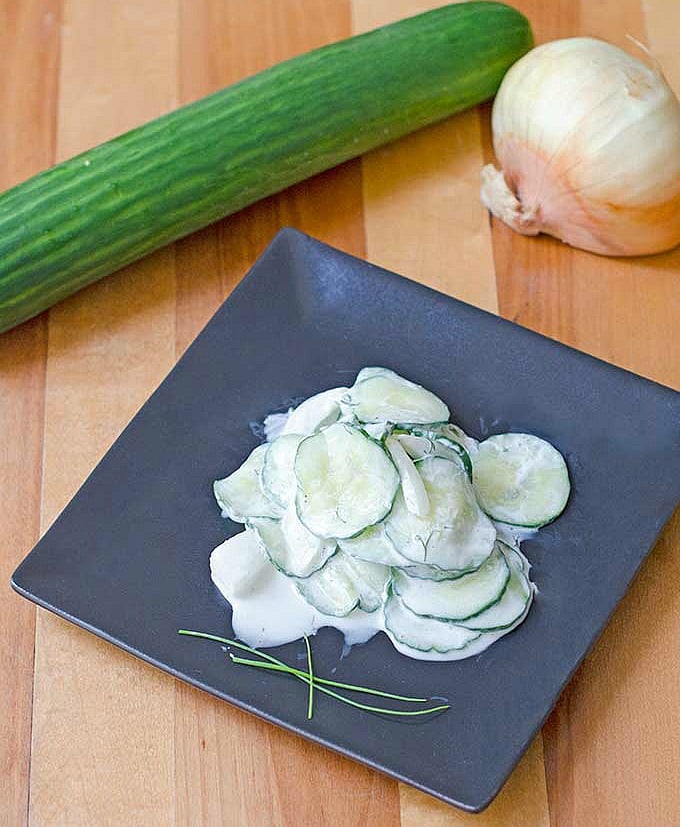 What Do I Need To Make German Cucumber Salad?
Unless you just really enjoy slicing things thinly by hand with a knife, I really suggest a mandoline like the Oxo Good Grips version that I started with. I then upgraded to my food processor that I now use.
You'll also want:
A strainer or colander for salting the cucumbers to sit and drain in
A large, covered container to store the salad in – I like these because I can easily give the container a shake to make sure everything is evenly coated
Cucumber Salad Ingredients
The ingredients you need to make this salad include:
Cucumbers, preferably the English cucumbers variety
Salt
Onion – I prefer a sweet onion like vidalia
Sour cream
White granulated sugar
White or apple cider vinegar
Fresh dill
Fresh chives
Garlic – powder or a raw clove that I would grate with mircoplane
More salt and pepper to taste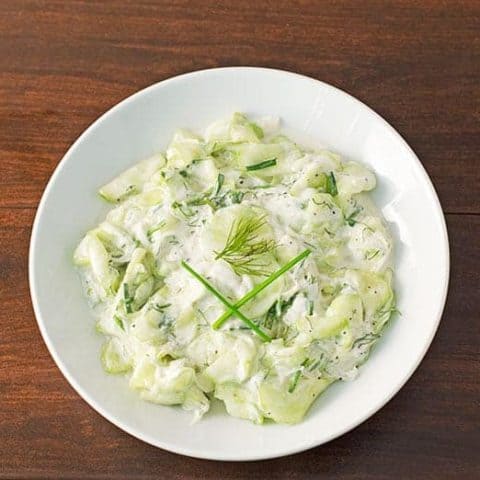 Creamy Cucumber Salad Recipe
This creamy cucumber salad, or gurkensalat recipe, is a great cool and refreshing side dish for the warmer months!
Ingredients
2 large cucumbers, such as English; you can also use 4+ pickling cucumbers
1/2 large onion, I like to use a sweet or white onion
1/2 cup sour cream, I always use full-fat
2 Tablespoons white granulated sugar, or to taste
2 Tablespoons white vinegar (or apple cider vinegar)
1 Tablespoon fresh dill, washed and chopped finely
1 Tablespoon fresh chives, washed and chopped finely
Salt and pepper to taste
Instructions
Wash cucumbers and then peel if desired. Peeled cucumbers will be a bit softer while unpeeled will be a bit crisper. If using pickling cucumbers, you'll definitely want to peel as the skin is too thick.
Very thinly slice cucumbers and onion (cut in half), about 1/16" or 1.5mm thick, where you can almost see through the slices. A mandoline makes really easy work of this.
Place cucumbers and onion in strainer and sprinkle with about 1 teaspoon salt and toss to coat. Let sit over a bowl or clean sink at least 30 minutes, but preferably an hour or more, so excess water can drain. If you don't do this the cucumbers won't soften as they should, and your salad can end up very watery.
Once cucumbers and onions have softened, lightly rinse (can skip if you like a saltier salad) and squeeze out any excess water, allowing to drain on a paper towel or clean kitchen towel while you make the dressing.
In a large container or bowl, mix together sour cream, sugar, vinegar, dill, chives and garlic.
Add in cucumber and onion and toss to coat evenly.
Season to taste with salt and pepper. If you want it tangier, add a touch of vinegar, if less tangy or sweeter, a touch of sugar.
Cover and store in the refrigerator for several hours before serving, preferably overnight. Stir just before serving.
Salad will keep in the refrigerator for 3 days, though it will begin to get watery the longer it sits.
Notes
Change up the flavor by adding different herbs. You can also use dried herbs, just use 1 teaspoon instead as dried herbs are more potent.
Recommended Products
As an Amazon Associate and member of other affiliate programs, I earn from qualifying purchases.
Nutrition Information:
Yield:

8
Serving Size:

1/8 of recipe
Amount Per Serving:
Calories:

64
Total Fat:

3g
Saturated Fat:

2g
Trans Fat:

0g
Unsaturated Fat:

1g
Cholesterol:

8mg
Sodium:

381mg
Carbohydrates:

9g
Fiber:

1g
Sugar:

6g
Protein:

1g