Pork and sauerkraut are two great comfort foods that are loved by many. To help you enjoy this delicious hot and hearty meal, check out our Stove Top Pork and Sauerkraut Recipe with step-by-step instructions.
I know you may see this recipe and think, "Sauerkraut?? No way! Eww." Looking back, my 10-year-old self would say the same.
It seems to be something people either love or hate. I have to admit my now adult self definitely loves sauerkraut.
So, I encourage you to give it a try again if you think you don't like it. This recipe is a great way to try a sauerkraut dish without it being plain and quite so sharp to the senses.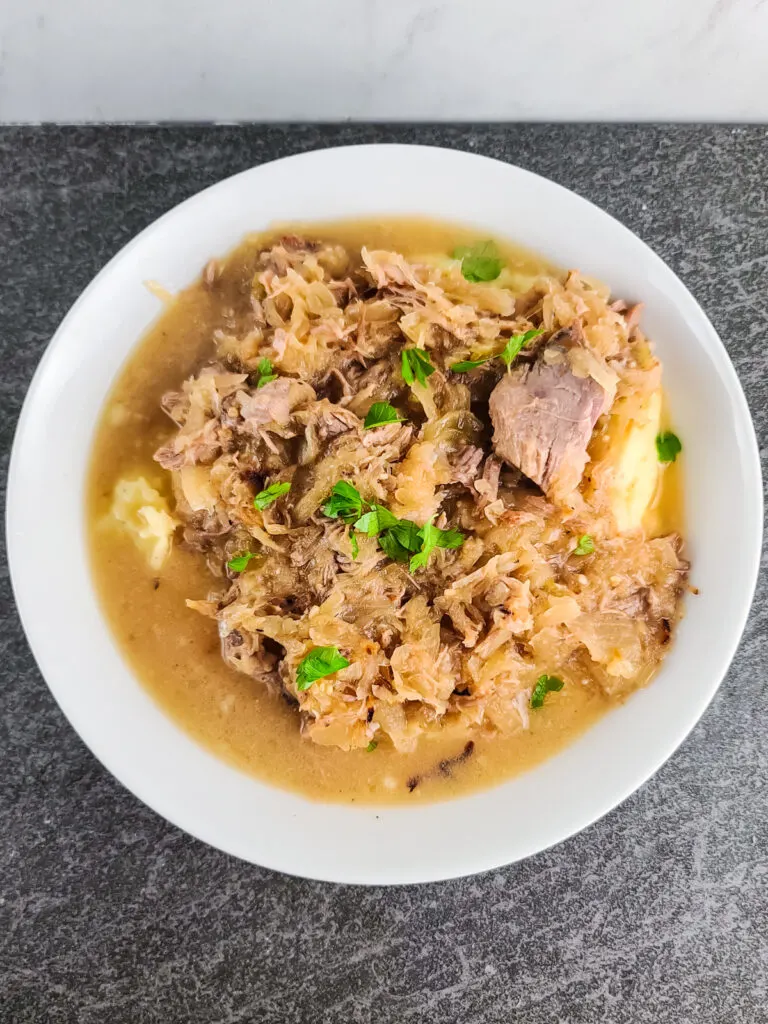 Be sure to give the ingredients list a look for some tips to scale that harsh sauerkraut flavor back a bit if you're not completely sold just yet.
I've tried a lot of pork and sauerkraut concoctions over the years to bring half-German Mr. Savvy a taste of home and this one with simple ingredients makes him the happiest.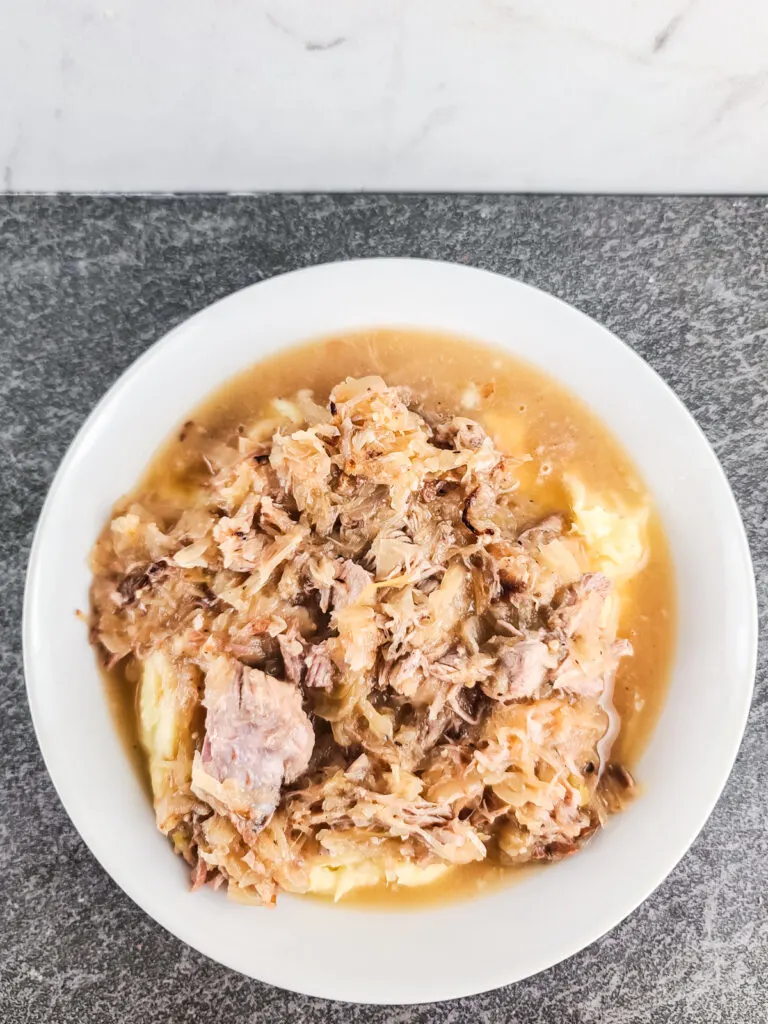 Pork and Sauerkraut Ingredients and Substitutions
High-heat oil - you want to use a suitable oil for high-heat searing like avocado, lard, peanut, or canola. NOT olive oil.
Salt and pepper
Bone-in pork butt - I like to use a cut of pork with the bone for best flavor. You can use a boneless cuts of pork such as a pork loin roast (not pork tenderloin), if you prefer a sliced pork version - just keep in mind it is a leaner cut and will take less time to cook so it can dry out quickly.

Other pork cut options (bone-in or boneless) include pork shoulder and pork country-style ribs or chops.
Yellow onions - can use powder or dehydrated onion if that's what you have. See the label for how much to use in place of fresh.
Garlic - You can use garlic powder if you don't have fresh.
Sauerkraut - To drain and rinse or not? The flavor of sauerkraut really varies by brand and even by container from the same brand. We really love the tang and brininess of sauerkraut so I don't drain nor rinse the sauerkraut and usually use the Boar's Head brand that is refrigerated in a bag.

I'd encourage you to taste your sauerkraut before adding it to the pot and see how strong it is. You can always drain some or all of the sauerkraut juice, set it aside and refrigerate it while the recipe cooks and then add some in at the end to taste.
Brown sugar - this helps even out the tanginess of the sauerkraut and you can use light or dark. I really think the brown sugar flavor works best here and don't recommend substituting other sweeteners.
Applesauce - For this recipe, you want to use an unsweetened applesauce that also doesn't have any spices. You could also use apple juice or apple cider - again make sure there isn't extra sweetener or spices added.

You can also toss in your favorite variety of raw cooking apple that has been cored, peeled(optional), and chopped.
Caraway seeds - If you don't care for the flavor of caraway seeds, you can leave them out. Caraway certainly adds a unique German-style flavor that really makes this recipe extra delicious.
Chicken broth or water - This is just in case your dish needs some extra moisture. Broth will add more flavor than water.
Garnishes - I'll be the first to admit that this isn't the prettiest dish on its own even if it's super tasty. That's why I like to at least add a sprinkle of chopped fresh herbs, such as parsley, or green onions to at least add a pop of color.
Recommended Equipment
Large Dutch oven or pot - I'm personally a huge fan of enameled cast iron Dutch ovens and these days there are plenty of high quality ones that don't cost a ton of money like this one from Lodge.
Chef's knife - Great for chopping the onions and slicing the pork.
Tongs - A must have for turning the pork roast and getting it out of the pot.
Spatula - I love a wooden spoon or spatula for cooking as they won't harm surfaces and last a long time with proper care.
Ladle - My favorite utensil to serve this dish.
How To Make the Best Pork and Sauerkraut
For in-depth instructions, see the printable recipe card at the bottom of this article.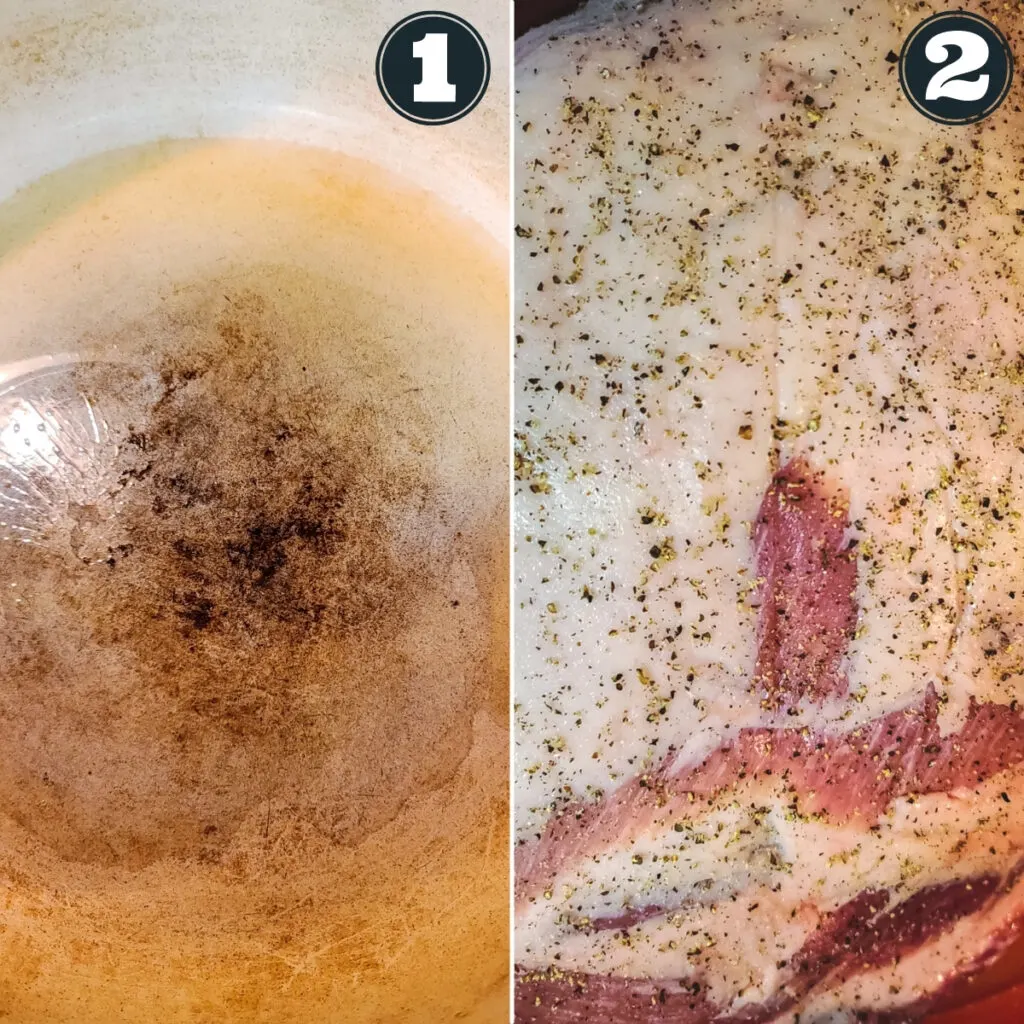 1. For the first step, heat the oil for searing in a large Dutch oven.
2. Generously season the fatty side of your pork roast with salt and pepper.
3. Carefully place the seasoned side of the pork roast down into the hot oil. Season the side of the pork facing up.
4. Sear until golden brown, about 4 minutes. Carefully flip the roast and sear until browned on the other side, about 3 - 4 minutes.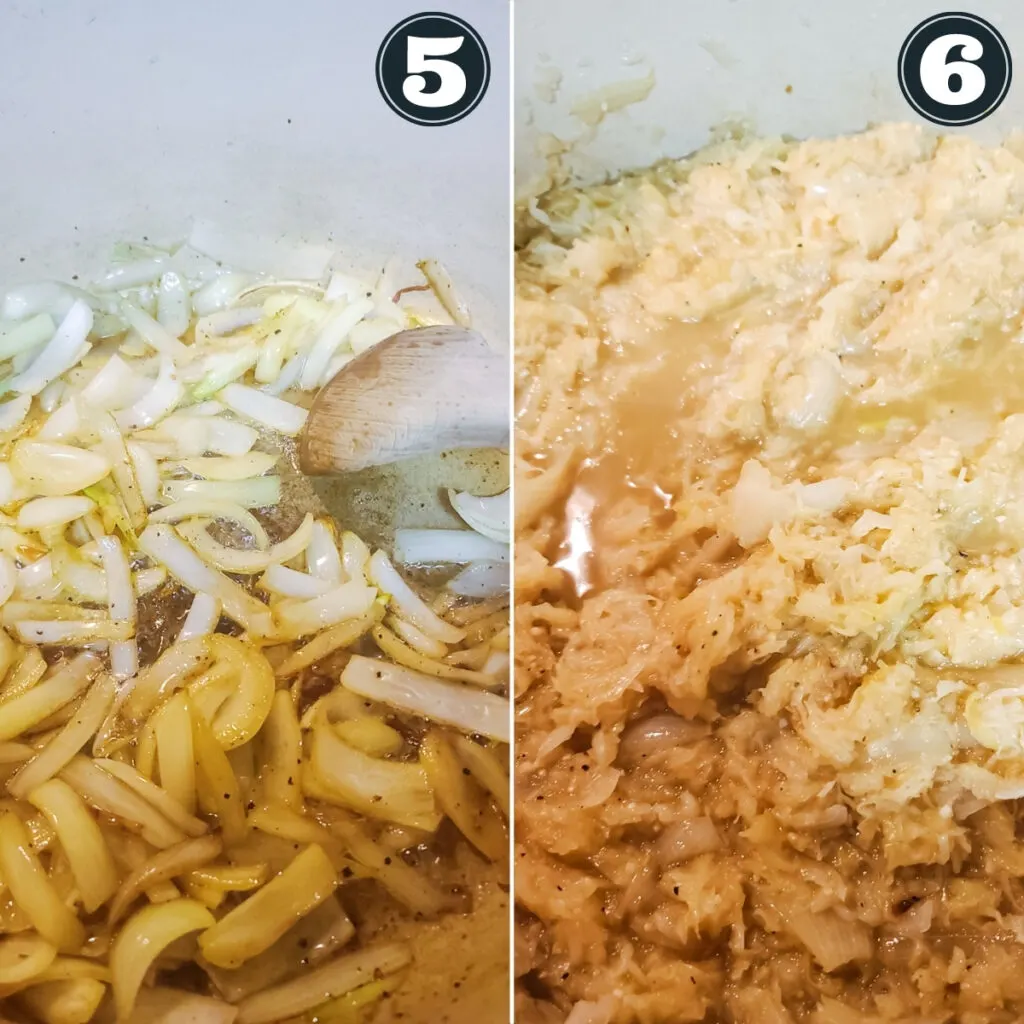 5. Once pork is seared, remove it from the pot and set aside. Sauté sliced onion in the fat and juices left behind for 3 to 4 minutes until softened.
6. Once the onions have softened, add the seasonings, kraut, and broth, if needed.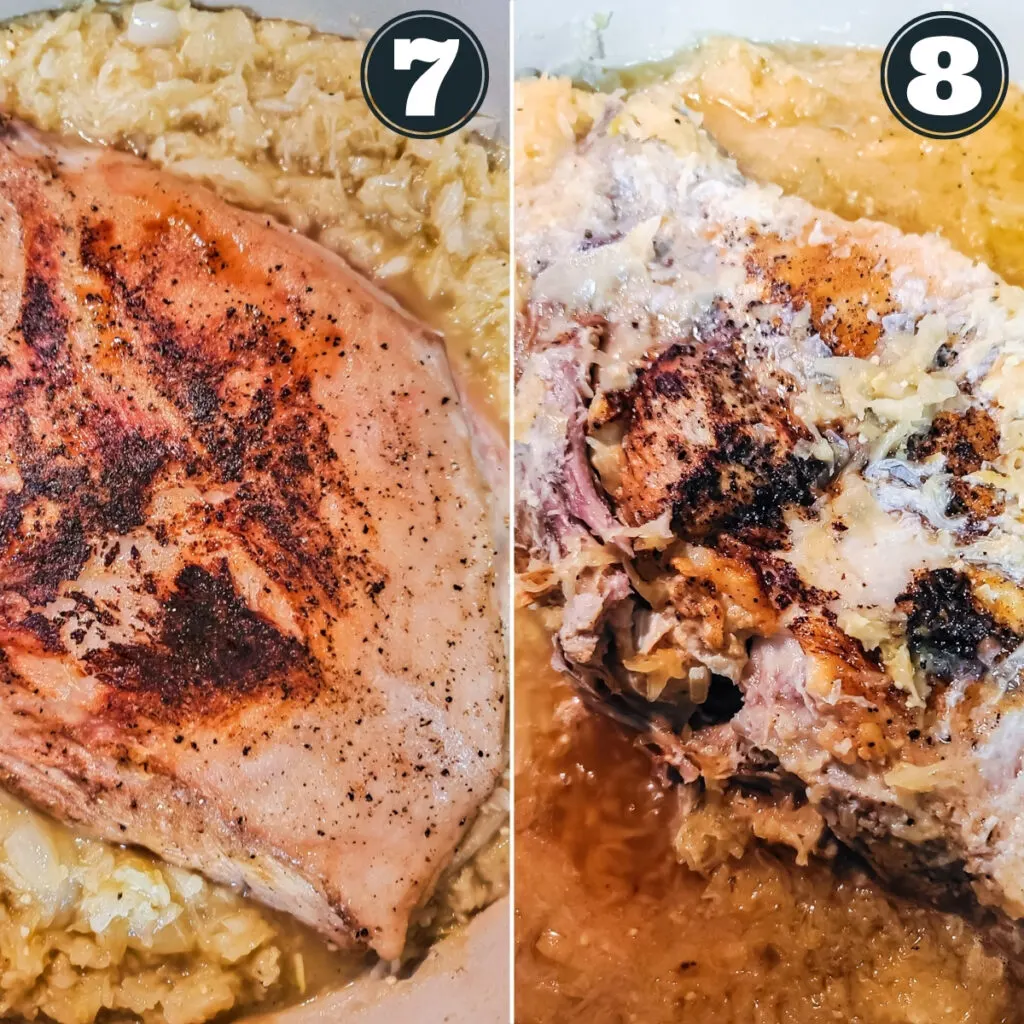 7. Nestle the roast into the kraut mixture. Bring it to a boil, cover with a lid, then lower the heat to a simmer.
8. Simmer until the pork is cooked through and tender, about 3 to 4 hours.
9. Once the pork is cooked, remove it from the pot and let cool until you can safely handle it. Then remove the bone and cut the meat into chunks and stir back into the kraut mixture.
10. Serve and enjoy!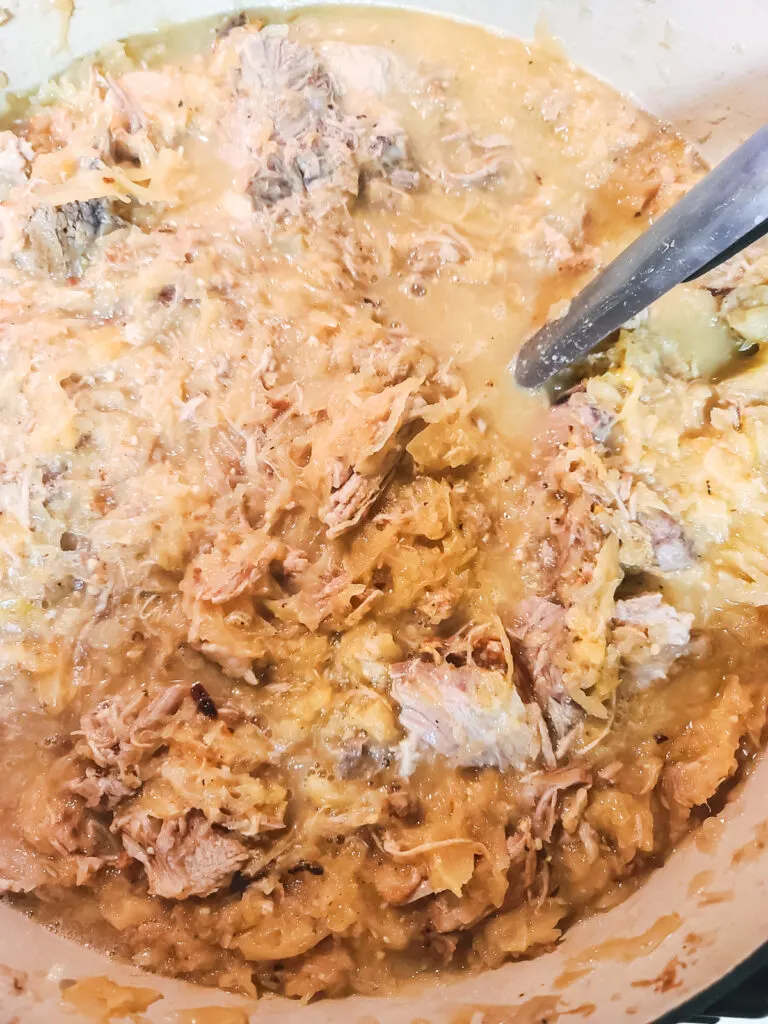 What is Sauerkraut?
For this recipe you want traditional cabbage sauerkraut and not a variety that may include cucumbers or other vegetables.
Sauerkraut is basically raw cabbage that has been pickled in a way so that it ferments. This means that it contains a bacteria culture that keeps it from going bad for months.
It's well known to be a German dish and features a tangy, sour flavor and is sometimes on the salty side. It's kind of similar to kimchi, but doesn't have the funky spiciness that kimchi does.
Many people like to consume sauerkraut for its health benefits like probiotics, vitamin C and K, and potential to improve digestion.
Sauerkraut is also a popular traditional dish to eat on New Year's Day or Eve as it's said to bring good luck and good fortune for the coming year.
Can I Cook Pork and Kraut in the Oven?
Absolutely! I like to cook it on the stovetop to not have to deal with moving a heavy pot in and out of the oven but if that's what you like here's what I suggest.
Place an oven rack in the middle section of your oven and preheat your oven to 325° F. Complete the recipe through step 7, nestling the pork in the kraut mixture.
Cover the pot tightly, then place in your preheated oven and bake until the pork is very tender, about 3 to 4 hours. Then finish the recipe as is - remove the pork and let it cool enough to handle. Remove the bone and add back to the kraut mixture.
You can also make this in a Crock Pot. I'd still sauté the onions and sear the pork.
Then move everything over to the slow cooker and cook covered on low for around 5 to 6 hours.
What to Serve with Pork and Sauerkraut
Here are some wonderful recipes to turn this sauerkraut and pork dish into a full meal.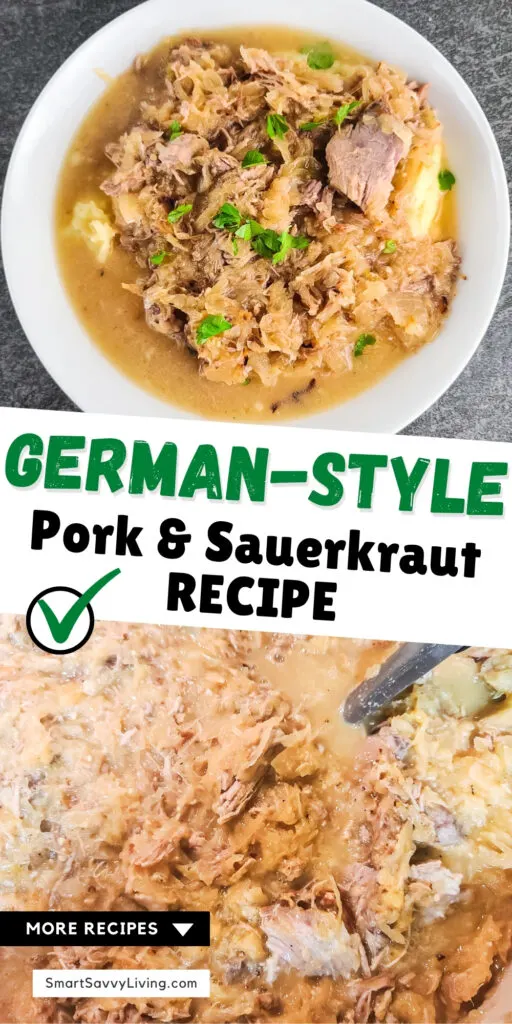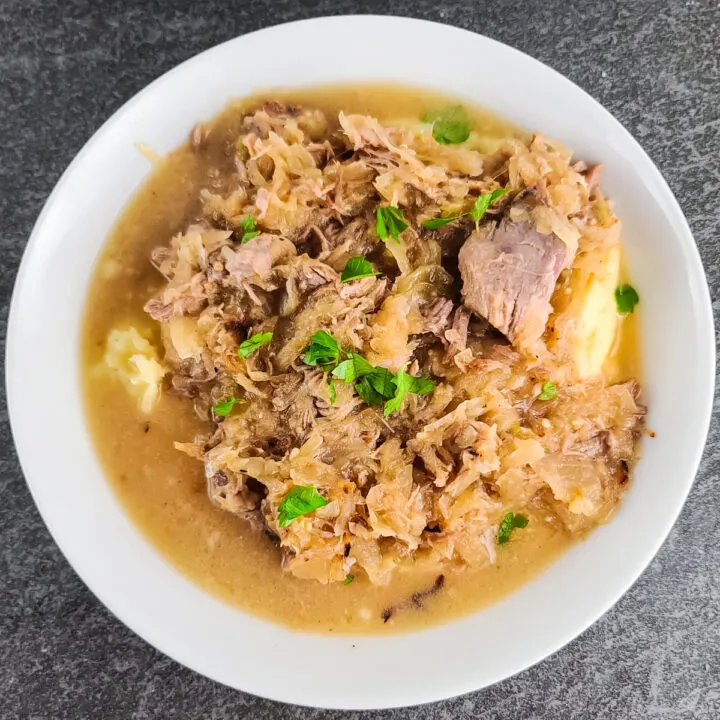 Stove Top Pork and Sauerkraut Recipe
Cook Time:
3 hours
15 minutes
Additional Time:
5 minutes
Total Time:
3 hours
28 minutes
Pork and sauerkraut are two great comfort foods that are loved by many. To help you enjoy this delicious hot and hearty meal, check out our Stove Top Pork and Sauerkraut Recipe with step-by-step instructions.
Ingredients
1 ½ tablespoons high-heat oil, such as avocado
Salt
Pepper
A 4 to 5 pound bone-in pork butt
2 cups yellow onions sliced in half moons
2 cloves garlic, minced
3 pounds sauerkraut (I don't drain or rinse, but you can if desired)
¼ cup brown sugar
1 ½ cups unsweetened applesauce
1 cup chicken broth or water, optional
Instructions
Heat oil in a large dutch oven over medium-high heat.
Heavily season the pork on the fatty side with salt and pepper.
Place the pork seasoned side down into heated oil. Season the other side.
Cook until browned, about 4 minutes. Once browned, flip and continue to cook until browned, about 3 - 4 minutes.
Remove pork butt and set aside. Don't drain the juices in the pot as they are important for flavor.
Add sliced onions and cook for 3 to 4 minutes until onions are slightly browned and softened. Stir in a large pinch of salt and ground balck pepper, and garlic and cook for about 30 seconds.
Stir in sauerkraut, brown sugar, apple sauce, caraway seeds (if using) and another pinch of salt and ground black pepper. If you drained the sauerkraut or it's dry, add in about 1 cup of chicken broth or water. Nestle the pork into the kraut mixture.
Bring the pot to a boil and then lower heat to a simmer. Cover and cook until the pork is tender and falling off the bone, about 3 to 4 hours. Stir the kraut around the pork occasionally as it cooks. Add additional broth or water if the pot gets too dry.
Once the pork is tender, remove it from the pot. Cool until you can easily cut into chunks or shred, discarding the bone. Keep the sauerkraut on low to keep warm, stirring occasionally.
Once the pork is cut into pieces, taste the sauerkraut mixture for salt and pepper, adjusting to taste.
You can pour the kraut onto a platter and place the pork on top, or just pile both into individual bowls. We like making mashed potatoes and then putting a large spoonful of the kraut mixture over the potatoes and then some pork on top for an all-in-one dinner. Enjoy!
Notes
You can use boneless pork if preferred, which should take about 2 to 3 hours to cook.
If you don't care for the briny, tangy taste of sauerkraut, you may want to drain and/or rinse it before using.
Please see the original article at https://smartsavvyliving.com/stove-top-pork-and-sauerkraut-recipe/ for more ingredient substitutions and tips to make this recipe.
Nutrition Information:
Yield:

10
Serving Size:

1
Amount Per Serving:
Calories:

590
Total Fat:

37g
Saturated Fat:

13g
Trans Fat:

0g
Unsaturated Fat:

20g
Cholesterol:

157mg
Sodium:

1118mg
Carbohydrates:

20g
Fiber:

5g
Sugar:

13g
Protein:

44g
Nutrition information may not be accurate. Optional garnishes and toppings aren't included. Nutrition information is calculated automatically by and provided by Nutritionix. Exact nutrition information depends on the specific ingredients, brands, and amounts you use.