Slightly spicy moist cake-like muffins are topped with a tangy citrus glaze in this gingerbread muffins recipe with lemon glaze.
Gingerbread is one of my favorite desserts to enjoy around the holidays. I just love the spicy yet slightly sweet flavor.
Ginger molasses cookies are probably my all-time favorite but I really enjoy gingerbread cake, too.
I had never had gingerbread with lemon before meeting Mr. Savvy but he said he really enjoyed gingerbread with a lemon sauce back in Germany.
Ginger and lemon is a classic flavor combination that goes together well so it just makes sense. So, while you can totally enjoy these homemade gingerbread muffins without the glaze the sweet yet tangy glaze takes them to a whole new level.
These easy muffins are perfect with a cup of coffee or tea and a must-have for any holiday breakfast or brunch.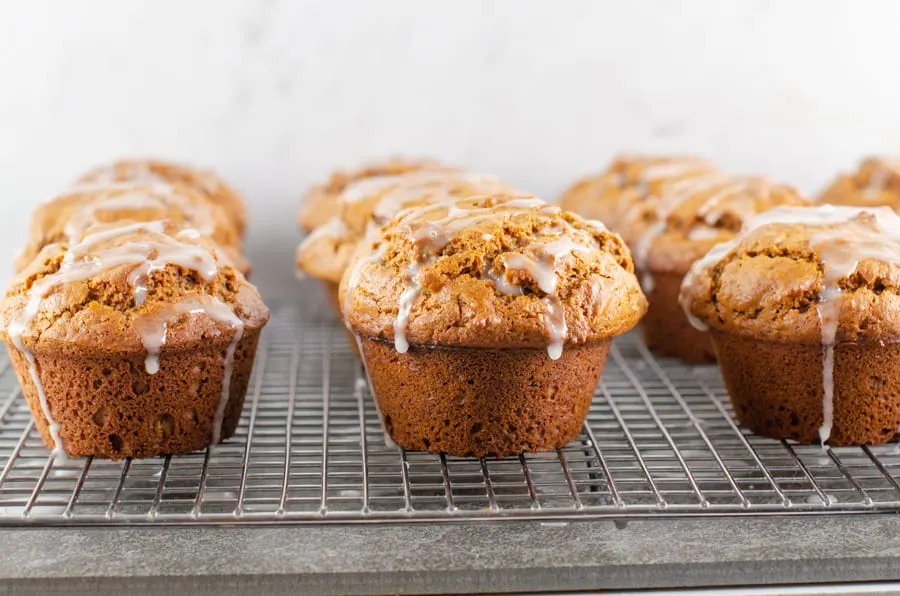 Tips For Making Gingerbread Muffins
First, make sure your ingredients are at room temperature if possible. This will allow the ingredients to blend together well without over mixing.
Putting the muffins into a blazing hot oven and then reducing the temperature a few minutes later will help the muffins be nice and tall yet bake through without burning on the outside.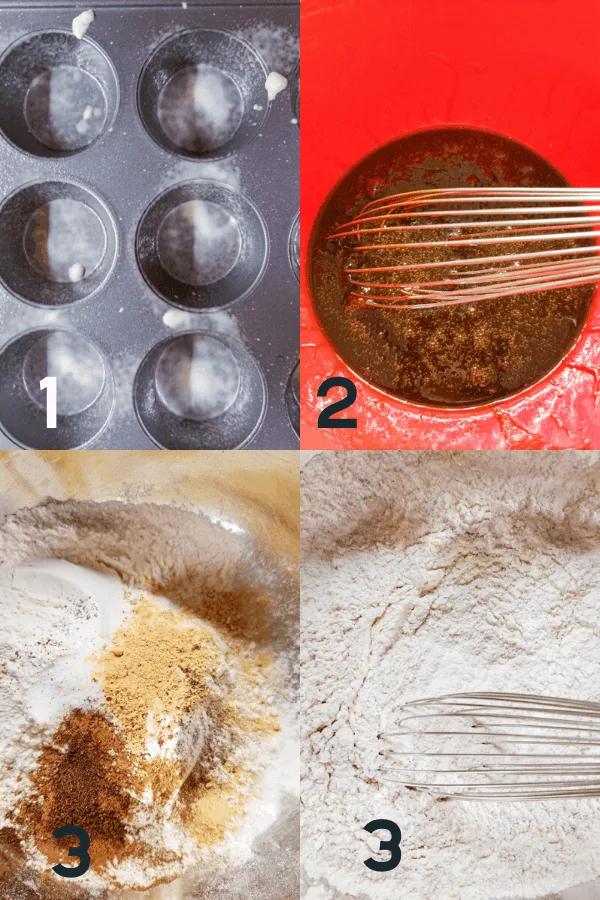 Once baked, let the muffins cool in the pan for about 5 minutes but definitely not more than 10 minutes. Otherwise, they can "sweat" and end up sticking to the pan, especially if you didn't use muffin liners.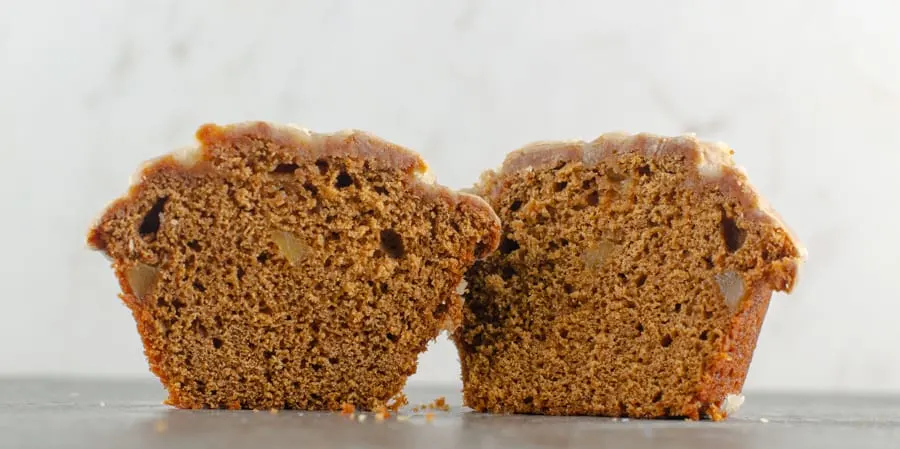 Gingerbread Muffin Ingredients
Unsalted butter
Molasses - I have always used the Grandma brand molasses. I do not suggest using dark (blackstrap) molasses unless you are sure you enjoy that flavor as it is quite strong.
All-purpose flour - I used King Arthur brand
Baking soda - make sure it's not expired or your muffins won't rise properly
Salt
Ground cinnamon, ginger, cloves, and black pepper (yes, the kind you find in a shaker on the table) - make sure your spices haven't been sitting in your pantry for years or you won't get the right flavor.
Candied ginger - I used the uncrystallized candied ginger from Trader Joe's which has more of a spicy ginger flavor than sweet. You don't have to include this ingredient but it certainly amps up the ginger flavor.
Dark brown sugar - You can use light brown sugar if that's all you have but dark brown sugar does add a bit stronger molasses flavor.
Egg
Sour cream - this helps the muffins stay moist and tender.
Milk - I always use whole milk, buttermilk, or even half and half in baking but you should be able to use lower-fat or alternative milk products without issue in this recipe.
Vanilla extract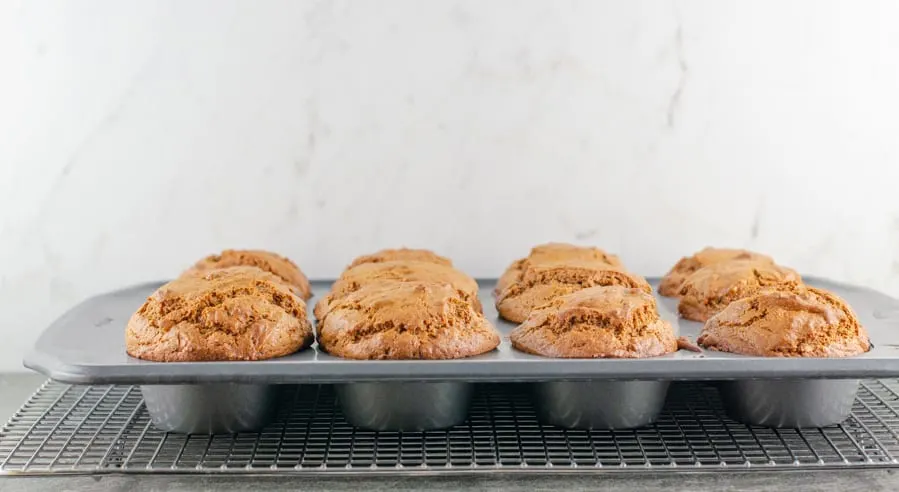 Recommended Equipment To Make Muffins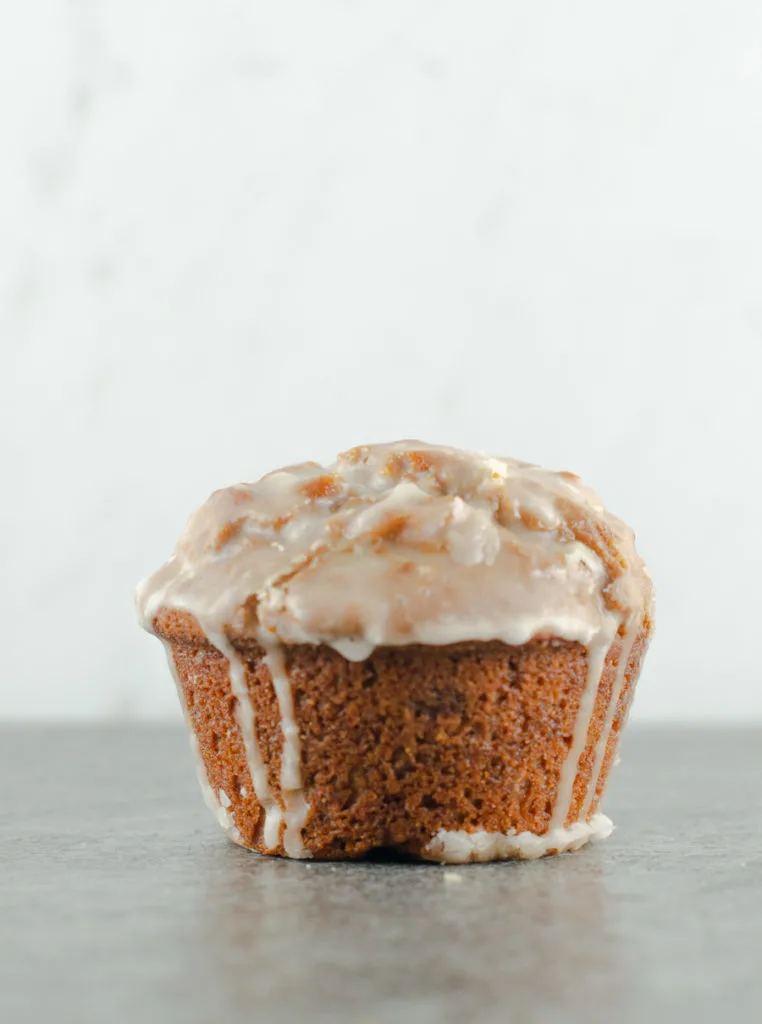 More Holiday Brunch Ideas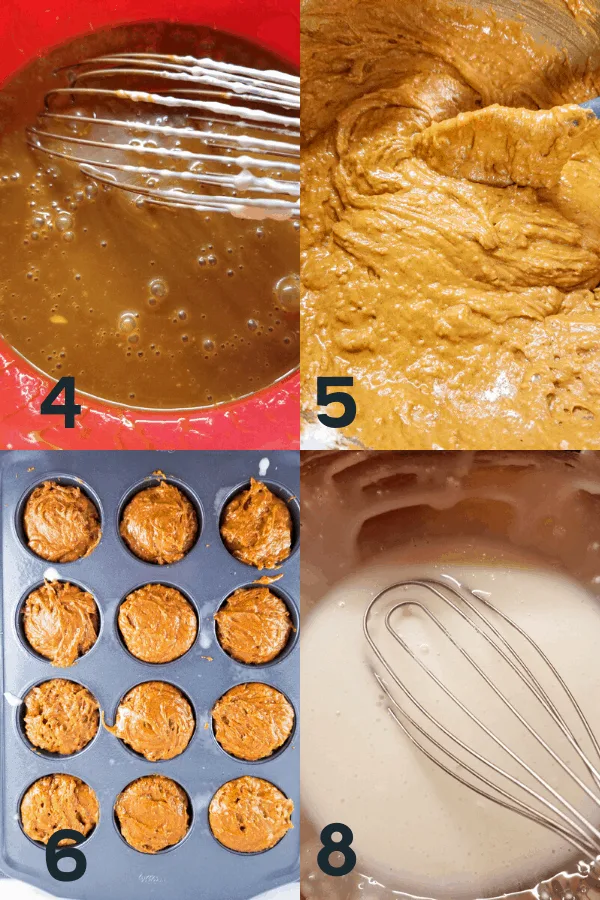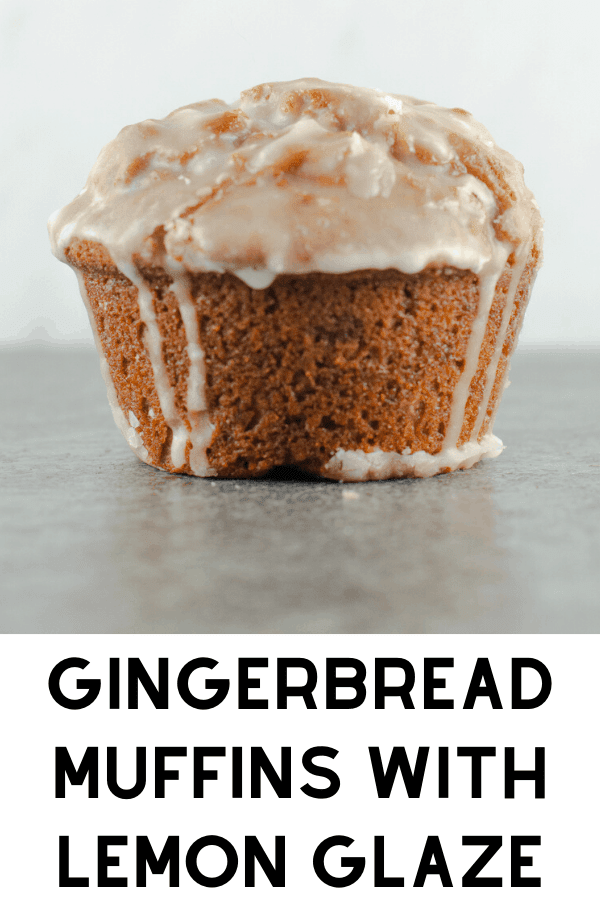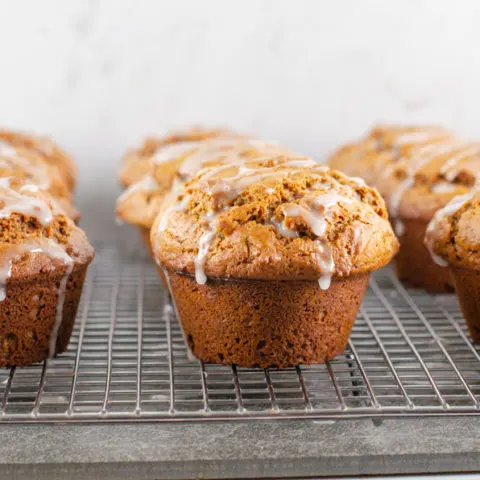 Gingerbread Muffins Recipe With Lemon Glaze
Yield:
12 regular muffins
Additional Time:
5 minutes
Slightly spicy moist cake-like muffins are topped with a tangy citrus glaze in this gingerbread muffins recipe with lemon glaze.
Ingredients
½ cup unsalted butter
¾ cup molasses (not blackstrap)
3 cups all-purpose flour
1 ½ teaspoons baking soda
¼ teaspoon salt
1 ½ teaspoons ground cinnamon
1 ¼ teaspoons ground ginger
½ teaspoon ground cloves
1 pinch ground black pepper
¼ cup chopped candied ginger
½ cup packed dark brown sugar
1 large egg, room temperature
½ cup sour cream, room temperature
½ cup milk, room temperature
¼ teaspoon vanilla extract
Lemon Glaze Ingredients
1 cup powdered sugar
2 Tablespoons lemon juice (preferably fresh)
1 Tablespoon heavy cream
1 pinch salt
Instructions
Preheat oven to 425°F. Grease a 12-cup muffin tin or use cupcake liners. I using a baking spray.
Place ¾ cup molasses and ½ cup butter in a medium-sized microwave-safe bowl and microwave on high for 1 - 1.5 minutes until butter can be completely stirred into the molasses. Set aside while preparing the rest of the ingredients.
In a large mixing bowl whisk together the 3 cups flour, 1.5 teaspoons baking soda, ¼ teaspoon salt, 1.5 teaspoons cinnamon, 1.25 teaspoons ginger, ½ teaspoon cloves, and pinch of ground pepper together until thoroughly combined. Stir in the ¼ cup chopped candied ginger, making sure the pieces aren't sticking together.
Whisk the large egg, ½ cup sour cream, ½ cup milk, and ¼ teaspoon vanilla extract into the butter and molasses mixture until well combined.
Pour the molasses mixture over the dry ingredients and stir together until just combined. Make sure to not overmix yet make sure there aren't any flour pockets at the bottom.
Evenly divide the batter into the muffin tin, filling the cups all the way to the top.
Place the filled tin into the oven and bake at 425°F for 5 minutes. After the 5 minutes, reduce the temperature to 350°F and bake for about 15 minutes more or until the centers are set. A toothpick should come out clean when inserted into the middle of one of the muffins.
Once the muffins have baked, place the pan on a cooling rack for 5 minutes. While the muffins cool, make the glaze by whisking together 1 cup of powdered sugar, 2 tablespoons lemon juice, 1 tablespoon cream, and 1 pinch of salt.
After cooling 5 minutes, remove the muffins from the tin and place directly on the cooling rack. You may want to put a half sheet, foil or parchment paper under the rack before glazing to minimize cleanup. Drizzle the glaze over the muffins or dip the top of the muffins into the glaze if preferred. The glaze will set as it cools.
Serve immediately or cool completely and then cover storing at room temperature for up to 3 days or in the refrigerator for up to a week. Leftover muffins can also be wrapped and frozen.
Notes
The gingerbread muffins are also delicious made without the glaze if desired.
Nutrition Information:
Yield:

12
Serving Size:

1 muffin
Amount Per Serving:
Calories:

357
Total Fat:

11g
Saturated Fat:

6g
Trans Fat:

0g
Unsaturated Fat:

4g
Cholesterol:

44mg
Sodium:

240mg
Carbohydrates:

61g
Fiber:

1g
Sugar:

36g
Protein:

5g
Nutrition information may not be accurate. Nutrition information is calculated automatically by and provided by Nutritionix. Exact nutrition information depends on the specific ingredients, brands, and amounts you use.