This post with my spinach and sausage stuffed mushrooms recipe is part of a sponsored post written by me on behalf of Jimmy Dean.
There's just something I love about finger foods and trying out new appetizer recipes. I think part of it is that the dishes are bite-sized, so you don't need a bunch of utensils and can instead spend your time walking around and socializing with guests. The other part is that when you serve bite-sized foods, you usually have a large variety of dishes so you can pick a number of foods to enjoy. For this indecisive girl, that's a major bonus!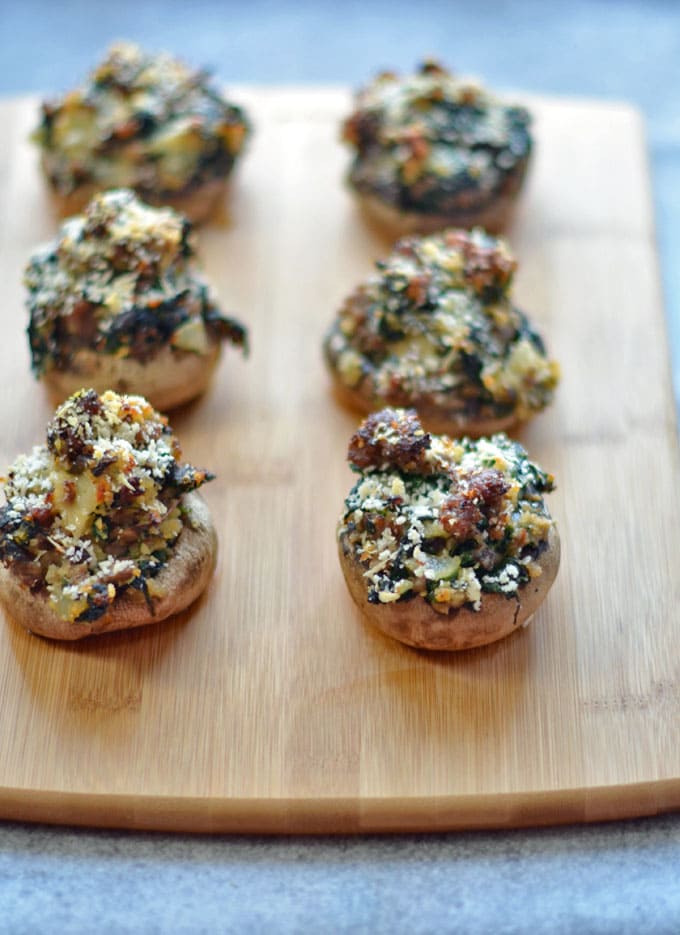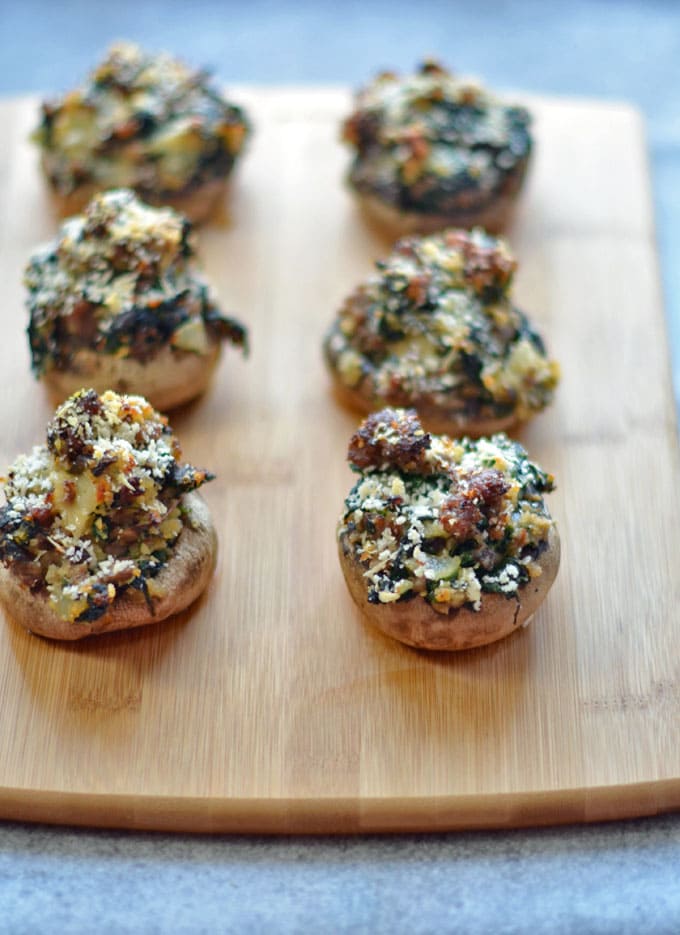 The holidays with all the parties and the like are of course a huge time for serving all sorts of bite-sized appetizers and desserts. This year, I decided to make an appetizer recipe that I hadn't had in years, but is one of my all-time favorites: spinach and sausage stuffed mushrooms. Plus, Mr. Savvy had been bugging me to make them. ;) So, when Jimmy Dean challenged me to make a recipe using their products, I knew what I had to make.
I think stuffed items like stuffed mushrooms, deviled eggs and the like had lessened in popularity for several years, but they seem to be making a huge comeback. I, for one, am quite happy about that because stuffed dishes have such a great layer of flavors that can really be changed up all sorts of ways so they never get old. My favorite stuffing for mushrooms is pretty basic, but so delicious with sausage, spinach, garlic, onion, bread crumbs and some cheese. They're basic flavors that just about everyone loves without being boring. Plus with the sausage and spinach you have a nice soft center while the cheese and bread crumbs creates that yummy browned and slightly crunchy topping we all love.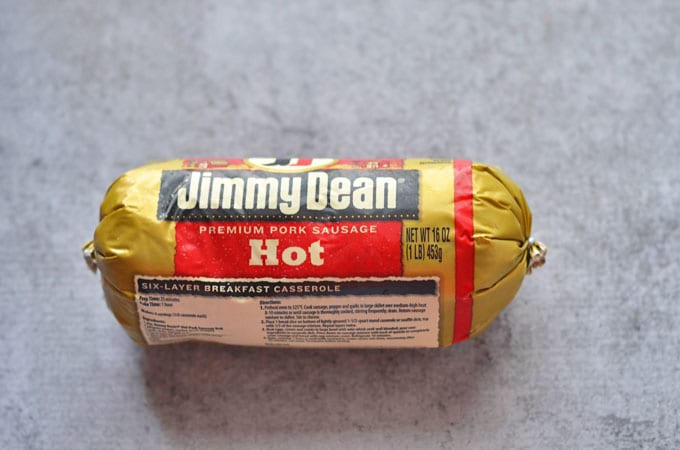 One of the things the mushrooms get the most flavor from is the sausage, so it's very important to use a type that is flavorful, but not overly greasy. For me, it's always a no brainer to use Jimmy Dean sausage. It's what I grew up eating – and growing up we ate biscuits with sausage gravy just about every weekend – and is one of the very few products that truly seems to not have diminished in quality over the years. Heck, even the sausage guru half German Mr. Savvy approves of Jimmy Dean sausage. The flavor and moisture is always spot on for me without the patties shrinking away into a skillet full of grease.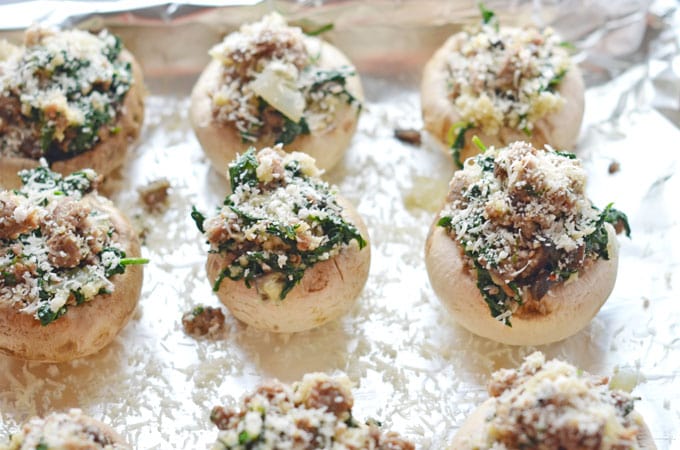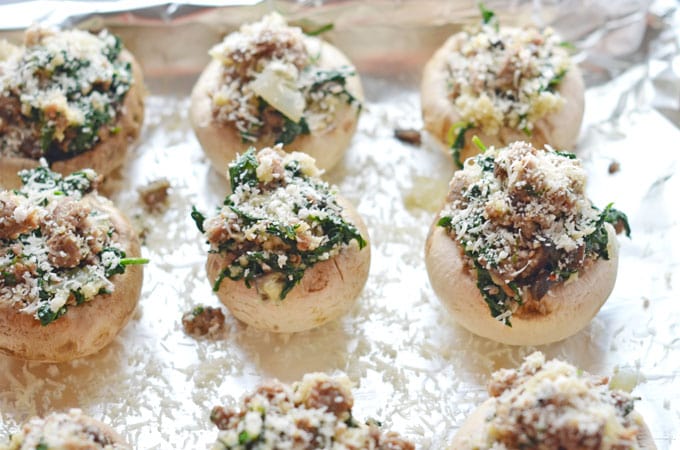 Foil is such a handy tool for this recipe. Crunchy baked cheese and bread crumbs are delicious, until you have to wash the dishes! (Oye, that didn't rhyme too much, did it?)
Plus, I love that these days there are a ton of flavors to choose from other than just the original goodness. Mr. Savvy and I are fans of spice, so we like the hot variety. But there's also sage that's great in dressing or stuffing, maple to go with those delicious pancakes, Italian to make the perfect lasagna, among others. I loved the links as a kid, and now you can even get pre-cooked Jimmy Dean sausage for those days you're just in too much of a hurry. How awesome is that?! The hot Jimmy Dean sausage totally makes this stuffed mushroom recipe (though plain, mild, Italian or even sage would also be good). These are great to serve at any party any time of year; I think they'd even make a great finger food friendly Super Bowl appetizer. I also think they make a great Valentine's Day appetizer because you can easily feed them to each other if you want to be all mushy. Plus, there's not too much onion or garlic so you don't have to feel like you're making out with a vampire hunter.
Okay, now that I'm craving sausage again, here's my spinach and sausage stuffed mushrooms recipe. I think my stomach growling is a sign that it's time to head back to the store to get the stuff to make more! ;) P.S. As much as I love stuffing the small mushrooms, I'm totally in love with the huge "gourmet" stuffing mushrooms. Mostly because they're big enough that you could serve a couple as a main entree!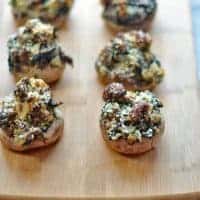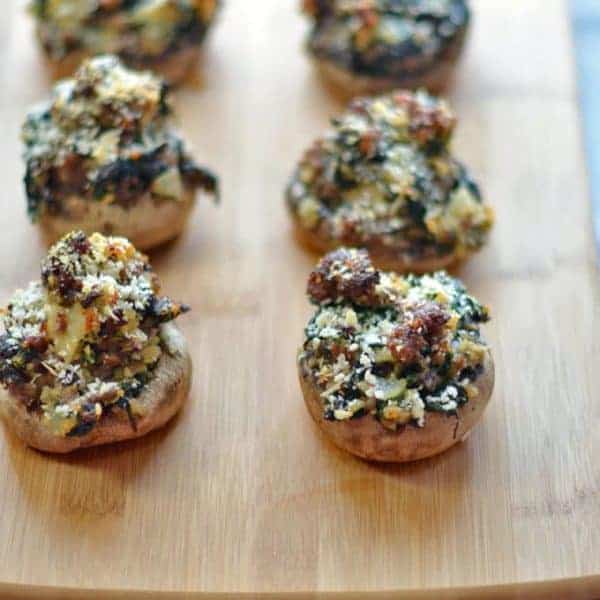 Spinach and Sausage Stuffed Mushrooms Recipe
This spinach and sausage stuffed mushrooms recipe is a great appetizer to make year round that everyone will love.
Ingredients
Mushrooms for stuffing; exact quantity will depend on size, but at least 30+ small mushrooms; we used the extra large "gourmet" stuffing mushrooms and had enough for 15
1 1-pound package Jimmy Dean Roll Sausage in your desired flavor (we used hot)
1 small onion, finely chopped (yellow or white)
2 cloves garlic, finely chopped
9 oz fresh spinach (can also use a small box of frozen spinach, just thaw and drain very well)
1 cup panko breadcrumbs, divided
1/2 cup grated Parmigiano or Romano cheese, divided
salt and pepper to taste
melted butter or olive oil (optional)
Instructions
Wash mushrooms with a damp cloth to remove all dirt and debris.
Remove stems from mushrooms and then finely chop the stems to use in the stuffing mixture. If you run across any stem sections that are dry or woody, discard them those sections.
Place mushroom caps on a baking sheet (line with foil for super easy cleanup) and preheat oven to 400°F.
In a medium to large skillet, brown sausage, breaking it into small bite-sized chunks as it cooks.
Remove sausage from skillet once cooked through and place on a paper towel lined plate to absorb excess grease.
In remaining sausage fat (if you don't have at least a tablespoon or 2, you can add in some olive oil or butter), sautee chopped mushroom stems, onion and spinach until soft. Once they start softening, add the garlic. You don't want to add it too early because garlic can easily burn and become bitter.
Once everything has cooked (use a slotted spoon so you don't have too much extra fat or moisture) move the veggie mix and sausage into a medium-sized bowl - I just use the one I put the initial chopped veggies in.
Add 3/4 cup of the breadcrumbs and 1/4 cup of the grated cheese to the mixture and stir to thoroughly combine.
Salt and pepper to taste. I also like to salt and pepper the mushrooms a bit, especially the large ones, before stuffing.
Using a spoon or small cookie scoop (which is great so you can get a lot of stuffing on the caps without it falling everywhere), scoop the stuffing mixture onto the caps.
Evenly sprinkle remaining cheese and breadcrumbs over stuffed mushrooms.
If you would like to make sure the cheese and breadcrumbs get nicely browned, you can drizzle the mushrooms with just a bit of melted butter or olive oil.
Bake in 400°F oven for 15 - 30 minutes depending on size of mushroom, until stuffing has browned on top and mushrooms are soft and tender.
Transfer mushrooms to serving plate and serve warm.
Store leftovers in refrigerator - they will keep for 1 - 2 days and can be reheated in the oven without being soggy.
Notes
If you really like it spicy, you can add in some red pepper flakes, cayenne, or sriracha sauce as well.