With super crispy edges and a chewy center, this crispy ginger molasses cookies recipe is a must-make during the holidays.
I've been trying to make the perfect ginger cookie recipe and I feel like I've finally put it together.
These ginger cookies are very crispy on the edge but as you get closer to the center they have a nice chewiness so you don't feel like you're going to break a tooth.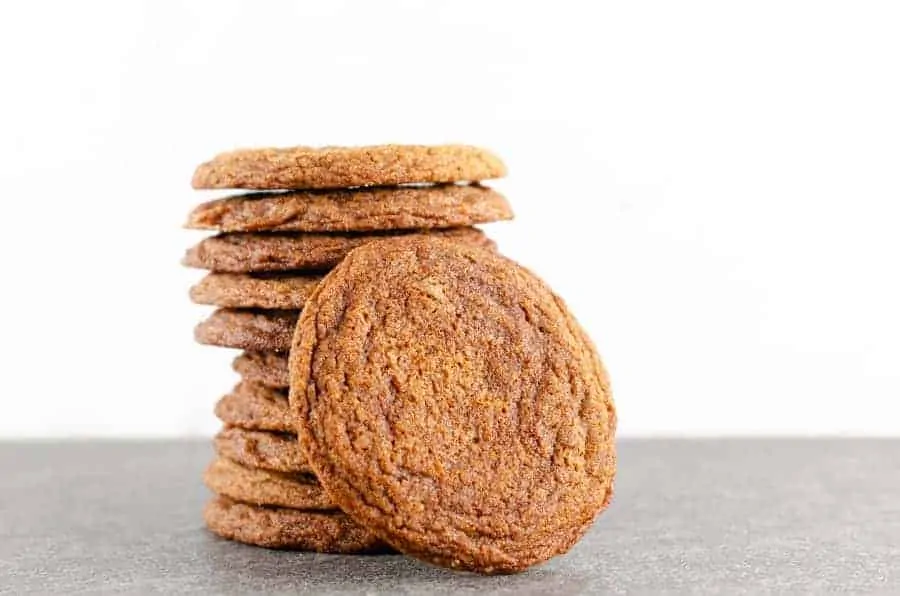 How To Make Ginger Cookies Crispy
If you're looking for extra crispy gingersnaps you should use an equal amount of vegetable shortening instead of butter and bake up to one minute longer in the top third of the oven closer to the heating element.
I generally prefer baking with real butter but this is one case where you just can't get the thorough crispiness without shortening from my experience.
Keep in mind that the longer the cookies sit, the more likely they are to become soft.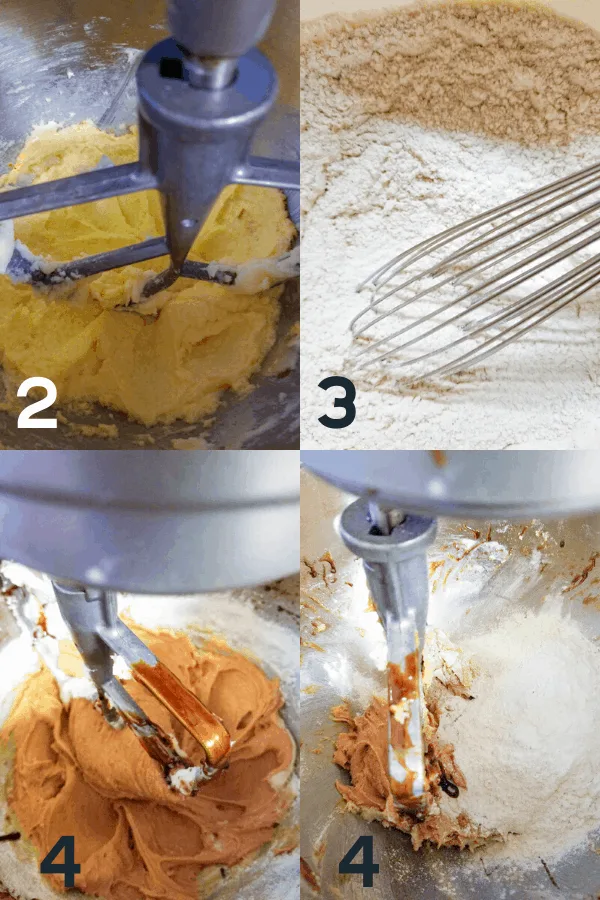 How To Make Chewy Ginger Molasses Cookies
If you're looking for chewy ginger cookies throughout, make the recipe as written but you may want to bake a minute or so less.
Let the cookies cool on the baking pan for 1 minute and then remove to continue cooling on a cooling rack. Keep in mind that the cookies will likely soften to a chewier state the longer they sit in a covered container.
Can You Freeze Ginger Cookies?
Yes, you can freeze gingersnaps. I personally prefer to freeze the ginger cookie dough versus baked cookies.
It usually takes up less space, I don't have to worry about the cookies getting soggy upon thawing, and I get to experience the awesome scents of freshly baked cookies.
I form the dough into a ball or log, wrap in plastic wrap, and place in a freezer-safe ziptop bag.
Thaw the dough overnight in the refrigerator overnight before rolling in sugar and baking as directed. It does not need to come to room temperature.
Cookie dough can be frozen for up to around 3 months.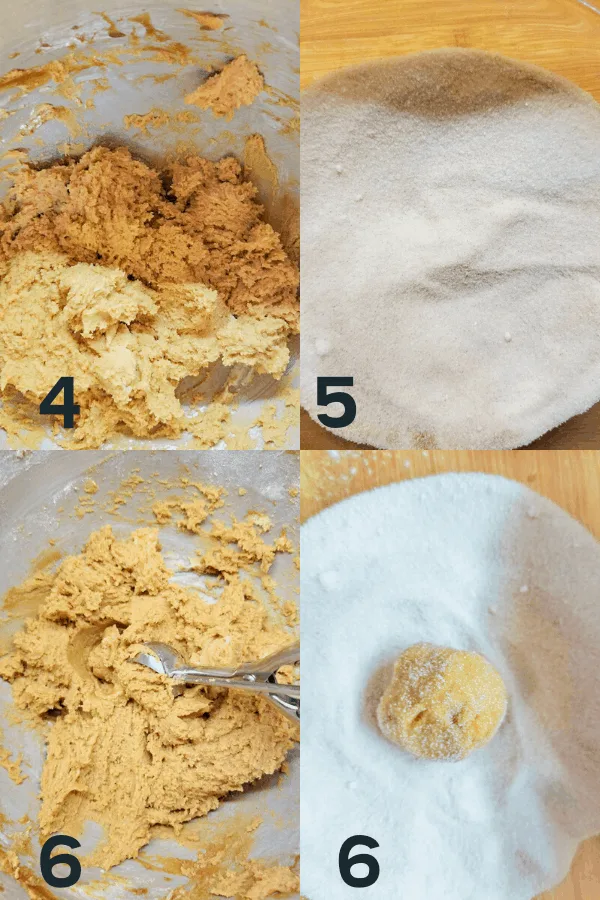 You can also freeze the baked cookies if you really want. First, make sure the cookies are completely cooled before freezing.
Line a shallow freezer-safe container with parchment or freezer paper. Place a single layer of cookies on top of the paper. Place another layer of paper on top of the cookies and then another layer of cookies.
Repeat until the container is full or you've used all the cookies. When ready to thaw, I would remove the cookies from the container and place them on a cooling rack to help make sure they don't get soggy.
Baked cookies can be frozen for up to around 1 month but if you start seeing ice crystals form use as soon as possible for the best quality.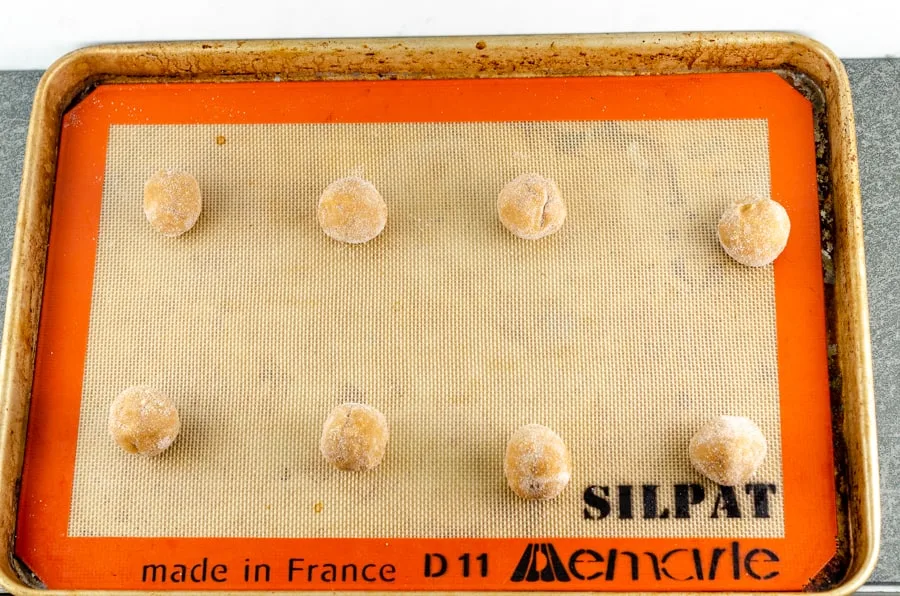 Gingerbread Cookies Ingredients
These chewy ginger cookies have simple ingredients including:
Unsalted butter - you can use salted butter but you'll need to alter the amount of salt, if any, you add otherwise
White granulated sugar - yes, ginger cookies have a molasses flavor but be sure to not use brown sugar or the texture will be off.
All-purpose flour - I almost always use King Arthur flour when baking
Baking soda - Make sure it hasn't expired
Salt - I use the finely ground sea salt from Costco
Ground cinnamon, ginger, cloves, and black pepper - yes black pepper like you'd find in a shaker at the table. It helps provide a little extra spice. Remember to check your expiration date on the spices as it will make a difference in the flavor!
Egg
Molasses - Not a blackstrap molasses unless you know you like that super strong flavor. I've always used the brand Grandma molasses.
Vanilla extract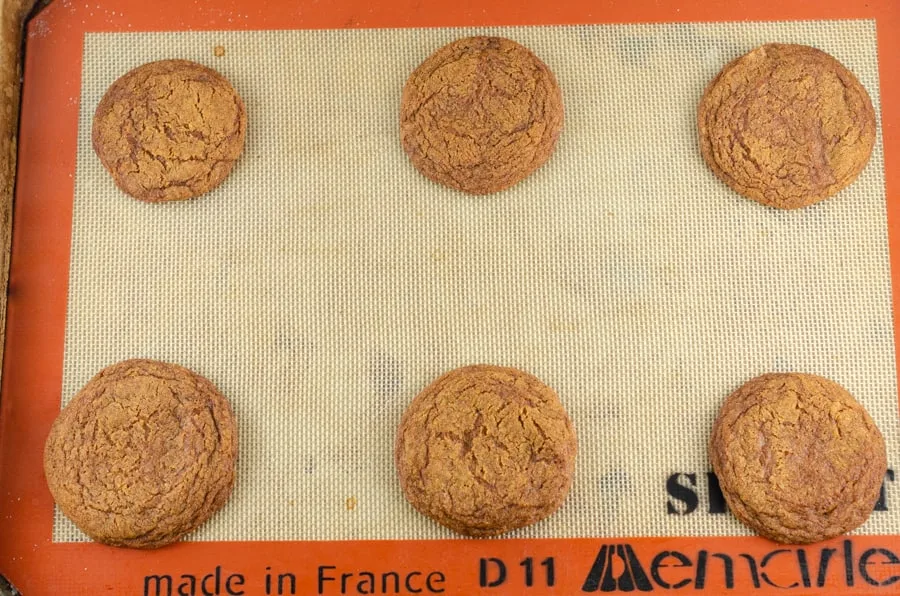 How Do You Make Ginger Cookies?
Ginger cookies are easy to make and very similar to other cookie recipes. You mix the dry ingredients together and then cream together the butter and sugar, later adding in an egg.
I use my stand mixer because it lets me work on other steps while it works but you can use a hand mixer if that's what you have. Then you'll mix in some of the flour, the molasses and vanilla, and then the rest of the flour.
Once the dough is formed is doesn't need to be refrigerated but if you're not using it immediately you'll want to cover it and refrigerate.
Just roll the dough into equally sized balls and roll in some cinnamon sugar and bake in the top third of your oven for a crispier cookie.
You don't have to flatten the balls but the dough will spread out quite a bit so I don't like to put more than 6 cookies on a sheet at a time.
I cool the molasses cookies entirely on the pan and make sure to use a cooled pan when baking another batch.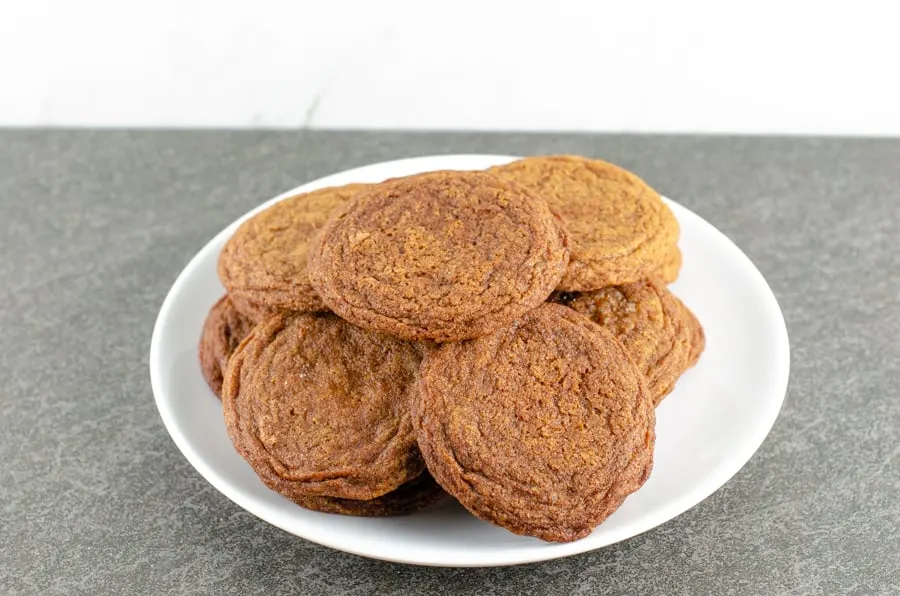 More Cookie Recipes
Recommended Equipment
Here are the actual tools I used to make these gingersnap cookies.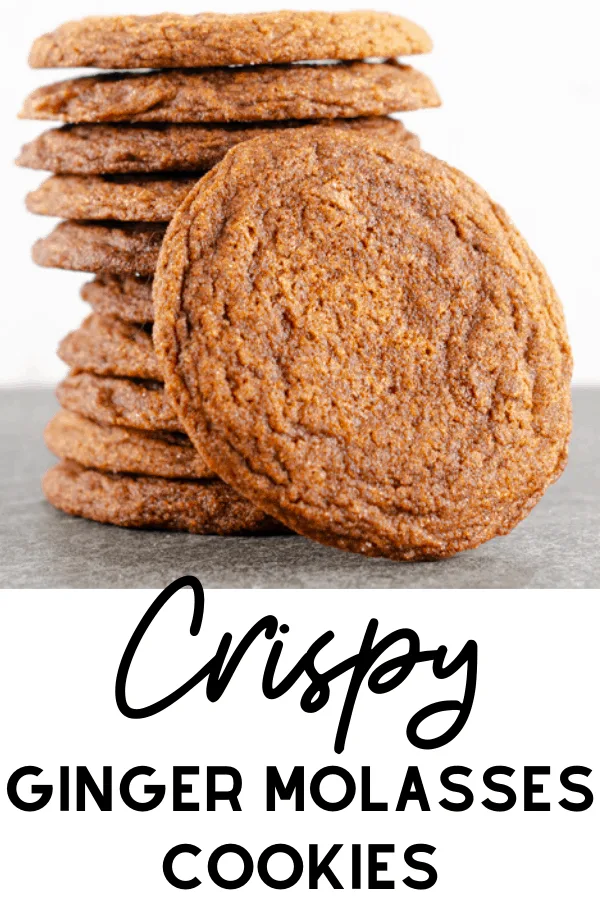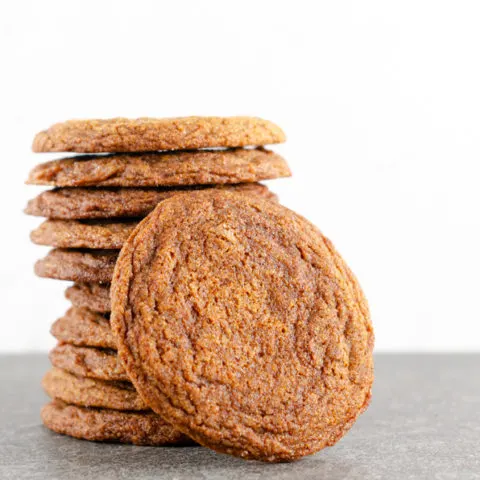 Crispy Ginger Molasses Cookies Recipe
Additional Time:
10 minutes
With super crispy edges and a chewy center, this crispy ginger molasses cookies recipe is a must-make during the holidays.
Ingredients
1 ½ sticks (12 Tablespoons) unsalted butter, softened
1 large egg, room temperature
Cinnamon Sugar Ingredients
¼ cup white granulated sugar
½ teaspoon ground cinnamon
Instructions
Set a rack in the upper third of your oven and preheat to 350°F.
Place 1.5 sticks softened unsalted butter and 1 cup white granulated sugar in a mixing bowl and beat on medium speed for 5 minutes.
If using a stand mixer, in the meantime whisk 2 cups all-purpose flour, 2 teaspoons baking soda, ½ teaspoon salt, 1 teaspoon ground cinnamon, 2 teaspoons ground ginger, ½ teaspoon ground cloves, and 1 pinch ground black pepper together in a separate bowl.
Once the butter and sugar has been mixing for 5 minutes, add the egg and mix until smooth. Stop the mixer and scrape down the sides. Add half of the flour mixture and mix on low until combined. Add ⅓ cup molasses and ½ teaspoon vanilla extract and mix until combined. Stop the mixer again and scrape down the sides. Then add the remaining flour and mix on low to combine. Use a spatula to make sure there isn't any unmixed flour on the bottom of the bowl.
If the mixture is too soft to roll into balls, cover it and place in the refrigerator for about 30 minutes. Otherwise, set aside while you whisk together ¼ cup white granulated sugar and ½ teaspoon ground cinnamon together in a small bowl.
Using a medium cookie scoop (or about 1.5 Tablespoons), scoop out dough and roll into balls between the palms of your hand. Roll each ball into the cinnamon sugar mixture and then place on a baking sheet lined with parchment paper or a silpat. Leave 3 inches between the cookies. I bake 6 to 8 cookies at a time on a half sheet.
Bake for 11 - 13 minutes to achieve a cookie that is crisp on the edges and softer and chewy in the center. Mine were perfect at 12 minutes but all ovens differ. Bake 1 to 2 minutes longer for a crispier cookie.
Cool cookies on the baking sheet on a cooling rack. Store in an airtight container or bag.
Notes
Use vegetable shortening instead of butter for a really crisp cookie.
Recommended Products
As an Amazon Associate and member of other affiliate programs, I earn from qualifying purchases.
Nutrition Information:
Yield:

28
Serving Size:

1 Cookie
Amount Per Serving:
Calories:

126
Total Fat:

5g
Saturated Fat:

3g
Trans Fat:

0g
Unsaturated Fat:

2g
Cholesterol:

20mg
Sodium:

133mg
Carbohydrates:

19g
Fiber:

0g
Sugar:

12g
Protein:

1g
Nutrition information may not be accurate. Nutrition information is calculated automatically by and provided by Nutritionix. Exact nutrition information depends on the specific ingredients, brands, and amounts you use.