Need eggs benedict for a crowd? This overnight eggs benedict casserole recipe is just as good but is SO much easier to feed a lot of people.
Eggs Benedict is definitely one of the most popular breakfasts. It's the special request breakfast Mr. Savvy is always asking for.
I didn't start making it until a few years ago even though I'm a pretty good cook. I was always kind of overwhelmed by all the steps and having to make sure a lot of components were ready at the same time.
I had never even poached an egg before and was so worried I'd mess up the all-important hollandaise sauce. The pressure was on since this is his favorite breakfast!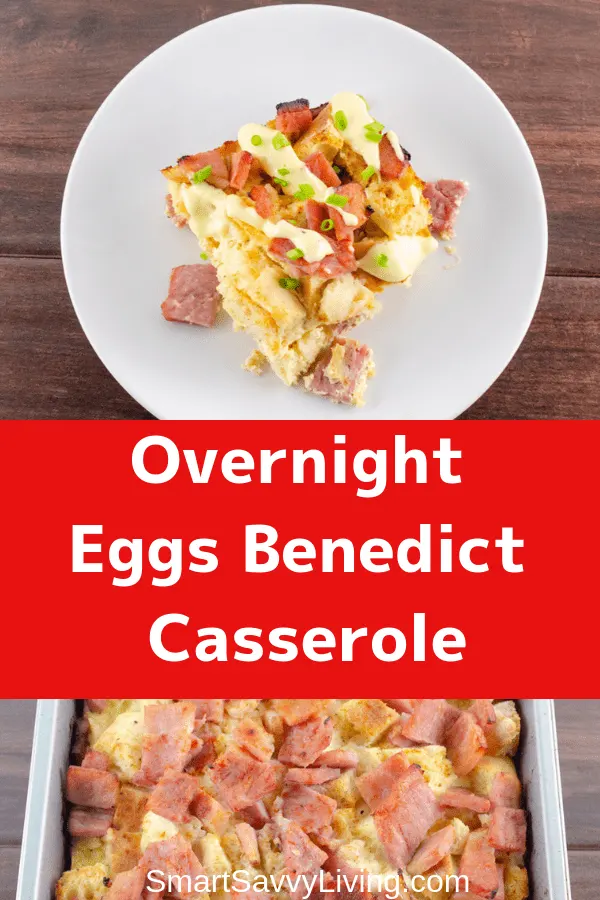 I eventually took the plunge to give a try and honestly, everything turned out just fine. I'd never want to have to make Eggs Benedict for a crowd even if it is the perfect brunch recipe, though.
But I found the easy solution for how to make Eggs Benedict for a crowd. Overnight Eggs Benedict Casserole.
What Is Eggs Benedict?
If you've never had eggs benedict before you're really missing out. Traditionally the dish consists of an English muffin, split in half and toasted, topped with Canadian bacon, a poached egg for that lovely cascade of warm creamy egg yolk, and a rich buttery hollandaise sauce with a touch of lemon freshness on each half.
There are many variations of eggs benedict including different types of bread, such as switching to biscuits and also the protein, such as switching to bacon, ham, or even something like crab cakes. Sometimes the hollandaise sauce will be flavored differently such as being made spicy.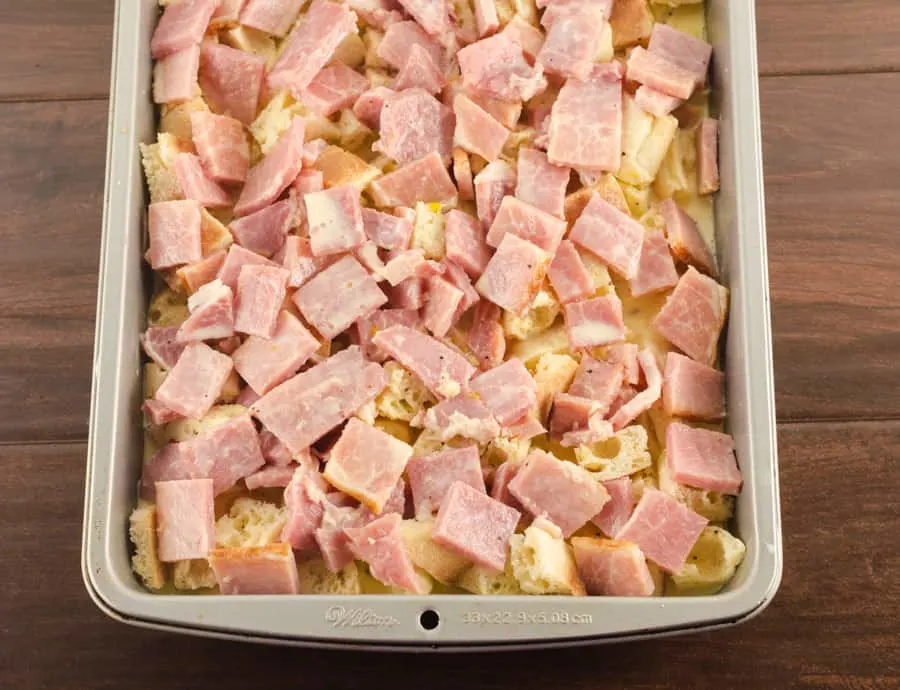 Overnight Eggs Benedict Casserole Recipe
This Eggs Benedict Casserole is a great way to use up leftover ham. And really, what isn't delicious covered in a rich and delicious hollandaise sauce?
My favorite part is that you can get everything put together the night before so the next morning you just have to stick it in the oven and make the hollandaise sauce.
It really does taste just as good, too. Some people may miss the yolk of the poached egg but I see it as an excuse to have a bit more hollandaise sauce.
I can't even buy English muffins anymore without Mr. Savvy saying, soooo, you're making the eggs benedict casserole again, right? Please say yes.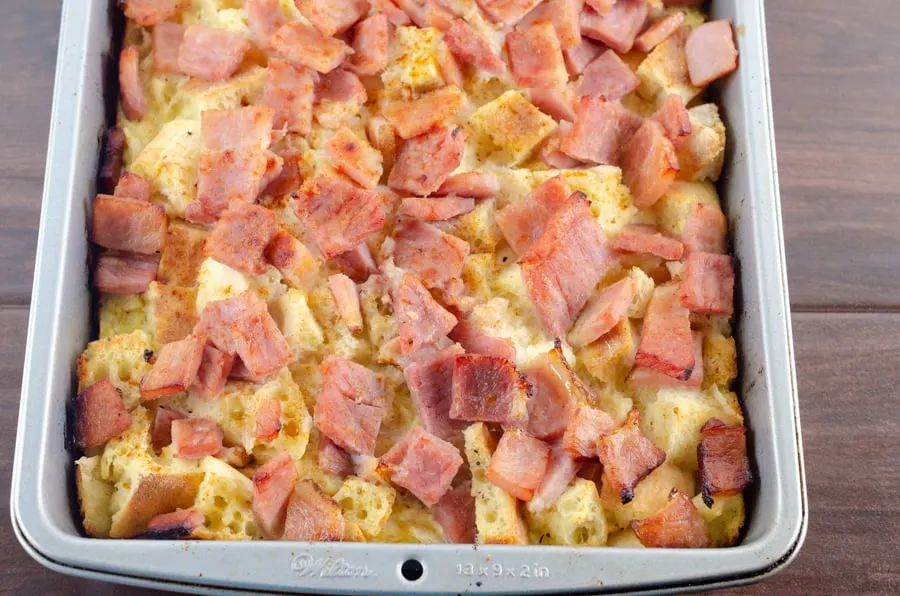 Smart Tips For Making The Best Eggs Benedict Casserole
Toast the English muffins first - you don't have to do this but it helps the bread stay crispy and taste more like traditional Eggs Benedict
Give our homemade blender hollandaise recipe below a try - it really is easy and makes this dish so much better than using a mix!
Keep hollandaise in a warmed bowl so guests can add as much as they like
You can use other meats than ham. I've also used breakfast sausage (cooked, crumbled, and drained of fat) with great results.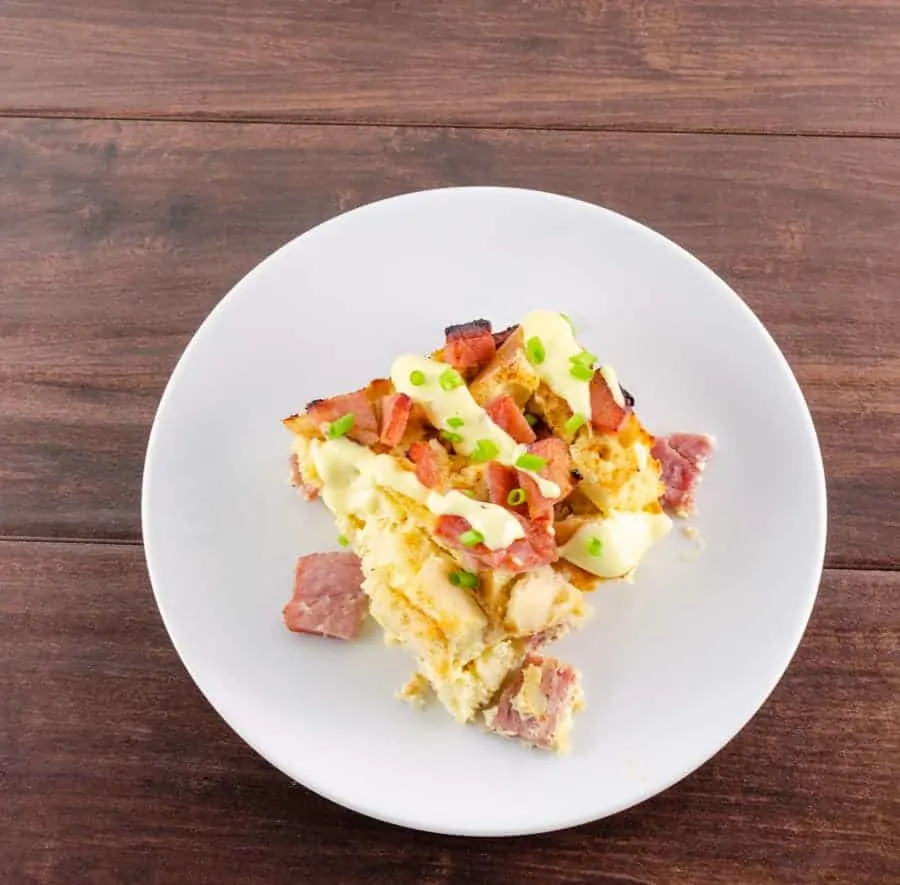 Tools To Make Overnight Eggs Benedict Casserole
The most important tool for me is a good 9 x 13 baking pan. I find that metal (this is the one pictured) or ceramic is best because it helps keep the casserole warmer longer.
I also recommend a warmed ceramic bowl and ladle for the hollandaise sauce to stay warm and fluid so guests can easily get as much hollandaise sauce as they want. You could also try an electric gravy warmer.
More Brunch Recipes To Serve With This Overnight Breakfast Casserole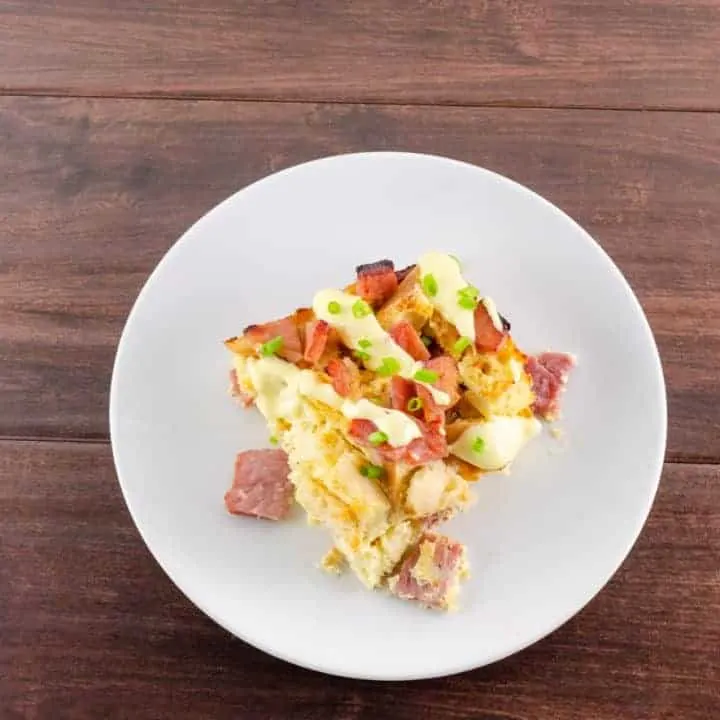 Overnight Eggs Benedict Casserole Recipe
This overnight eggs benedict casserole recipe is perfect to serve to a crowd for breakfast or brunch. It has all the same flavors of traditional eggs benedict but without the hassle.
Ingredients
Eggs Benedict Casserole Ingredients
Hollandaise Sauce Ingredients
2 sticks unsalted butter
3 large egg yolks (just the yolks)
Juice of 1 lemon - about 2 tablespoons
1 pinch salt
Optional Topping Ideas
Chopped Green Onion
Chives
Instructions
Cut English muffins in half and toast until lightly golden brown. Toasting is optional but I think the flavor of the casserole is better and the muffins stay a bit crisper when toasted.
Cut English muffins in ½ inch cubes.
Grease a 9x13 baking dish with softened butter or non-stick cooking spray. Place half of the bacon or ham evenly across the greased dish.
Place all of the cubed English muffins evenly over the meat. Evenly spread the rest of the meat on top of the muffins.
In a medium bowl, whisk together the eggs, onion powder, salt, and black pepper until thoroughly combined. Pour egg mixture over the meat and muffins.
Cover the baking dish with foil and refrigerate for at least 4 hours or overnight.
Once ready to bake the casserole, preheat the oven to 375°F.
Place the casserole still covered with foil in the oven once preheated and bake for 30 minutes. After 30 minutes, remove the foil and then bake for another 10 to 15 minutes or until the eggs are entirely set.
Once the casserole is done, take it out of the oven and set aside while you make the hollandaise sauce.
Melt 2 sticks of butter in saucepan on stove or in microwave-safe dish in the microwave until sizzling warm.
Place egg yolks in a blender, cover, and turn on low to mix the yolks.
Slowly pour the hot butter in a thin stream into the blender, keeping the blender on the whole time.
Once all butter has been poured in, immediately add lemon juice, mustard, and salt and blend until thoroughly combined. If the sauce is too thick, you can thin it with a tablespoon of cream or more lemon juice. Just make sure to not make it too lemony for your tastes.
Drizzle hollandaise sauce on top of the casserole or serve in a warmed dish on the side for individual topping.
If desired, sprinkle top of casserole with paprika or cayenne pepper and chopped green onion or chives before serving.
Keep leftover covered in the refrigerator for up to 3 days. Leftover are best reheated in the oven while covered.
Notes
If you tend to like to drown your eggs benedict in hollandaise like we do, you may want to double the hollandaise sauce recipe.
You can also use other meats, such as breakfast or Italian sausage instead of bacon or ham.