What makes the best sweet potato pie recipe? A smooth, creamy filling of simple ingredients in a flaky crust that let the sweet potato flavor with a hint of vanilla really be the star.
One way I always bring in the holiday season is to make this sweet potato pie.
I know it's a tradition for a lot of people to have pumpkin pie at Thanksgiving, which I do love, but sweet potato pie just edges it out as my favorite, especially if there isn't a sweet potato casserole around.
Related: 10 Tips to Keep Your Thanksgiving Organized and Stress-Free
The thing I really like about this recipe for sweet potato pie is that it's not super spicy so it actually tastes like sweet potatoes.
Sometimes sweet potato pies can be so spicy it can be hard to tell if you're eating pumpkin or sweet potato.
This southern sweet potato pie recipe originally didn't even have any spices added to it, but I do enjoy just a hint.
I don't know if you could call this an old fashioned sweet potato pie recipe but it's based on a homemade sweet potato pie recipe my mom found in a newspaper in 1982 before I was even born.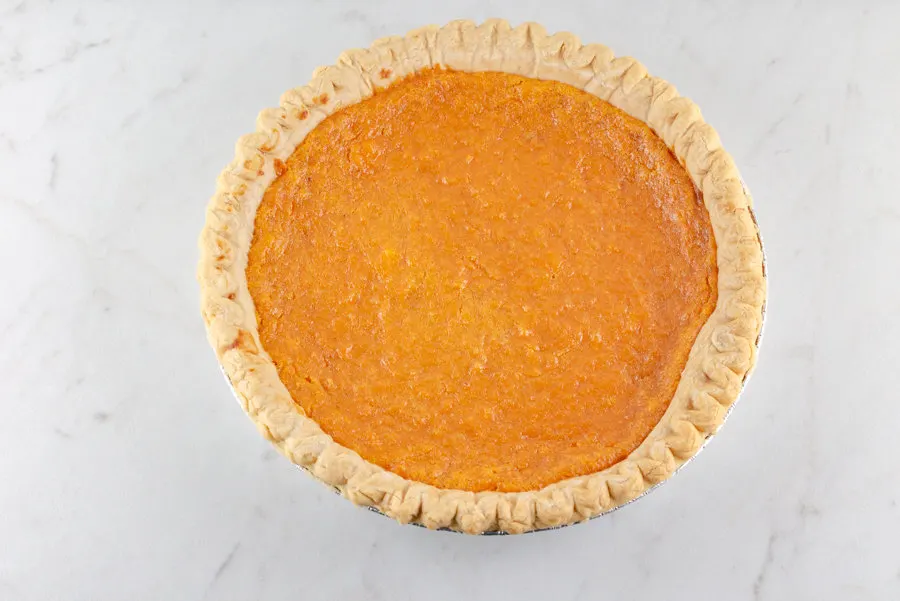 How To Cook Sweet Potatoes For Pie Filling
I like using fresh sweet potatoes so in order to mash them you obviously have to cook them first. You can scrub and then cut the sweet potatoes into large chunks and boil until fork tender.
Thoroughly drain the sweet potatoes and let cool enough to handle. The skins should come off easily.
However, I prefer to roast them. To do this preheat your oven to 425°F and line a baking sheet with parchment paper or foil for easy cleanup.
Scrub the potatoes and dry. Use a sharp knife or fork to pierce each potato on all sides about 6 to 8 times. I just use a knife and pierce the four "sides" twice.
Put in the oven and roast for 30 - 60 minutes depending on the size of the sweet potatoes. Remove from the oven and let cool enough so that you can handle them.
The skins should come right off. Discard any "hairy" or brown parts.
You may notice some oozing as in my pictures. This is totally normal and just some of the natural sugars in the sweet potatoes coming out.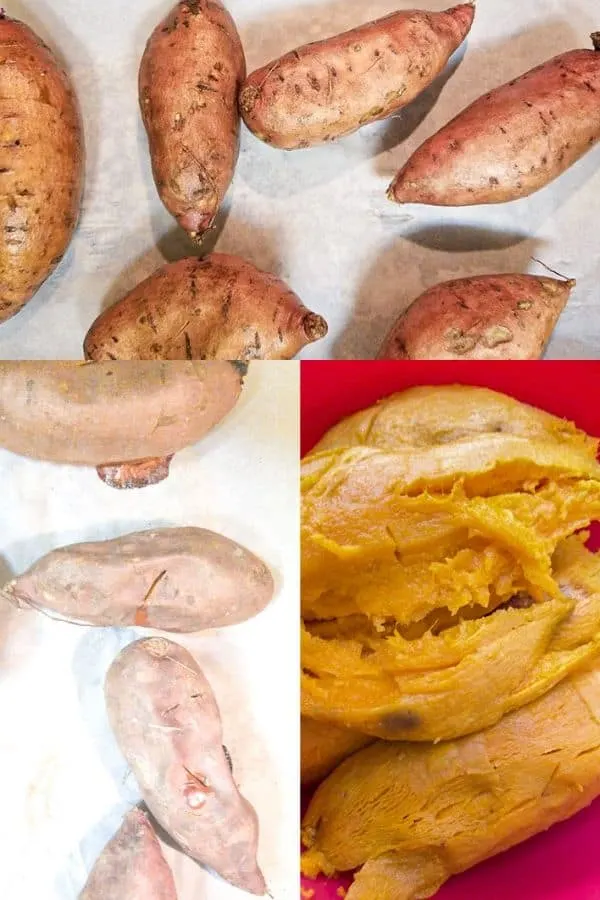 Sweet Potato Pie Baking Tips
Sweet potato pie is super easy to make. You don't even need a mixer as a whisk will easily do.
You can go to the trouble of making your own pie crust or just use a refrigerated or frozen crust, which is what my mom always did and I usually do myself.
If you've never made a sweet potato pie before, the hardest part is being able to tell when it's done. The center of the pie should be just a bit jiggly and the pie crust nicely browned.
If your crust happens to be getting too brown before you feel like the pie is done, just wrap it in foil or put on a pie shield.
I also have some general holiday baking tips you may want to check out.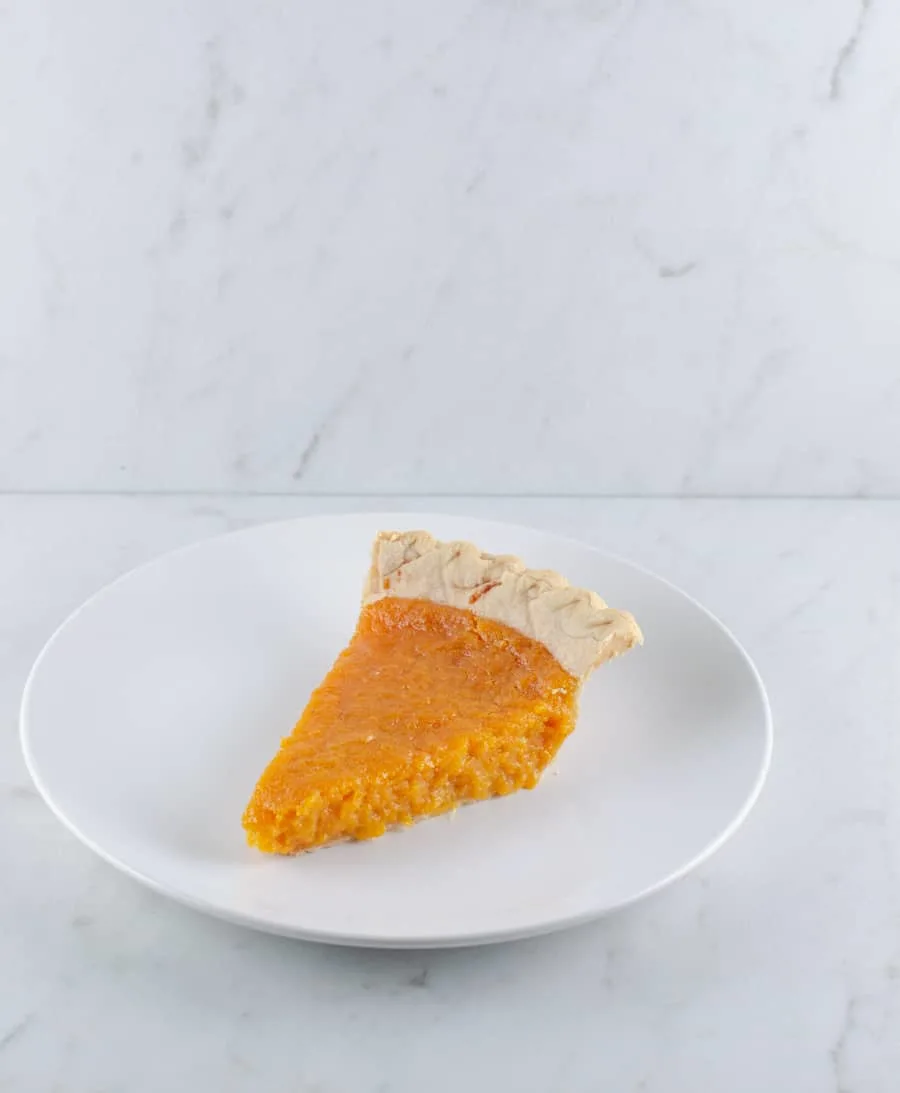 The Ingredients For Sweet Potato Pie
Mashed Sweet Potatoes: I've always used fresh sweet potatoes that I roast myself but I don't see why you couldn't use canned sweet potatoes as long as they are well-drained and not sweetened. If they've been sweetened you'll likely need to adjust the sugar in the recipe.
Melted Unsalted Butter: The original recipe did call for margarine so you can use that if you desire but these days I only cook with butter.
White Granulated Sugar
Evaporated Milk: I honestly rarely use evaporated milk but this is one recipe I buy it for. You can probably use regular whole milk but I do feel like the evaporated milk gives the sweet potato pie a bit of a different flavor in a good way.
Vanilla Extract: This pie is accentuated with a lovely vanilla flavor so this is a must.
Small Box of French Vanilla Instant Pudding: Again, this pie has a sweet vanilla flavor versus spicy so this helps to both thicken and flavor the pie. The original recipe called for instant vanilla pudding but I like the extra punch from the french vanilla.
Eggs
Salt: The original recipe didn't call for salt but I am personally a fan of adding just a bit of salt to almost everything as it only helps bring out the flavors.
Cinnamon, Nutmeg, and Cloves: This isn't something the original recipe called for but when you think of sweet potatoes you do usually think of spices. So, I like to add just a pinch of each.
Unbaked Pie Shells: You can use a homemade pie crust or a refrigerated or frozen crust. My mom always used two frozen deep-dish pie crusts and that's what I usually use, too.
Optional Topping Ideas: This pie is great on its own, but I, of course, never say no to topping it with a dollop of homemade whipped cream on top. Make it look extra fancy with a sprinkle of cinnamon or pumpkin pie spice on top of the cream.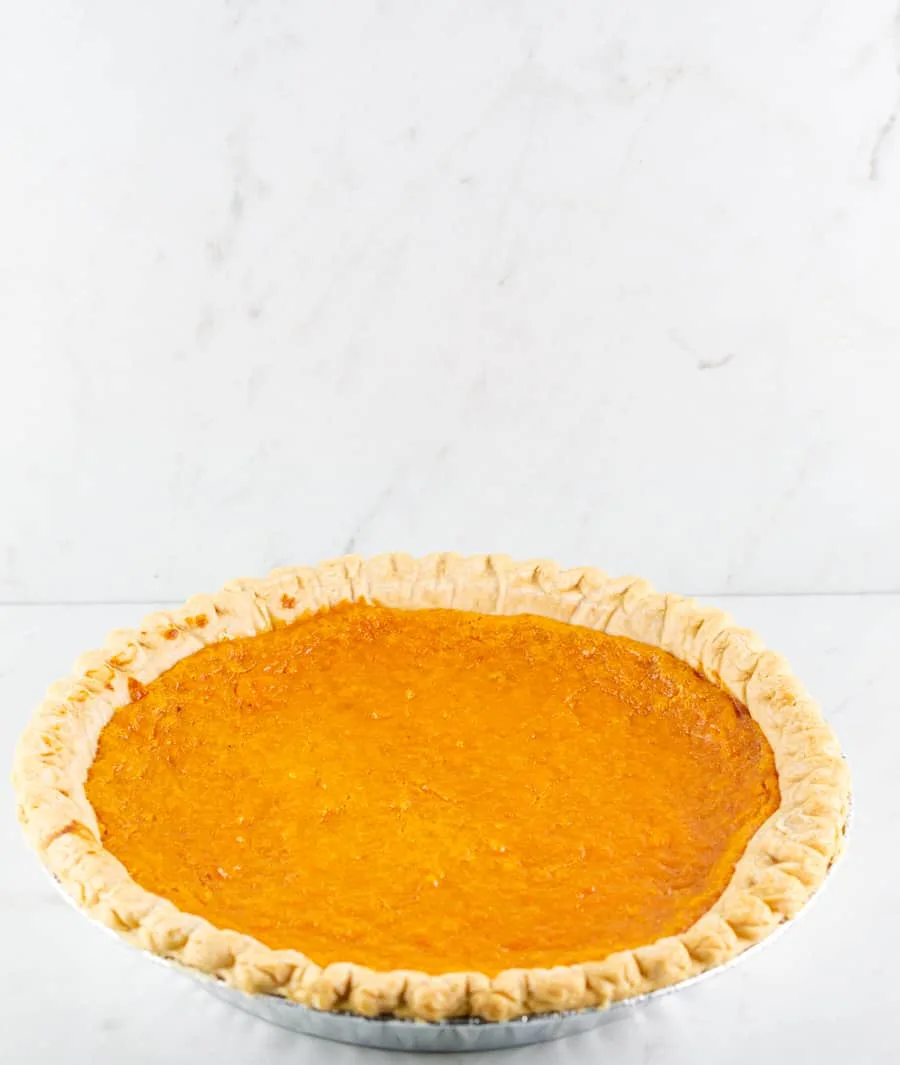 Can Sweet Potato Pies Be Frozen?
Yes, you can freeze sweet potato pies! All you need to do is completely cool the pie and then tightly wrap or put it into a freezer-safe gallon-sized ziptop bag.
Thaw the pie in the refrigerator overnight and then bring it to room temperature before slicing.
More Favorite Holiday Recipes
Here are some more of my favorite recipes to make during the holidays.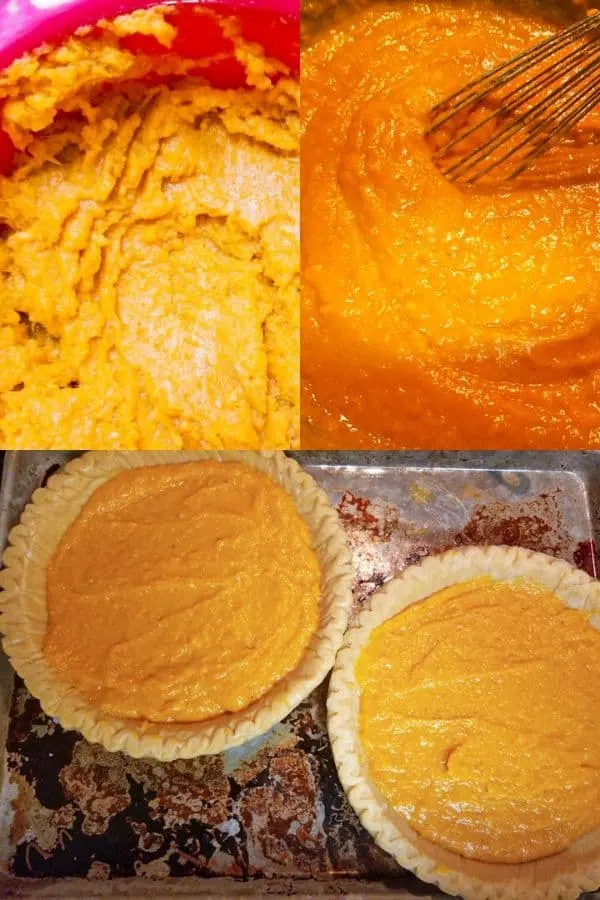 How To Make Sweet Potato Pie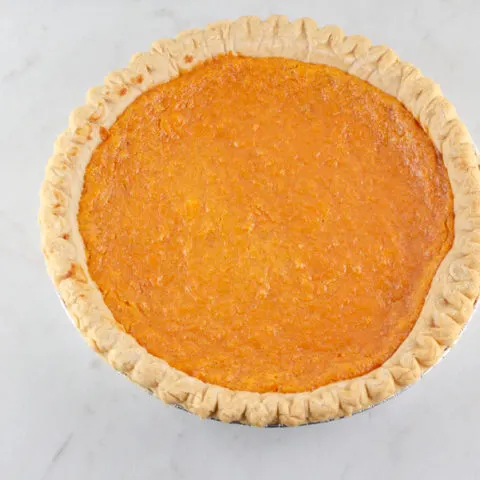 The Best Sweet Potato Pie Recipe
Total Time:
3 hours
40 minutes
What makes the best sweet potato pie recipe? A smooth, creamy filling of simple ingredients in a flaky crust that let the sweet potato flavor with a hint of vanilla really be the star.
Ingredients
2 cups sweet potatoes, mashed
1 stick unsalted butter, melted
2 large eggs, beaten
Instructions
If needed, roast potatoes as directed above in this article. Once peeled, mash in a bowl and measure out 2 cups.
Preheat the oven to 350°F.
Add 2 cups mashed sweet potatoes to a large mixing bowl and add one stick of melted butter, 1.5 cups white sugar, 5 ounces of evaporated milk, 1 tablespoon vanilla, 1 small box of instant vanilla pudding, 2 large eggs, 1 pinch salt, and spices if using. Whisk together until smooth and thoroughly combined.
Place 2 unbaked pie crusts into pie dishes if needed and place onto half sheet baking tray to catch any spillover. Pour half of the filling into each shell.
Bake in preheated oven for about 30 - 40 minutes or until the crust is slightly browned and the center of the pie is only slightly jiggly.
Let the pies cool completely before serving. Top with a dollop of whipped cream, if desired.
Store leftovers covered in the refrigerator for up to 3 days. Let come to room temperature before serving or eat cold, which I enjoy. It can also be frozen for up to 3 months in a freezer-safe ziptop bag. Thaw overnight in the fridge and let come to room temperature before serving.
Notes
Optional Topping Ideas: whipped cream and/or a sprinkle of pumpkin pie spice or cinnamon
Recipe adapted from Viola Craver.
Recommended Products
As an Amazon Associate and member of other affiliate programs, I earn from qualifying purchases.
Nutrition Information:
Yield:

16
Serving Size:

⅛th of a pie
Amount Per Serving:
Calories:

234
Total Fat:

10g
Saturated Fat:

5g
Trans Fat:

0g
Unsaturated Fat:

4g
Cholesterol:

42mg
Sodium:

157mg
Carbohydrates:

33g
Fiber:

1g
Sugar:

24g
Protein:

3g
Nutrition information may not be accurate. Nutrition information is calculated automatically by and provided by Nutritionix. Exact nutrition information depends on the specific ingredients, brands, and amounts you use.