These 10 tips to keep your Thanksgiving organized and stress-free are sure to help whether it's your first time hosting or it's become your tradition.
Thanksgiving is meant to be a time of being thankful and enjoying the company of family and friends - not a day of stress and pulling your hair out! However, if you're in charge of cooking for the big day, you probably identify more with stress than relaxation.
Luckily with these handy tips to keep your Thanksgiving organized and stress-free, you can enjoy the true meaning of the holiday with loved ones without giving it a second thought!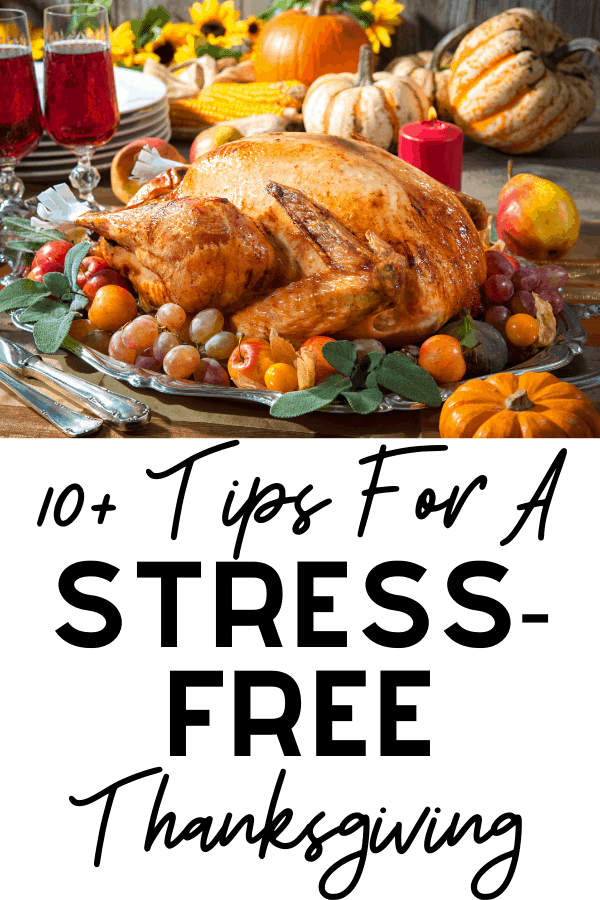 10 Tips to Keep Your Thanksgiving Organized and Stress-Free
1. Make Lists - I could totally make a long list of all the reasons I love lists. ;) They help me stay on task and organized on a daily basis.
For Thanksgiving, I make several lists. Here are some examples. Where applicable, I've linked to a handy list I could find.
Create a list of the recipes you want to use. I also sort the recipes by what I can make or prep ahead of time and total cooking time to try to have everything ready to serve at the same time.
Make a rough tally of how many guests you can expect and if you need to double or triple any recipes - too much is always better than not enough (yay leftovers!)
Create a list of ingredients I'll need to make the recipes (this is important for later)
Go through your pantry and make a list of ingredients you'll need to buy
Make notes of any allergy or dietary restrictions you want to try to accommodate
2. Shop Early and Purchase Extra - This is likely a no-brainer for everyone, but it can be easy to forget with a full plate and when the holiday sneaks up on you before you expect it.
I always make sure to shop a few days before Thanksgiving to get everything I need and buy just a bit more than I think I will need. For example, buying a couple of extra cans of green beans in case I scorch the first batch while taking care of everything else (or just run out) as most stores are closed or close early on Thanksgiving.
Plus, this lets you beat the mad rush of people shopping at the last minute and also ensures what you need won't be out of stock. Turkey deals are usually the best the week before or of Thanksgiving, but many other items you may use are at the same sale price a couple of weeks before.
3. Pull Out and Sort Ingredients You'll Be Using - Nothing puts me behind more on Thanksgiving than searching for ingredients I rarely use, so I like to take a few minutes and pull out all the ingredients before I start cooking.
For things like meats and produce, I really do prefer going into the store and picking out my own. But for things like flours, sugars, and spices I take advantage of shopping online and having it shipped to me or picked up at the store.
For refrigerated items, I dedicate a shelf or 2 instead of having things hidden in the back of various shelves or drawers. I leave spices and dry goods out on a spare table or countertop so everything is in one place and I don't have to run around the kitchen and pantry like a chicken, or perhaps turkey in this case, with its head cut off.
This is also a great time to make sure all your spices, etc. are still good instead of finding out at the last minute you need fresh items.
4. Bring Out Your Serving Dishes the Night Before - This may sound odd, but I actually find that pulling out the serving dishes the night before and sorting them actually makes Thanksgiving less stressful.
I've totally wasted precious time in the past searching for a dish that I could have sworn was in a certain cabinet or using a dish that was meant for a side for prep and scrambling to find another, etc.
5. Do As Much Prep-work as You Can the Day(s) Before - Many dishes can be made the day or two before the big day like side dishes, bread, pies, and other desserts.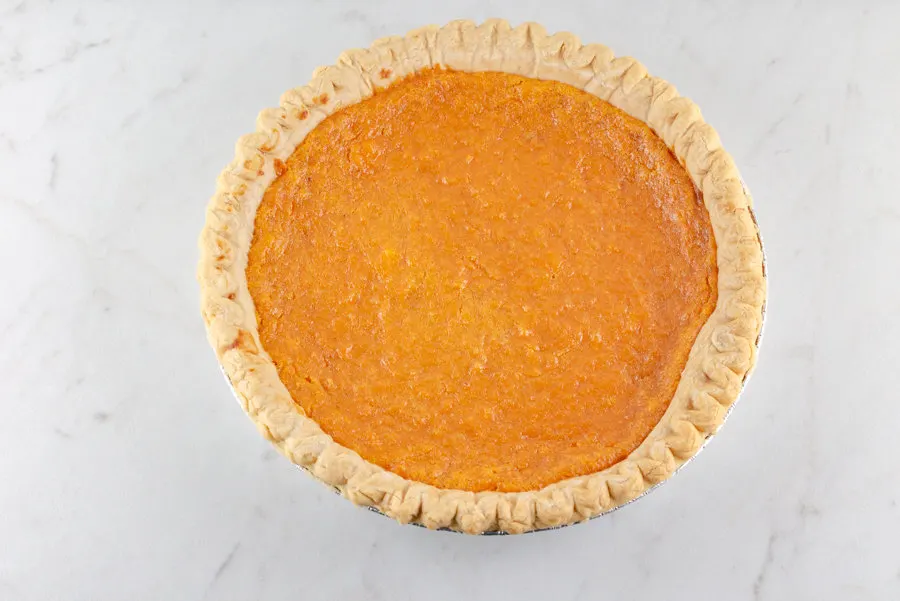 All you have to do is reheat them for a few minutes before the rest of the meal is ready if needed. Others can be pre-made up to the point of cooking, like stuffing. You can also chop up all your veggies and put them into a container in the fridge (like for stuffing or salads).
6. Set the Table the Day Before - Unless you have small kids or pets that may disturb the table, or have the luxury of awesome guests that arrive early to help out, setting the table the day before can be a huge time saver.
This is also a great way to make sure you have enough dishes, silverware, etc. for the number of guests you'll have. It's easy to forget that little Timmy accidentally broke a plate or glass last Christmas!
7. Get Your House Ready a Few Days Early - Tidy up your house a bit, if needed.
Perhaps buy some scented candles to help everyone be in the holiday mood. Have any decorations put out or ordered.
Order any trays you may need for appetizers while cooking. Be sure you have plenty of clean linens and dishes for the day, as well as tables and chairs.
8. Be Prepared to Keep Dishes Warm - We can't always time things perfectly as the turkey may get done early or need a few more minutes than expected, etc.
Plan on how you can keep dishes warm in the meantime. Here are some basic tips.
Remember, it's always important to keep things at an appropriate temperature when they'll be sitting out a while. No one wants a Thanksgiving memory of food poisoning.
Use toaster ovens to keep smaller items warm, like casseroles
If you have an extra oven, keep it on the lowest or warm setting so you can put in items to stay hot
Keep the turkey warm while sitting (which is a good idea anyway so the juices can redistribute so your bird won't be dry) by wrapping with foil and covering with a thick towel that you just ran through the dryer if it's going to be more than an hour or so before you're ready to serve
Use slow cookers to keep items like dressing and mashed potatoes warm
Warm-up platters and plates in a low oven or warming drawer to help food stay hot longer
Place bowls over ice or use thermal bowls to keep items colder longer, or over dishes filled with hot water to stay hot - just remember that glass can shatter with sudden temperature changes
Have the dishwasher going with your prep dishes as you continue cooking so plates and platters from your meal can go straight in instead of sitting and becoming tougher to clean.
10. Don't Be Afraid to Ask for Help - Last, but certainly not the least, never feel like you have to do it all yourself, especially if it's your first year for hosting.
Ask a couple of friends or family members to come over and help you cook. Odds are they'll love to help and you'll all love the memories you create together for years.
Request that guests bring a dish or beverage - this is especially helpful if your family has a number of allergies. I do like to delegate what my guests will bring as otherwise you may have multiples of a dish or too much wine (is that possible?) but not enough dessert.
Let guests actually help clean up when they ask, etc. Most are more than happy to help as a simple way to thank you for having them over for such an awesome meal.
What are some of your tips for an organized and stress-free Thanksgiving?