This delicious broccoli salad with bacon and cheese recipe is packed full of crunchy ingredients and topped with a creamy sweet and tangy dressing.
As much as I love baking tasty desserts or sitting down to a juicy steak, I have to admit I really do love my veggies, too. While it may not be the first thing I think to reach for I actually do enjoy a large salad full of mixed greens and piled high with veggies.
If greens really aren't your thing but you love bacon and broccoli, this is the salad for you. I love that a salad full of veggies doesn't have to always be about greens and lettuces.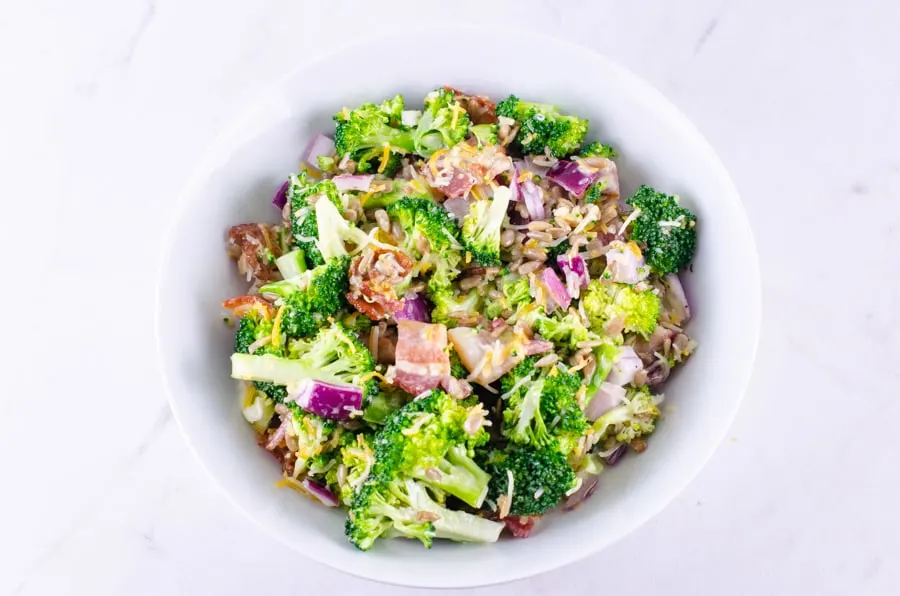 I really enjoy broccoli salads because they can have similar flavors to a traditional pasta salad but can be low carb. In fact, you can easily turn this into a keto broccoli salad by substituting the sugar with your favorite keto-friendly sweetener.
What's In Broccoli Salad?
Broccoli salad can easily be made with your favorite ingredients. This particular broccoli salad recipe includes:
Broccoli
Bacon
Red onion
Cheese
Sunflower seeds
Mayonnaise
White sugar
Apple cider vinegar
Salt and pepper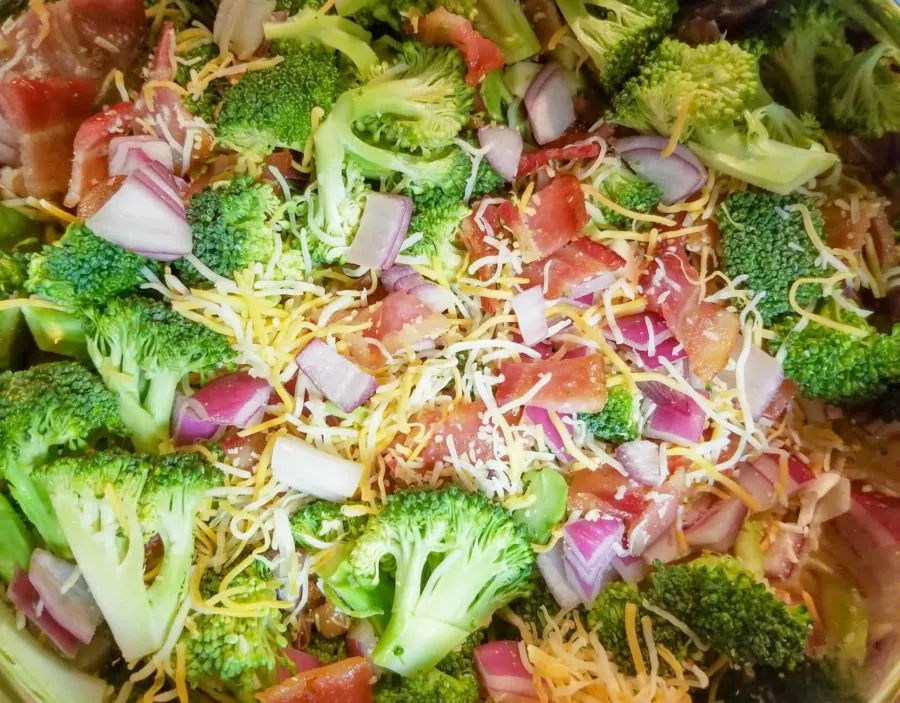 Some other tasty items you could include are:
When To Make Broccoli Salad
The thing I really love about this recipe for broccoli salad is that it can be made ahead. In fact, it's actually so much better when you do!
I like to make it at least a couple of hours before serving but preferably the night before. This really gives the flavors time to marry and be extra awesomely tasty together.
Just store the salad tightly covered in the fridge. I like using these Rubbermaid Brilliance containers that are really clear and easily stackable so you can see what's what in your refrigerator without having to open the containers.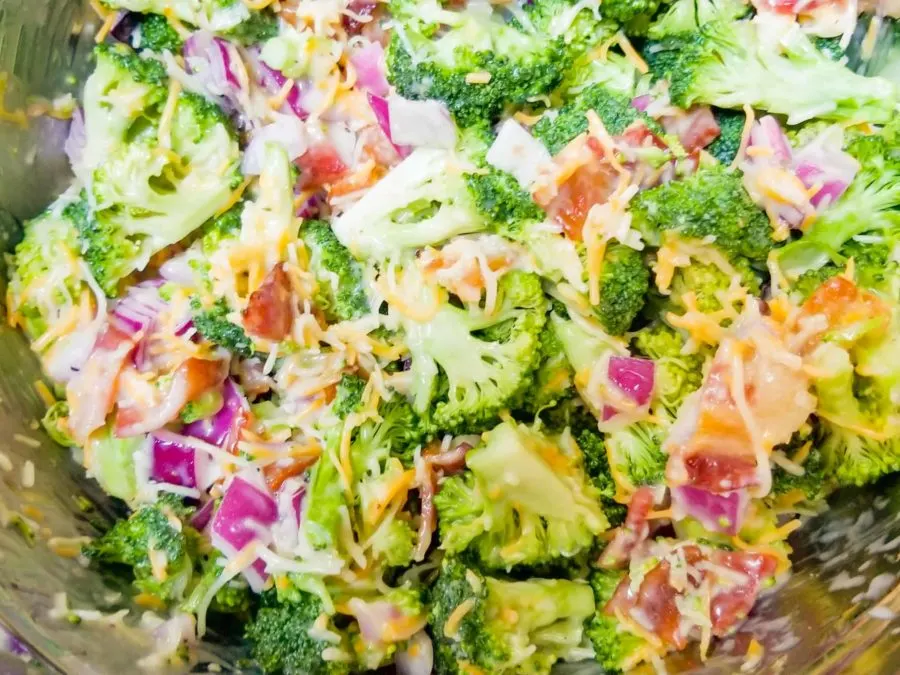 How long will broccoli salad last in the fridge? It should be good for 3 - 4 days as long as you don't leave it out on the counter too long. We love it so much it only lasts a couple of days around here.
Can broccoli salad be frozen? I've never tried freezing broccoli salad but I don't think it would turn out well. Since the salad is never heated and there's a creamy dressing, I think it would turn out way too watery when thawed and the dressing may separate.
The Secret To The Best Bacon Broccoli Salad Dressing Ever
Since you need bacon for this cold broccoli salad odds are you're going to be cooking the bacon right before you make it. This means you'll have some of the best liquid gold ever, aka bacon fat.
We usually have bacon for breakfast one day a week. I like to bake it on an oven-safe cooling rack on a half sheet pan lined in foil or parchment so the fat easily drips off.
I take all the bacon fat and pour it into a container that I keep in the fridge.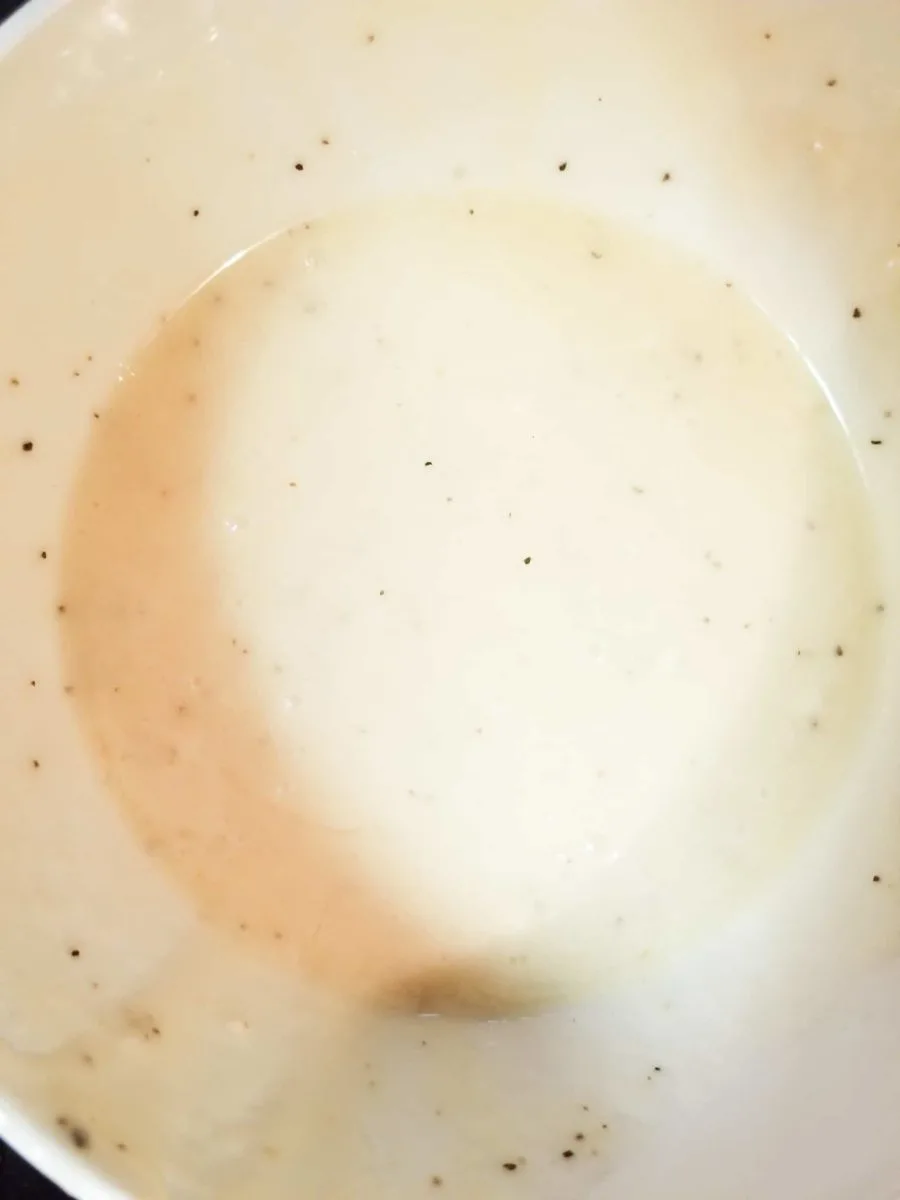 Then I use it as an extra flavor boost for things you'd cook in oil, like scrambled eggs, pan-fried chicken or sauteed or roasted veggies.
It's also a great little secret ingredient in salads like potato salad and this broccoli salad. If you're concerned about the extra fat for whatever reason, just use the exact amount less of mayo.
There you go. This is why this is definitely the best broccoli salad recipe, ever.
What Main Dish Goes With Broccoli Salad?
This broccoli salad is perfect to serve at a potluck or cookout. It goes with just about anything grilled or that you'd like something chilled and creamy as a side to, like fried chicken.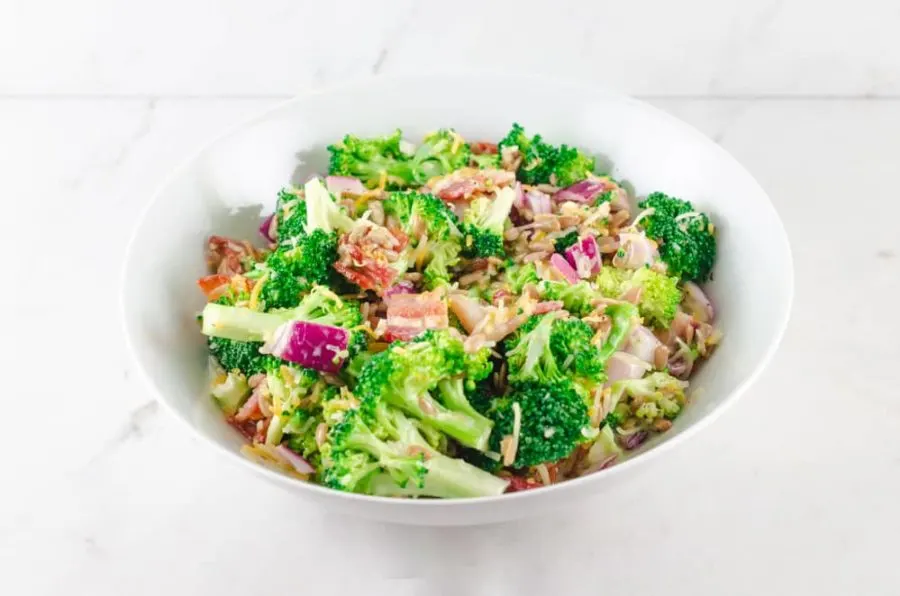 Some of our favorite recipes to serve this broccoli bacon salad with include: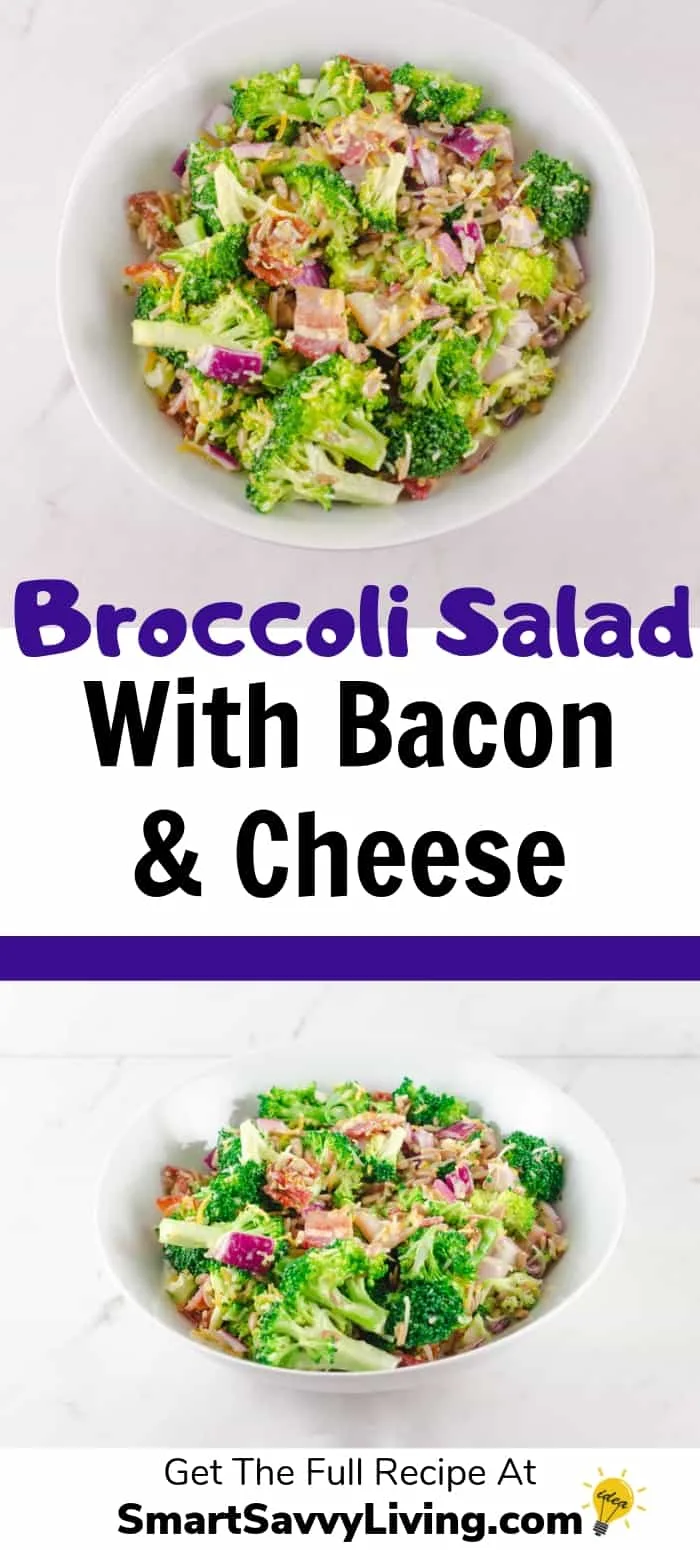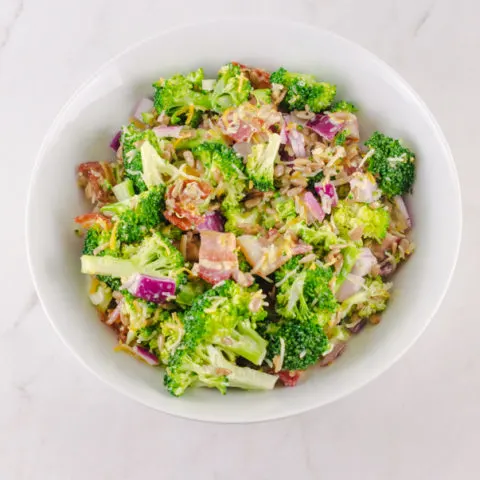 Broccoli Salad With Bacon And Cheese Recipe
Yield:
12 side dish servings
Total Time:
2 hours
5 minutes
Broccoli mixed with red onion, bacon, and cheese and topped with a creamy dressing makes for a delicious salad perfect for a cookout or potluck.
Ingredients
Broccoli Salad Ingredients
Broccoli Salad Dressing Ingredients
1 teaspoon reserved bacon fat (optional)
Instructions
Place 6 cups chopped broccoli, ½ pound crispy crumbled bacon, 1 medium onion finely chopped, and ½ cup shredded cheese in a large bowl. Stir to thoroughly mix.
In a separate medium-sized mixing bowl whisk together 1 cup mayonnaise, 1 teaspoon bacon fat, ¼ cup sugar, 2 tablespoons apple cider vinegar, and salt and pepper until thoroughly combined and sugar has dissolved. Taste for desired seasoning adding more sugar for a sweeter dressing or more vinegar for a tarter dressing.
Pour dressing over mixed salad and toss to combine. Sprinkle ⅓ cup of sunflower seeds over the top.
Cover tightly and refrigerate for at least 2 hours or preferably overnight. Stir well before serving.
Leftovers can be refrigerated for up to 3 - 4 days.
Nutrition Information:
Yield:

12
Serving Size:

1/12 of dish
Amount Per Serving:
Calories:

262
Total Fat:

23g
Saturated Fat:

4g
Trans Fat:

0g
Unsaturated Fat:

18g
Cholesterol:

16mg
Sodium:

932mg
Carbohydrates:

10g
Fiber:

2g
Sugar:

5g
Protein:

5g
Nutrition information may not be exactly accurate. Exact nutrition information depends on the specific ingredients you use.