Creamy traditional deviled eggs are made with a secret ingredient and topped with bacon to make this deviled eggs with bacon recipe everyone will love.
I'll be the first to admit I'm not a huge fan of eggs. But, the one exception to that rule is that I LOVE deviled eggs.
I guess I can thank being born in the south for that. Plus, just like with scrambled eggs, you can add a variety of flavors that kind of override the extra eggy taste.
In the case of this recipe for easy deviled eggs, it's lots of bacon. And, as all bacon lovers know, everything is better with bacon.
This makes them the perfect appetizer for any party whether it's game day or dinner with the family.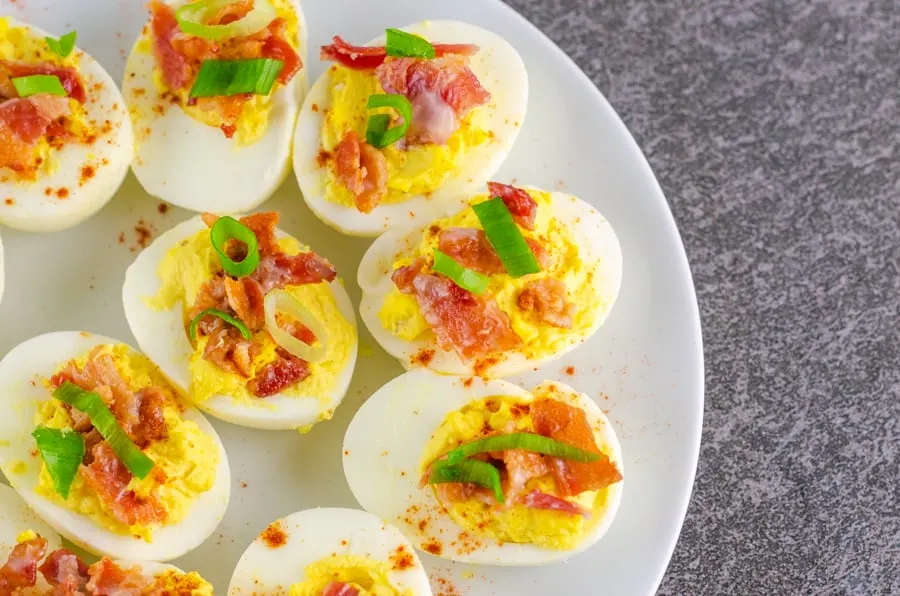 Deviled Egg Ingredients
These deviled eggs with bacon follow my normal basic recipe with the addition of bacon but do also include a secret ingredient for optimum bacon flavor deliciousness!
Hard-boiled eggs
Crisply cooked bacon: don't toss the bacon fat!
Mayonnaise - you could potentially use baconnaise to really up the bacon flavor but this is not something I've tried so I can't comment on if it would be overwhelmingly bacon-flavored - if that's even possible!
Secret ingredient alert! - Some of the bacon fat you saved. It mixes in just like mayonnaise but gives a bit of extra bacon flavor to the filling.
Yellow mustard: you can use dijon if you prefer.
Onion and garlic powder: I like using powder as it mixes in more evenly and smoothly but you could also grate up fresh garlic and onion with a Microplane if you prefer.
Seasoned salt and black pepper: I like using seasoned salt as it's a bit more flavorful but you can, of course, also use regular salt or even garlic or onion salt. Just be sure to account for those flavors when you use the powders.
Optional garnish ideas: Ground cayenne for a bit of a kick or paprika for a tamer taste. Give a pop of color with chopped green onion or minced chives.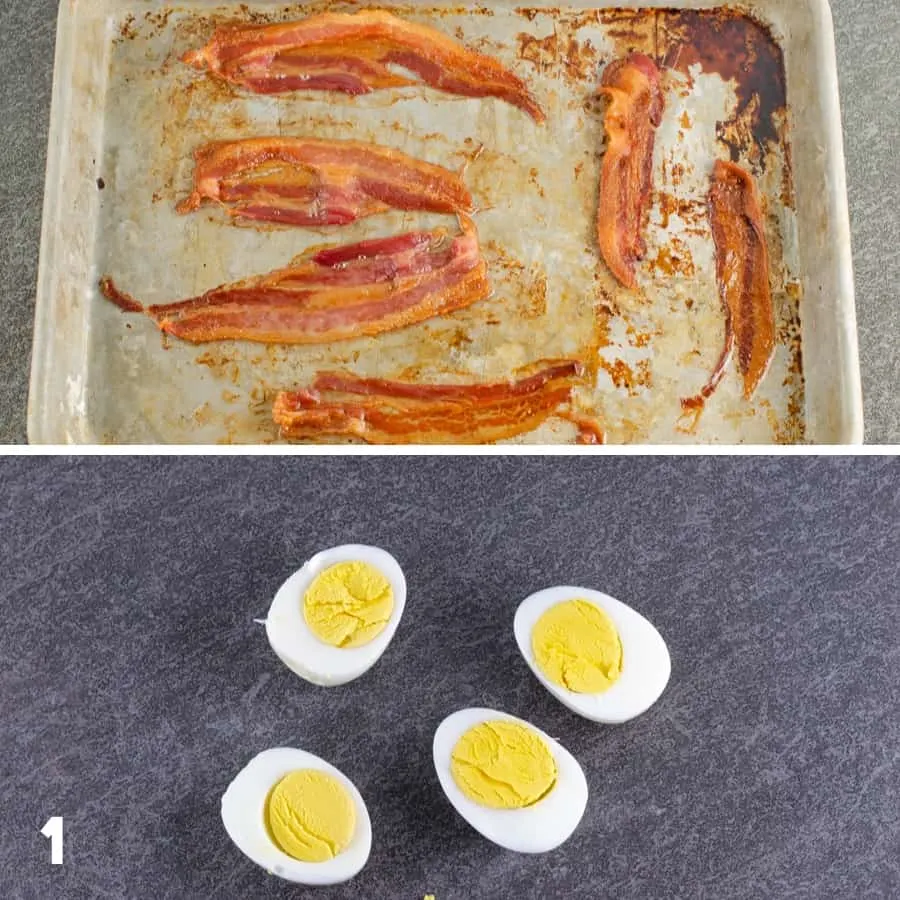 Tips For How To Make Deviled Eggs
I really need to write an article with tips to make hard-boiled eggs but the biggest tip I can give you is to not use super fresh eggs. They are harder to peel so definitely use the oldest eggs (that haven't expired) that you have to make deviled eggs.
If you are wondering why your yolks are tinged green on the outside it's because you overcooked the eggs. You can totally still use the yolks and they shouldn't affect the overall color or taste of the filling.
Next time, try decreasing the cooking time by one minute to see if they turn out better as your stove or cooking device may run hotter than normal.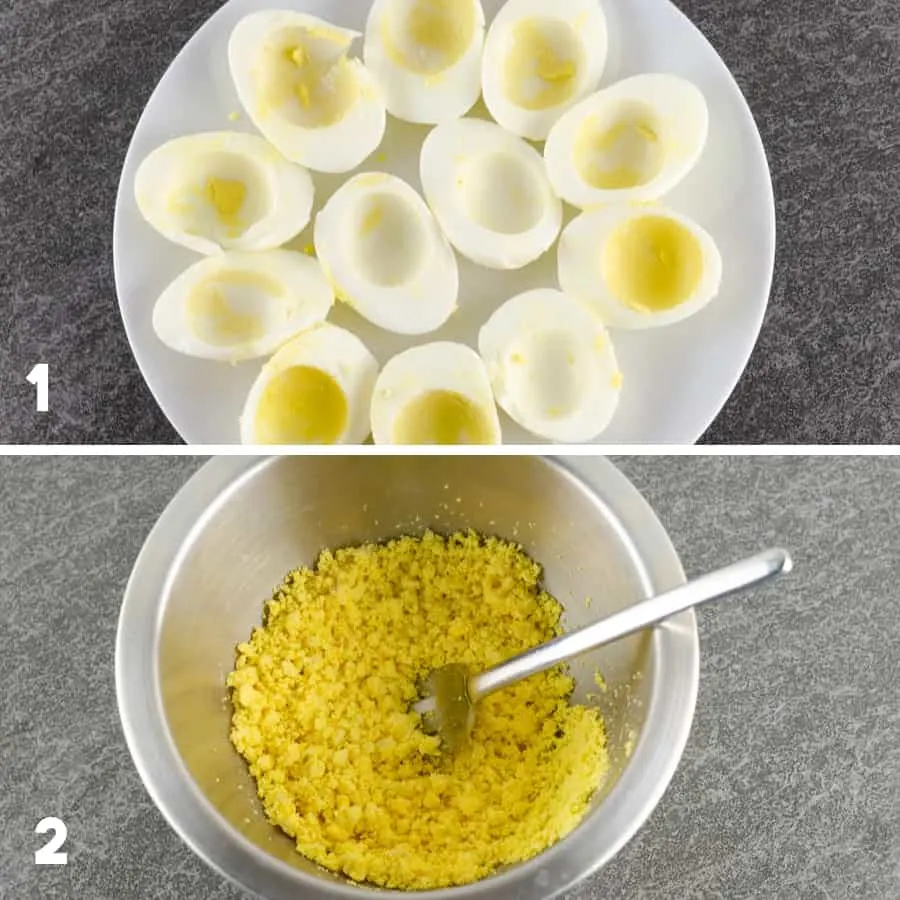 I personally don't mind the "rustic" look of just spooning the filling into the eggs. However, if you want it to look a bit neater you can pipe the filling in with a piping bag with your desired tip.
Alternatively, you can just use a plastic zip-top bag and cut one of the bottom corners off - no tip needed unless you want one to make it prettier.
I like to open the plastic bag over a coffee mug so I have both hands available to really be able to scrape all the filling out of the mixing bowl with a spatula and not do hand yoga that ends up in me dropping everything.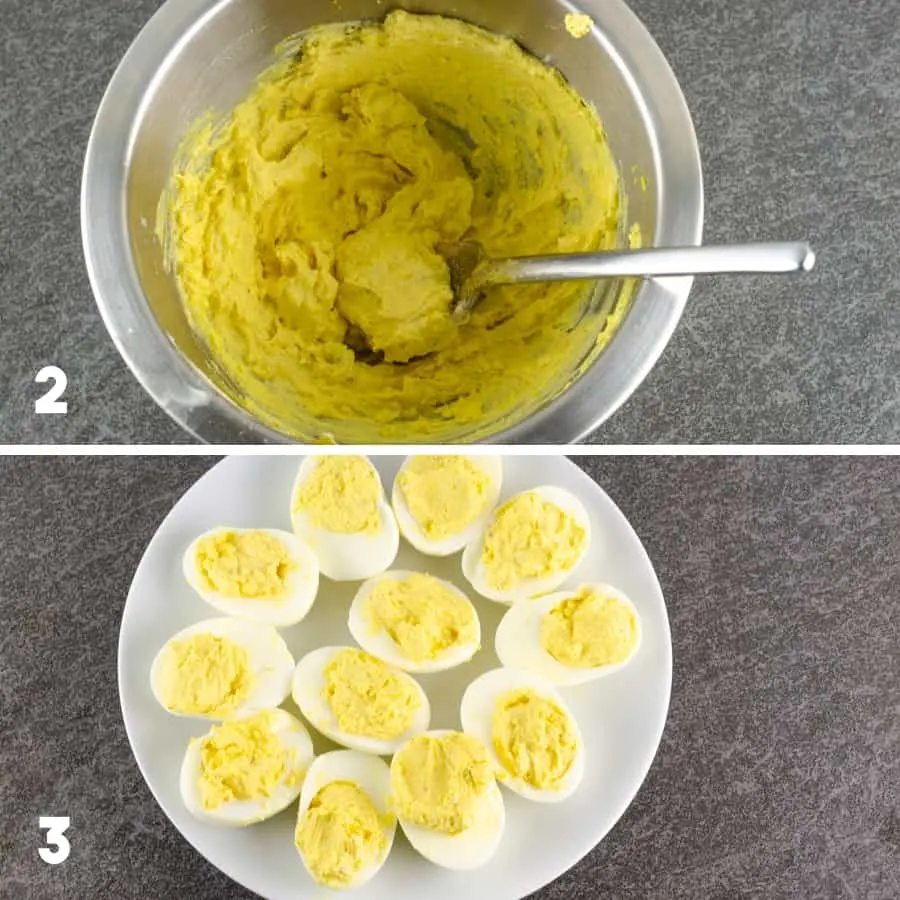 How Long Are Deviled Eggs Good For
You may be wondering, can you make deviled eggs ahead of time? Yes, you can!
You can make the deviled eggs up to 2 days before serving. However, wait to garnish them with the cayenne/paprika, bacon, and onion/chives until just before serving.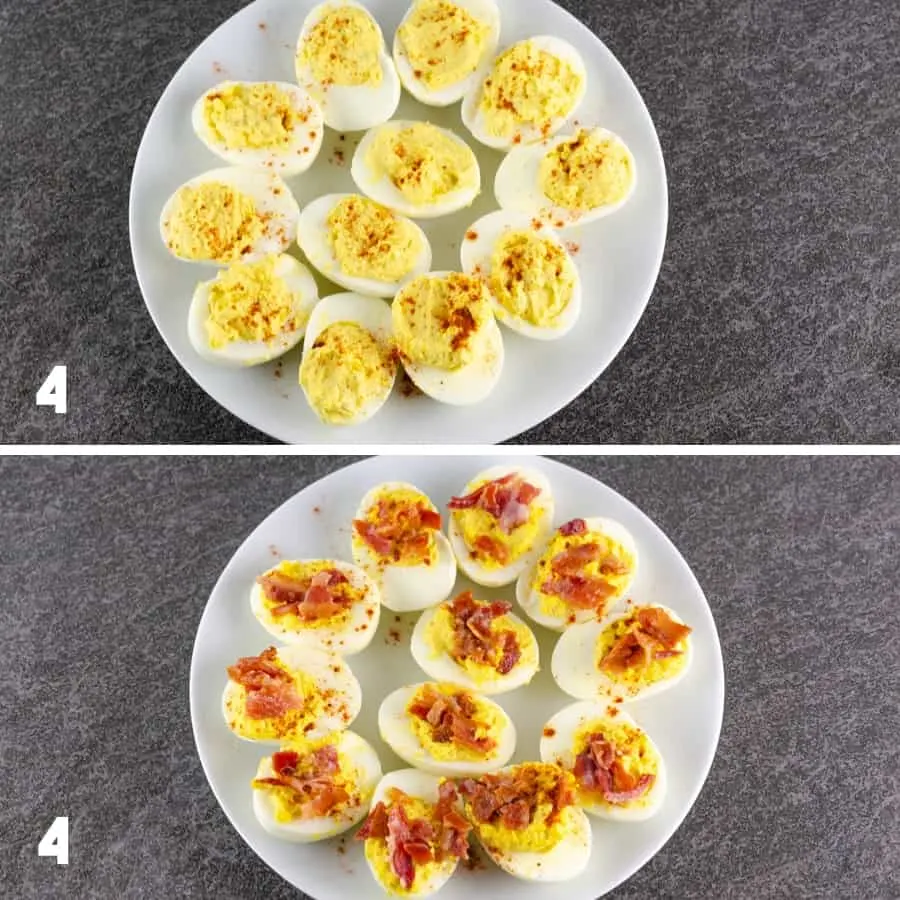 They also need to be covered and refrigerated during this time. You can refrigerate most deviled egg trays.
Leftovers can also be covered and stored in the refrigerator for up to 3 days from when the bacon deviled eggs were originally made.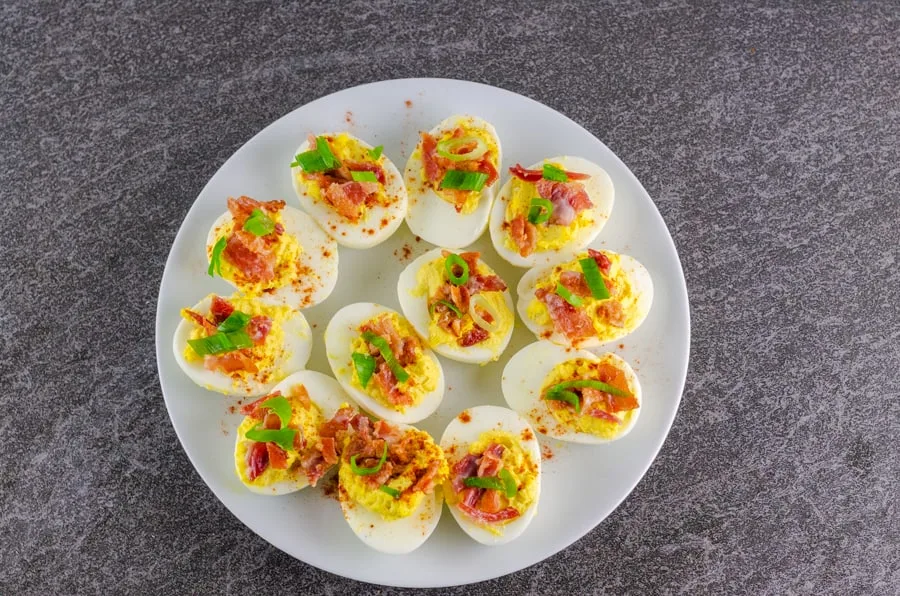 More Deviled Egg Recipes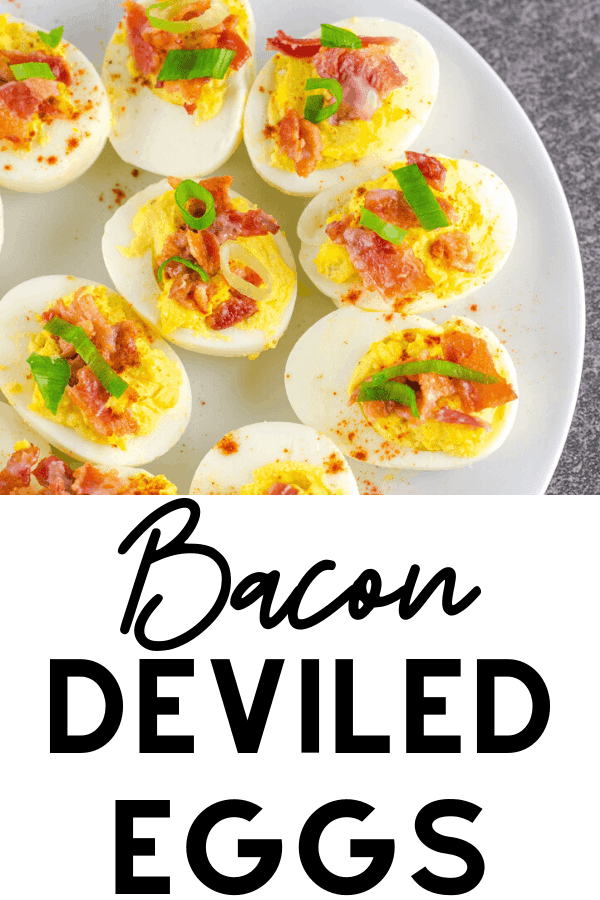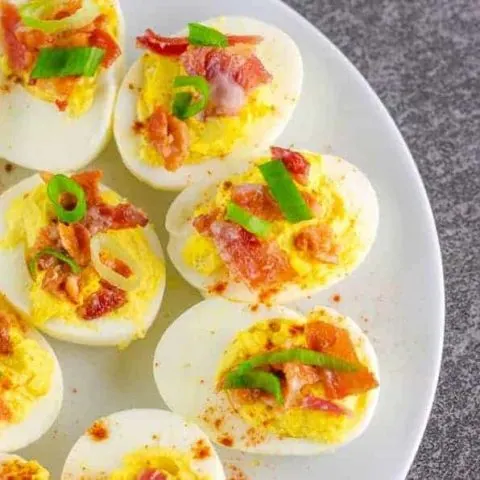 Deviled Eggs With Bacon Recipe
Yield:
12 Deviled Eggs (Halves)
Creamy traditional deviled eggs are made with a secret ingredient and topped with bacon to make this deviled eggs with bacon recipe everyone will love.
Ingredients
6 large eggs, hard-boiled with shell removed
2 Tablespoons + 2 teaspoons mayonnaise
3 strips bacon, cooked crisp and chopped
Instructions
Cut 6 hard-boiled eggs in half. Scoop out the yolks and place into a small mixing bowl. Arrange the egg white halves on a serving platter.
Finely mash the egg yolks with a fork. Stir in 2 tablespoons and 2 teaspoons mayonnaise, 1 teaspoon bacon fat, 1 teaspoon yellow mustard, ⅛ teaspoon onion powder, ⅛ teaspoon garlic powder, ¼ teaspoon seasoned salt, and ⅛ teaspoon ground black pepper until thoroughly combined. Taste and adjust seasonings as desired.
Generously spoon the filling into the egg halves. You should have enough to "dome" the filling a bit for each egg half.
Sprinkle with cayenne powder or paprika if desired. Evenly sprinkle the chopped bacon over each egg half. Top with a sprinkle of sliced green onions or chives, if desired. Serve immediately or cover and refrigerate until ready to serve.
Notes
Deviled eggs can be made up to 2 days before serving. Wait to garnish with bacon and other items until just before serving. If you don't want to use bacon fat you can use more mayonnaise instead.
Recommended Products
As an Amazon Associate and member of other affiliate programs, I earn from qualifying purchases.
Nutrition Information:
Yield:

6
Serving Size:

2 deviled egg halves
Amount Per Serving:
Calories:

175
Total Fat:

11g
Saturated Fat:

3g
Trans Fat:

0g
Unsaturated Fat:

7g
Cholesterol:

194mg
Sodium:

267mg
Carbohydrates:

9g
Fiber:

1g
Sugar:

1g
Protein:

10g
Nutrition information may not be accurate. Nutrition information is calculated automatically by and provided by Nutritionix. Exact nutrition information depends on the specific ingredients, brands, and amounts you use.