Deviled eggs are always popular at any gathering, but the same old flavorings can get old. Change things up a bit with these 50 mix-ins and toppings for deviled eggs.
Growing up in the south, I don't think I can remember any gathering where there wasn't at least one platter of deviled eggs. I still love them to this day and our Southern Style Deviled Eggs Recipe is always a hit.
When Is National Deviled Egg Day?
A lot of other people apparently love deviled eggs too as there is even a National Deviled Egg Day on November 2nd! However, with as often as I make deviled eggs, sometimes the same old flavors get a bit boring after a while.
That's why I decided to brainstorm and come up with these 50 mix-ins and toppings for deviled eggs. It's amazing how you can change up the flavor and even make fancier deviled eggs just with an extra ingredient or two.
Be sure to chop up any mix-ins finely so they can be evenly distributed without any huge chunks.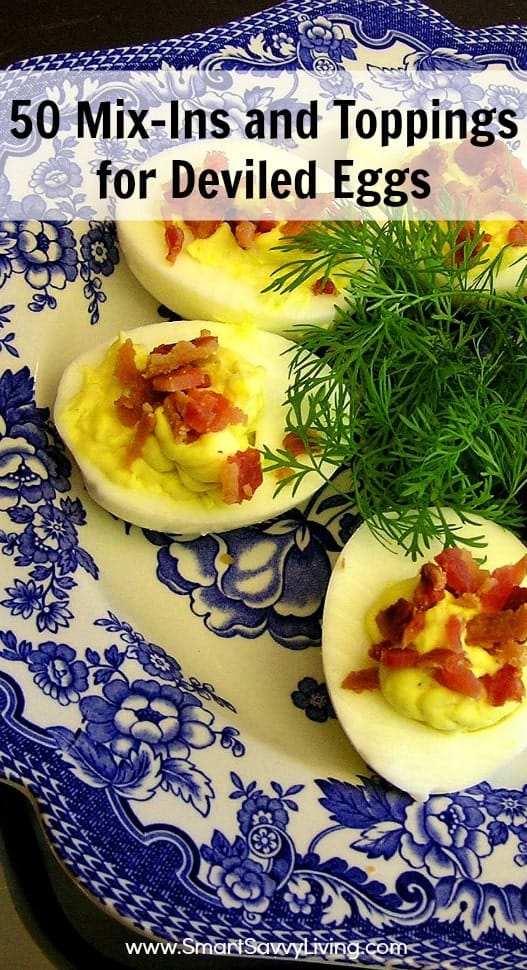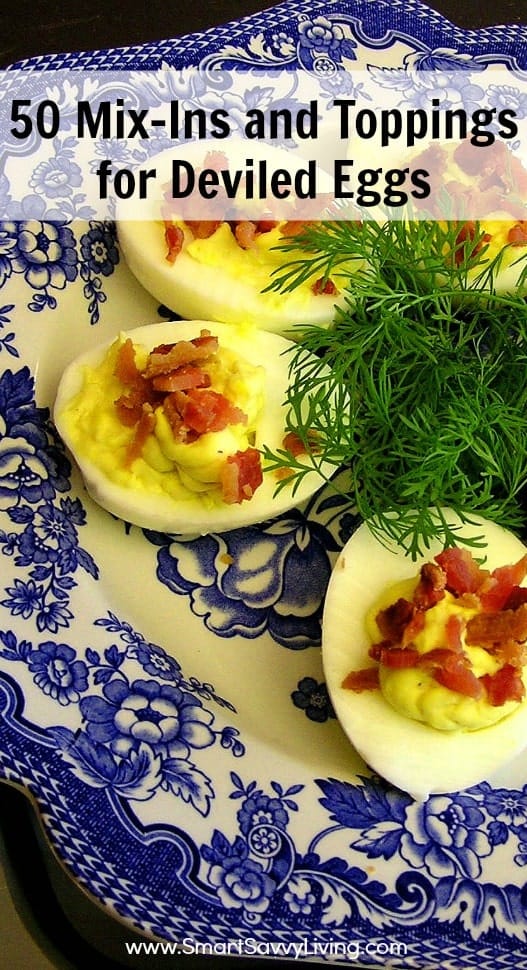 Onion - including pickled red onion
Gherkins
Cayenne Pepper
Shrimp
Green Onion
Sun-Dried Tomatoes
Bell Peppers
Fresh Herbs – Especially Dill and Chives
Smoked Salmon
Olives
Sour Cream
Roasted Red Peppers
Cheese – Especially Feta, Goat or Cheddar Cheese
Chorizo
Roasted Garlic
Sliced Jalapenos
Steak
Capers
Horseradish
Ham
Crab Meat
Greek Yogurt or Cream Cheese
Caviar
BBQ – Shredded
Paprika
Creme Fraiche
Chutney
Hot or Tabasco Sauce
Different Types of Salt
Chilies
Different Types of Mustard
Beets
Citrus
Asparagus
Curry
Truffles – Not the chocolate kind unless you're feeling adventurous
Avocado
Cumin
Worcestershire Sauce
Chicken
Wasabi
Various Flavors of Mayonnaise
Pimento
Celery
Chipotle Powder
Anchovy Paste (Don't knock it until you try it – anchovy is actually in a lot of dishes without tasting fishy!)
Water Chestnuts
Prosciutto (Can be fried to be like bacon!)
What are your favorite mix-ins and toppings for deviled eggs?