This delectable lemon blueberry trifle recipe is sure to receive oohs and ahhs and rave reviews at your next gathering. Made with angel food cake, fresh blueberries, and a creamy lemon cheesecake filling with an optional boozy twist, this is the no bake summer dessert of your dreams.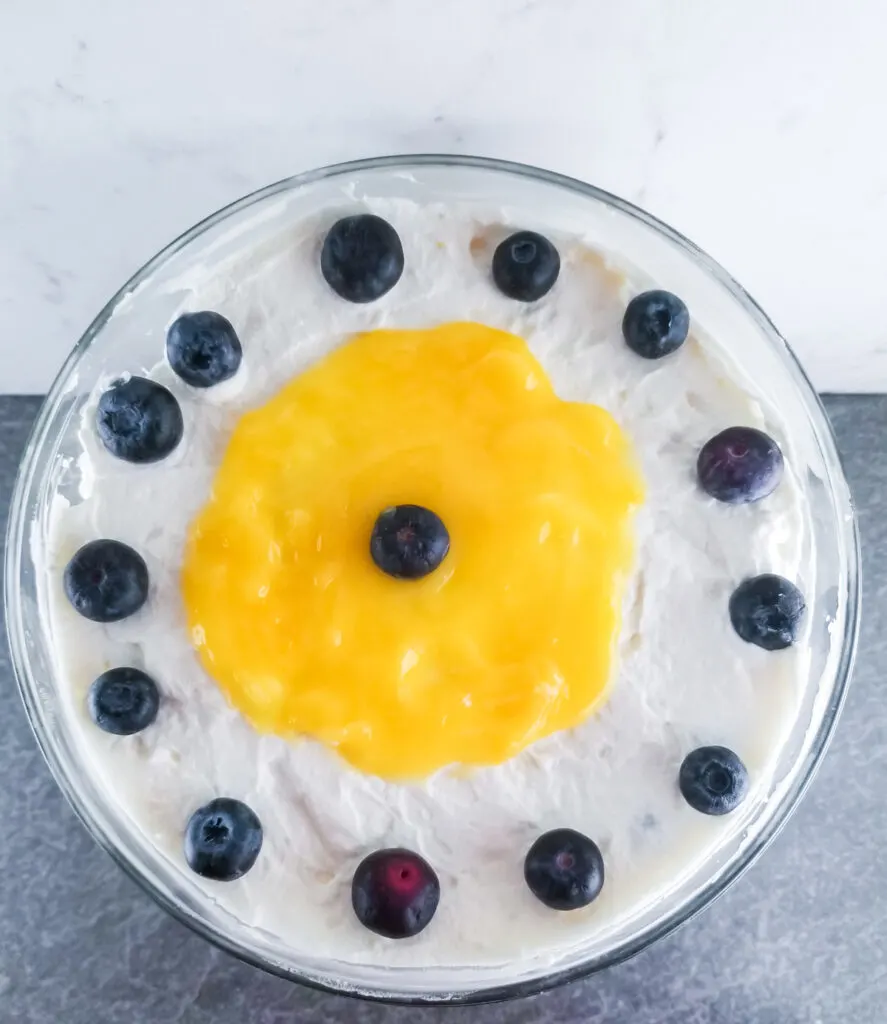 Trifles are such a beautifully elegant yet super easy dessert to make. Plus they are cold and can be made without any cooking for the perfect cool summer dessert.
To make this dessert even quicker, I like to use a store bought angel food cake. Though, my secret to "fixing" a homemade cake that didn't turn out quite right (maybe it stuck to the pan or is too dry and crumbly) is to turn it into a trifle.
Lemon Blueberry Trifle Layers And Substitutes
1. Cake - I used a store-bought angel food cake but a premade pound cake or homemade cake will also work just fine. Use a lemon flavored cake if you like things extra lemony.
2. Limoncello - This is a lemon flavored liquor that is pretty strong so a little goes a long way. I love the extra flavor it brings to this lemon trifle but if you'll be serving it to children or those who refrain from alcohol, you will want to skip this optional ingredient.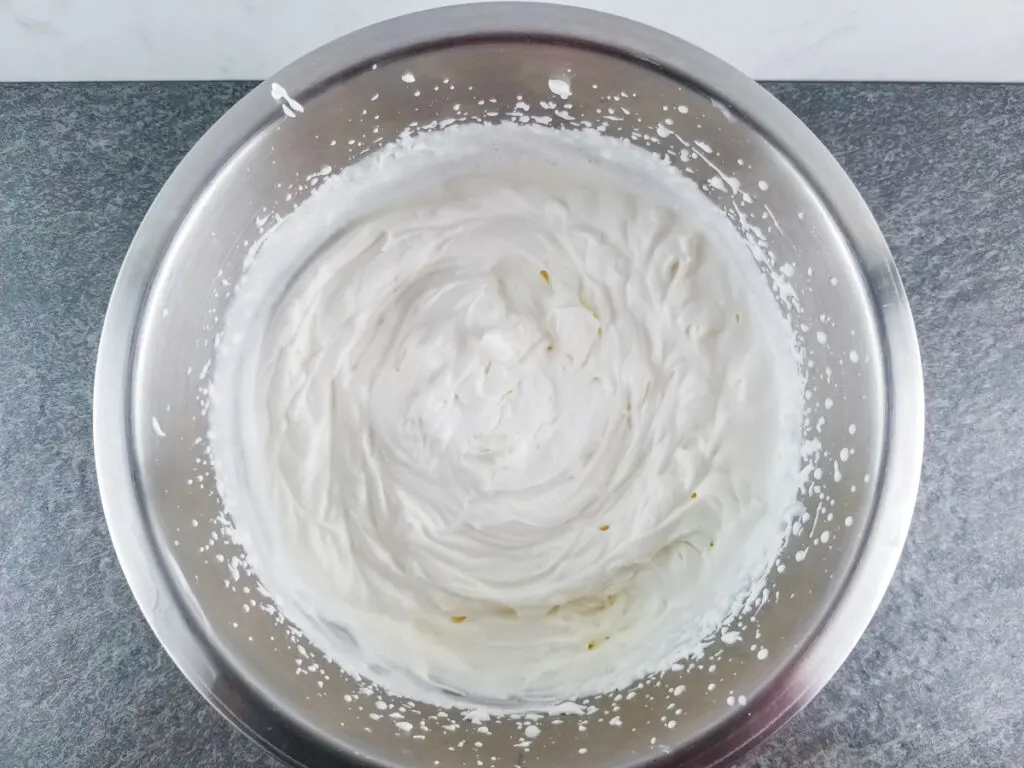 3. Whipped cream - This ingredient is used both in the filling and as a garnish. I make it easy by just spreading it on the top, but you can make the trifle look extra fancy by piping it on.
I really prefer homemade whipped cream for this homemade trifle but some of you may be wondering if you can use whipped topping instead. I haven't tried it so I can't say for sure how the texture would be but it should turn out okay.
4. Lemon cheesecake filling - The best part! This isn't like your traditional baked cheesecake but it's creamy, light, and fluffy with a nice mix of sweet and tart flavors with cream cheese, homemade lemon curd (you can of course use store-bought), and whipped cream.
If for some reason you really just do not like lemon, you could use a jam instead of the curd like raspberry, etc. Just be sure to check the sweetness level of the filling before assembling to make sure you don't need to add sugar.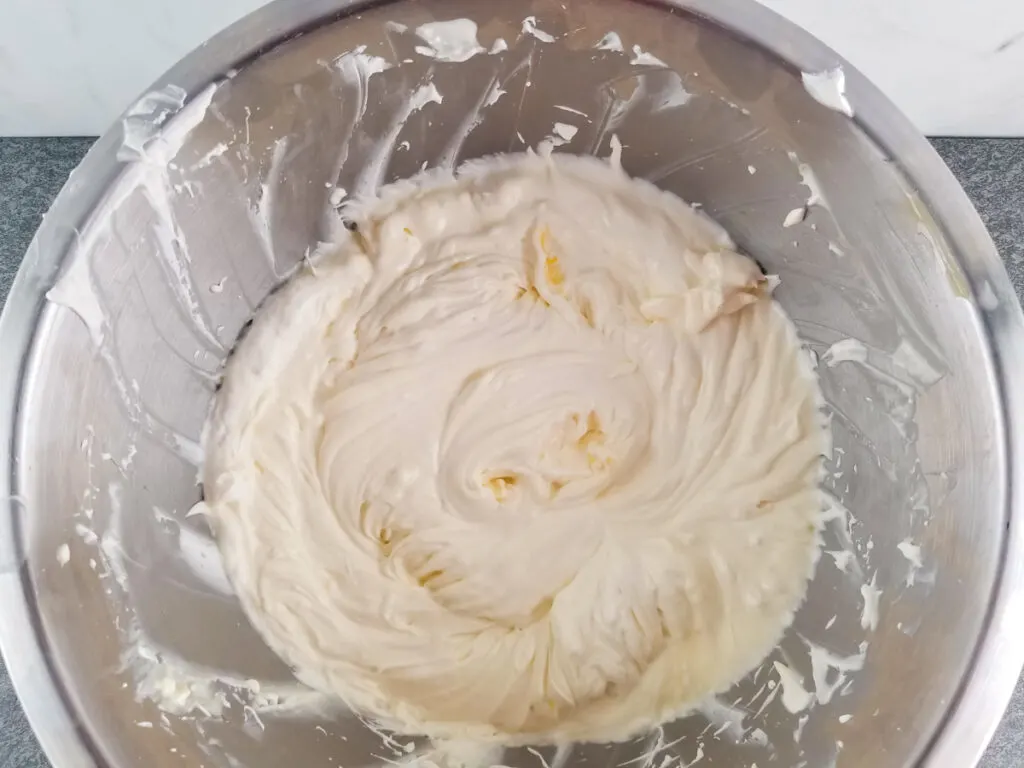 5. Fresh blueberries - Blueberries and lemon are one of the flavor favorite combinations of all time but you could use other fresh berries too like blackberries, raspberries, strawberries, or cherries.
One benefit of using blueberries, though, is that they can be kept whole while still being bite-sized and not make the trifle too wet the longer it sits.
I don't recommend using frozen blueberries unless you absolutely have to because they will let off a lot of liquid. If you do decide to use frozen berries, be sure to let them thaw and drain as much of the liquid as possible before assembling.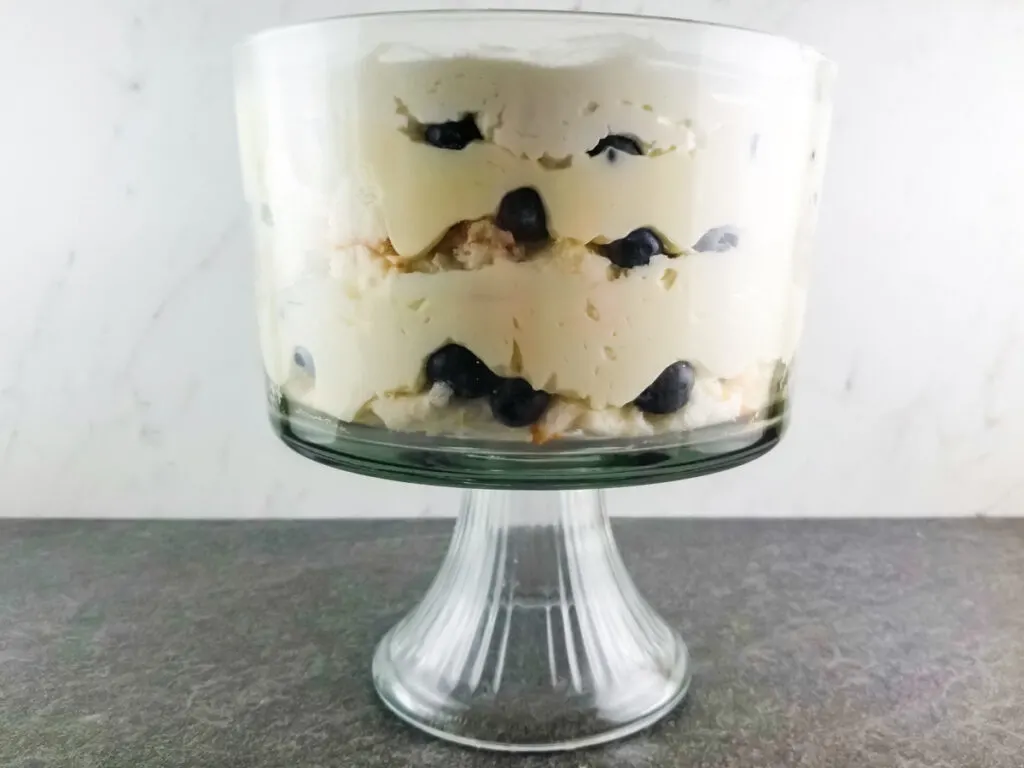 Recommended Equipment
Can I Make This Trifle Ahead Of Time?
Yes, you actually want to make this trifle at least two hours ahead of serving to allow time for the flavors to meld together.
I think the trifle tastes best serving it about 6 to 8 hours after putting it together but you can make it the night before and serve it the next day too. After the first day, it will still taste delicious but it will not look quite as mouthwatering.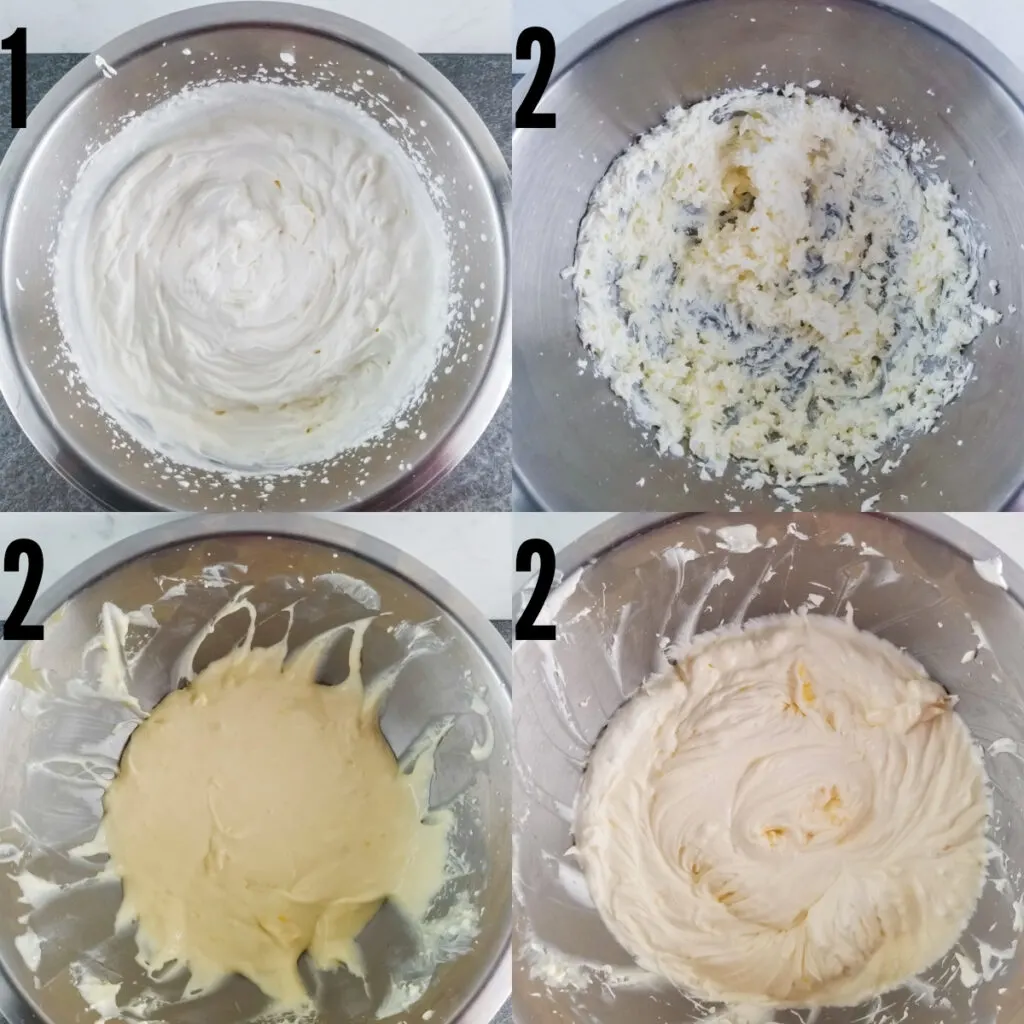 Can I Make Individual Trifles Instead?
Absolutely you can turn this recipe into individual trifles! The exact amount you'll get will depend on the size of the dishes you're using but you can assemble the layers the same as directed.
Can I Use Lemon Extract Instead Of Vanilla?
I chose to use vanilla in this recipe to help balance the sweet to tangy lemon flavor ration. You can use lemon extract instead if you really really enjoy lemon.
I'd start by using half the amount and tasting to make sure it's not too much of a lemon punch.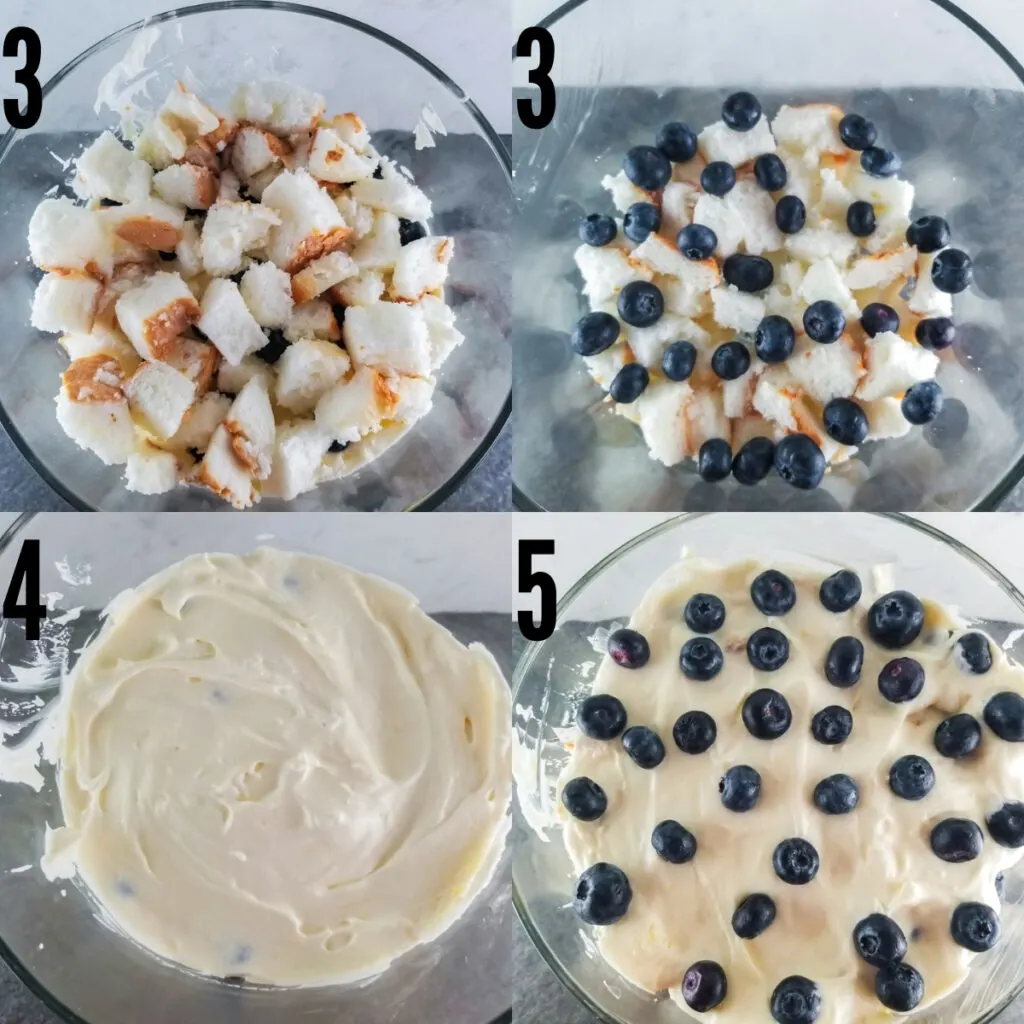 Looking For A Patriotic Dessert?
Since this blueberry lemon trifle dessert screams summer you may want to add a patriotic touch to serve on Memorial Day or the 4th of July. To do this, just add some red berries such as pitted cherries, strawberries, or raspberries in with the blueberry layers.
You can also add some of the red berries to the top with the blueberries.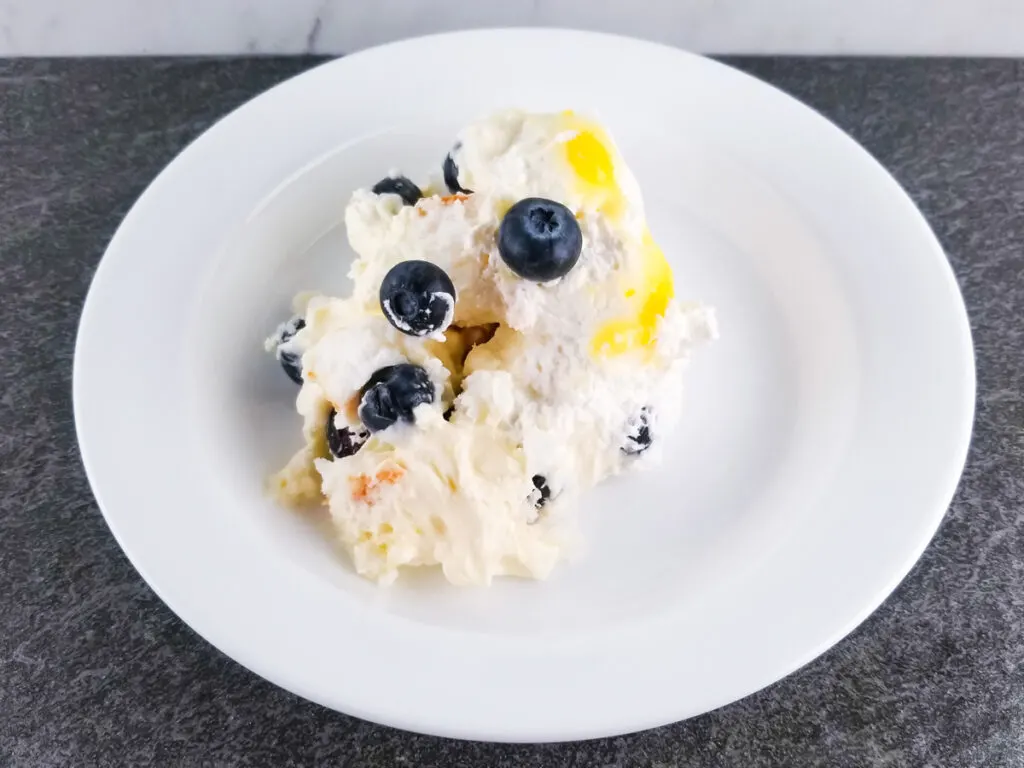 More Dessert Recipes Using Fresh Berries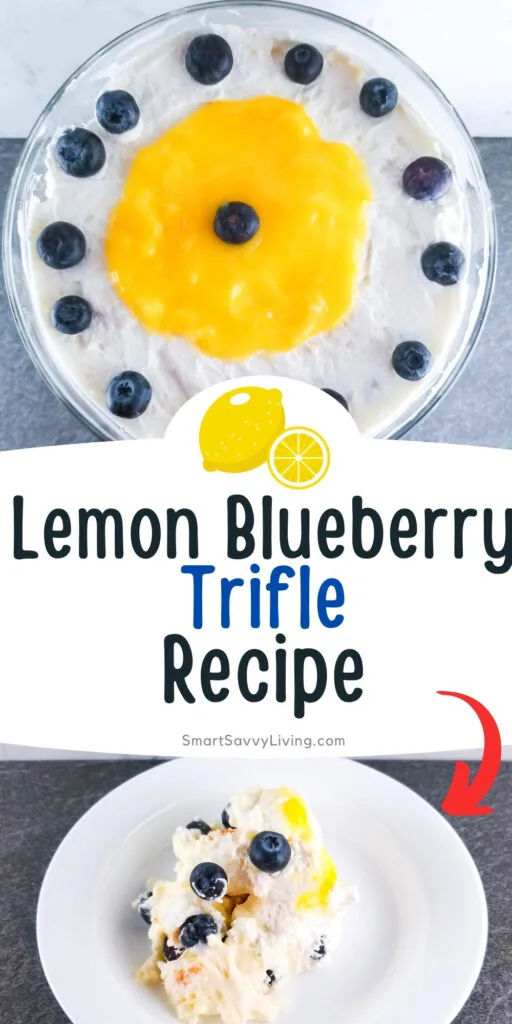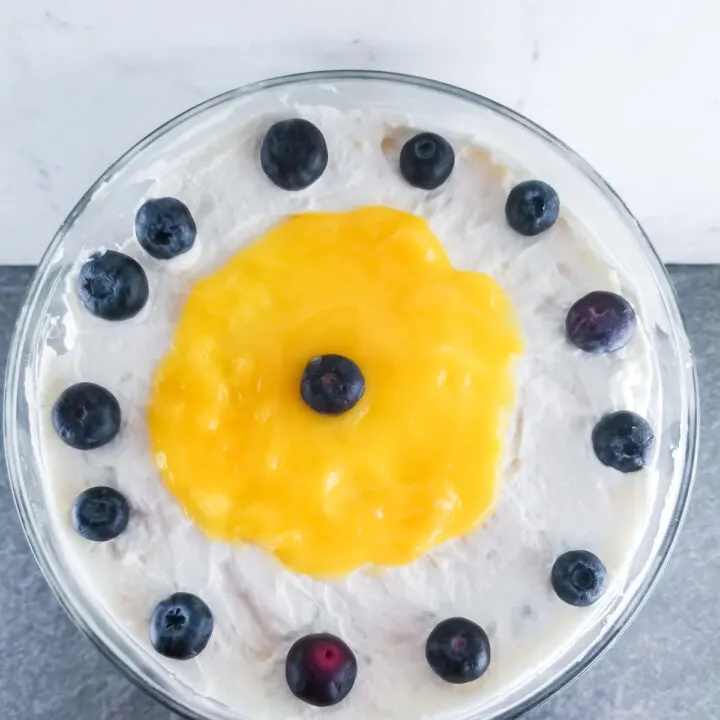 Lemon Blueberry Trifle Recipe
Total Time:
2 hours
30 minutes
This delectable lemon blueberry trifle recipe is sure to receive oohs and ahhs at your next gathering. Made with angel food cake, fresh blueberries, and a creamy lemon cheesecake filling with an optional boozy twist, this is the no bake summer dessert of your dreams.
Ingredients
Cake
1 prepared angel food cake, about 13 ounces
2 tablespoons limoncello (divided, optional)
Whipped Cream
2 cups heavy whipping cream, very cold
3 tablespoons white granulated sugar
2 teaspoon vanilla extract
Lemon Cheesecake filling
1 8-ounce block cream cheese, softened
¼ teaspoon salt
1 cup prepared lemon curd
½ teaspoon vanilla extract
2 cups of previously prepared whipped cream
Blueberry Layer and Garnish
About 4.5 cups fresh blueberries
Remaining previously prepared whipped cream
⅓ cup prepared lemon curd
Instructions
Prepare the whipped cream by placing 2 cups of heavy cream, 3 tablespoons of white granulated sugar, and 2 teaspoons vanilla extract into a large mixing bowl and beating on high with a hand or stand mixer until stiff peaks form - but not long enough to turn to butter. Set aside.
Prepare the lemon cheesecake filing by placing the softened 8 ounces of cream cheese and ¼ teaspoon salt into a large bowl and beating on medium-high until the cheese is smooth and creamy. Add 1 cup lemon curd, and ½ teaspoon vanilla extract to the mixture and beat at medium-high until well combined. On low, mix in half (about 2 cups) of the prepared whipped cream from step one. Cover and store the rest of the whipped cream until needed at the end.
Slice the angel food cake into about ½ to 1-inch cubes. Place half of the cake pieces into the bottom of the trifle dish. If desired, evenly sprinkle one tablespoon of limoncello over the cake. Sprinkle about a cup of blueberries evenly over the cake.
Spread half of the lemon cheesecake filling over the blueberries, smoothing the top to be even. Evenly sprinkle about a cup of blueberries over the filling.
Repeat layers as above: the rest of the cake pieces, 1 tablespoon limoncello, 1 cup blueberries, the rest of the cheesecake filling, 1 cup blueberries.
Spread the remaining whipped cream you sat aside earlier evenly over the top layer of berries.
I like to garnish the trifle by taking ⅓ cup lemon curd and pouring it over the center of the trifle, spreading it into a circle, leaving about a 1.5 inch border of whipped cream visible. Take the remaining blueberries and garnish around the border of whipped cream and in the center of the lemon curd.
Cover the trifle dish with plastic wrap and refrigerate at least 2 hours before serving.
The trifle is best served the day of or day after it is made, but leftovers may be stored covered in the refrigerator for up to 3 days.
Notes
Please see the original article for tips to make this trifle.
You can use pound cake (lemon flavor is even better) instead of angel food.
Recommended Products
As an Amazon Associate and member of other affiliate programs, I earn from qualifying purchases.
Nutrition Information:
Yield:

12
Serving Size:

1/12th of recipe
Amount Per Serving:
Calories:

447
Total Fat:

28g
Saturated Fat:

17g
Trans Fat:

1g
Unsaturated Fat:

9g
Cholesterol:

108mg
Sodium:

395mg
Carbohydrates:

45g
Fiber:

2g
Sugar:

24g
Protein:

6g
Nutrition information may not be accurate. Optional garnishes and toppings aren't included. Nutrition information is calculated automatically by and provided by Nutritionix. Exact nutrition information depends on the specific ingredients, brands, and amounts you use.