Have you ever had fruits served in their own thickened sweet juice and wondered how you could do that at home? Today we're learning how to macerate fruit with sugar!
Do you know how to macerate fruit? Have no clue to what I'm even talking about? Think of macerating to fruit as marinating is to meat.
The fruit basically sits in sweetener or liquid for a time to take on a different flavor(s) and often softens (becomes more tender).
If you've ever had fruit, strawberries being one of the most common, that were in their own sweet juices that was slightly thickened and almost syrupy or had a secondary flavor like mint or liquor, it likely was macerated.
There are basically 2 ways to macerate fruit: one with sugar, and the other with a liquid.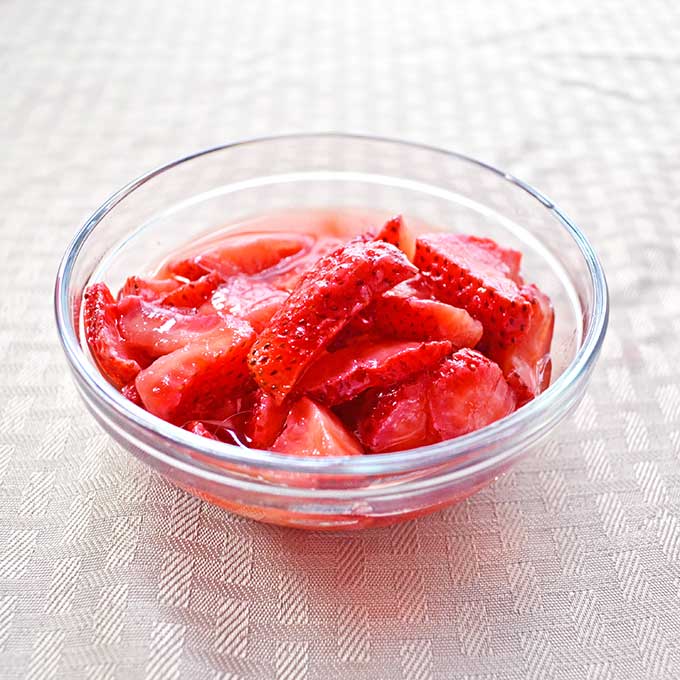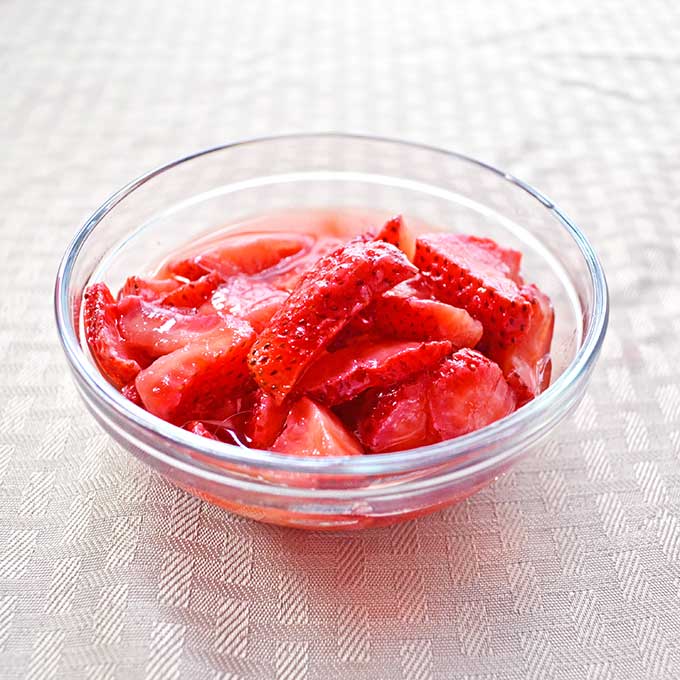 The "culinary elite" likely wouldn't even refer to macerating fruit with sugar as true macerating since it doesn't start with a liquid.
Technically, the sugar does draw out some of the liquid from the fruit that it then soaks in, though. Plus, I've personally never seen this method called anything else, so we'll stick with it.
I was in Costco recently and saw these deliciously red fresh strawberries now in season from the states and couldn't resist picking some up. They were so good that I had to go back and get some more to macerate and make the first shortcakes of the season with.
Macerating is a good idea for any fruit that may not be quite sweet enough to eat on its own or is going to go bad otherwise in a day or 2. After macerating, you can use the fruit as a dessert topping on cake or ice cream, on waffles or pancakes or just eat them as is.
The basic recipe is pretty simple. You'll just need fruit, sugar and a container.
Oh, and if you need motivation for why one would want to take the time to macerate fruit? Well, it's so you can make delightfully yummy things like this…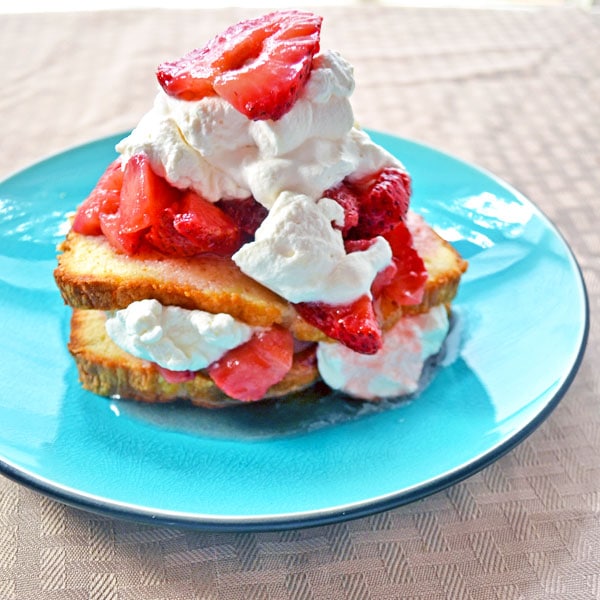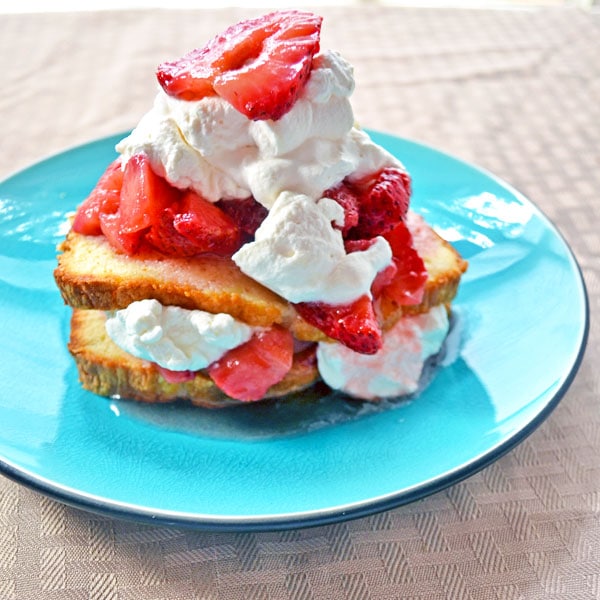 Recommended Equipment (Contains affiliate links.)
This recipe is super simple and you really only need a good paring knife for slicing up the fruit and a large container with a tight sealing lid to put it all in. I usually just shake up everything in the container, but do like a ladle to serve the fruit so I can get plenty of that delicious thick syrup.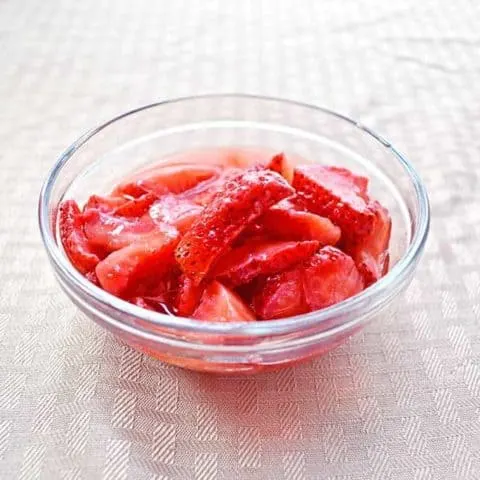 How to Macerate Fruit with Sugar
Yield:
Depends on amount of fruit used
Basic sugar maceration of fruit is easy and tasty, but can be easily taken to the next level with other added flavors (see notes for ideas!).
Ingredients
Fruit of choice (I usually use a minimum of 2 lbs)
Sugar (I use about ⅓ cup per 2 lbs of fruit)
Fresh lemon juice (optional; about 1 Tablespoon per 2 lbs fruit)
Instructions
Thoroughly wash and dry fruit.
Small berries like raspberries can be kept whole, but if using larger fruits, like peaches strawberries, slice or cut them into bite sized pieces.
Place prepared fruit into a large enough non-reactive bowl (plastic or glass) so that there is still room to toss the fruit around.
Sprinkle sugar over the top of fruit and add lemon juice, if desired. I very rarely use it myself.
Cover bowl with lid or plastic wrap and toss/shake the bowl so that fruit becomes evenly coated in sugar.
Let fruit sit at room temperature for about 30 minutes to start macerating (or have sugar syrup form) and then place in the refrigerator until serving. Results are best when allowed to sit over night or even a day or 2. I always shake the container a bit more whenever I open the fridge for something.
Cover and refrigerate leftovers.
Notes
To add extra flavor, you can also add extracts, citrus, herbs, balsamic vinegar, etc. depending on the fruit you are using.
Recommended Products
As an Amazon Associate and member of other affiliate programs, I earn from qualifying purchases.
Now that you know how to macerate fruit with sugar, what's the first way you're going to use it?