This American flag cheesecake recipe is a spin on a 4th of July dessert classic and also makes for a tasty Memorial Day Dessert.
I remember during my teens the flag cake with strawberries and blueberries being super popular for the 4th of July. I actually got so tired of seeing it I've never even made one myself, ironically enough.
I remember back when I was a kid, though, when we had a family cookout for the 4th and my mom made a simple no-bake flag cheesecake. It was divine to not even have to be baked and made with boxed pudding, not to mention it looked great and was super festive.
However, this time I wanted something a bit more homemade, and I have a cheesecake recipe I just love. So, I decided to merge them together for this American Flag Cheesecake recipe.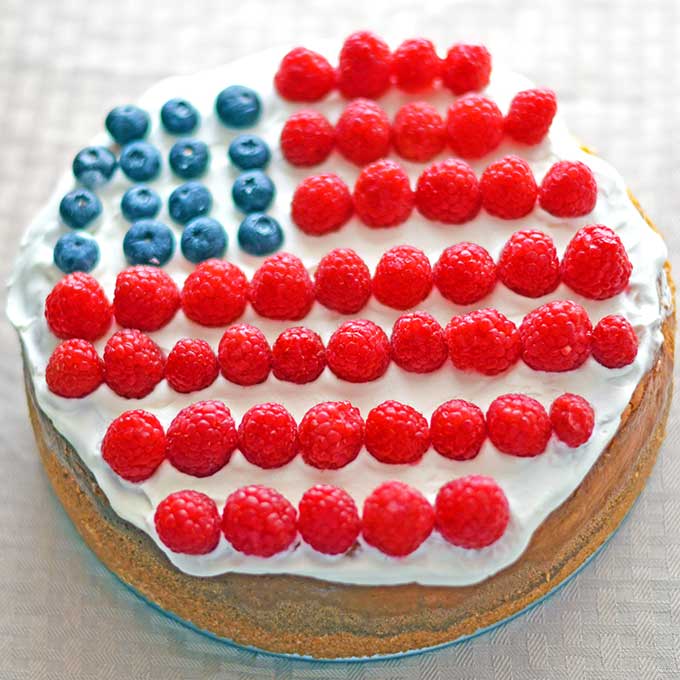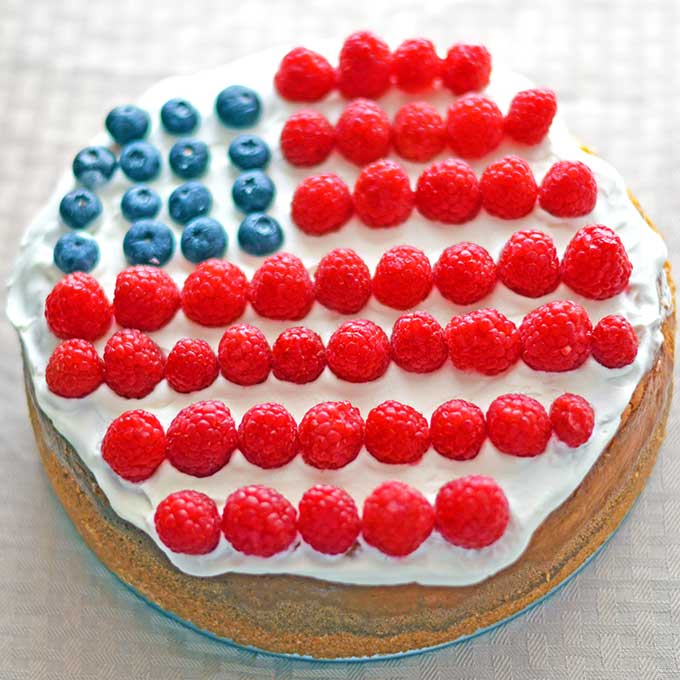 This American flag cheesecake is more of a New York style cheesecake that has a nice density and weight to it, but is super creamy with a solid vanilla flavor that can both stand on its own or nicely pair with toppings, in this case whipped cream and berries.
The whipped cream isn't even really needed, but I wanted a nice crisp white background for the flag design, plus it will fill in any cracks or dimples your cheesecake may have.
I honestly never use a hot water bath, so cracks are hit or miss for me, but it just gives me an excuse to top with whipped cream, chocolate ganache, etc.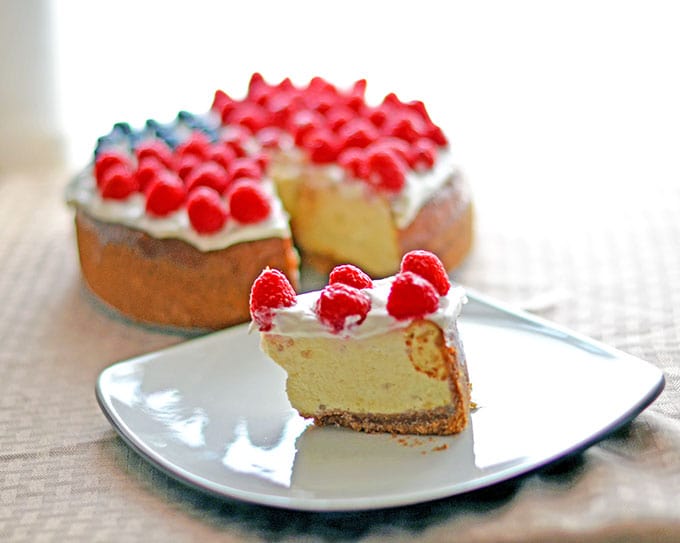 Recommended Equipment
I do find it important to use a non-stick springform pan as it will help the cheesecake to not stick as it cools. The cheesecake will slightly shrink when cooling and if it sticks, it will definitely cause cracks.
I love my springform pan by Calphalon. I once bought a "deal" of a cheaper brand with a set of 3 that cost less than the one Calphalon, but the metal was very thin and had already warped on one pan to where it would leak before I even used it once, so I had to immediately return them. Sometimes you do definitely get what you pay for!
I like to make the cheesecake with my stand mixer, while I use a hand mixer for my whipped cream recipe. I also like making the graham cracker crumbs in our Breville Sous Chef Food Processor.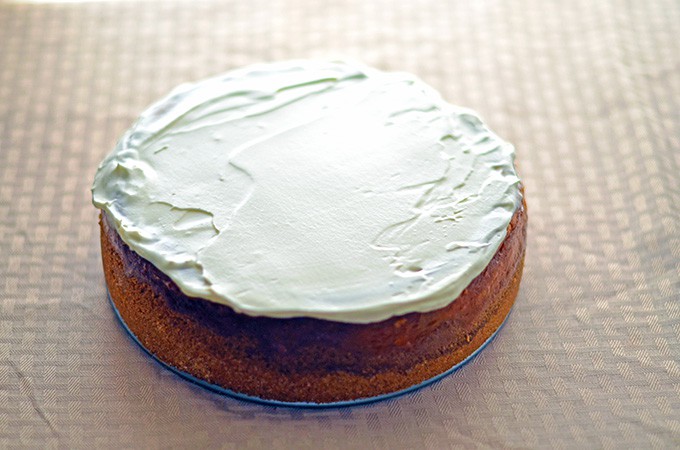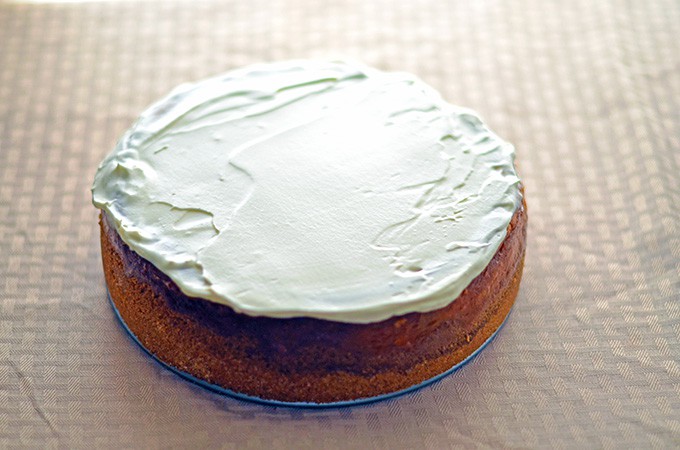 More Recipes Using Fresh Berries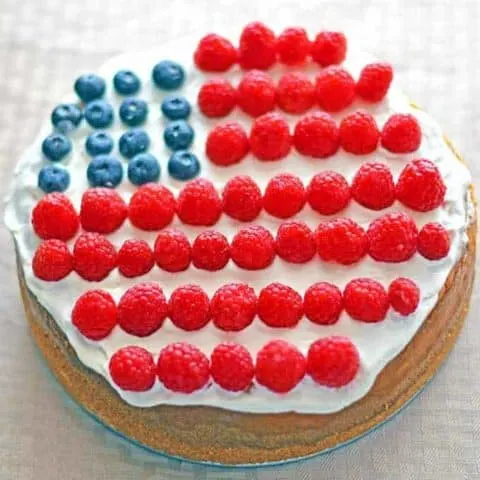 American Flag Cheesecake Recipe
Ingredients
1.5 cups graham cracker crumbs
⅓ cup white granulated sugar
½ teaspoon cinnamon or ¼ cup ground nuts (optional for an extra flavorful crust)
4 Tablespoons (½ stick or ¼ cup) butter, melted
4 8-ounce packages cream cheese (I've always used regular)
1.5 cups white granulated sugar
¾ cup milk (I've always used whole)
4 large eggs
½ teaspoon sea salt
1 cup sour cream
1 Tablespoon vanilla extract (or other extract of your choice such as almond or lemon)
Washed and dried blueberries and raspberries (or you can use strawberries cut in half)
¼ cup all-purpose flour
Instructions
One to 2 hours before making the cheesecake, set cream cheese, milk, eggs and sour cream out to come to room temperature. This help the ingredients mix together easier and more thoroughly
Preheat oven to 350°F.
In a small bowl stir graham cracker crumbs, ⅓ cup white sugar and cinnamon or nuts, if desired, together until thoroughly combined.
Pour melted butter over the crumbs and stir until evenly moistened.
Press graham mixture evenly into bottom, and sides, if desired, of a 9-inch springform pan. I like to use a glass or measuring cup to help pat down everything evenly.
Using a hand or stand mixer, mix together cream cheese and 1.5 cups white sugar until smooth.
Blend in milk on low speed.
Mix in eggs one at a time until just combined.
At this point I stop using the mixer and mix in by hand: salt, sour cream and vanilla until just combined.
Mix in flour until just combined.
Pour mixture over the graham cracker crust.
If you want to use a hot water bath, wrap base of springform pan with 2 layers of foil and place pan in a large baking pan, like a roasting pan and place on middle rack of oven. Then pour boiling water carefully around pan, being very careful to not get any inside the springform pan.
Otherwise, place pan directly on rack in middle of the oven. Bake for 1 hour in pre-heated oven set at 350°F.
If using hot water bath, remove cheesecake and allow to cool. If not using a bath, keep cheesecake in oven 5 - 6 hours to cool, keeping the oven door closed.
Remove cheesecake from oven and refrigerate overnight.
Before serving, remove ring of springform pan and top cheesecake with whipped cream or cool whip as if you were icing the top of a cake.
Place blueberries on top left corner of cheesecake, halfway over and halfway down to mimic the stars of the American flag. Place raspberries side by side to create red stripes of flag.
Cover tightly, being careful to not crush berries and refrigerate until serving.
Leftovers should be stored covered in refrigerator for around 3 days.
Notes
If preferred, you can also use strawberries sliced in half from top to bottom for the stripes.
Will you be making this American Flag Cheesecake recipe this summer?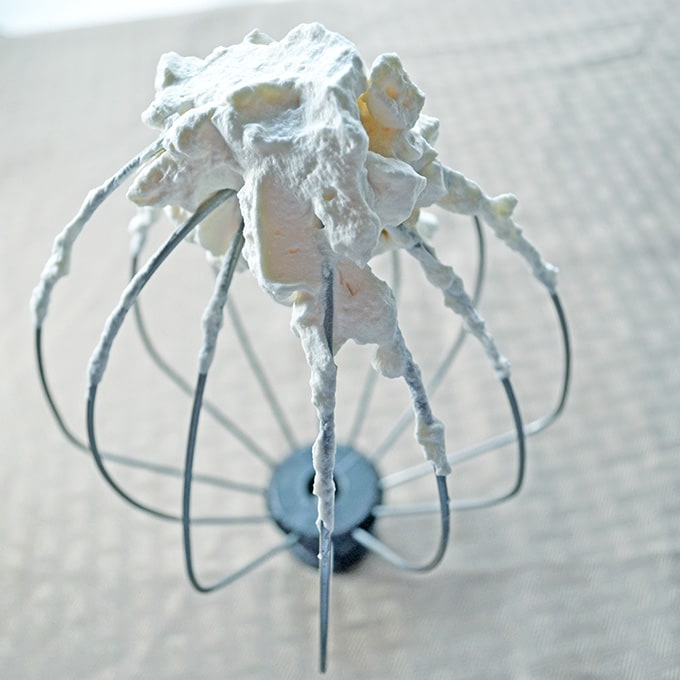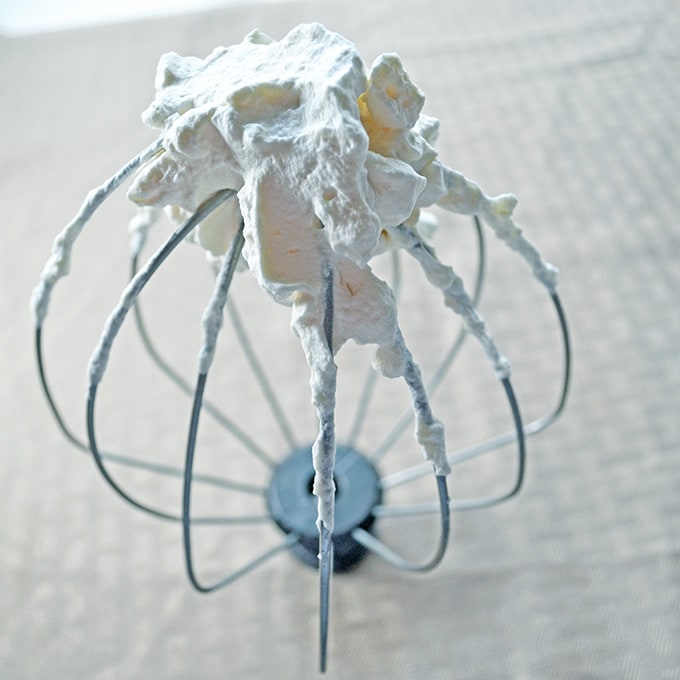 If you've never made Homemade Whipped Cream, check out our recipe. It's super easy!