A classic appetizer for parties, this everything bagel mini pigs in a blanket recipe brings an extra punch of flavor and crunch by adding a favorite seasoning.
Every holiday season there are party appetizers that have become a tradition for us to make and snack on. Chex mix, sausage balls, and mini pigs in a blanket are some of the usuals.
I will admit in the past I would just buy the frozen version of little smokies in puff pastry but the last time I had them they were just disappointing and expensive for the amount you get.
So, this year I decided to make homemade pigs in a blanket and I'm kind of wanting to kick myself for waiting so long to do so as this is seriously one of the easiest appetizers to make with just four ingredients. And so much better tasting, too.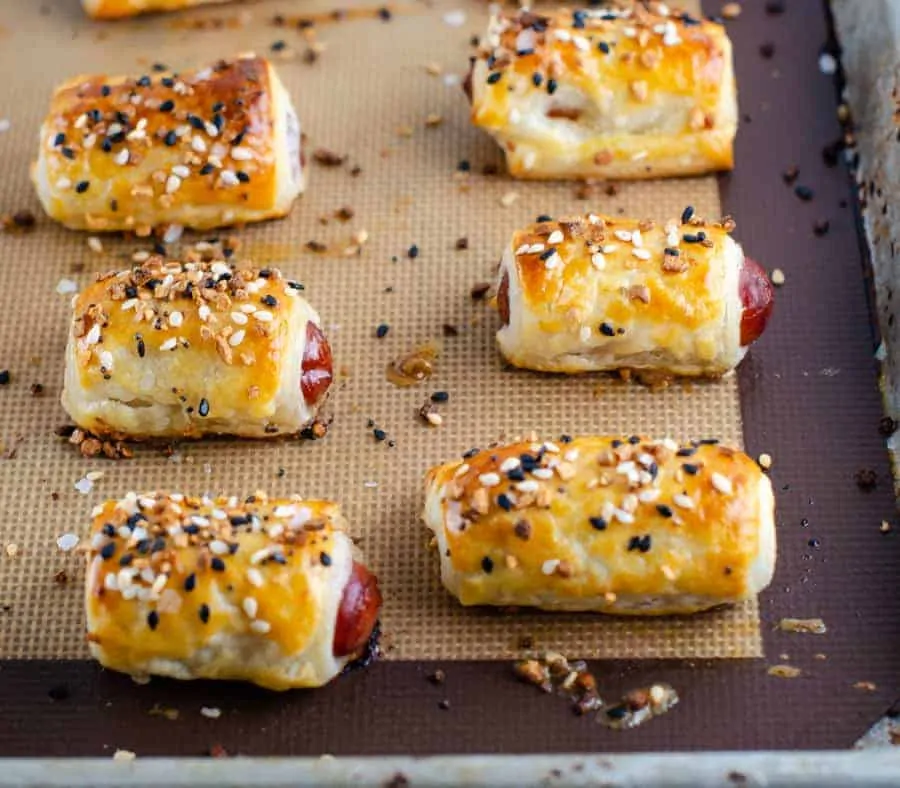 Everything bagel seasoning has been so popular this year, and for good reason, so I decided to kick things up a notch and add some on top. And, yeah, definitely doing that again! The seasoning adds a really nice extra crunch and flavor punch.
What Are Pigs In A Blanket?
When I was growing up pigs in a blanket meant whole hot dogs and a strip of cheese wrapped in refrigerated biscuit dough, or crescent roll dough when my mom was feeling fancy, and baked until golden. We ate them as the main entree at a meal.
These pigs in a blanket are meant as an appetizer since they use little smokies or mini sausages. Though they are addictive enough to eat enough as a meal for sure.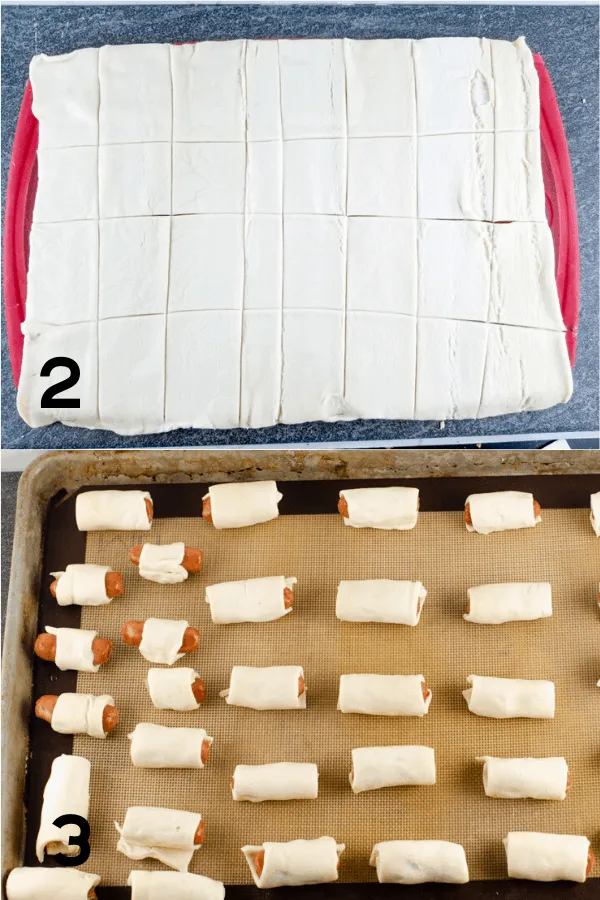 I like rolling them in puff pastry, but you can totally use refrigerated biscuit dough or crescent roll dough instead.
That's basically it. But, like with this recipe, you can make them a bit more special with a few additions.
Here are the ingredients I used.
~12 oz package of little smokies or mini sausages - This should equate to approximately 35 sausages. I used Hillshire Farm's beef lit'l smokies. You could also use hot dogs cut into thirds.
1 sheet of puff pastry - I used the Wewalka brand which is refrigerated so it doesn't require defrosting or rolling out - just simply unroll. If you use a brand that is frozen do make sure to thaw it and roll out if needed, according to package directions, first.
1 large egg - This will be used as an egg wash to get an extra crisp and golden crust on the puff pastry.
Everything Bagel Seasoning - Here's an everything bagel seasoning recipe if you'd like to make your own. I used the prepared everything bagel seasoning mix from Trader Joes.
How To Make Pigs In A Blanket
As I mentioned before these puff pastry little smokies are a breeze to make.
Just cut your puff pastry into strips. I like to put the puff pastry on a cutting board and then use one of the smokies as a ruler of sorts to know how wide to make the strips.
I like completely covering the little smokies with puff pastry but if you're doubling the recipe and want to stretch the pastry you could use half as much per sausage.
I then cut the puff pastry sheet into four rows. I ended up 32 strips of dough.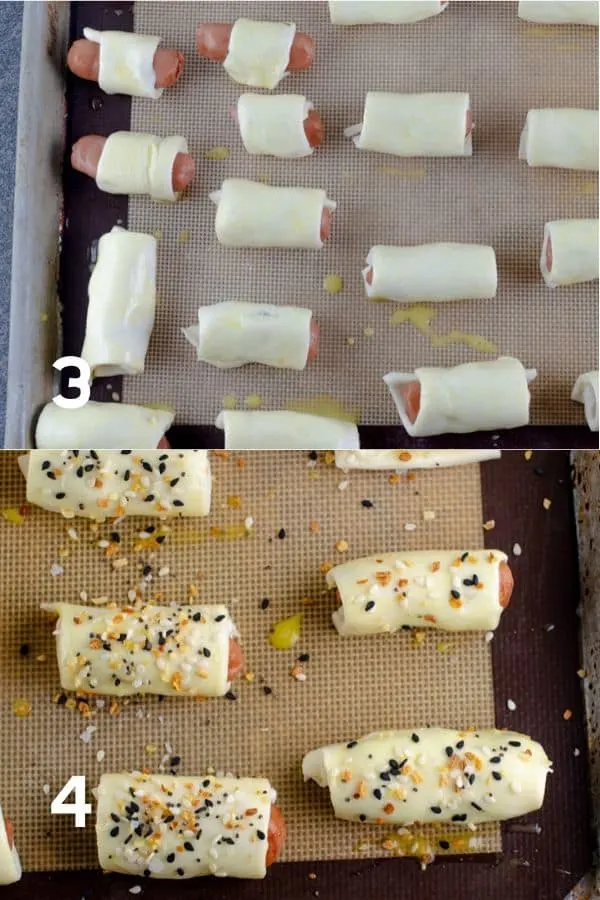 Most packages of little smokies have about 35 sausages so you can either cut a couple of the strips in half or make 5 rows of dough if this is the case to wrap them all.
Next, simply roll a puff pastry strip around each sausage and place seam side down on a baking sheet. Then just brush with egg wash, sprinkle on the everything bagel seasoning mix and bake until golden brown and delicious.
These are slightly time-consuming considering the number you have to roll. But, I think it's actually kind of fun to make with a friend or the kids can help too after you cut the puff pastry into strips.
Recommended Equipment
Here are the items I find useful to make pigs in a blanket.
Dipping Sauces For Pigs In A Blanket
To me, these are tasty enough that they don't need a dipping sauce. But if you'd like to have one here are some ideas.
Honey mustard sauce
Curry ketchup
Ketchup mixed with a drizzle of sriracha
Basic queso dip
More Easy Appetizers Recipes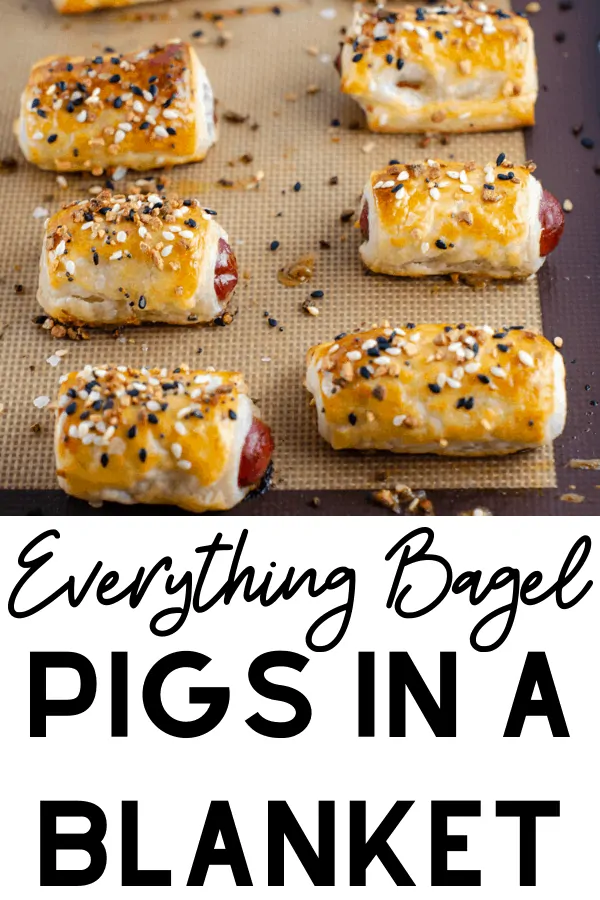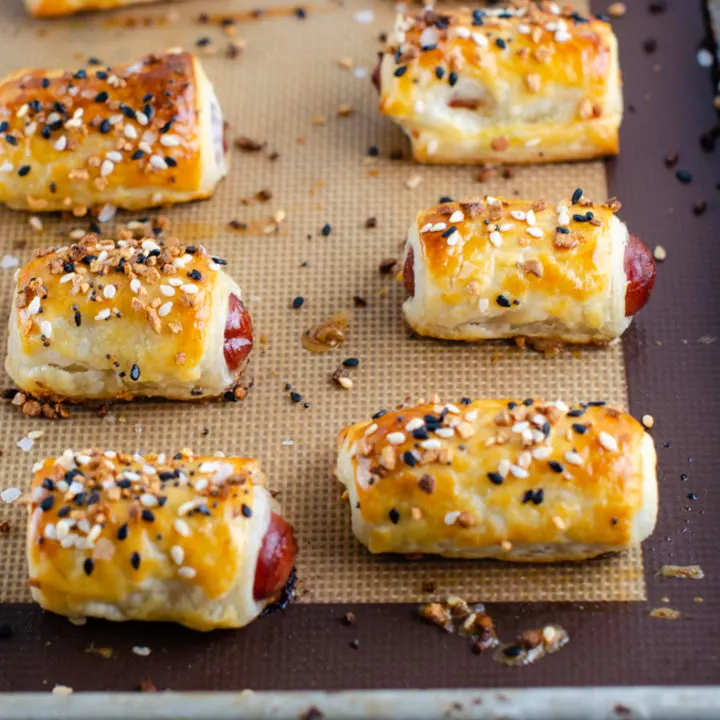 Everything Bagel Mini Pigs In A Blanket Recipe
Yield:
~35 Pigs in a Blanket
A classic appetizer recipe given a new boost of flavor will make this everything bagel mini pigs in a blanket recipe one of the first dishes to go at your next party.
Ingredients
1 sheet puff pastry, thawed and rolled out according to packaging
1 12-ounce pack of little smokies (I used beef)
1 large egg, beaten
2 tablespoons everything bagel seasoning
Instructions
Preheat oven to 400 - 425°F - whatever the directions of the puff pastry packaging say is best to bake it at. Spray a half-sheet baking pan with non-stick spray or for easier clean up, line with greased foil, parchment paper, or a silpat.
Cut unbaked puff pastry into equally sized rectangles for the number of little smokies you have, approximately 35. I like having the entire sausage covered but you may wish to have part of the sausage showing so keep this in mind when cutting the pastry width.
Roll 1 sausage in each puff pastry rectangle. Place seam side down onto the baking sheet at least once inch apart. Repeat until all sausages are in their blankets.
Brush beaten egg over the top of each pig in the blanket. Then sprinkle each pig in a blanket with a bit of the everything bagel seasoning blend.
Bake the pigs in a blanket in the preheated oven for about 25 minutes, or until pastry is puffed and golden brown.
Place baked pigs in a blanket on a serving platter and serve immediately.
Notes
The pigs in a blanket can be pre-made to the stage of rolling in puff pastry and refrigerated up to the night before serving. I do not recommend brushing with egg wash and baking until just before serving as they can start to get soggy after sitting for more than an hour or two.
Nutrition Information:
Yield:

7
Serving Size:

5 pigs in a blanket
Amount Per Serving:
Calories:

200
Total Fat:

17g
Saturated Fat:

6g
Trans Fat:

0g
Unsaturated Fat:

8g
Cholesterol:

55mg
Sodium:

506mg
Carbohydrates:

5g
Fiber:

0g
Sugar:

1g
Protein:

7g
Nutrition information may not be accurate. Nutrition information is calculated automatically by and provided by Nutritionix. Exact nutrition information depends on the specific ingredients, brands, and amounts you use.