This easy sausage cheese balls recipe is made without Bisquick or a baking mix. It's the perfect party appetizer, a must-have for a brunch buffet, or even makes for an easy make-ahead breakfast on the go.
We all have ideas of classic party appetizers we love and have to have at every gathering. For me, one of those is homemade sausage balls.
We'd make them at least once a year during the holidays when I was growing up. I always look forward to them being a bit crunchy on the outside but soft and tender on the inside.
My mom would make them with a baking mix back then. This time I wanted to make my sausage balls recipe without Bisquick though.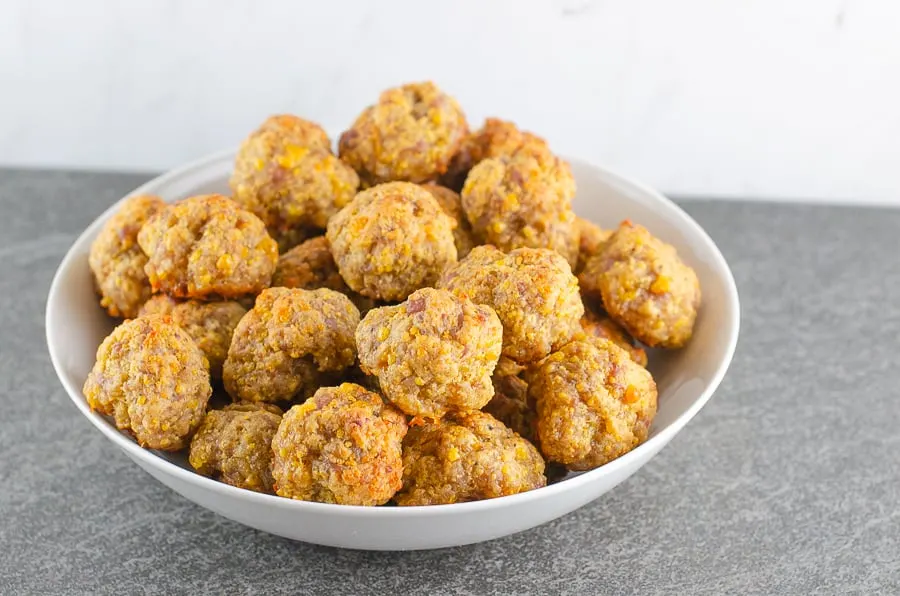 How To Make Sausage Cheese Balls From Scratch
I love baking and generally do so from scratch which means I usually don't have something like Bisquick on hand. Instead of making a special trip to the store or letting the rest of the box sit in the pantry for months going bad I make sausage cheese balls without Bisquick.
This doesn't require a lot of additional ingredients. In fact, you probably already have them all on hand and you know for sure the quality of ingredients you're using. Here's what I use.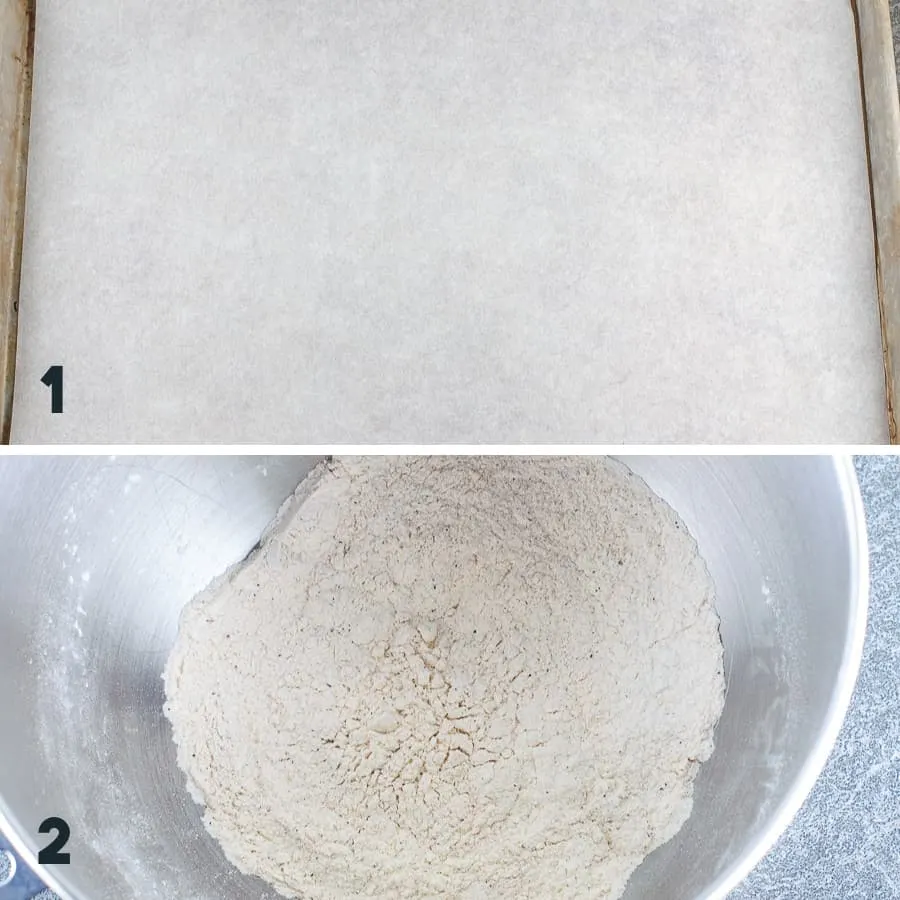 Breakfast sausage in a roll - I almost always use pork Jimmy Dean breakfast sausage. But, you can use whatever brand and flavor you prefer, even turkey sausage. If you like the spicier side using hot sausage is a great option. This accounts for a lot of the flavor of the sausage balls so pick something you know you like.
Cheese - This is another major flavor enhancer that can otherwise make your sausage balls taste bland. I like using sharp or extra-sharp cheddar for maximum flavor.
Flour - Since we're not using a baking mix we want to add flour to help bind everything together and have a texture lighter than traditional meatballs.
Baking powder - Bisquick contains leavening agents to help bread rise so we need to add some baking powder for the same effect.
Seasonings - Seasoned salt, ground black pepper, ground cayenne pepper, garlic powder, and onion powder. These add flavor to a recipe that can sometimes otherwise be a bit bland.
Butter - This adds a bit of flavor and fat for moist sausage balls.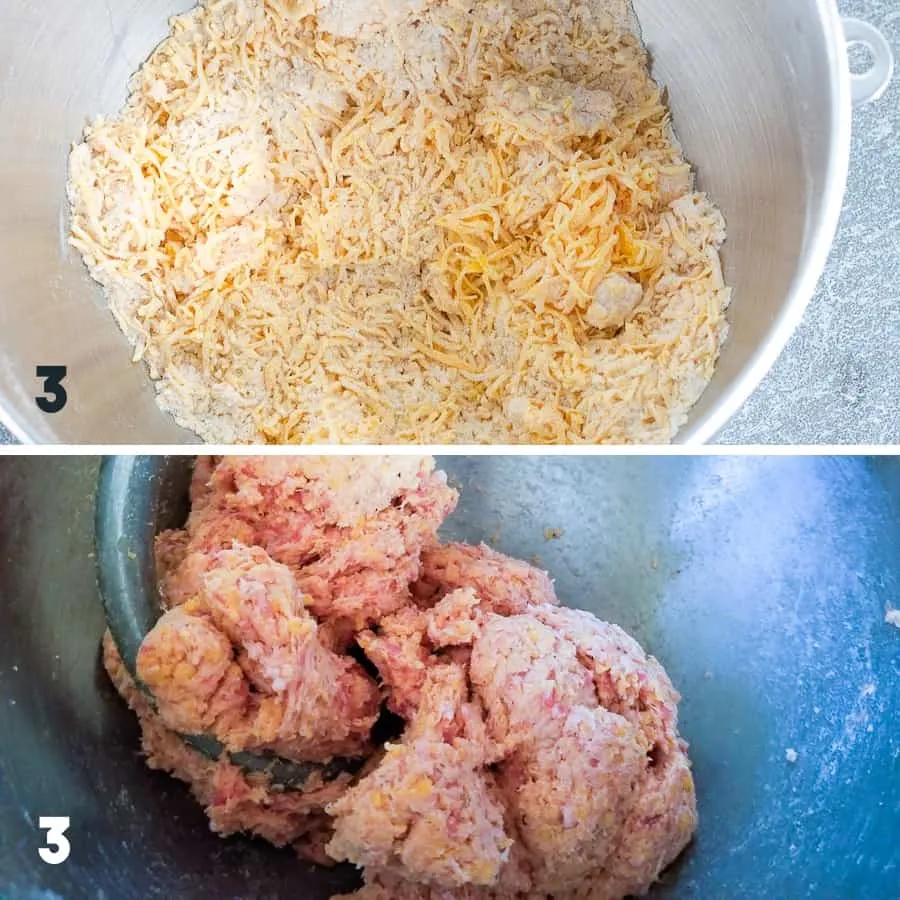 Quick And Easy Sausage Ball Tips
If you've ever made sausage cheese balls before you probably know they can take what feels like forever to mix together. If you don't want to get an arm workout I have the best tip ever for quick sausage balls.
Mix them together in your stand mixer with the dough hook! Using the dough hook instead of the beater blade helps to mix them together more evenly, plus it's easier to clean.
If you don't have a stand mixer you should be able to use the beaters on a hand mixer, but again, they will be tougher to clean.
To quickly form the sausage balls and have them the same size to cook evenly at the same time, use a small cookie scoop and scoop like you wold with cookies.
Just give them a quick roll between your hands and bake. You can put on disposable gloves before rolling if you don't want to get all that ick on your hands.
How To Make Sausage Balls Ahead Of Time
If you're making a lot of appetizers for a party you may be wondering, can I make sausage balls ahead of time? Yes, you can!
There are a few options you can choose from to go about making them ahead.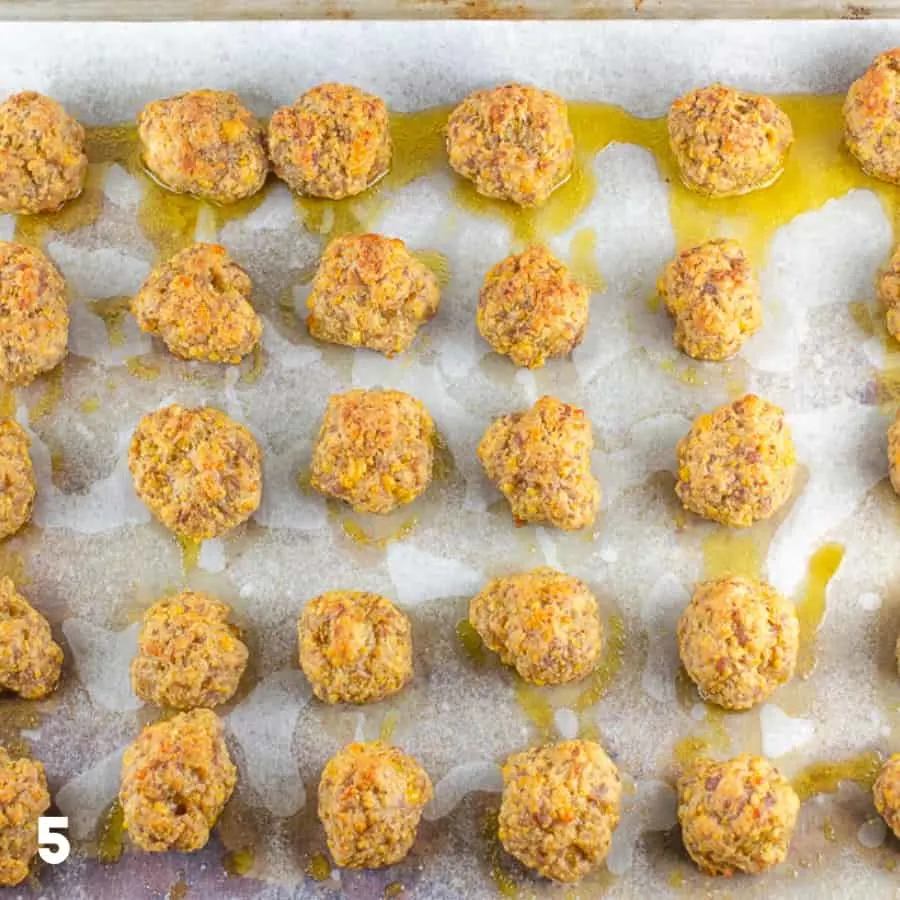 First, if you're wanting to make the sausage balls 1 - 2 days before serving you can make the recipe up to the point of baking. Just cover the raw rolled sausage balls on the baking sheet and refrigerate.
Since the sausage balls will be cold they will likely take a few extra minutes to bake. I recommend using an instant thermometer to make sure they get up to 165°F as sausage is NOT something you want to serve under cooked.
The other option is to roll and bake the sausage balls, cool them, then cover them and refrigerate them. Then all you have to do is warm them up in the oven covered with foil so they don't get too brown.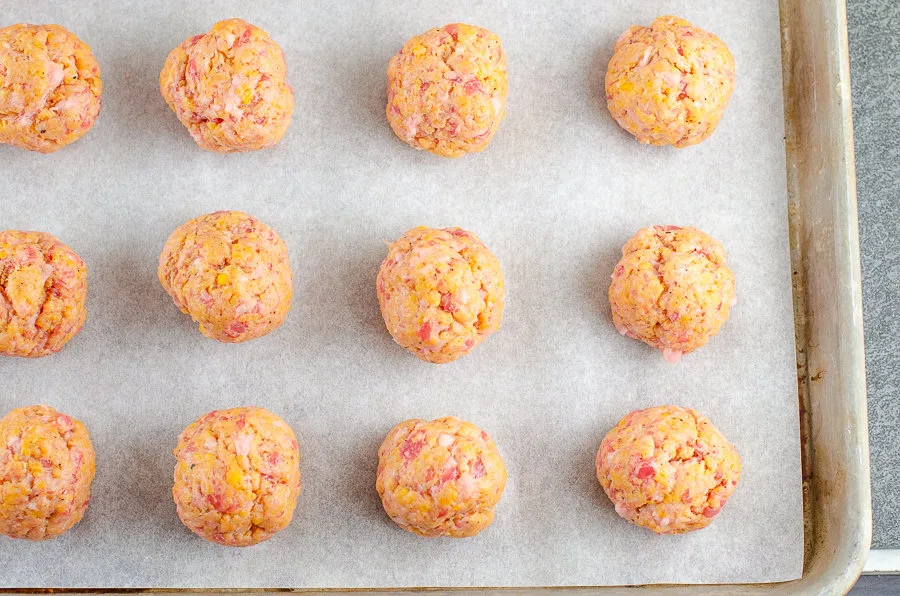 If you need an option to make them more than two days ahead you can roll and bake the balls, cool them, flash freeze on a freezer-safe pan, and then place into a freezer-safe bag or container for up to one month.
Thaw overnight in the refrigerator and place on a baking sheet, cover with foil, and bake until warmed through.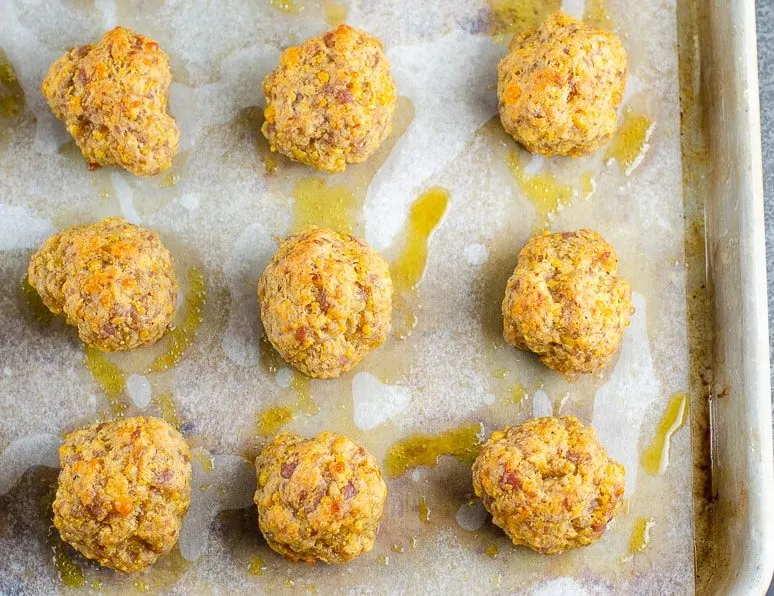 Dips For Sausage Balls
These sausage balls are great on their own but here are some ideas if you want something to dip them into and take them over the top.
More Favorite Party Appetizers
Here are more of our favorite recipes that I love serving at parties.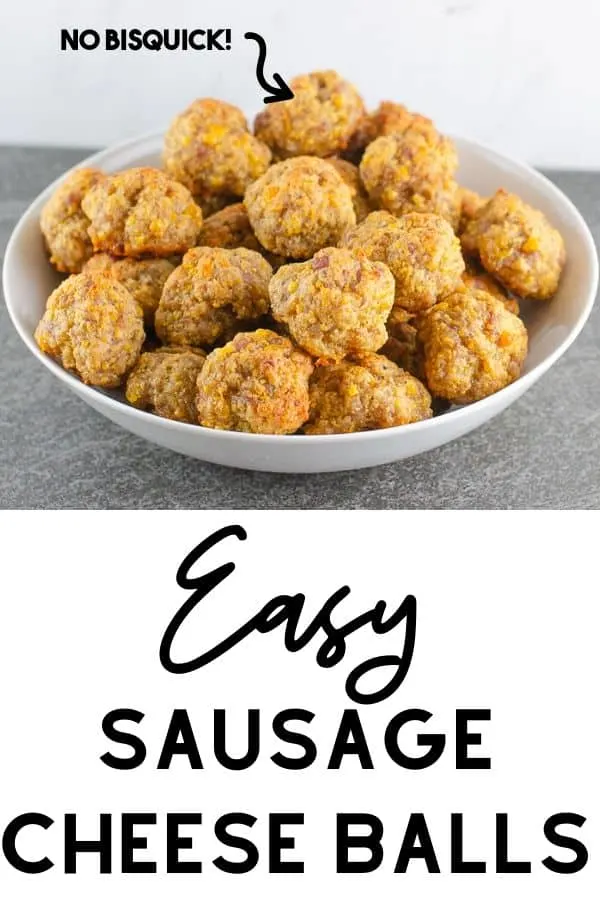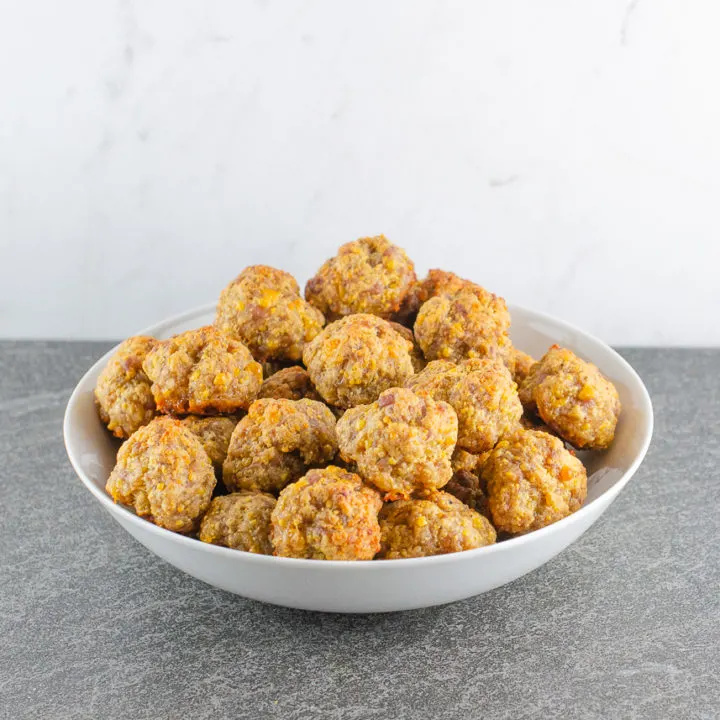 Easy Sausage Cheese Balls Recipe
This easy sausage cheese balls recipe is made without Bisquick or a baking mix. It's the perfect party appetizer, a must-have for a brunch buffet, or even makes for an easy make-ahead breakfast on the go.
Ingredients
1 ¼ cups all-purpose flour
1 ½ teaspoon baking powder
½ teaspoon seasoned salt
¼ teaspoon black pepper
½ teaspoon ground cayenne pepper
½ teaspoon garlic powder
½ teaspoon onion powder
8 oz sharp cheddar, grated
1 lb pork breakfast sausage
3 tablespoons unsalted butter, melted
Instructions
Preheat oven to 400°F. Line a baking sheet with rim with a silpat, parchment paper, or foil.
Whisk together 1 ¼ cups all-purpose flour, 1 ½ teaspoons baking powder, ½ teaspoon seasoned salt, ¼ teaspoon black pepper, ½ teaspoon cayenne pepper, ½ teaspoon garlic powder, and ½ teaspoon onion powder together in stand mixer bowl. Place on stand mixer fitted with dough hook attachment.
Add in 8oz of shredded cheese and stir in using the hook at low speed. Turn off the mixer and add in 1 pound of breakfast sausage and 3 tablespoons of melted butter and mix on low, gradually increasing the speed to medium to medium-high until all ingredients are thoroughly combined.
Scoop the mixture into about 32 equal portions, rolling each between your palms into a ball shape. Place each ball about 1-inch apart on the lined baking sheet.
Bake in preheated oven for 15 - 20 minutes or until the sausage balls reach 165°F internally. Place on serving platter and serve immediately. Leftovers can be kept covered in the refrigerator for up to 3 days. Reheat in the oven to slightly crisp up or they can be microwaved.
Notes
I normally use regular pork breakfast sausage for this recipe but if you'd like the sausage balls on the spicer side you can use spicy breakfast sausage or any flavor that you prefer.
A couple of readers have said the sausage balls ended up slightly drier than they'd like. I usually use Jimmy Dean breakfast sausage and have not had this issue, but if you know that your sausage is on the leaner side you may want to add another tablespoon or 2 of butter.
Nutrition Information:
Yield:

10
Serving Size:

2 - 3 sausage balls
Amount Per Serving:
Calories:

328
Total Fat:

24g
Saturated Fat:

10g
Trans Fat:

0g
Unsaturated Fat:

11g
Cholesterol:

71mg
Sodium:

667mg
Carbohydrates:

14g
Fiber:

1g
Sugar:

1g
Protein:

15g
Nutrition information may not be accurate. Nutrition information is calculated automatically by and provided by Nutritionix. Exact nutrition information depends on the specific ingredients, brands, and amounts you use.