This homemade queso recipe is made without Velveeta. It's instead made with American cheese and has the same creamy velvety smooth texture you'll find at your favorite local Mexican restaurants with an added flavor boost thanks to additional seasonings.
While I will admit I love the texture of melted Velveeta or processed cheese, I also love a queso dip made with real cheese.
This recipe fits the bill for when I want something like a restaurant style white queso dip made with real ingredients.
It's a great recipe to serve at game day, taco night, or when you just need the perfect last minute dip to make for a gathering.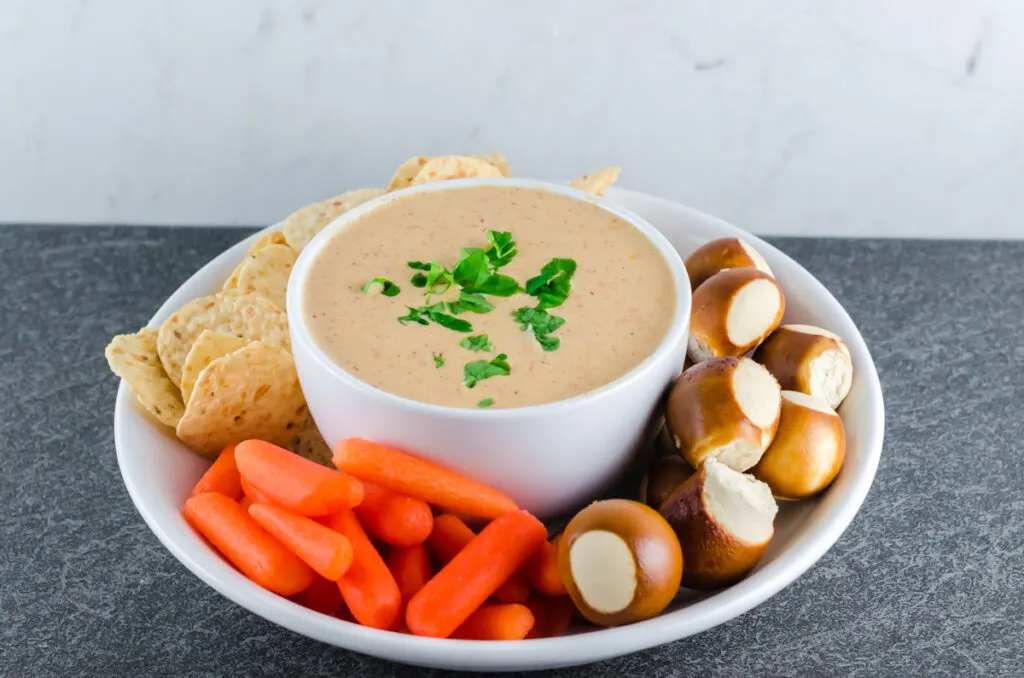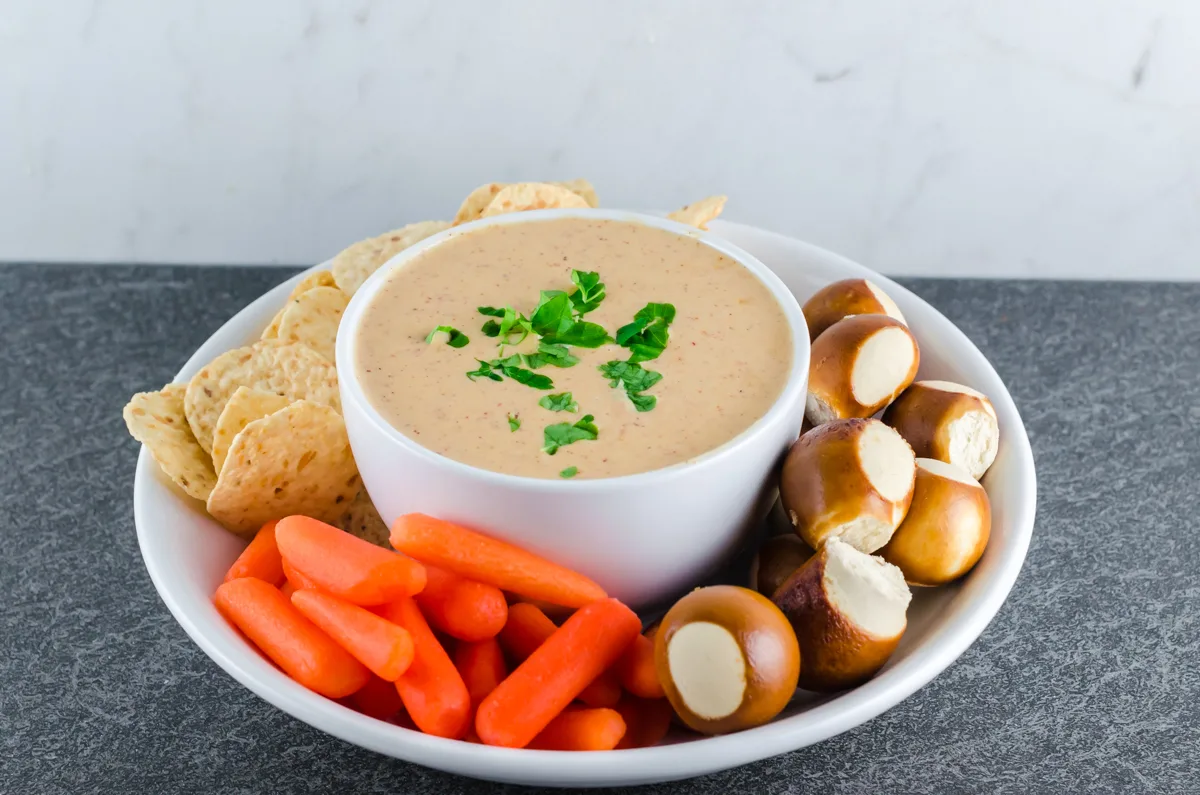 Homemade Queso Ingredients
These simple ingredients really do make for the best queso recipe!
1 cup whole milk, half and half, or heavy cream - If you prefer a thinner queso dip, you'll want to use milk. If you prefer a thick and super creamy queso, opt for heavy cream. We make this recipe with cream. I don't suggest using reduced fat milk as the dip may not come together properly. You could also use evaporated milk.
1 teaspoon chili powder
½ teaspoon garlic powder - You can use the granulated version or fresh but I like using powder here because it's a super fine texture for a smoother queso.
½ teaspoon onion powder - Same as for the garlic powder.
¼ teaspoon ground cayenne pepper - If you don't like spice at all you can skip this ingredient for less heat.
1 10-ounce can of Rotel (or tomatoes and green chiles), drained - The Rotel adds a nice bit of flavor and texture but if you don't like it or just want a super smooth queso, you can leave it out.
1 pound American cheese, freshly sliced or shredded preferred - I don't recommend using pre-shredded cheese in this recipe because shredded cheese is often coated with starches to prevent it sticking together, which can affect how it melts. We prefer using American cheese sliced fresh from the deli counter of the grocery store. We opted for Boar's Head White American cheese. You also don't want to substitute a different kind of cheese. In my experience, American cheese is the best cheese to use.
Salt, to taste (optional) - Salt helps just about everything to have more flavor, but depending on the saltiness of your cheese, you may not need to add any additional salt.
Optional garnishes: Chopped fresh herbs like parsley, cilantro, or chives. Sliced green onion. Browned chorizo. Crisp bacon. Ground beef seasoned with taco seasoning. Jalapeno slices. Pico de gallo. A sprinkle of cayenne.
For a different flavor, you could also try adding some cumin powder. If you like things really spicy, add additional cayenne, red pepper flakes, or hot sauce.
Note that adding in these spices will change the color to more of a yellow even if using white American cheese.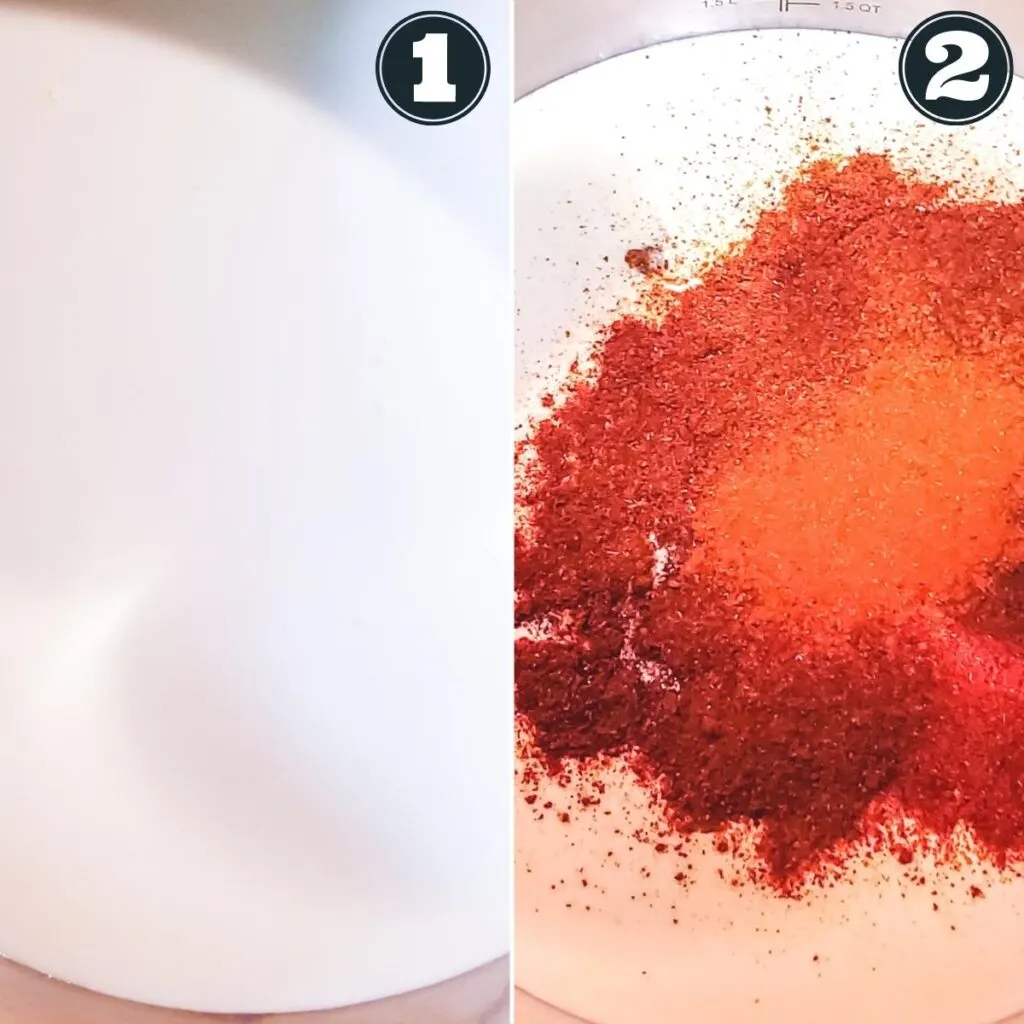 Recommend Equipment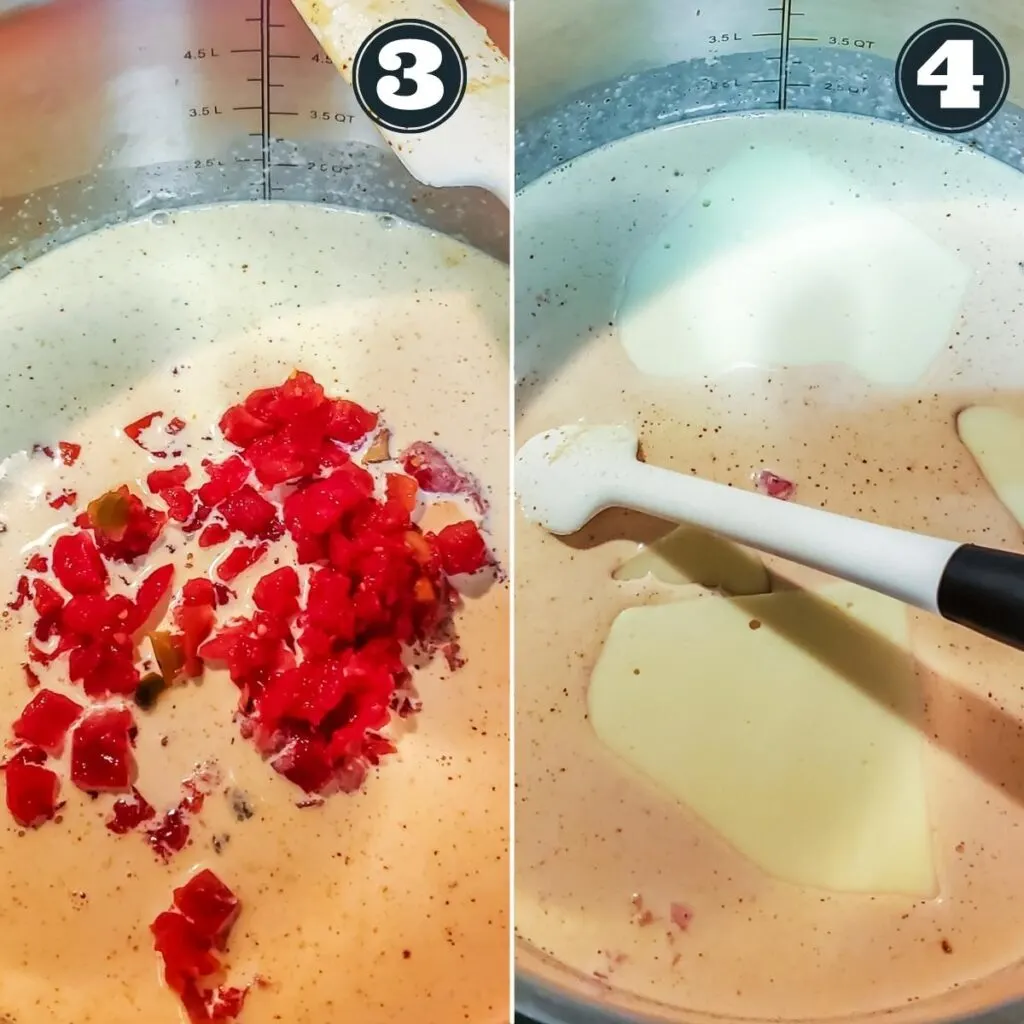 How To Make Queso Without Velveeta
The long and the short of it is you want to heat up all the ingredients very slowly over low heat.
This will make for a creamy and smooth queso.
If you try to hurry things along you could scorch or burn your cheese dip or have it end up clumpy or gritty.
Starting with the dairy over low heat in a medium sauce pan and stir everything in until you get to the cheese.
Then add in the cheese in small amounts - don't dump it all in at once.
Let a few slices melt before you add the next slices until everything is all melted and you'll be rewarded with some of the best queso you've ever tasted.
If it's too thick add additional milk. If it's too thin add additional cheese.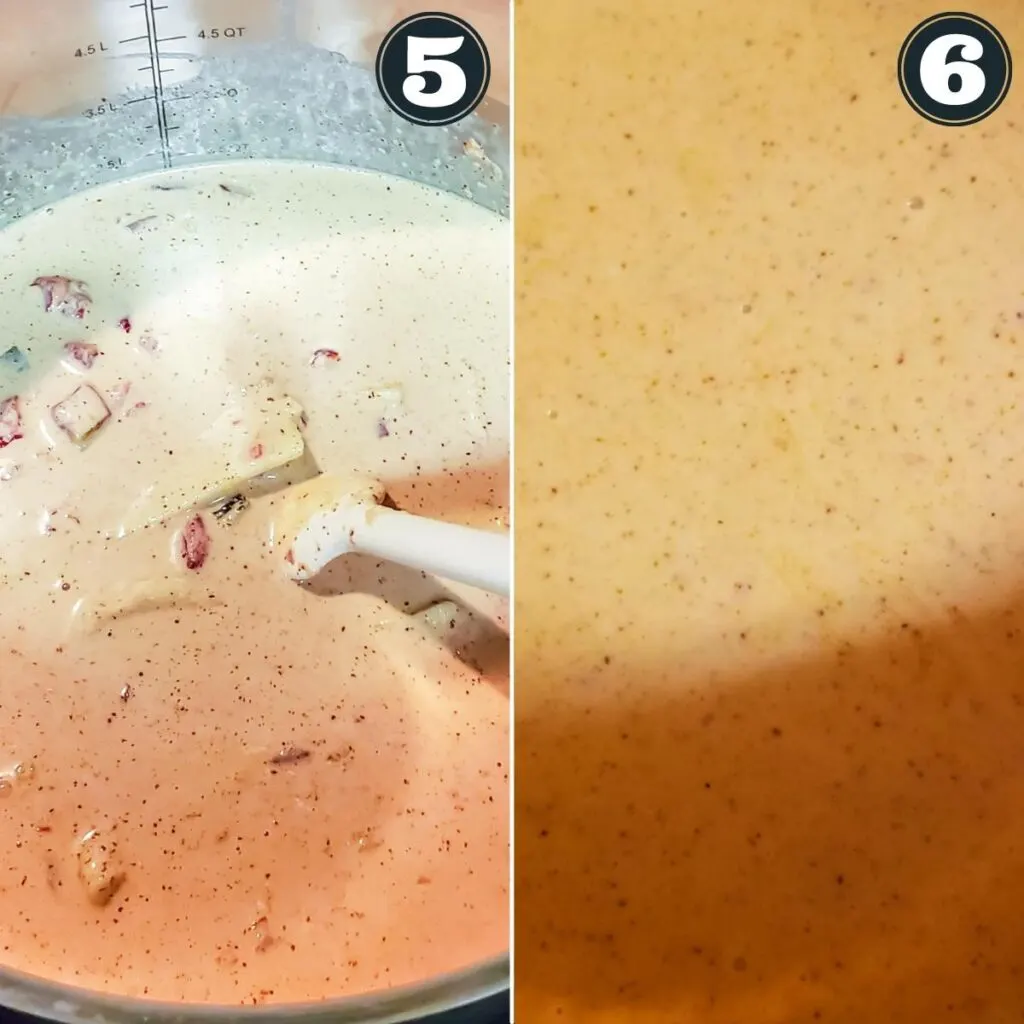 How To Keep Queso Warm
Queso is most delicious when it's warm, smooth, and creamy to easily dip a chip into.
However, the more it cools off, the thicker and less dippable it gets.
You can keep it on the stove on low for a short amount of time, but you do have to be careful to stir it frequently as it could scorch.
If serving at a party where you want it stay warm at a safe temperature for extended amount of time (more than 1 - 2 hours) I recommend placing it in a slow cooker or Crock Pot on the warm setting and giving it a stir now and then.
If you need the queso around for more than 3 to 4 hours I'd consider making a batch ahead of time, storing in the refrigerator, and then heating it up as needed to be safe.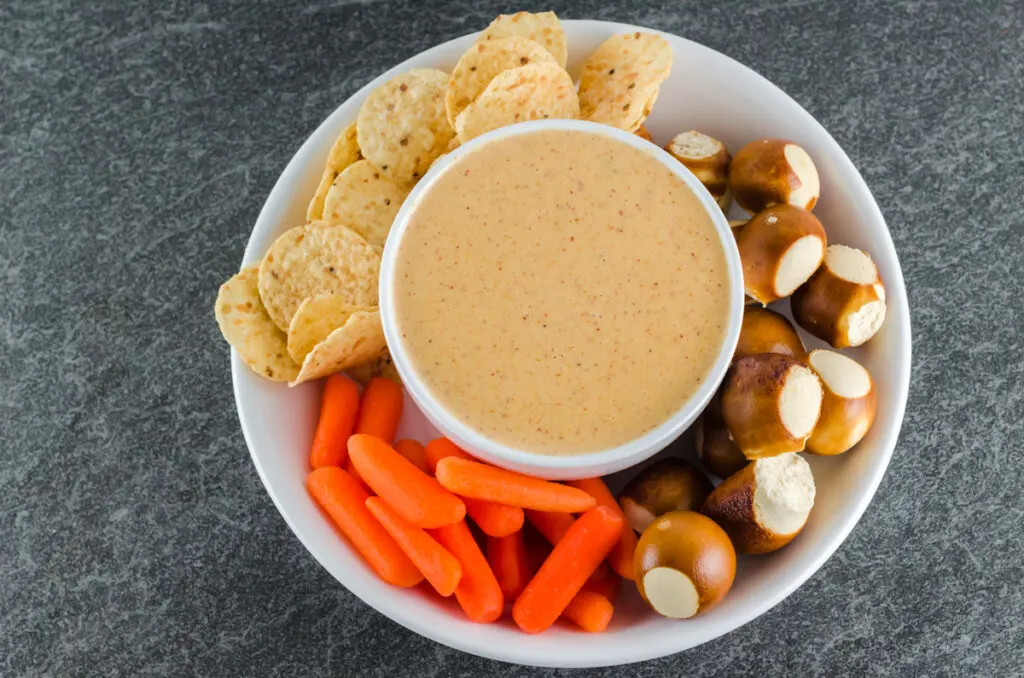 How To Reheat Queso Dip
Queso is the best when it's first made, but leftovers can be almost just as good.
Be sure to store them in an airtight container in the refrigerator for up to 3 days.
I haven't tried freezing this recipe but do think it would turn out okay. It should keep in the freezer if well stored for up to 3 to 4 months.
Thaw in the refrigerator and then reheat as detailed below. You may need to add a splash of dairy to thin it out.
The easiest way to reheat queso is in the mircowave, making sure to stop and stir it well every 30 to 60 seconds until it is creamy and warm.
You can also reheat it in a pan on the stove over low heat. You may need to add a splash of milk to thin it out a bit.
What To Serve With Queso
Wondering what to dip in queso? There are so many delicious ideas other than just tortilla chips including:
Soft pretzel bites or hard pretzel sticks
Raw veggies like carrots, cauliflower, celery, broccoli, cherry tomatoes, sliced peppers, or green onions
Taquitos
Baked potato wedges or french fries
Croutons
It's also super tasty drizzled over roasted potatoes or as the cheese sauce in chili cheese dogs.
More easy appetizer recipes: Bacon Wrapped Little Smokies, Chicken Fried Steak Fingers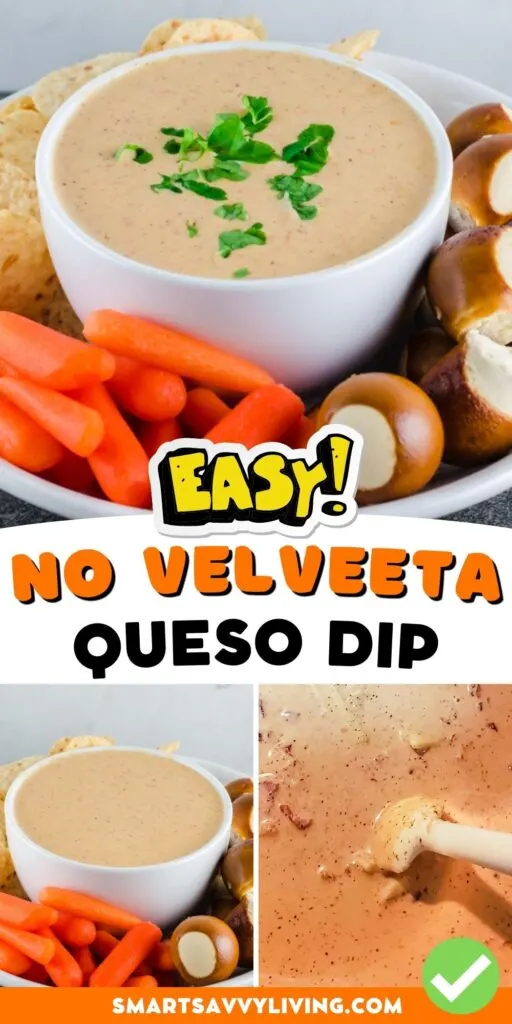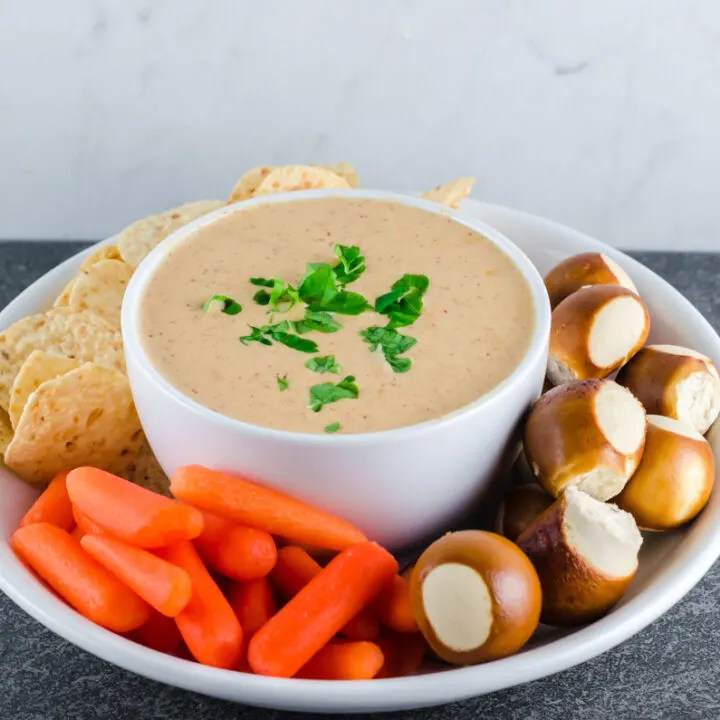 Queso Recipe Without Velveeta
Ingredients
1 cup whole milk, half and half, or heavy cream
1 teaspoon chili powder
½ teaspoon garlic powder
½ teaspoon onion powder
¼ teaspoon ground cayenne pepper
1 10-ounce can Rotel (or tomatoes and chiles), drained
1 pound American cheese, freshly sliced or shredded preferred
Salt, to taste (optional)
Instructions
Place 1 cup milk, half and half, or cream in a medium saucepan over low heat.
Stir in 1 teaspoon chili powder, ½ teaspoon garlic powder, ½ teaspoon onion powder, and ¼ teaspoon cayenne.
Drain a 10 ounce can of diced tomatoes with green chiles and stir into dairy mixture.
Slowly stir in American cheese by the slice or handful.
Continue heating over low heat stirring frequently until all of the cheese has been melted.
If the queso is too thin, you can add more cheese. If it's too thick you can add more milk or cream.
Taste for salt and other seasonings before serving as the saltiness will depend on the saltiness of the cheese used.
Serve immediately.
Notes
It's important to make this recipe over low heat and use American cheese only. If you do otherwise, the consistency may not turn out right.
Refrigerate any leftovers in an air-tight container for up to 3 days.
See original article at https://smartsavvyliving.com for tips to make this queso recipe along with ingredient substitutions, reheating tips and more.
Nutrition Information:
Yield:

8
Serving Size:

⅛th of recipe
Amount Per Serving:
Calories:

218
Total Fat:

16g
Saturated Fat:

9g
Trans Fat:

1g
Unsaturated Fat:

5g
Cholesterol:

52mg
Sodium:

982mg
Carbohydrates:

8g
Fiber:

0g
Sugar:

5g
Protein:

11g
Nutrition information may not be accurate. Optional garnishes and toppings aren't included. Nutrition information is calculated automatically by and provided by Nutritionix. Exact nutrition information depends on the specific ingredients, brands, and amounts you use.