This Easy Oven-Roasted Potatoes recipe is a great side for almost any meal! I received compensation for ingredients and products at no cost to make this recipe.
Easy Oven-Roasted Potatoes
With Mr. Savvy being half German and myself from the south, both of us have always been rather used to "meat and potatoes" type of meals. These days we try to not eat as many potatoes to keep our carb intake lower, but they still frequent our dinner table as they are nutritious and budget-friendly. Mashed potatoes is one of our favorite ways to eat potatoes, but with all the washing, peeling, boiling and then mashing, they aren't always a practical quick dinner prep side dish. Plus, when I make mashed potatoes, I prefer adding lots of butter and cream which I don't think my waistline overly appreciates.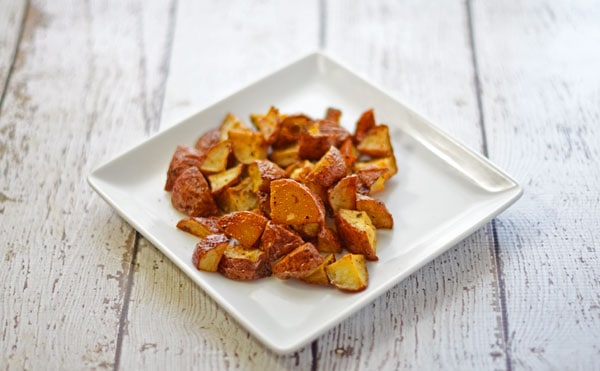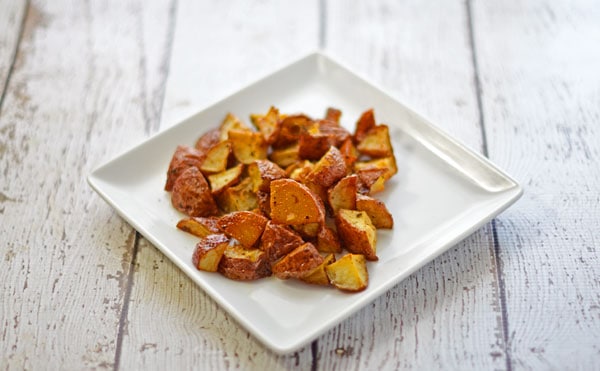 That's why I love making super easy oven-roasted potatoes. They do take a while to cook, but they are basically prep and forget. Plus, I make them with olive oil and herbs so they are much less heavy but also healthier! One of my favorite olive oils to use is Pompeian Extra Virgin Olive Oil as it adds a nice extra hint of flavor.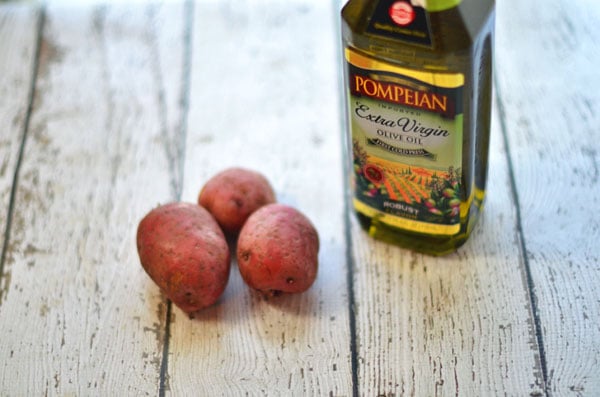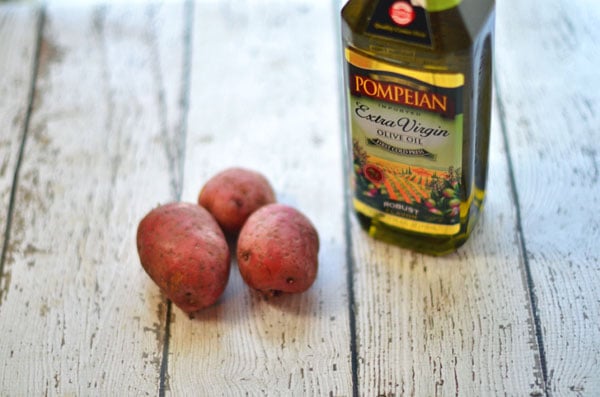 While some flavor obviously comes from the oil and potatoes, most of the flavor comes from the seasoning you use. That's one thing I really love about potatoes, just how easily they can be adapted to go with whatever main dish you are serving. Basil and oregano for Italian chicken, rosemary and garlic goes great with pork while cayenne and chili powder is perfect for Mexican and Spanish dishes. We were having roasted chicken, so I went with a bit of a mix of all three to change things up a bit: basil, oregano, garlic, seasoned salt, pepper, onion powder and a touch of cayenne.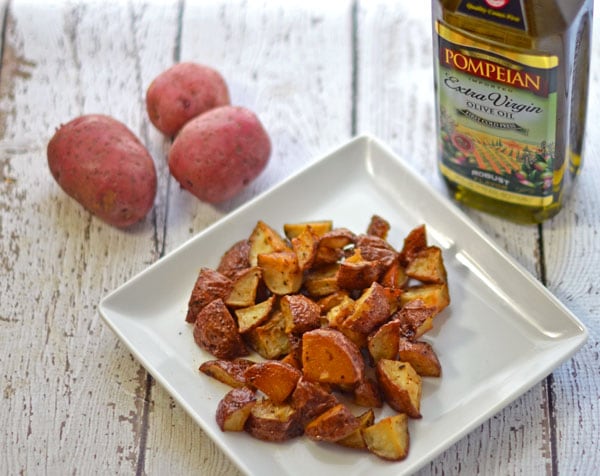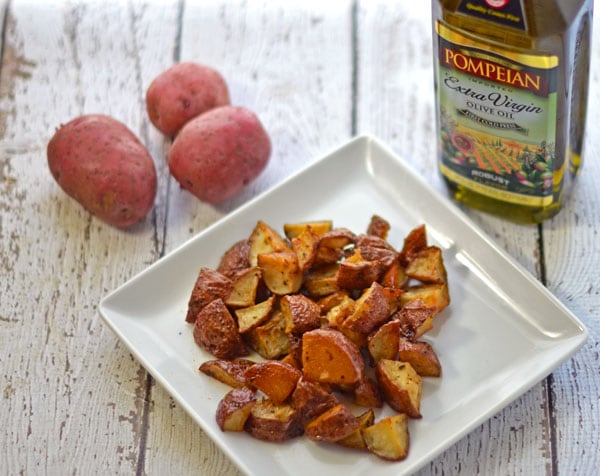 I never actually measure the ingredients when I make roasted potatoes as I never manage to chop up the same amount of potatoes from time to time and I am always changing up the seasonings I use. Don't fret, though, as potatoes can take a lot of seasoning and you can always add a touch more before you put them in the serving bowl if they need it. After a long bake in the oven, you'll have crispy oven-roasted potatoes. I always make a ton of these easy oven-roasted potatoes as Mr. Savvy loves them so much that he eats a few servings, plus they are great reheated the next morning with some eggs and bacon for breakfast.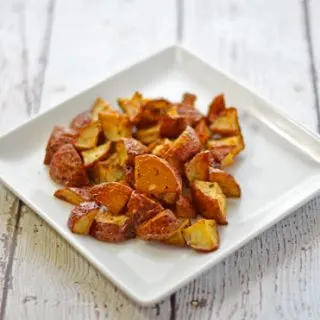 Easy Oven-Roasted Potatoes
These easy oven-roasted potatoes can be adapted to be a side dish for almost any meal!
Ingredients
Potatoes, about 2 small or 1 medium per person - I prefer red potatoes
Olive Oil
Salt - I use seasoned salt
Ground black pepper
Seasonings - I usually use garlic powder, onion powder, dried oregano and basil, and cayenne. Dried Rosemary, parsley, thyme, sage, chili powder and more are also great.
Instructions
Preheat oven to 400°F.
Rinse and clean potatoes.
You can peel the potatoes if you want, but I prefer to leave the skin on.
Chop potatoes into even cubes so they all get done at the same time.
Place potatoes in an even layer on a baking sheet with a rim. I usually use a half-sheet baking pan. Alternatively you can set them aside and then put into a gallon plastic baggie with your oil and seasonings and shake together for less mess, but I am more hands on.
Pour enough olive oil on top of your potatoes to coat and then toss to coat.
Sprinkle on salt, pepper and your other desired seasonings and then toss again to distribute evenly on the potatoes, making sure they are in a single layer.
Place in pre-heated oven and bake for 45 minutes to an hour until center is soft and the outside has started to crisp up. You may want to give them a stir halfway through for even crispness, but I usually get distracted.
Place into bowl and serve immediately.
Refrigerate leftovers. Leftovers are great reheated in the oven or in a buttered skillet.
Notes
Feel free to change up the seasonings to match your main dish. Some suggestions are basil, oregano and garlic for Italian dishes, rosemary and garlic for roasted chicken or pork, and cayenne and chili powder for Mexican and Spanish dishes.