Looking for a game day appetizer recipe that's different from the same old same old? Check out our delicious chicken parmesan meatballs recipe.
This is a sponsored recipe written by Smart Savvy Living on behalf of RAGÚ® Homestyle Pasta Sauce. All opinions are entirely my own. #Ragutailgating
I can't believe the holidays have already been over for a week now. But, I'm not too sad because that means we get to focus on the big game coming up.
I'm always honest that I'm not a big sports fan but I'm always happy to be there for the commercials and food.
I love coming up with different appetizers to make for game day and this year I decided to try coming up with a chicken parmesan meatballs recipe.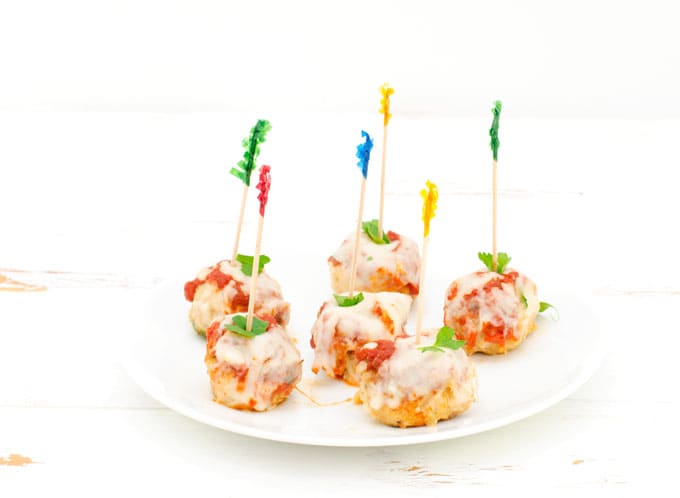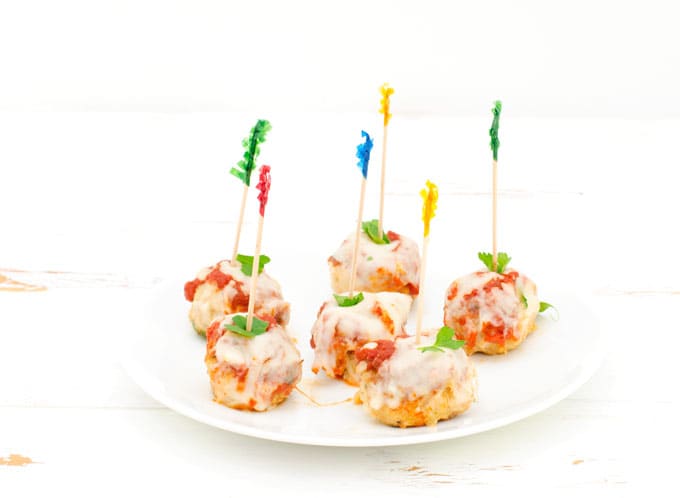 Chicken parmesan has always been one of my favorite meals but it's not exactly the easiest thing to eat in front of the TV.
These days you can get all sorts of ground meats, like ground chicken, at most of your local grocery stores so I was inspired to turn this Italian classic into meatballs.
They're super easy to put together and just take minutes to make.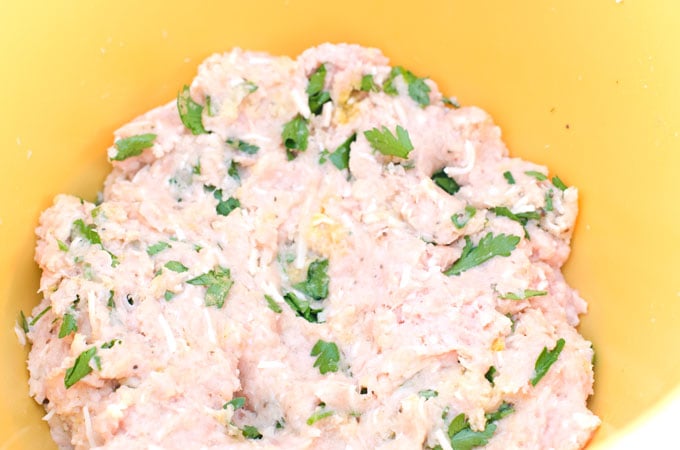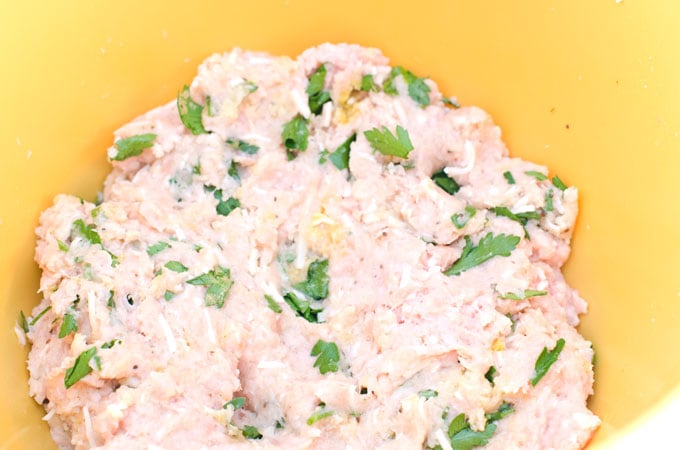 You can even make the meatball mix, form them, give them a quick browning, and then keep them in the fridge for up to 2 days.
Then you'll be ready to put them in a baking dish and slather them in some tangy tomato sauce and cheese to become all melty and delicious in the oven.
One of my secrets for making these chicken parmesan meatballs even easier (and faster) is to use a store-bought sauce like RAGÚ® Homestyle Pasta Sauce.
The Thick & Hearty Four Cheese variety brings out so much tastier cheesy flavor in these meatballs. This sauce is delicious to use in so many ways other than just over pasta.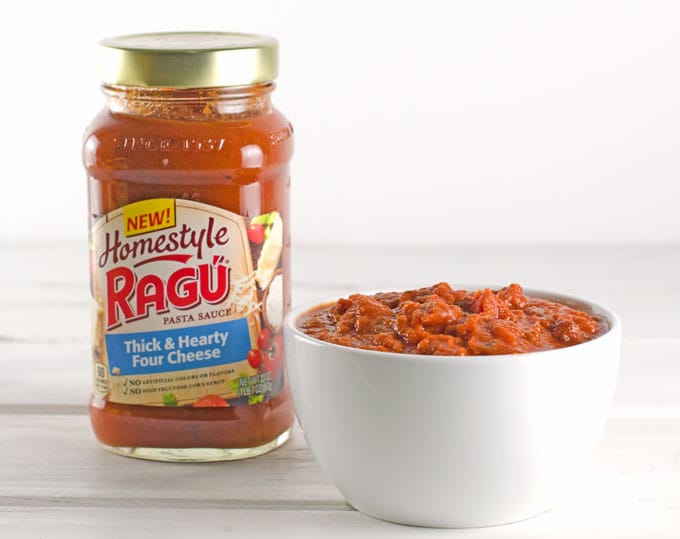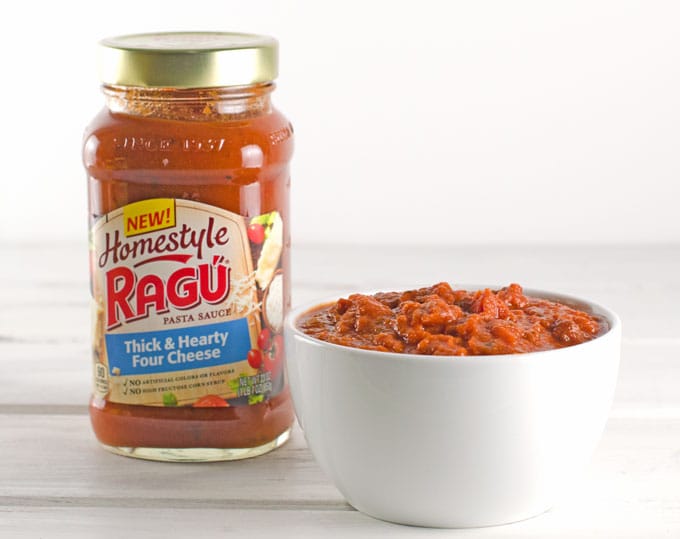 Why I Love Using RAGÚ Pasta Sauces
RAGÚ Homestyle Thick & Hearty Traditional Sauces are made with peeled, chopped, and simmered ingredients to create a robust texture, just like I would do
Uses farm-grown ingredients for a made-from-scratch taste
No artificial flavors, no high fructose corn syrup, and no artificial history
Available at local grocery stores like Kroger in the pasta sauce aisle
A variety of flavors available including Traditional, Thick & Hearty Four Cheese, Homestyle Roasted Garlic, and Meat Sauce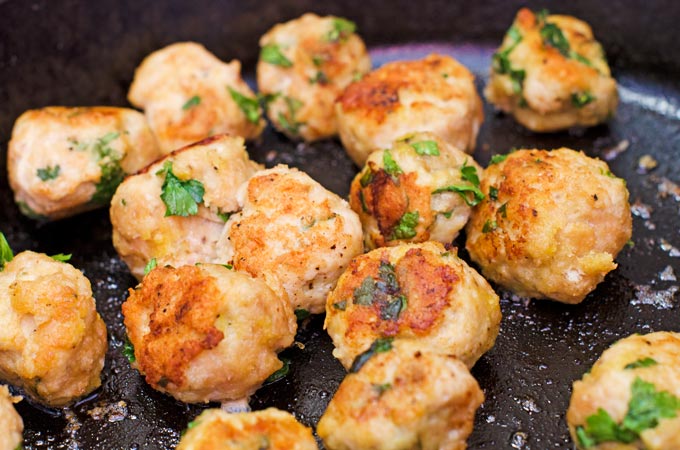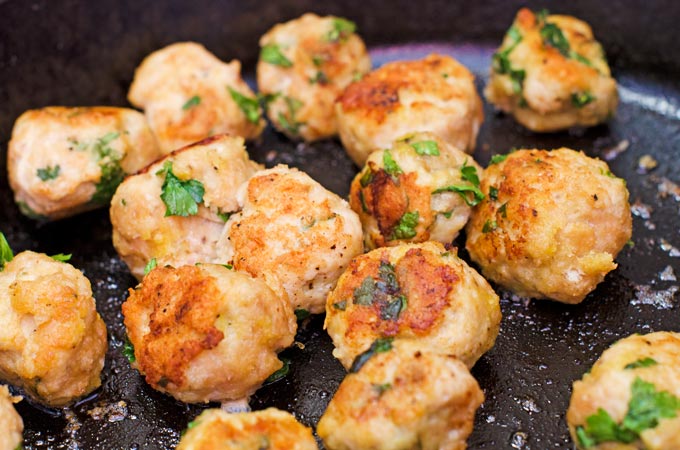 Honestly, it's rather amazing just how much flavor these little meatballs pack in.
I'd suggest making more than you think you'll need because your game-day guests won't be able to get enough.
In fact, Mr. Savvy couldn't stop eating them and saying how good they were.
That meant a lot to me because chicken dishes aren't something he usually raves about.
Luckily, this chicken meatball recipe is easily doubled or even tripled.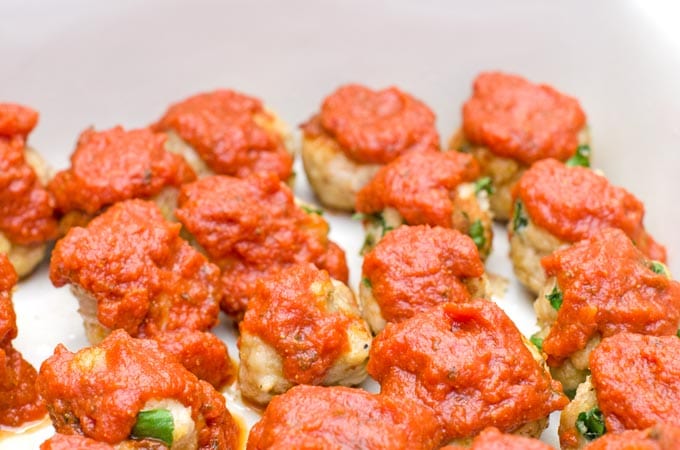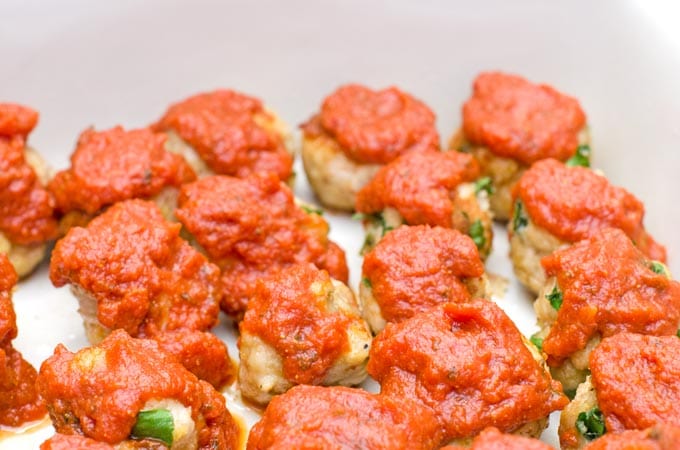 I like to serve them appetizer style with a toothpick so you can easily move around and eat them. They also do well with being passed around without needing a big hot and heavy dish.
But, I think they'd also make great meatball subs or even sliders.
While I haven't tried it, if you make a big batch you need to keep warm, I think the meatballs would turn out really well if you put them into a slow cooker after browning and then top with the sauce and cheese and keep them on low.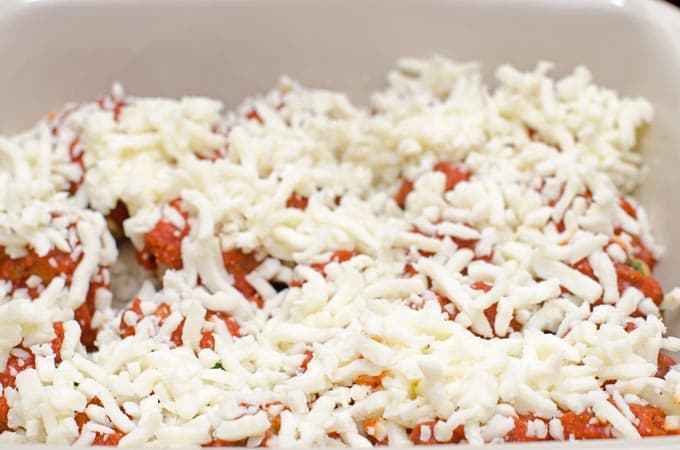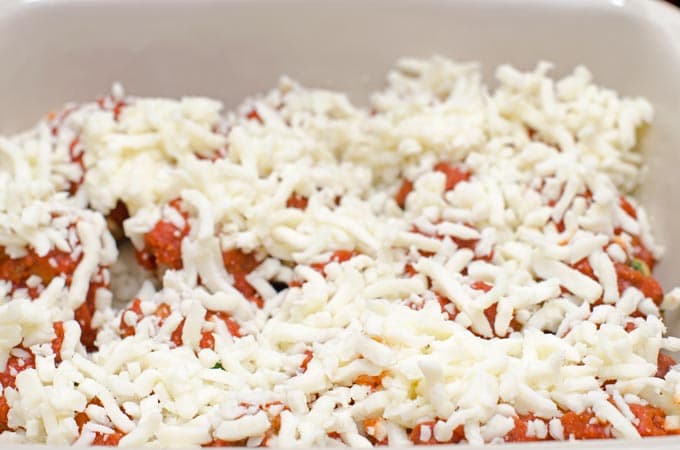 Just remember to not skimp on the sauce and cheese as, in my opinion, that's the key to some really great chicken parmesan.
Here's how to put the recipe together.
What are some of your favorite homegating recipes to serve during game day?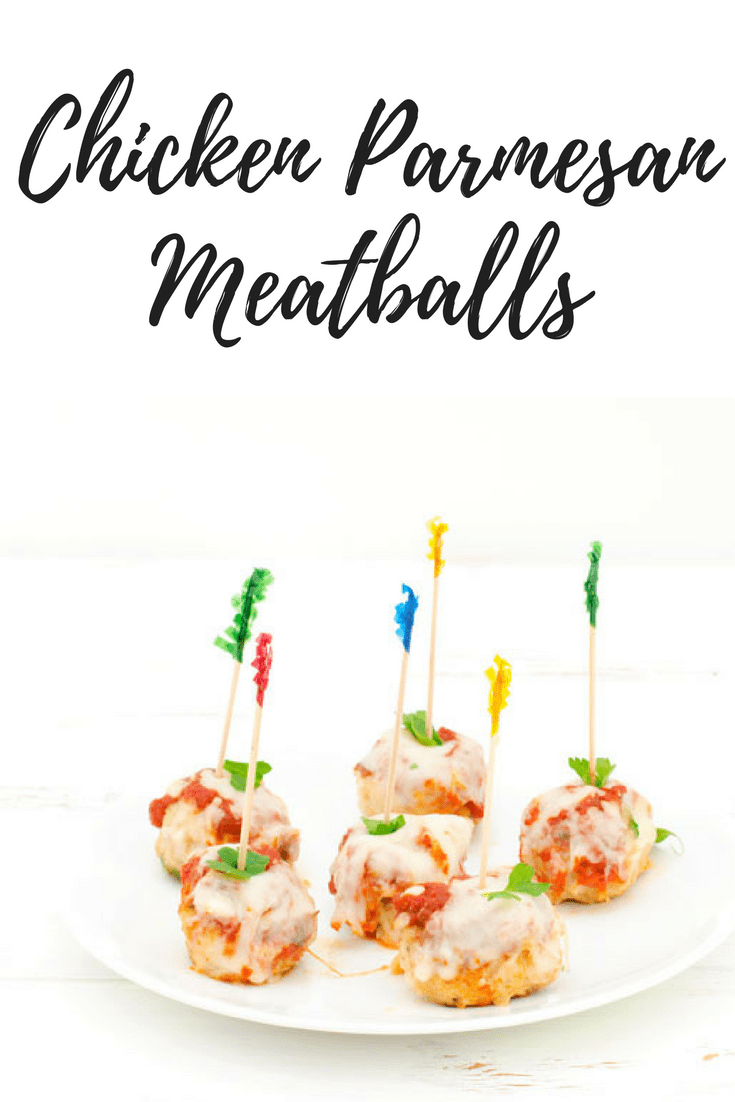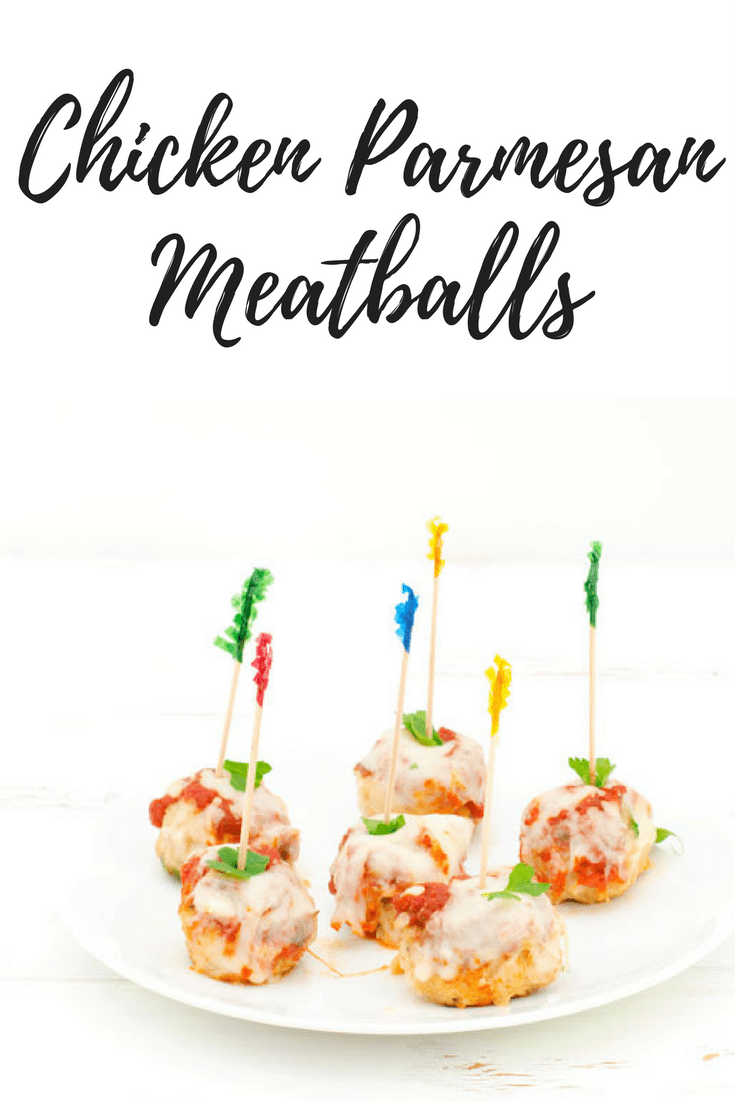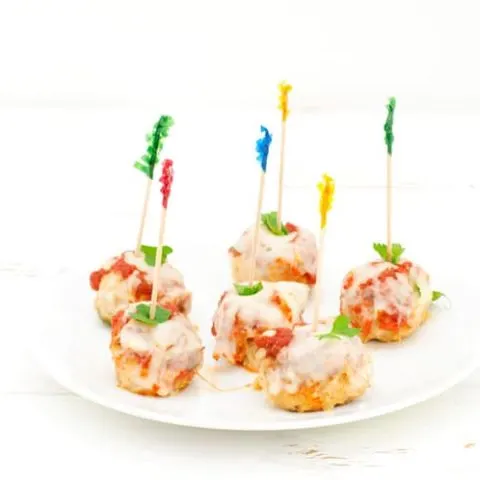 Chicken Parmesan Meatballs
Yield:
About 22 meatballs
Chicken parmesan is made easy by being turned into simple yet super flavorful meatballs.
Ingredients
1 pound ground chicken
½ cup panko bread crumbs, plain or Italian flavored
¼ cup shredded parmesan cheese or Italian blend
1 large egg, slightly beaten
3 tablespoons Italian (flat-leaf) parsley or basil, finely chopped
2 cloves garlic, finely chopped
1 tablespoon yellow onion, finely chopped
salt and pepper
Olive oil for frying
1 jar Ragu Homestyle 4 cheese pasta sauce
Shredded mozzarella, about 1 cup
Chopped parsley or basil for garnish (optional)
Instructions
Place ground chicken, panko crumbs, shredded parmesan or Italian blend cheese, egg, parsley or basil, garlic, onion, and a pinch of salt and pepper into a medium mixing bowl.
Using a spatula or your hands, thoroughly mix everything together until it's evenly combined, yet not overmixed.
Heat a large skillet over medium-high heat with enough olive oil to cover the bottom and preheat the oven to 350F. Shape meatball mixture into meatballs. I use a small cookie scoop to help make them all a similar size for even cooking.
Tip: to be sure seasoning is to your liking, fry a small patty of the meatball mixture before cooking the whole batch. Place meatballs in the heated skillet and brown on all sides, about 2 minutes per side.
At this point you can continue using your skillet if oven-safe or transfer the meatballs to a 9 x 9 baking dish. Place a spoonful of Ragu sauce on each meatball. Sprinkle meatballs heavily with shredded mozzarella.
Bake for 10 - 15 minutes at 350F or until sauce is bubbling, the cheese is melted and meatballs have completely cooked through.
Place the meatballs on a serving dish. Top with chopped parsley or basil if desired. I like to stick a decorative toothpick in each meatball for easy eating. Can serve with additional sauce for dipping.
Notes
These chicken parmesan meatballs are also great as a main dish over pasta or made into a sub.
Nutrition Information:
Yield:

4
Serving Size:

5 meatballs
Amount Per Serving:
Calories:

900
Total Fat:

48g
Saturated Fat:

21g
Trans Fat:

1g
Unsaturated Fat:

22g
Cholesterol:

268mg
Sodium:

1222mg
Carbohydrates:

60g
Fiber:

4g
Sugar:

9g
Protein:

58g
Nutrition information may not be accurate. Optional garnishes and toppings aren't included. Nutrition information is calculated automatically by and provided by Nutritionix. Exact nutrition information depends on the specific ingredients, brands, and amounts you use.