This Individual Brownies with Peanut Butter Bird's Nest Frosting recipe is perfect for any spring or Easter celebration with a flavor combination almost everyone loves.
We always see a ton of cupcakes at Easter. I'll never say no to a cupcake but I feel like even more people love brownies.
Plus, when you top them with a creamy homemade peanut butter frosting it's a fun Easter dessert all ages will love.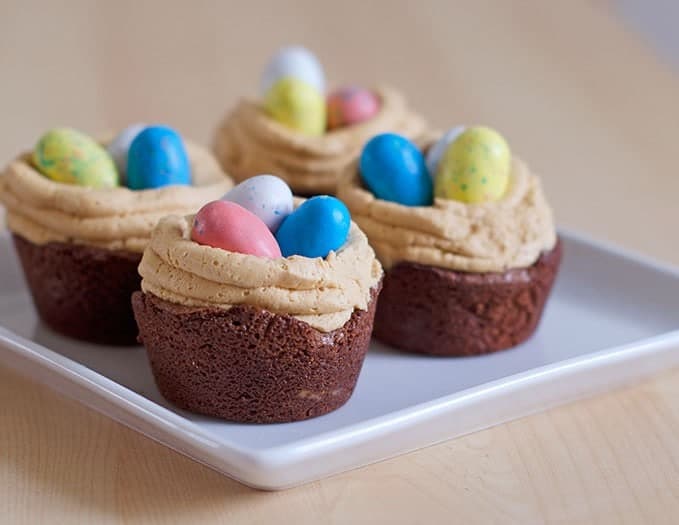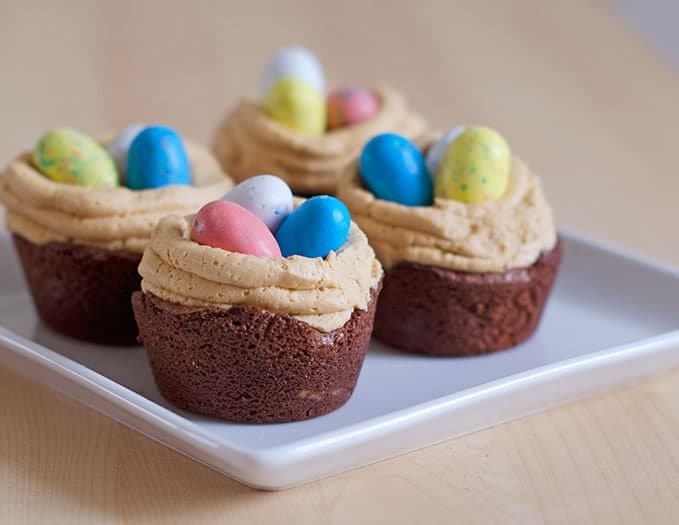 Growing up, we often made bird nest cupcakes and candies for Easter, so I wanted to honor that tradition, while still changing it up a bit.
Usually, I would make my brownies from scratch, but sometimes life just happens. As it turns out, I'm not actually superwoman.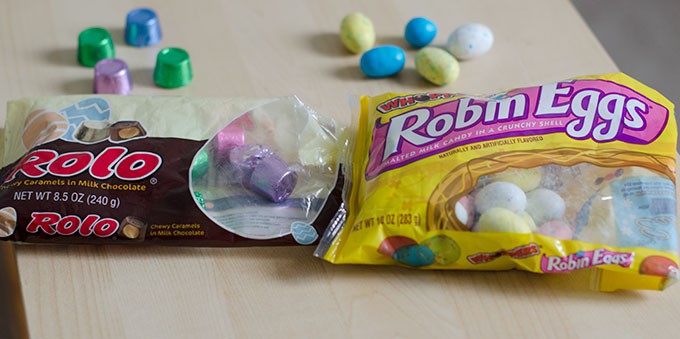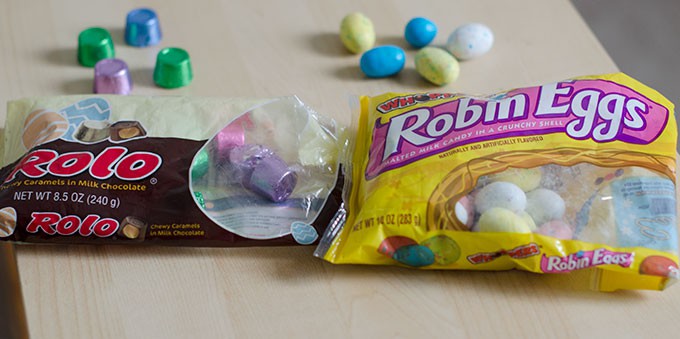 After major unexpected surgery last year, I've learned I don't have to do it all perfectly all the time. I just didn't have it in me to make brownies from scratch and that's totally okay.
So I decided to soup up a boxed mix and I have to admit they actually turned out really good! You can find my tips for how to make boxed brownie mix taste homemade here.
I love baking brownies in a muffin tin because that way everyone gets a good amount of crunchy crispy edge goodness, while still having the decadent fudgy center.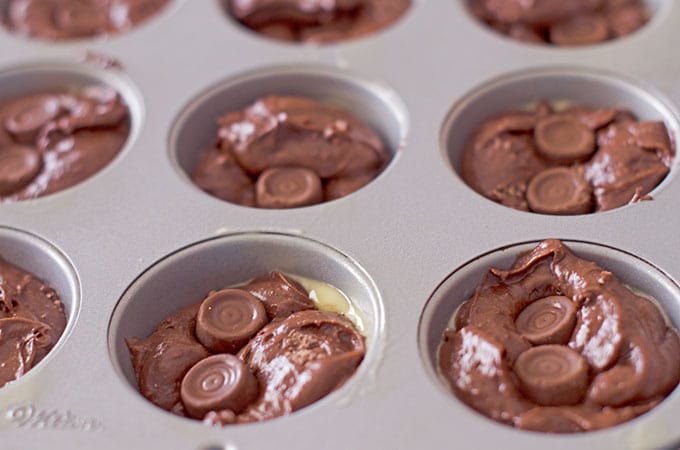 I always loved the surprise of Easter and opening up the plastic Easter eggs and finding a treat inside, or taking a bite of candy and not knowing if you'd find more chocolate, peanut butter, creme filling, etc.
So, I decided to make these brownies extra special and put some ROLO candies inside to recreate that surprise feeling.
ROLO candies are perfect in these as they slightly melt into the brownie while providing that bit of chewy caramel goodness. You can even buy unwrapped ROLOs now to make it a bit faster.
We're big fans of the peanut butter and chocolate combo, so I decided to make a simple peanut butter frosting to make a "nest" topping with.
Fill up the nest with some WHOPPERS ROBIN EGGS and you're on your way to delicious Easter eats.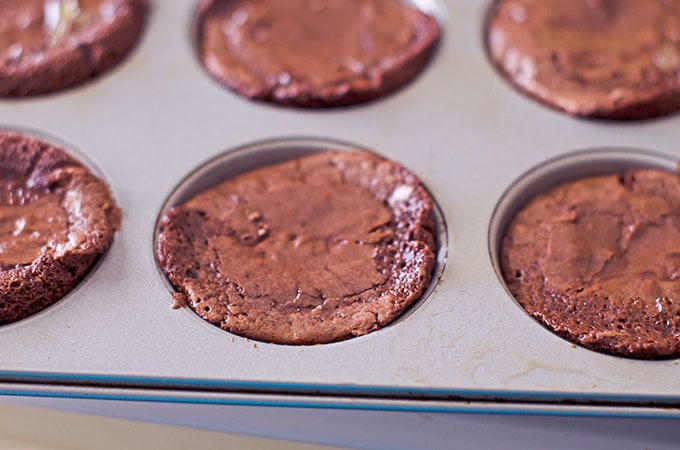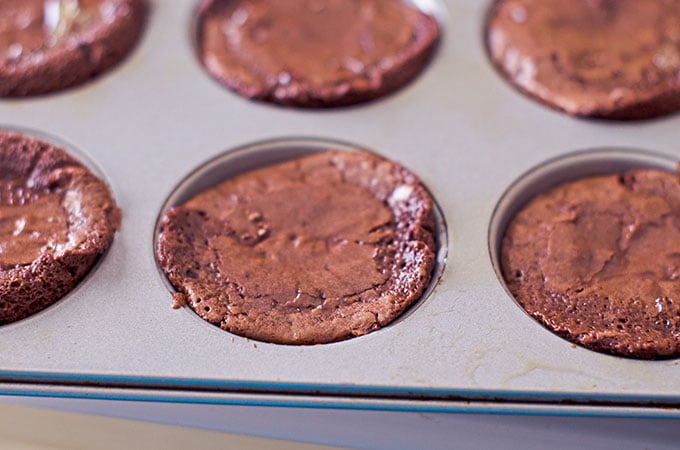 You can also top the frosted brownies with a peep to make things look a little more nest-like if you're like me and haven't made your way to the master decorating level yet. But, I honestly like the homemade look over the pristine and perfectly piped look, too.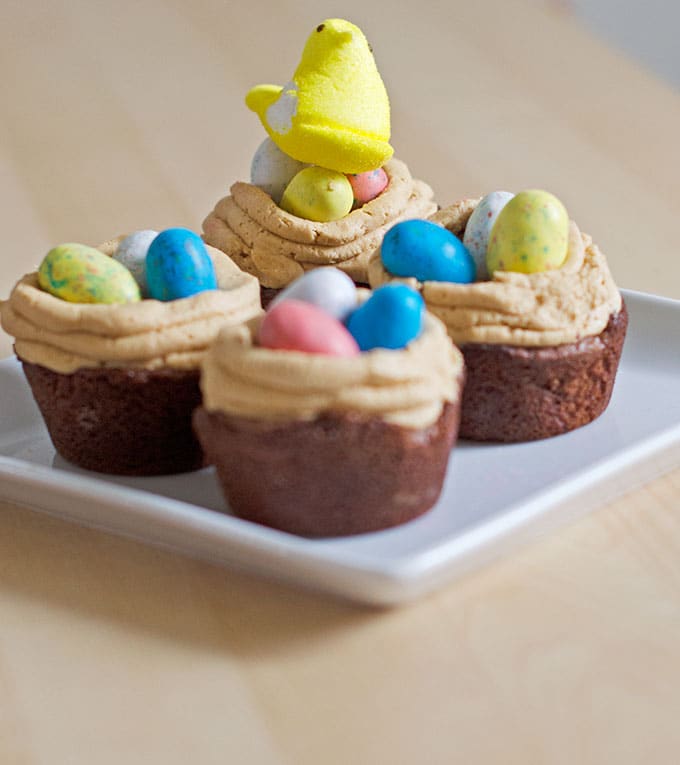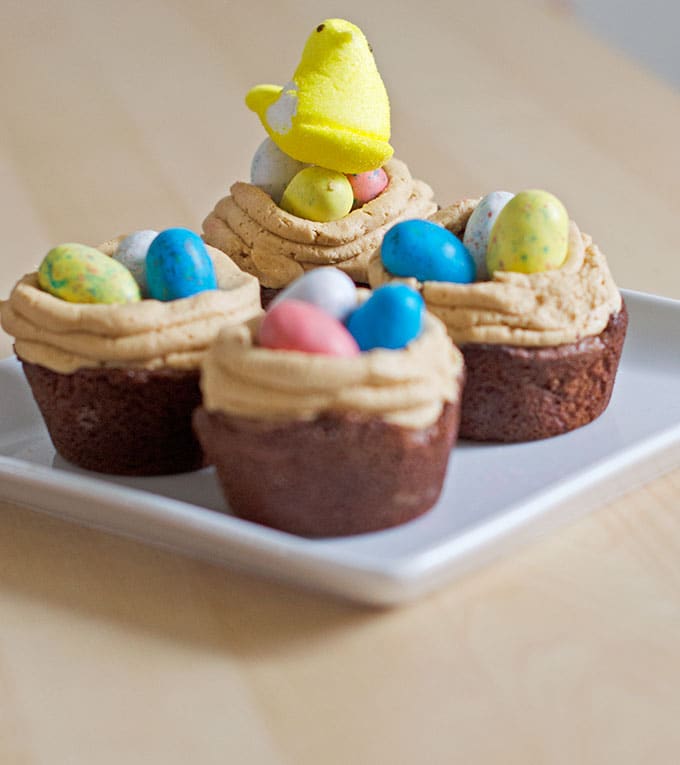 More Easter Dessert Recipes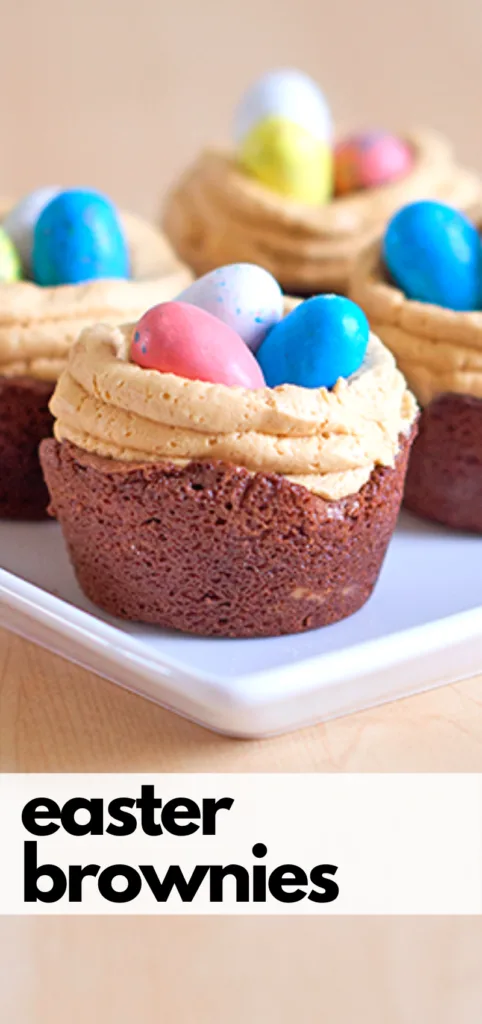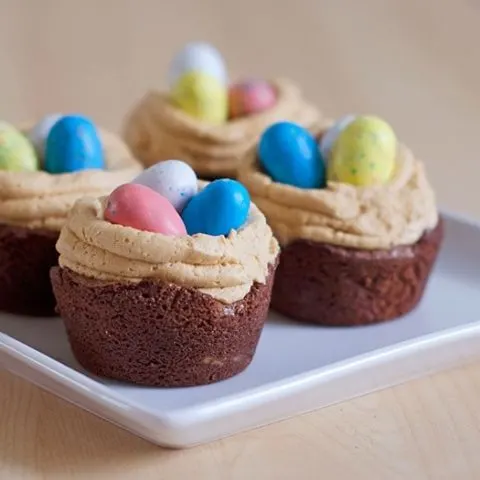 Individual Brownies with Peanut Butter Bird's Nest Frosting Recipe
Yield:
12 Individual Brownies
Total Time:
1 hour
35 minutes
Individual brownies topped with fluffy peanut butter frosting as a nest and Robin eggs candy make the perfect sweet treat for a spring or Easter celebration.
Ingredients
Brownie Ingredients
2 large eggs
¼ cup brewed coffee, room temperature (or use water or milk)
1 stick (½ cup) melted butter, slightly cooled (or use oil)
1 cup peanut butter frosting (recipe below)
Fluffy Peanut Butter Frosting Ingredients
¼ cup unsalted butter, softened
½ teaspoon vanilla extract
1 ½ Tablespoons heavy cream, half & half, or milk
⅛ teaspoon sea salt (optional)
Instructions
Pre-heat oven to 350° F (or 325° F if using dark-coated pan).
In a large mixing bowl, stir or whisk together the brownie mix, 2 eggs, ¼ cup coffee, ½ cup butter and 1 teaspoon vanilla until thoroughly combined, about 50 strokes.
Grease 1 muffin tin that has 12 1-cup portions with butter or non-stick spray.
Spoon brownie batter into muffin tins, about ¾ of the way up. You may have a bit of batter leftover that you can spoon over the top after adding the ROLO candies.
Lightly push 2 ROLO candies side by side into each brownie, being careful to not push them all the way to the bottom so your brownies don't stick.
Place in 350°F oven and bake until brownies have reached your desired doneness, about 15 - 20 minutes. I like to under bake my brownies just a bit so they have that nice fudgy center.
Once baked, remove pan from oven and place on a cooling rack to cool completely. Remove from pan before frosting with peanut butter frosting (recipe below).
Using a piping bag or food storage bag with a tip cut off, pipe a layer of frosting over the top of each brownie.
Then, pipe a circle of frosting around the outer edge of the brownies and repeat with another 2 - 3 circle layers high to create a nest look.
Add 2 - 3 WHOPPERS ROBIN EGGS inside the "nest" frosting of each brownie and top with a Peep, if desired.
Serve immediately or store in an air-tight container in the refrigerator for up to 3 days.
Peanut Butter Frosting Directions
In a medium sized bowl or using a stand mixer, beat together ¼c butter and ½c peanut butter for a few minutes at a medium to high speed until thoroughly combined and light and fluffy.
Turn speed to low and add in 1c sugar in small increments.
Once sugar has been incorporated and mixture is thick, add in ½t vanilla and then add in the cream or milk by the half tablespoon until frosting reaches your desired consistency. You may need more or less than 1.5 Tablespoons depending on the dryness of the day and consistency you want. A thicker consistency is recommended for piping.
Taste frosting and add up to ⅛t salt if desired.
Frost as needed, storing leftovers covered in the refrigerator for up to 3 days.
Notes
Make sure to taste your frosting before adding salt as some peanut butters are saltier than others.