This post with my Individual Brownies with Peanut Butter Bird's Nest Frosting recipe is part of a sponsored written by me on behalf of Global Influence with products supplied by HERSHEY'S. #BunnyTrail
I just love this time of year and always look forward to Easter. As a child, I loved getting dressed in my Sunday best and going on Easter egg hunts and finding all sorts of various goodies. This was followed by a trip to Grandma's for the yearly chocolate bunny and family ham dinner. As an adult, I love Easter for different reasons, but one thing has honestly not changed. I still love all the chocolates and other Easter goodies!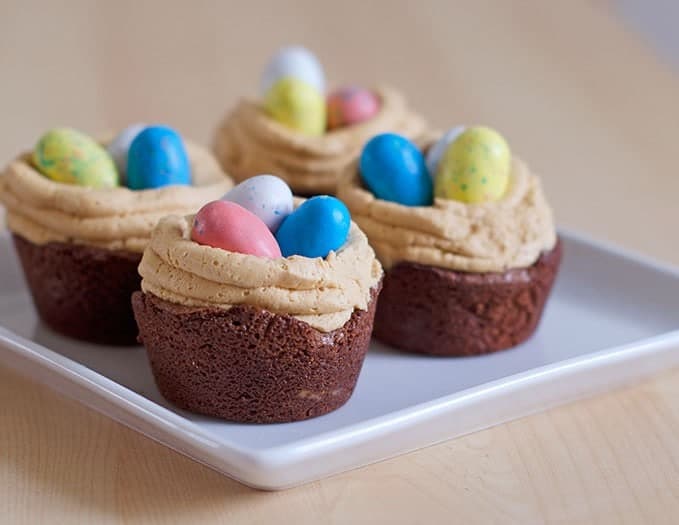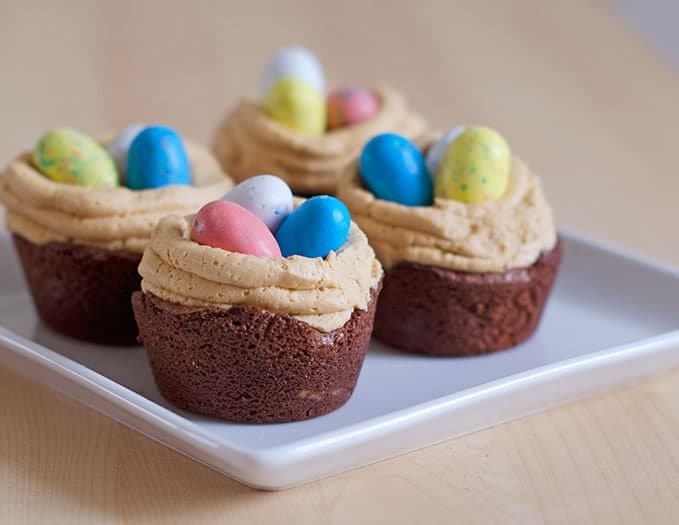 So, I was needless to say more than happy to oblige when HERSHEY'S sent me some of their famous Easter candies (psst..make sure to read the whole post to enter to win some of your own!) to make a recipe with. Growing up, we often made bird nest cupcakes and candies for Easter, so I wanted to honor than tradition, while still changing it up a bit. Cupcakes are always a hit, but this baking day I was totally craving brownies. Plus, Mr. Savvy has been oh so patiently awaiting me to make some for months now.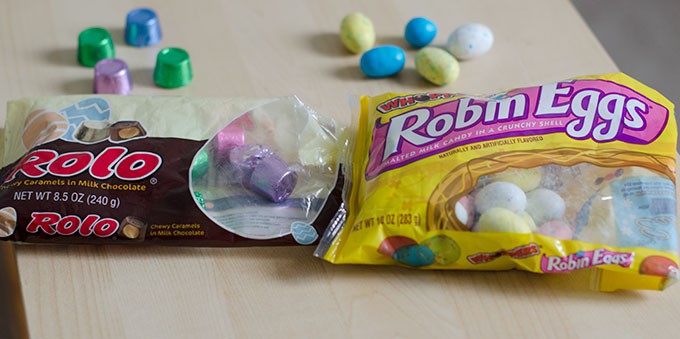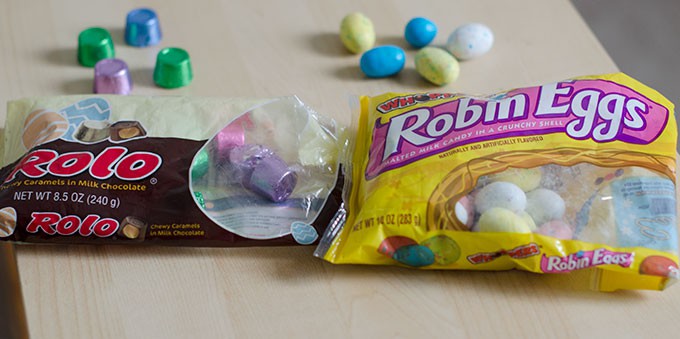 Usually I would make my brownies from scratch, but as you guys may know, over the past few weeks we have been moving. As it turns out, I'm not actually super woman and totally threw my back out. Like so much pain I couldn't even go upstairs in our new home or be on my feet for more than a minute pain. Luckily, I'm feeling a bit better every day, but I just didn't have it in me to make brownies from scratch yet. So I decided to soup up a boxed mix and I have to admit they actually turned out really good! I love baking them in a muffin tin because that way everyone gets a good amount of crunchy crispy edge goodness, while still having the fudgy center.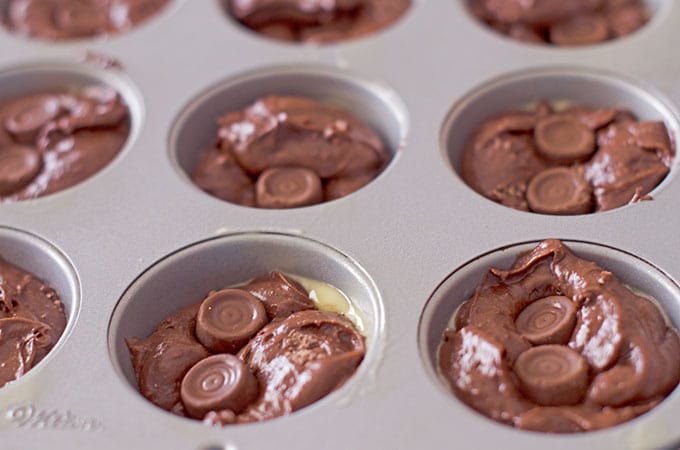 I always loved the surprise of Easter and opening up the plastic Easter eggs and finding a treat inside, or taking a bite of candy and not knowing if you'd find more chocolate, peanut butter, creme filling, etc. So, I decided to make these brownies extra special and put some ROLO candies inside to recreate that surprise feeling. ROLO candies are perfect in these as they slightly melt into the brownie while providing that bit of chewy caramel goodness. Yum. We're big fans of the peanut butter and chocolate combo, so I decided to make a simple peanut butter frosting to make a "nest" topping with. Fill up the nest with some WHOPPERS ROBIN EGGS and you're on your way to delicious Easter eats.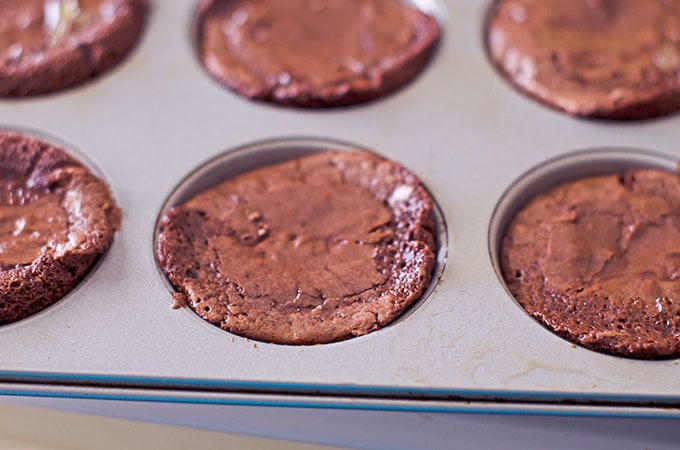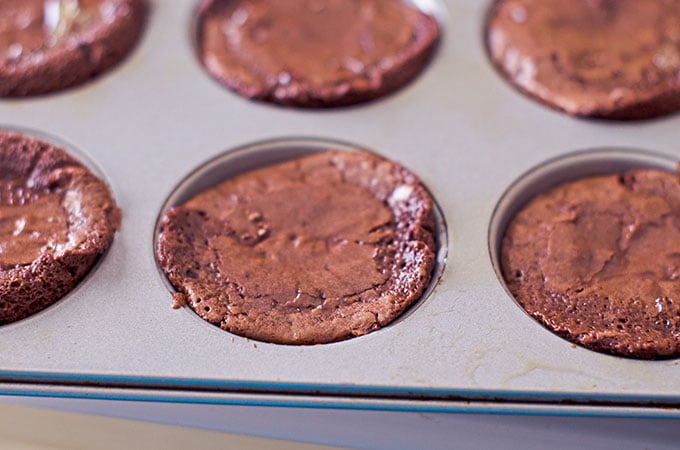 You can also top the frosted brownies with a peep to make things look a little more nest-like if you're like me and haven't made your way to the master decorating level yet. But, I honestly like the homemade look over the pristine and perfectly piped look, too.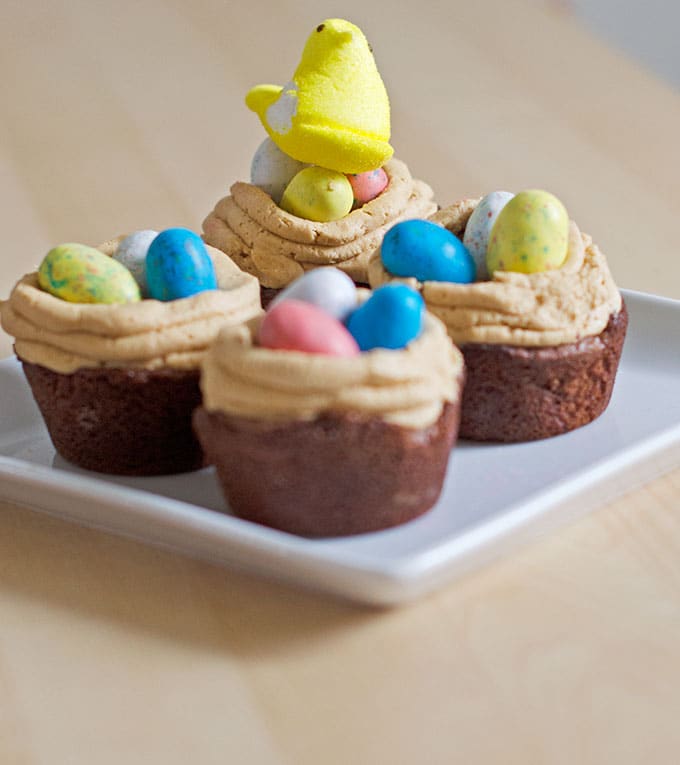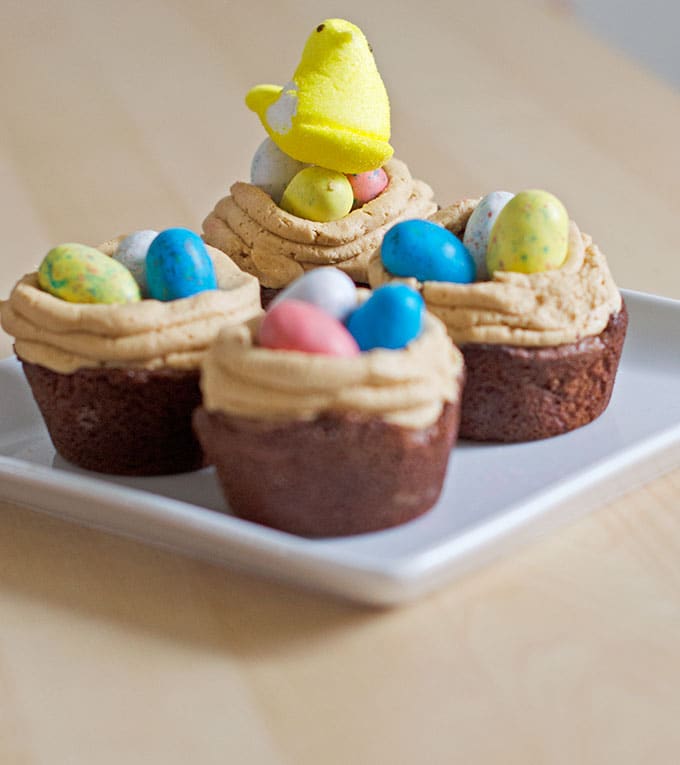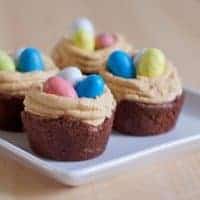 Individual Brownies with Peanut Butter Bird's Nest Frosting Recipe Fluffy Peanut Butter Frosting
This fluffy peanut butter frosting recipe is great on brownies, cupcakes, and cakes.
Ingredients
1 family-size or 9 x 13 size fudgy brownie mix
2 large eggs
1/4 cup brewed coffee, room temperature (or use water or milk)
1 stick (1/2 cup) melted butter, slightly cooled (or use oil)
1 teaspoon vanilla extract
Non-stick spray or butter for greasing
24 unwrapped ROLO candies (optional)
1 cup peanut butter frosting (recipe below)
36 WHOPPERS ROBIN EGGS
Peeps (optional)
1/2 cup unsalted butter, softened
1 cup creamy peanut butter
2 cups confectioners (powdered) sugar
1 teaspoon vanilla extract
3 Tablespoons heavy cream or milk
1/4 teaspoon sea salt (optional)
Instructions
Pre-heat oven to 350 F (or 325 F if using dark-coated pan).
In a large bowl, stir or whisk together the brownie mix, eggs, coffee, butter and vanilla until thoroughly combined, about 50 strokes.
Grease 1 muffin tin that has 12 1-cup portions with butter or non-stick spray.
Spoon brownie batter into muffin tins, about 3/4 of the way up. You may have a bit of batter leftover that you can spoon over the top after adding the ROLO candies.
Lightly push 2 ROLO candies side by side into each brownie, being careful to not push all the way to the bottom so your brownies don't stick.
Place in 350 F oven and bake until brownies have reached your desired doneness, about 15 - 20 minutes. I like to underbake my brownies just a bit so they have that nice fudgy center.
Once baked, remove pan from oven and place on cooling rack to cool completely. Remove from pan before frosting with peanut butter frosting (recipe below).
Using a piping bag or food storage bag with a tip cut off, pipe a layer of frosting over the top of each brownie.
Then, pipe a layer of frosting around the outer edge of the brownies another 2 - 3 layers high to create a nest look.
Add 2 - 3 WHOPPERS ROBIN EGGS inside the "nest" frosting of each brownie and top with a Peep, if desired.
Serve immediately or store in an air-tight container in the refrigerator for up to 3 days.

In a medium sized bowl or using a stand mixer, beat together butter and peanut butter for a few minutes at a medium to high speed until thoroughly combined and light and fluffy.
Turn speed to low and add in sugar in small increments.
Once sugar has been incorporated and mixture is thick, add in the vanilla and then add in the cream or milk by the Tablespoon until frosting reaches your desired consistency. You may need more or less than 3 Tablespoons depending on the dryness of the day and consistency you want. A thicker consistency is recommended for piping.
Taste frosting and add salt if desired.
Frost as needed, storing leftover in the refrigerator for up to 3 days.
Notes
This recipe makes 2 cups of peanut butter frosting, which is enough to frost a 2-layer cake or 24 cupcakes. Make sure to taste your frosting before adding salt as some peanut butters are saltier than others.


Be sure to visit CelebrateWithHersheys.com for more information about using your favorite Easter goodies from HERSHEYS like these REESE'S Miniatures Easter Baskets. I love that you don't even have to do any baking!