Happy Easter! One of my favorite things about Easter are all the super cute treats that just scream spring.
While I love the traditional carrot and coconut cakes, etc. this Easter Egg Nests recipe has been a favorite since I was a young child.
One of my favorite sweet and salty snacks are chocolate covered pretzels, which I think these chocolate covered chow mein egg nests are very similar to.
The ingredients are very simple with a recipe that's equally as simple, but oh so tasty. Every time I make these I refer to them as Easter crack.
I'm not sure why I have always loved these so much. Knowing me, it was probably because it was a double dose of sweet treats with the chocolate candy eggs or jelly beans that commonly make up the "eggs" of the nest, though I think it's totally cute to use peeps as well.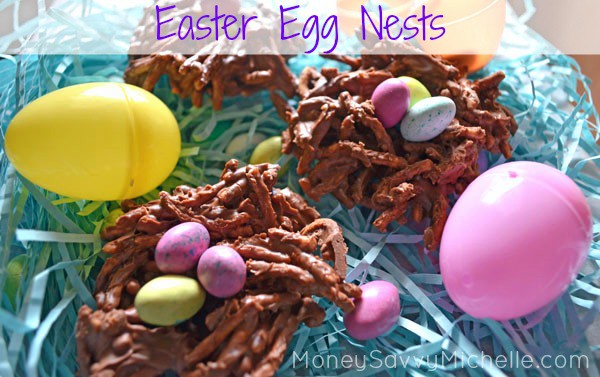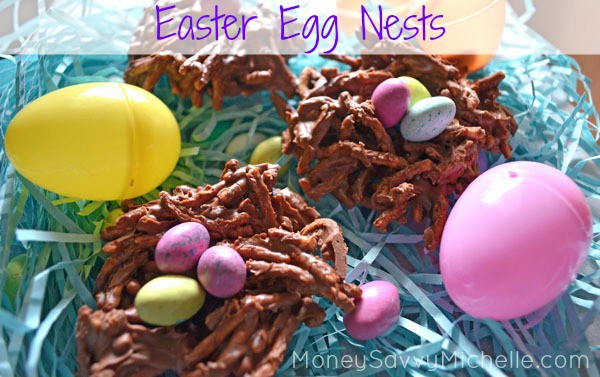 Since this recipe is so simple, it's great to get the kids involved with. Just help melt the chocolate and let them dig right in to helping make the nests.
It can get quite messy, so make sure you aren't wearing nice clothes and have plenty of towels for cleanup! This recipe is very versatile with what flavors you may want to use.
I prefer the taste of butterscotch with milk chocolate, but if you prefer the lighter traditional look of the nests, you may want to use white chocolate and butterscotch or peanut butter chips.
Also make sure you have parchment or wax paper to put the nests on - if you use plastic or foil, the chocolate can stick to it and be a pain to peel off.
These will harden at room temperature, but if you need them ready asap, you can stick them in the fridge for a few minutes.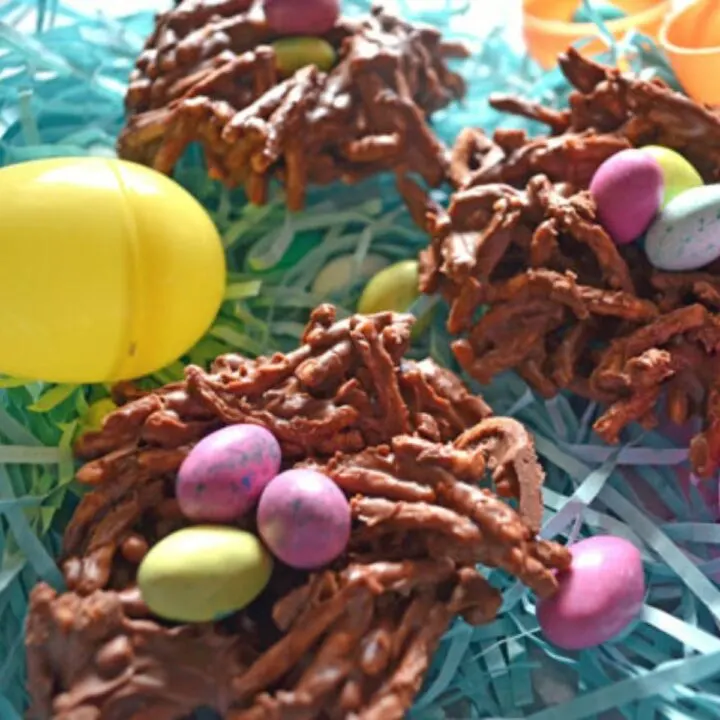 Easter Egg Nests Recipe
This all-time favorite Easter sweet treat is loved by sweet teeth of all ages.
Ingredients
2 11.5 ounce bags of morsels/chips of your choice - I use milk chocolate and butterscotch
½ Tablespoon unsalted butter
⅛ teaspoon salt (optional)
¼ teaspoon vanilla extract (optional)
1 12 ounce bag of chow mein noodles
Non-stick cooking spray
Egg-shaped candies such as M&M's or jelly beans
Instructions
Place 2 large strips of parchment or wax paper on your counter top.
Place morsels/chips and butter over low heat in a large pot. Once chips are almost all melted, remove pot from heat and stir until fully melted.
Stir in salt and vanilla if using - they help to add a bit extra flavor.
Add chow mein noodles to chocolate and gently stir until thoroughly coated.
Spray hands thoroughly with non-stick spray and scoop out 2-3 tablespoons of candy and shape into a ball.
Place on parchment/wax paper and slightly flatten and make a well in the middle for a nest shape.
Once all nests have been made, put candies in the center of the nests as eggs.
Allow nests to fully cool and harden at room temperature, or place in the fridge to cool faster.
Store leftovers in an air-tight container at room temperature for up to 3 days or longer in the fridge.
Notes
Change up the flavor and shade of the nests by using various chocolate and chips such as white/dark/milk chocolate and/or butterscotch, peanut butter, etc. chips.