One of my favorite things about all the various holidays is having an excuse to make all sorts of special decadent and delicious treats and dishes.
While I always look forward to having ham and sweet potatoes on Easter, I also love the sweet treats like carrot cake, chocolate nests, etc.
This year I wanted to make something different, though, and the boyfriend had been asking me to make some butterscotch rice krispies.
I kept seeing the recipe for rice krispies eggs come up, so I of course had to try making a Butterscotch Rice Krispies Eggs recipe!
This butterscotch rice krisipies eggs recipe is pretty similar to the traditional rice krispies recipe. I do make a few additions to add a bit of extra flavor, though.
This was actually my first time adding a butterscotch flavor to rice krispies, but it's kept simple with chips and Mr. Savvy and I both agreed that it added a delicious pop of flavor.
Not to mention that it was a welcome change from the same old same old.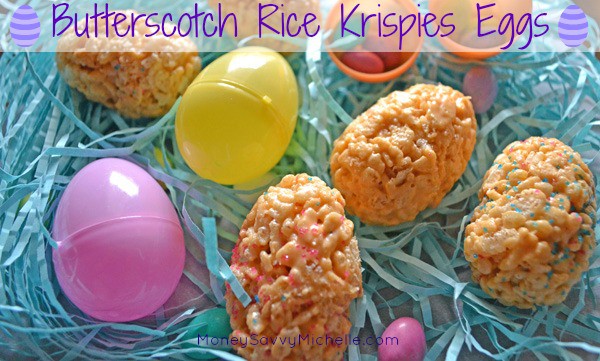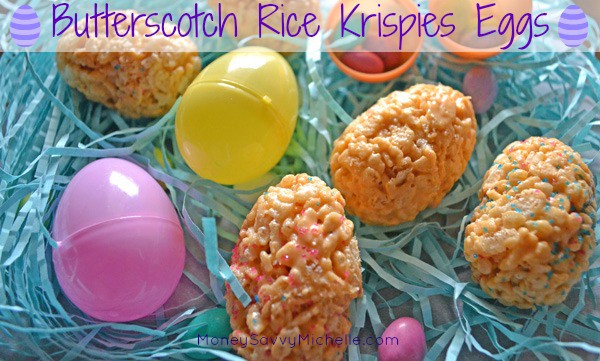 The rice krisipes eggs are very easy to make and the kids are sure to have fun helping to make them.
They are pretty messy though, so make sure to wear clothes that you don't care about keeping pristine and have lots of clean towels ready!
As always, you can alter this recipe to you and your family's tastes. For example, you could use different types of chips, or none at all, or maybe even use a different type of cereal.
I put a candy in the center of some of the eggs, while other eggs were solid rice krispies.
I decorated some of the eggs with colored sugar, and left others plain, but I think that all sorts of candies, melted chocolate or icings would be perfect to decorate with as well.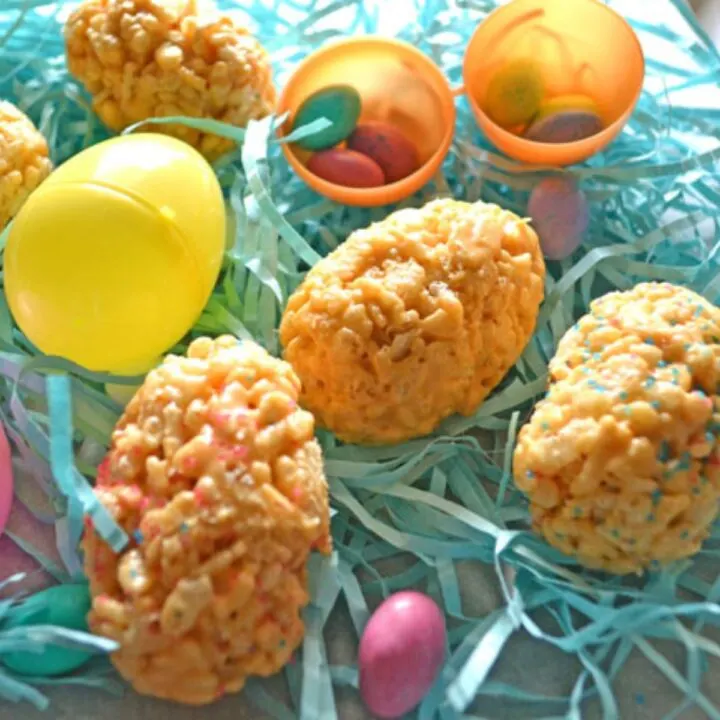 Butterscotch Rice Krisipies Eggs Recipe
This rice krisipies treat takes on an extra flavor punch fit for Easter.
Ingredients
4 tablespoons unsalted butter
1 10 oz bag miniature marshmallows
6 cups Rice Krispies or similar cereal
1 cup butterscotch chips
⅛ teaspoon salt (optional)
¼ teaspoon vanilla (optional)
Non-stick cooking spray
Reusable plastic Easter eggs
Easter candies (optional)
Colored sugar (optional)
Instructions
Wash plastic eggs with soap and water and dry.
Melt butter in large saucepan.
Once butter is melted, add marshmallows and stir until melted.
Once marshmallows have completely melted, remove pan from heat and add butterscotch chips, vanilla and salt, if using.
Stir in cereal until completely coated.
Make sure plastic eggs are dry and thoroughly coat the inside with non-stick spray.
Thoroughly spray hands with non-stick spray so treat mixture doesn't stick to your hands so much.
Place 1-2 tablespoons of treat mixture, depending on egg size, into one half of the plastic egg. Press mixture down firmly and evenly, using finger to make a well in the center if you want to add candies. I used 1 large M&M candy in mine.
Place candies in center, then add treat mixture to other half of the plastic egg, bringing up the treat mixture a bit past the edge all the way around.
Firmly place the egg half without candy onto the half with candy, removing any excess treat mixture that oozes out as needed.
Remove resulting rice krisipes egg fairly quickly so it doesn't stick.
If desired, decorate with sugar, sprinkles, candies, chocolate, etc.
Store in air-tight container at room temperature for up to 3 days
Notes
Feel free to customize this recipe to your family's liking by using various flavor chips and cereal. Recipe adapted from Rice Krispies.