This quick coconut cream pie literally takes minutes to make.
I'll admit that I love cake more than pie, but I do enjoy my fair share of pies as well.
Mr. Savvy says I like cake so much just because it's a carrier for frosting, and he just may be right about that.
However, he loves pie like no other, so I try to make one every now and then with him in mind.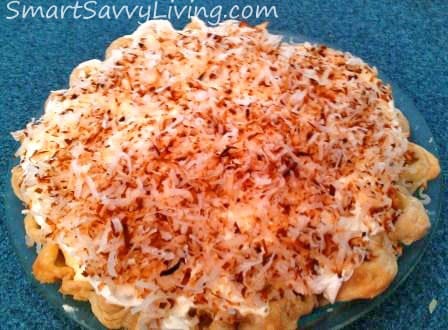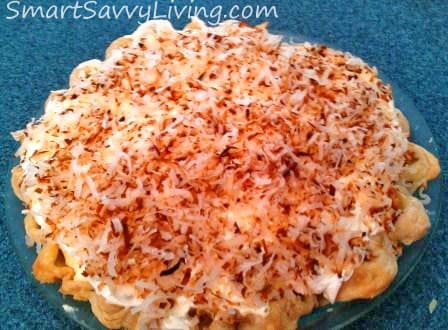 One of my favorite pies to make, especially for the warmer months, is a quick coconut cream pie.
I know there's a lot of people out there who just don't enjoy coconut, and that's okay, even if I say your taste buds are broken, ha.
We both love coconut for its mild flavor with just a touch of sweetness, which makes it perfect to use in a variety of desserts.
Quick Coconut Cream Pie
I've made several completely from scratch coconut cream pies in the past, but sometimes you just need a dessert that's ready in minutes instead of nearly an hour.
This quick coconut cream pie still packs a lot of flavor and with a few extra touches like toasting some coconut, no one has to know how easy it was to make, or even that you didn't make your own custard!
This recipe makes a normal 9" inch pie - I love using the Pyrex clear glass pie plates to show off the middle once it's cut - but you can easily double for a deep dish or multiple pies.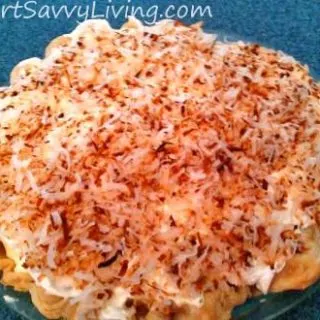 Quick Coconut Cream Pie
Making a delicious cream pie doesn't have to be an all day affair when you try this Quick Coconut Cream Pie recipe
Ingredients
1 9-inch regular pie shell (homemade, frozen, refrig, graham cracker, etc. are all good) already baked and cooled
1 3.5 oz package of instant vanilla pudding mix
1 3.5 oz package of coconut cream pie pudding mix (if you can't find this flavor, I suggest using another package of vanilla and add a bit of coconut flavoring when mixing for extra flavor)
2 cups milk (can use refrigerated coconut milk for extra flavor)
1 ½ cups flaked sweetened coconut, keeping ½ cup to the side
1 8 oz container frozen whipped topping (Cool Whip), thawed
Instructions
Take ½ cup coconut that you set to the side and toast. I do this in a small skillet over medium heat until most of the coconut is golden brown. You can also toast in the oven, but I find it a waste unless you're toasting a large amount.
In a large bowl, combine the pudding mixes and milk and stir until the mixture is thickened.
Fold in the remaining 1 cup of coconut and half of the frozen whipped topping into the pudding mixture.
Pour the resulting mix into the prepared pie crust and spread evenly.
Top with remaining whipped topping.
Sprinkle toasted coconut on top.
Refrigerate until serving and enjoy!
Notes
Really bump up the coconut flavor by using coconut extract and serving with coconut whipped cream!