This chocolate blueberry protein shake recipe is so good you'll actually look forward to breaking out the blender for breakfast.
A handful of years ago if you asked me if I regularly had smoothies or protein shakes, I honestly probably would have laughed.
Sure, I'd tried a couple, but the taste was, well, less than flavorable, pun intended.
However, these past several years health and nutrition has become much more important to me, and in the past couple of years I've slowly striven to lead a more natural lifestyle.
I'm not big on grand New Year's resolutions as I think we often set ourselves up for disappointing failure, so I much rather take baby steps to new habits.
My baby step that I'm really trying to make a habit is eating a healthy breakfast to start my day.
I'm honestly not much of an egg person unless I really get a hankering for them, so I have been looking for healthy alternatives.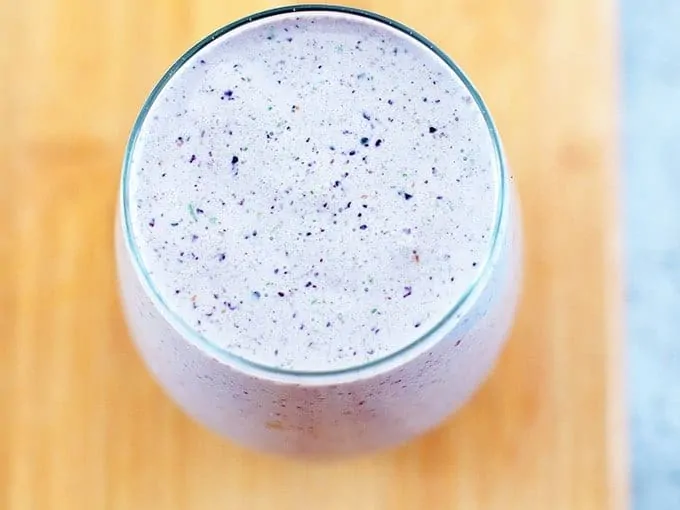 I absolutely love the beautiful purple color of this delicious blueberry chocolate protein smoothie!
With this in mind, I recently decided to try protein shakes and smoothies again, and what do you know, they're actually rather delicious!
I've found it's more important to use a few flavors I really like, in this case, blueberries and chocolate, instead of tossing in a bunch of healthy stuff that ends up tasting like grass.
While there are a ton of fruits out there you can use, I always reach for blueberries, especially for this Chocolate Blueberry Protein Shake Recipe, for several reasons.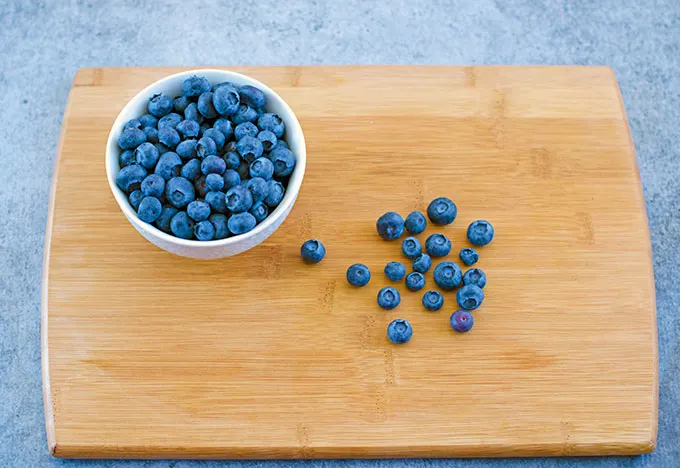 5 Reasons to Eat Blueberries Regularly
They're super tasty, easy to store and eat, and can be eaten as a snack on their own, or added to other dishes to add more nutrition.
These days blueberries are readily available year round. While the US season runs from April to September, you can also easily freeze blueberries (or buy US frozen) or get fresh blueberries imported from South America in stores during the cooler months.
Blueberries are super healthy. They have just 80 calories and 3.6 grams of fiber per 1-cup serving. They also have several nutrients like vitamin C and K and manganese.
They add a bit of sweetness and flavor without extra sugar. I love making a sauce with blueberries for pancakes instead of sugary syrup. I also enjoy adding them to salads for something different and adding a handful to yogurt makes it much more palatable.
Kids and adults of all ages love them. Plus, they add a fun color twist to whatever you add them to. This makes them a great ingredient to start with to make little changes for a healthier lifestyle.
With blueberries, protein powder, spinach (you don't taste it at all, trust me), this Chocolate Blueberry Protein Shake Recipe is totally healthfully delicious and honestly tastes much more like a milkshake than something healthy.
I love it for breakfast, after a tough workout and even as a healthier alternative when I get a craving for ice cream.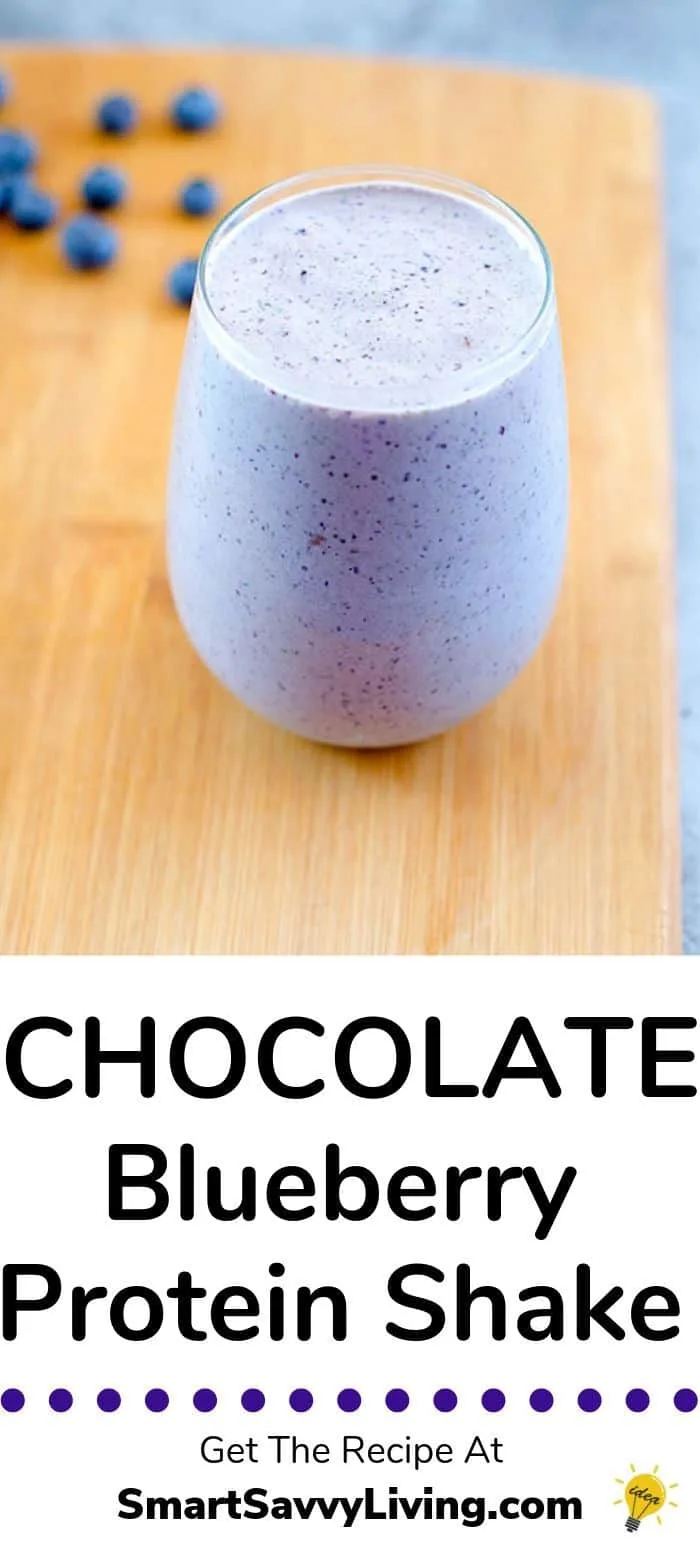 More Berry-Filled Recipes You Might Enjoy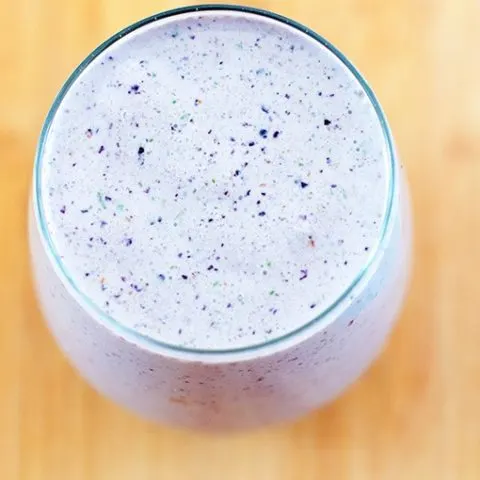 Chocolate Blueberry Protein Shake Recipe
A healthy chocolate blueberry protein shake that tastes as delicious as a decadent milkshake.
Instructions
Place all ingredients in a blender and blend on high until the desired consistency, adding more milk to thin the shake out, or more ice to make it thicker, as desired.
Pour into glass and enjoy! If you like a really smooth shake, you can strain the mixture first but will lose some of the nutrition.
Notes
Water can be used instead of milk but milk will provide more flavor and richness. You can use other milks such as coconut, if desired. This can be made low-carb by ensuring your protein powder doesn't contain sugar and using cream or alternative milks.
Nutrition Information:
Yield:

1
Serving Size:

1
Amount Per Serving:
Calories:

287
Total Fat:

5g
Saturated Fat:

3g
Trans Fat:

0g
Unsaturated Fat:

2g
Cholesterol:

14mg
Sodium:

112mg
Carbohydrates:

33g
Fiber:

5g
Sugar:

19g
Protein:

30g
Nutrition information may not be accurate. Nutrition information is calculated automatically by and provided by Nutritionix. Exact nutrition information depends on the specific ingredients, brands, and amounts you use.