Need a super quick yet filling breakfast to take on the go? Check out our 2-minute cheesy spinach microwave scrambled eggs mug recipe.
Recently I've been really thinking about what I've been eating and decided I wanted to increase the protein and lessen the carbs in my meals. This means I'm cooking a lot of our meals from scratch.
When it comes to weekday breakfast, though, I need something tasty, filling, and fast. That's why I'm totally in love with this 2-minute cheesy spinach microwave scrambled eggs mug recipe.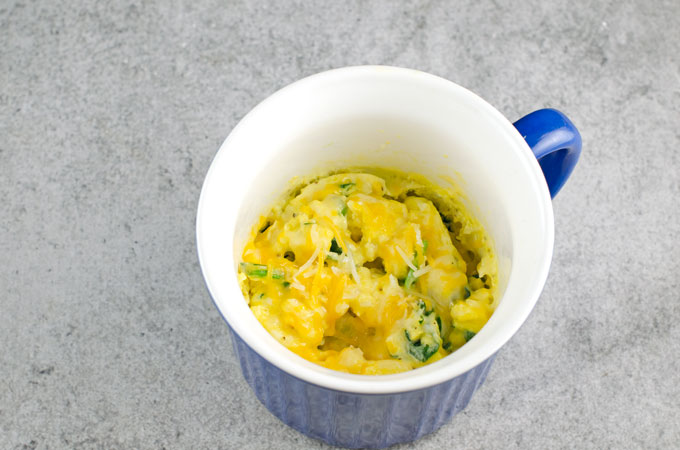 Can You Cook Eggs In The Microwave?
Scrambled eggs made in a microwave? Have I lost my mind? Wait – can you microwave eggs?
I was skeptical at first, too, but intrigued at the idea of super quick scrambled eggs in a mug and not even having to wash a skillet.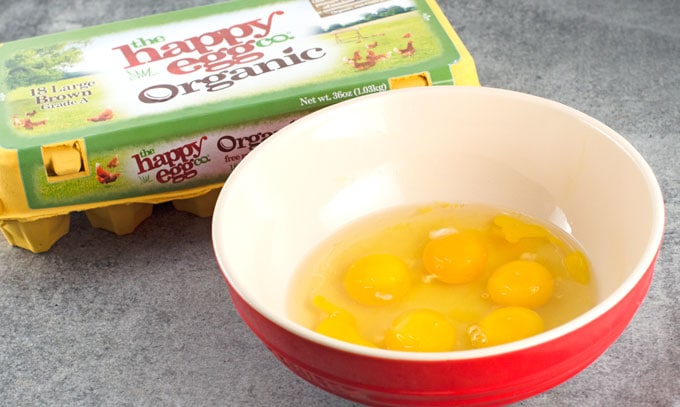 But, as long as you microwave eggs correctly, they really do turn out quite tasty!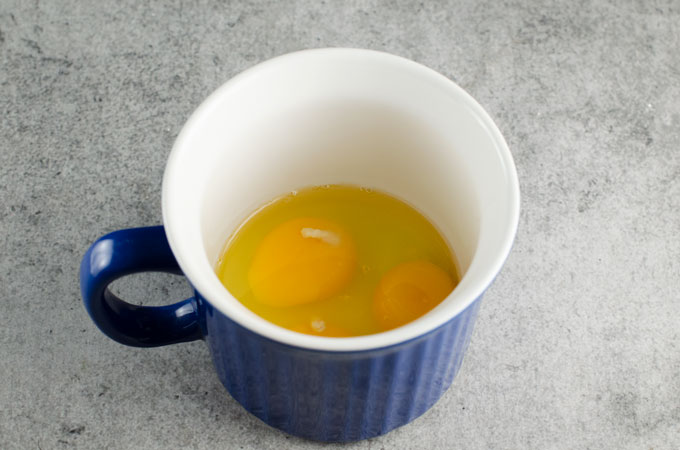 This is coming from someone who's super picky about how I like my eggs cooked, especially scrambled eggs. They need to be fluffy and moist and preferably have at least a couple mix-ins.
This time I opted for some spinach and cheese, but the options are pretty much endless of what you can add in. I usually cook some breakfast sausage on weekends and this weekend I plan on cooking some extra so I can make this again with an extra protein punch.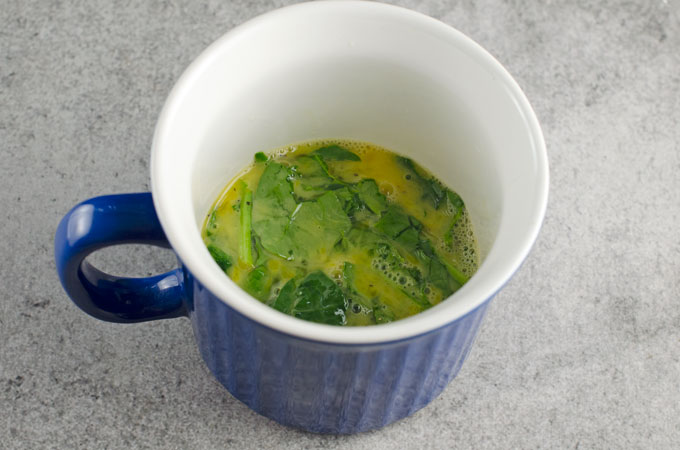 How To Microwave Scrambled Eggs
Yep, I actually loved these microwave scrambled eggs and will likely be having them at least a couple times a week from now on. I really do think the extra-good flavor and visually appealing color of the happy co. eggs helped make them even better.
Smart Savvy Tip: To make your eggs even faster, whisk the ingredients together (I do keep the spinach separate so it doesn't wilt too much) right in the mug, cover and refrigerate the night before. Then, just add the spinach and cook as noted in the recipe below.
You could even make a few day's worth at a time if you like having eggs for breakfast most days.
My favorite thing about this microwaved scrambled eggs recipe is just how quickly they come together. I literally had them made and cooked in 2 minutes!
They're perfect for when you need breakfast on the go, are cooking for just yourself, or everyone in your family likes different things in their scrambled eggs.
2-Minute Cheesy Spinach Microwave Scrambled Eggs Mug Recipe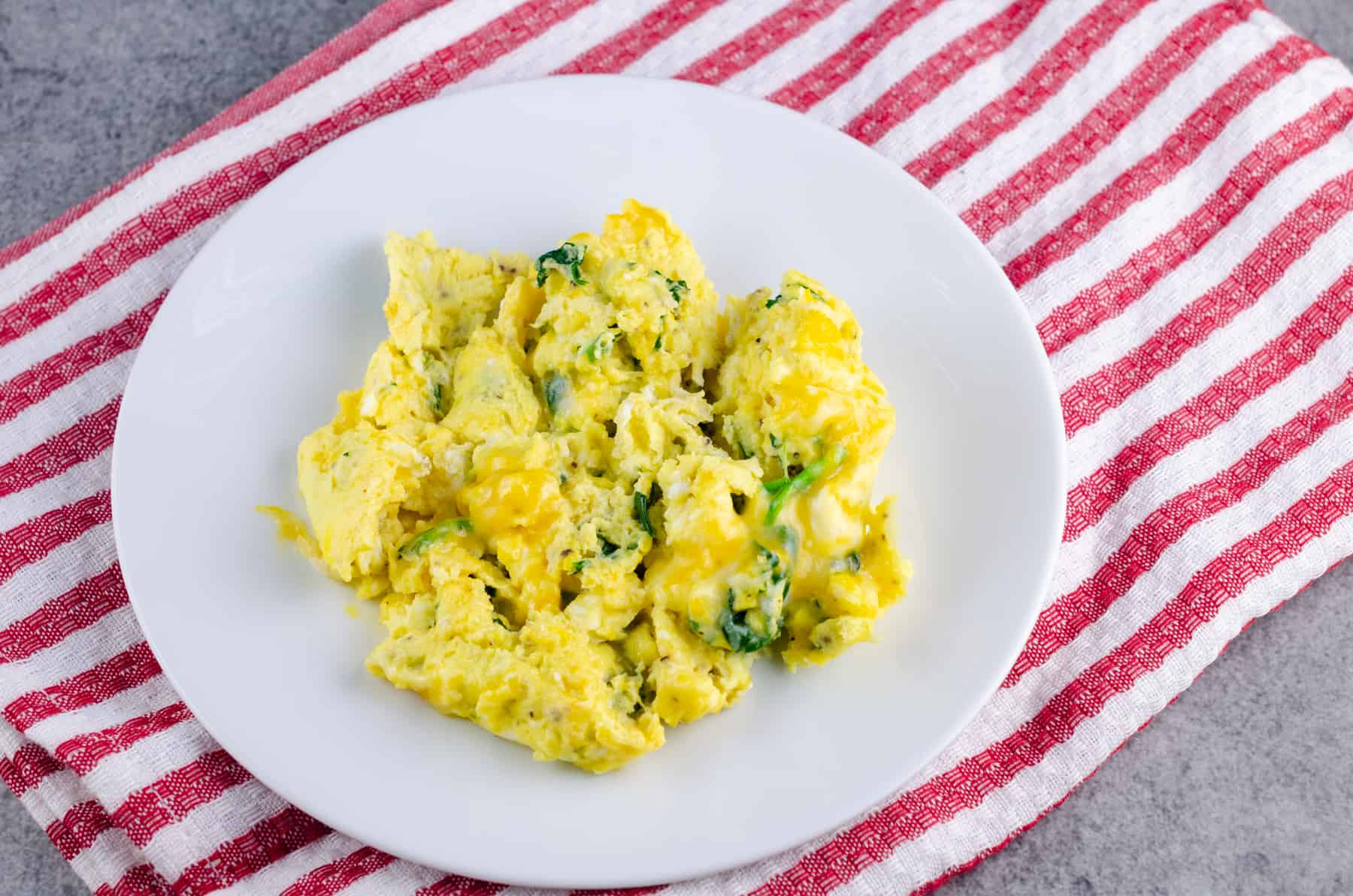 Recommended Equipment
For the mug, I use my CorningWare stoneware mug that you see pictured. I like it a lot because it comes with a lid that's microwave and dishwasher-safe.
The mug itself can also be used in the oven, fridge, freezer, dishwasher, and, of course, the microwave. It holds heat well so your food will stay warm if life gets in the way.
Here's how to make scrambled eggs in the microwave.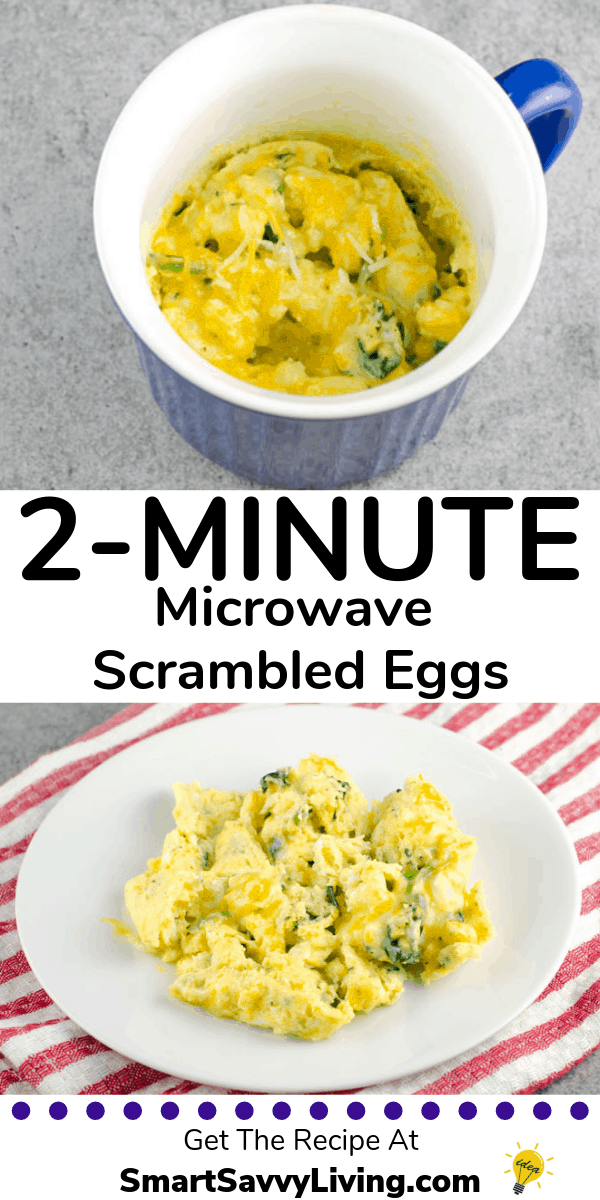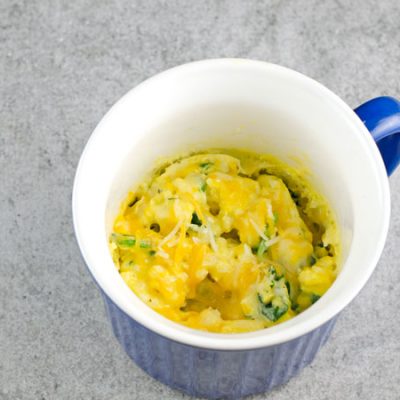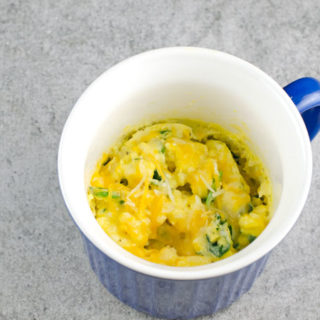 2-Minute Cheesy Spinach Microwave Scrambled Eggs Mug Recipe
Ingredients
non-stick cooking spray
3 large eggs
2 tablespoons water, milk or cream
1/4 cup baby spinach
salt and pepper to taste
2 tablespoons shredded cheese (I used a Mexican blend)
Instructions
Spray a large mug, keeping in mind that the eggs will rise when cooking, with non-stick cooking spray.
Break the eggs into the mug then add in the water, milk, or cream, and a pinch of salt and pepper. Whisk until thoroughly combined.
Stir in the spinach. If the leaves are on the larger size I just tear them apart with my fingers a bit.
The exact time needed to cook your eggs will depend on your microwave. Here's what I did: microwave the eggs for 30 seconds on high. Stir the eggs a few times and then microwave again for 30 more seconds. Stir the eggs again, sprinkle the cheese on top and microwave for an additional 15-45 seconds or until the eggs have reached your desired doneness and the cheese has melted.
The eggs will be very hot but you can eat them straight out of the mug if you need to get out the door or you can slide them out onto a plate.
Nutrition Information:
Serving Size:

1 mug scramble
Amount Per Serving:
Calories:

258
Nutrition information may not be accurate. Optional garnishes and toppings aren't included. Nutrition information is calculated automatically by and provided by Nutritionix. Exact nutrition information depends on the specific ingredients, brands, and amounts you use.