This Chocolate Mug Cake can be ready in minutes and is perfect for just one or 2 servings.
Ladies, I'm sure you are all too familiar with those days we just can't shake that chocolate craving. You know, those days where you feel like you're going to have to hurt someone if you don't have a bite of chocolate?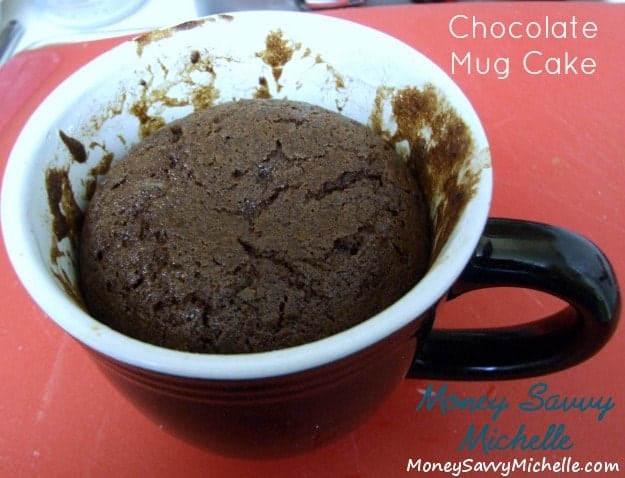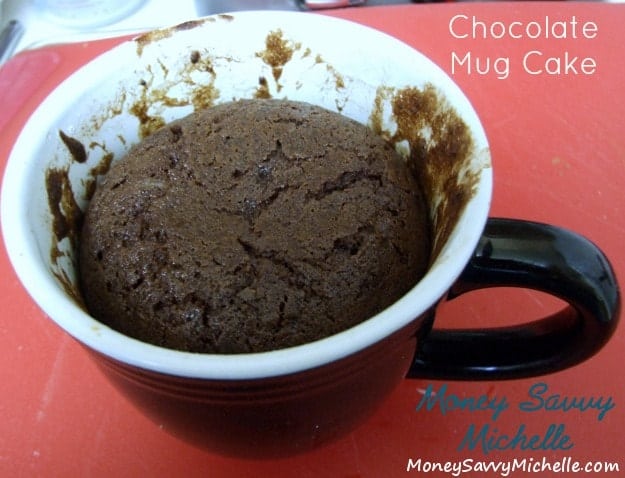 I don't know about you, but sometimes I want something different from a chocolate bar and one of my favorite desserts is cake. However, with just the 2 of us, and considering Mr. Savvy is rarely in the mood for a chocolate sweet treat, baking up a big cake just isn't worth it.
That's why I started making these Chocolate Mug Cakes when the craving hits.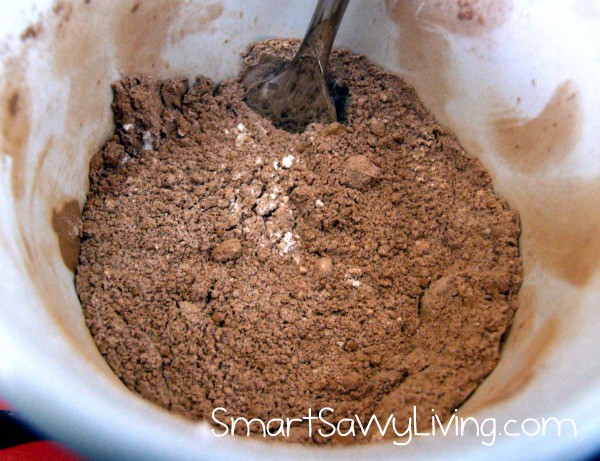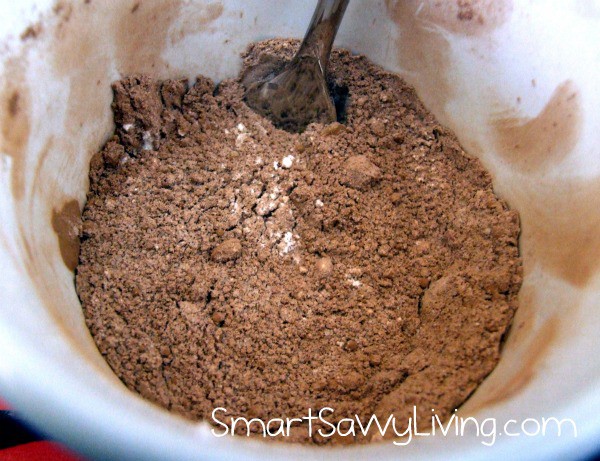 Chocolate Mug Cake
These are super easy to make, taking just a couple minutes to mix together without having to dirty up several bowls. The chocolate cake can then be cooked in the microwave - or oven if you're weird like me and don't have a microwave.
Yes, I know it is shocking that one could live without a microwave. ;)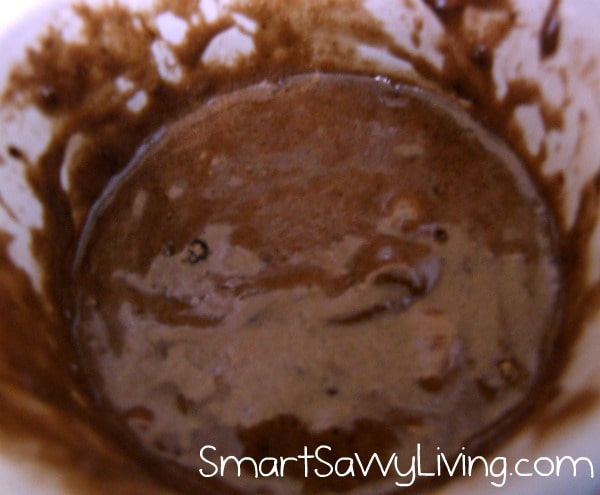 The most important thing about this recipe is to have a large oven or microwave-safe mug as you don't want this overflowing in your microwave or oven as it rises. I use stoneware.
The next is to use a very good quality cocoa as this is where the majority of your flavor is going to come from. I've always been a fan of Ghiradelli cocoa powder.
Note that the resulting cake is on the large side (think large bakery muffin), so you may want to share if you're not feeling overly indulgent. You can also cook the cake for slightly less time if you want more of a molten center like I did.
Just remember that if you're pregnant or have a weakened immune system, you probably shouldn't eat under-cooked eggs. The cake is great by itself or served with whipped cream, ice cream or a drizzle of chocolate syrup or caramel sauce.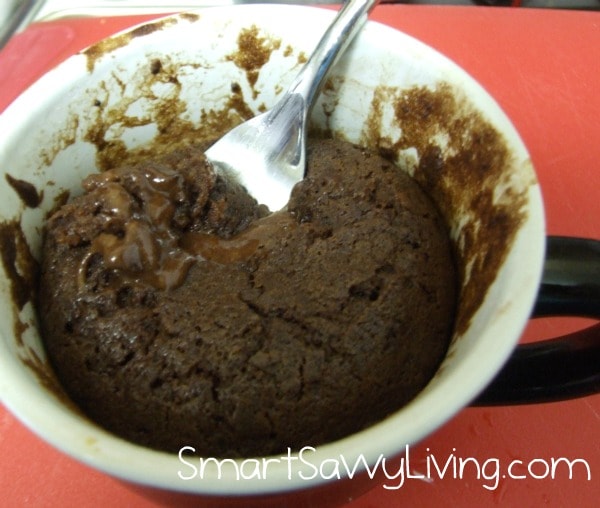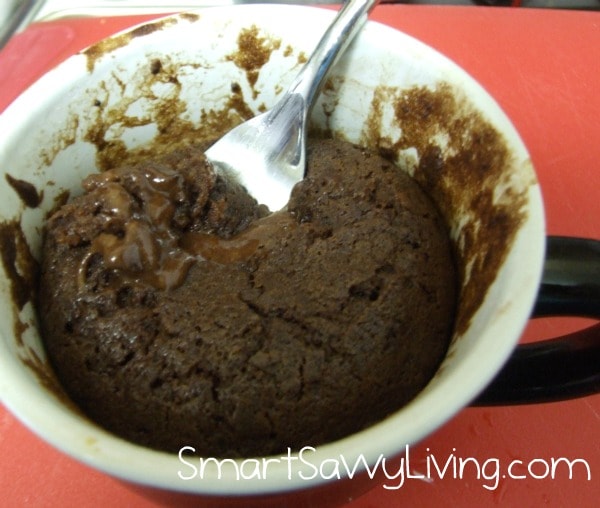 I like to under-bake mine just a bit so it's molten inside.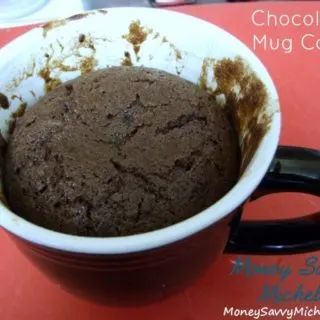 Chocolate Mug Cake
This chocolate mug cake is perfect for when you have that chocolate cake craving without wanting to go to the trouble of making a whole cake.
Instructions
If using oven, pre-heat to 350°F. I use a toaster oven.
Spray mug with cooking spray if you want to remove it from the mug after baking.
Mix dry ingredients (flour, sugar, cocoa, salt, baking soda) together with fork or whisk in large oven or microwave-safe mug.
Add milk, oil, vanilla and egg, if using, and mix thoroughly, especially at the bottom of mug.
Stir in chocolate chips or other candy, if using.
Bake in oven at 350°F for 15-25 minutes, according to how hot your oven cooks and if you want a molten or thoroughly cooked cake. You can also microwave on high for 1-3 minutes depending on wattage of your microwave. I suggest starting at 1 minute and then microwaving for 30 additional seconds until reaching your desired doneness.
Note that mug will be very hot and cake will continue to cook, especially when cooked in oven, for a couple minutes after you remove it. Serve plain or with ice cream, chocolate or caramel syrup, whipped cream, etc. if desired. I like eating it straight from the mug because who wants another dirty dish? ;)
Notes
If you want a fudgier cake, leave out the egg entirely. Without an egg, the cake will not rise quite as much.
You may also want to add instant coffee or espresso, about ⅛-1/4 teaspoon, or substitute the milk for cooled brewed coffee to further escalate the chocolate flavor.
Nutrition Information:
Yield:

1
Serving Size:

1 cake
Amount Per Serving:
Calories:

586

That SO hit the spot!
Check out some of our other dessert recipes if you enjoyed this Chocolate Mug Cake!