This pumpkin dinner rolls recipe makes yeast rolls that are soft and buttery with a subtle pumpkin flavor.
While the homemade rolls are definitely full of autumn flavor, they are more savory than sweet, though pair well with a sweeter butter spread.
They're perfect for your Thanksgiving table, Christmas, or when you just want something different from your usual plain yeast roll.
These pumpkin yeast rolls are a modified version of one of my most popular recipes for basic dinner rolls and pair perfectly with this delicious brown sugar cinnamon honey butter (recipe coming soon).
Jump to:
Ingredients
Water
Yeast - I use active dry yeast but you can use instant yeast - note the different instructions for instant yeast
Brown sugar or honey - I prefer to use dark brown sugar for the deeper molasses flavor
Milk - I recommend using whole milk for flavor and richness; I've also used half and half with good success
Butter - you can use salted butter but may want to adjust the amount of salt added
Salt - I like a saltier bread so I do use both salted butter and a heaping teaspoon of Kirkland's sea salt when making this recipe.
Pumpkin - I use canned. Make sure it is just pumpkin and not pumpkin pie filling. Homemade pumpkin puree should work fine too.
All-purpose flour - bread flour can be used if preferred, but the crumb will be slightly different and you'll likely need to add extra flour. I use King Arthur brand pretty much exclusively these days but have used Costco and Aldi flour in the past.
Egg
Oil or cooking spray - for keeping the bread dough moist
See the recipe card at the end for the exact quantities.
Instructions
Please note that these directions are pretty in-depth for beginners. If you're a seasoned bread baker you may prefer to follow the recipe card at the bottom which features more basic instructions.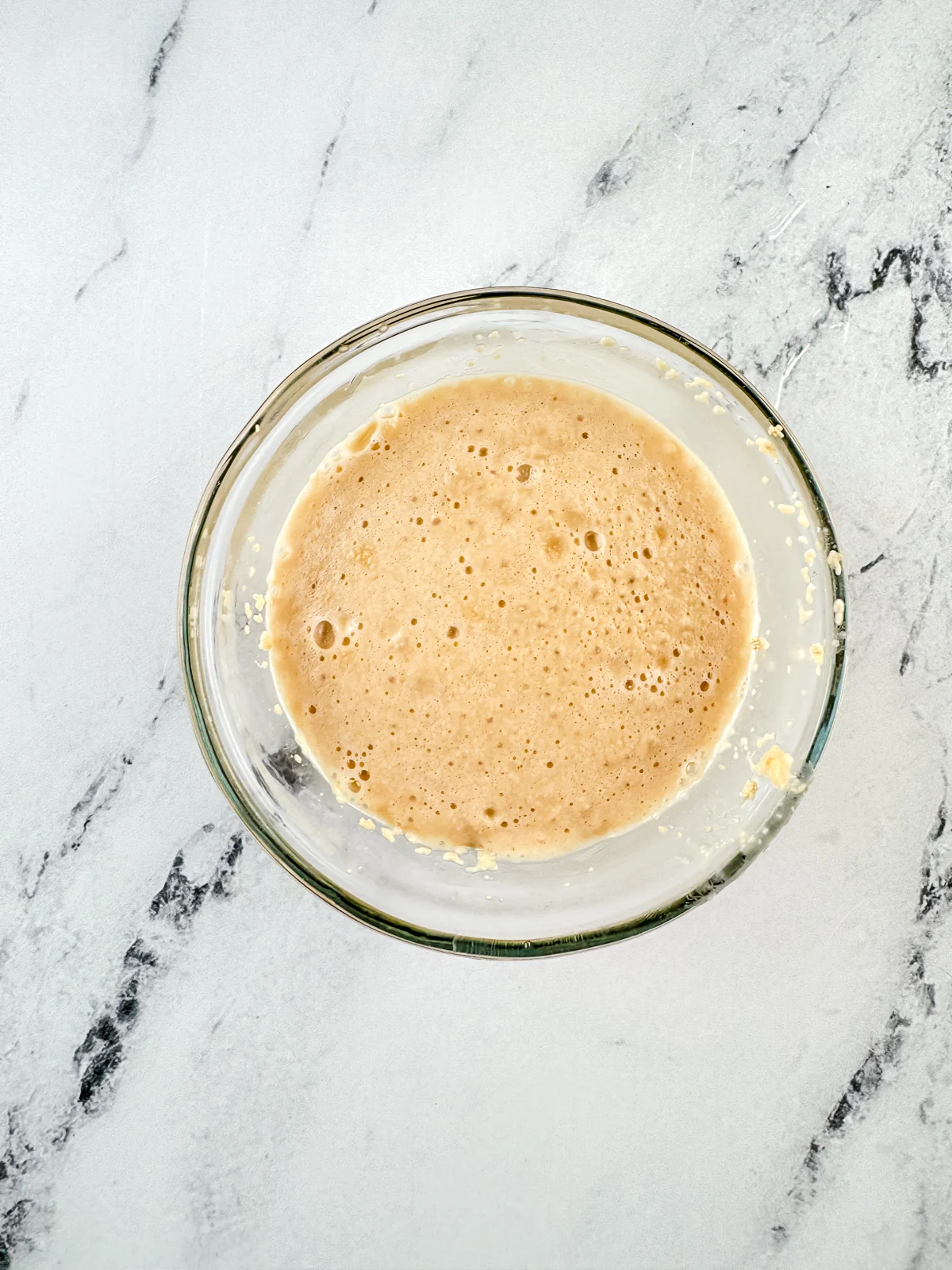 1. Proof yeast by sprinkling over warm water with sugar and stirring together in a small bowl. Let sit for 10 minutes or so. If it doesn't bubble at all there are a couple of possible reasons:
Your water was too cold (didn't activate the yeast) or too warm (it killed the yeast). The water should be between 105 to 110°F.
Your yeast could also be too old or otherwise dead. There's nothing you can do - you must purchase fresh yeast and start over.
It's not going to bubble up like a baking soda and vinegar reaction, but you should expect to immediately see bubbles upon stirring everything together and it should grow similar over 10 minutes as pictured.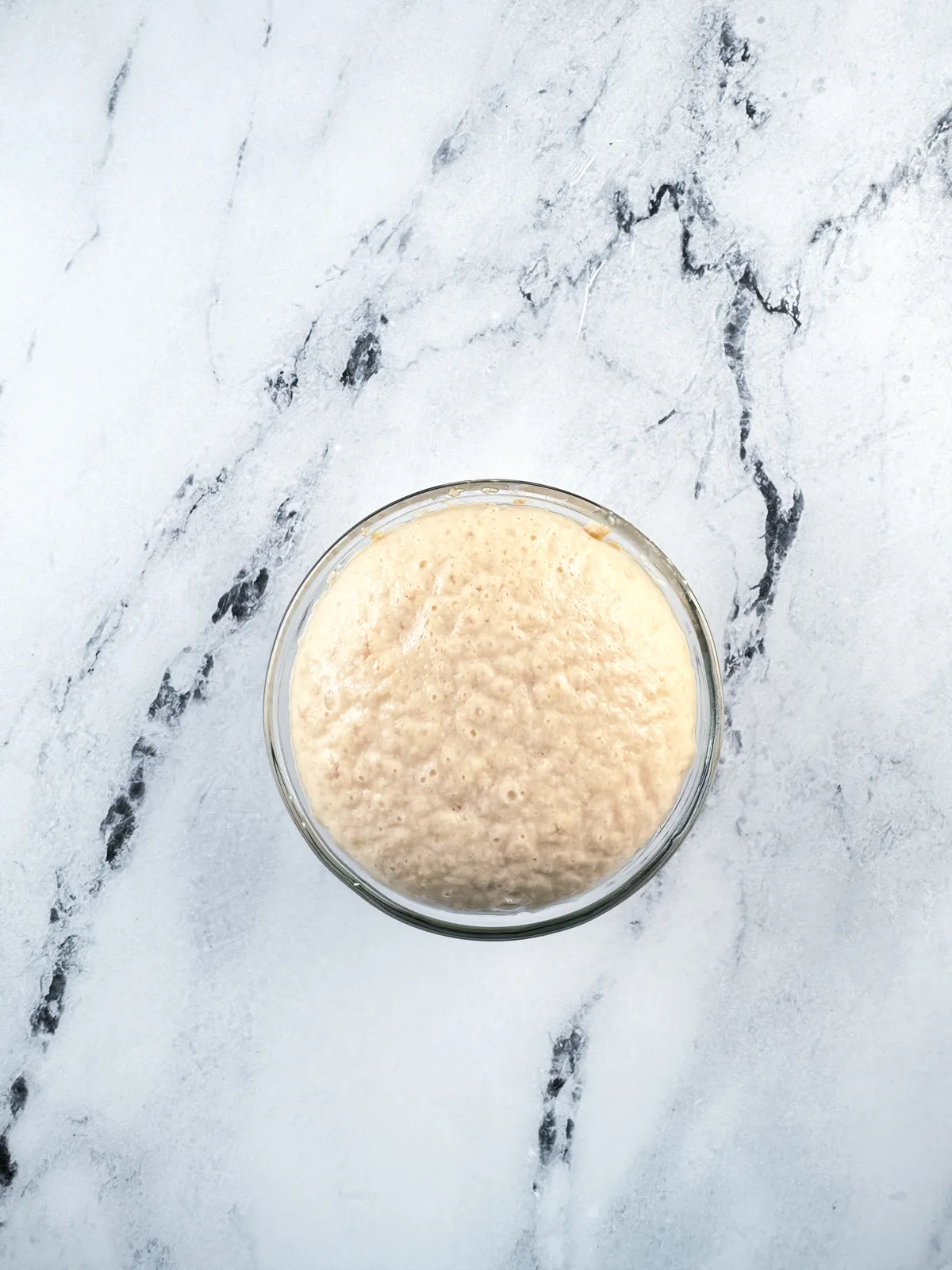 If you use instant or rapid-rise yeast you don't have to go through the proofing process and can dump it in when you add the pumpkin mixture to the egg and flour.
You'll still want to make sure the liquid isn't over 130°F as instant yeast is more temperature tolerant.
I'd definitely suggest investing in an instant-read thermometer so you don't waste ingredients as a basic version can be very affordable these days.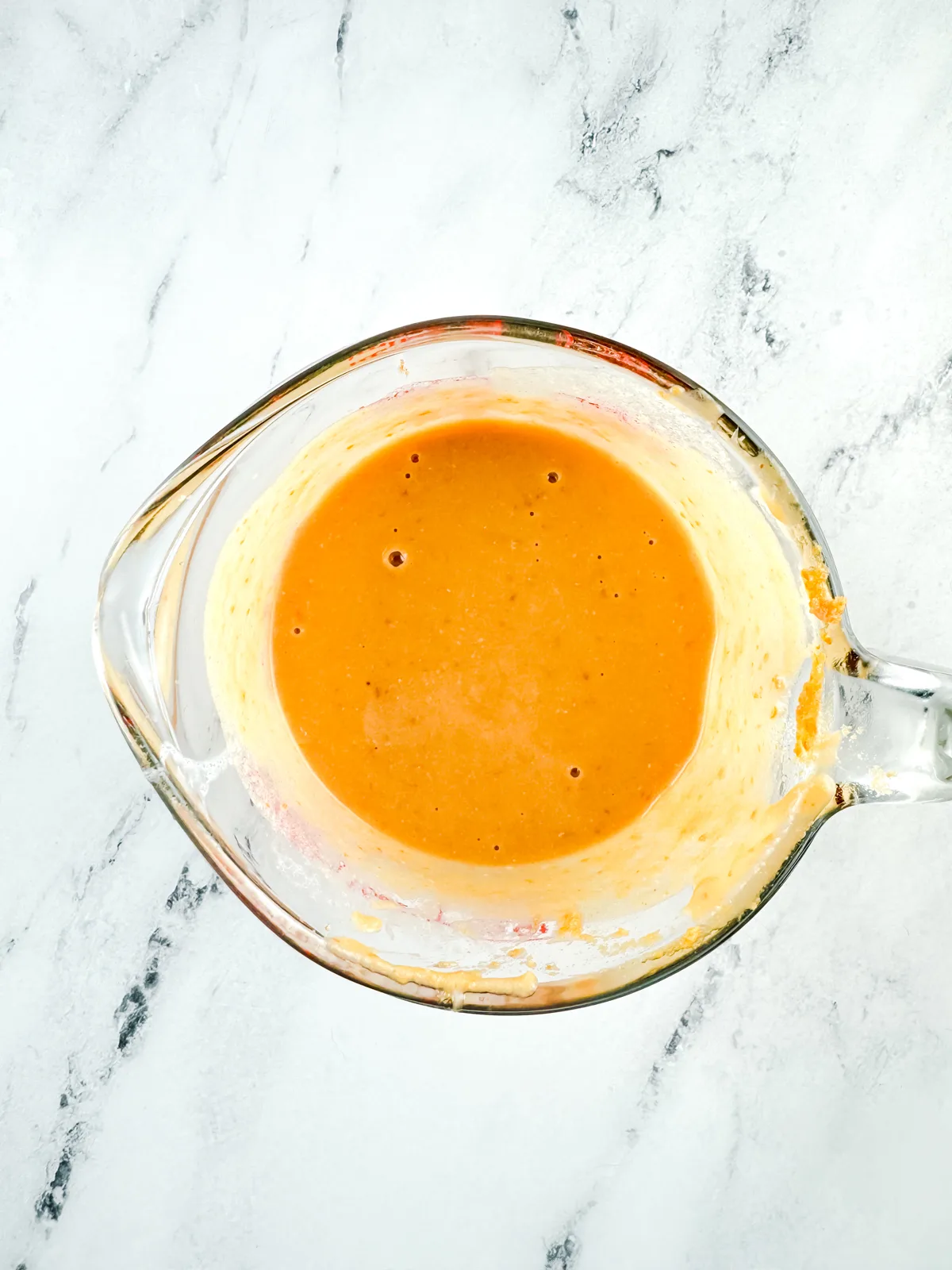 2. Warm up the milk, butter, sugar, and salt together. Whisk in the pumpkin and stir until the butter is melted and the sugar and salt are dissolved. Let cool if over 115°F (130°F for instant yeast).
3. In the meantime, start mixing together some of the flour, the yeast mixture, and an egg in a stand mixer fitted with the dough hook attachment or a large bowl if by hand.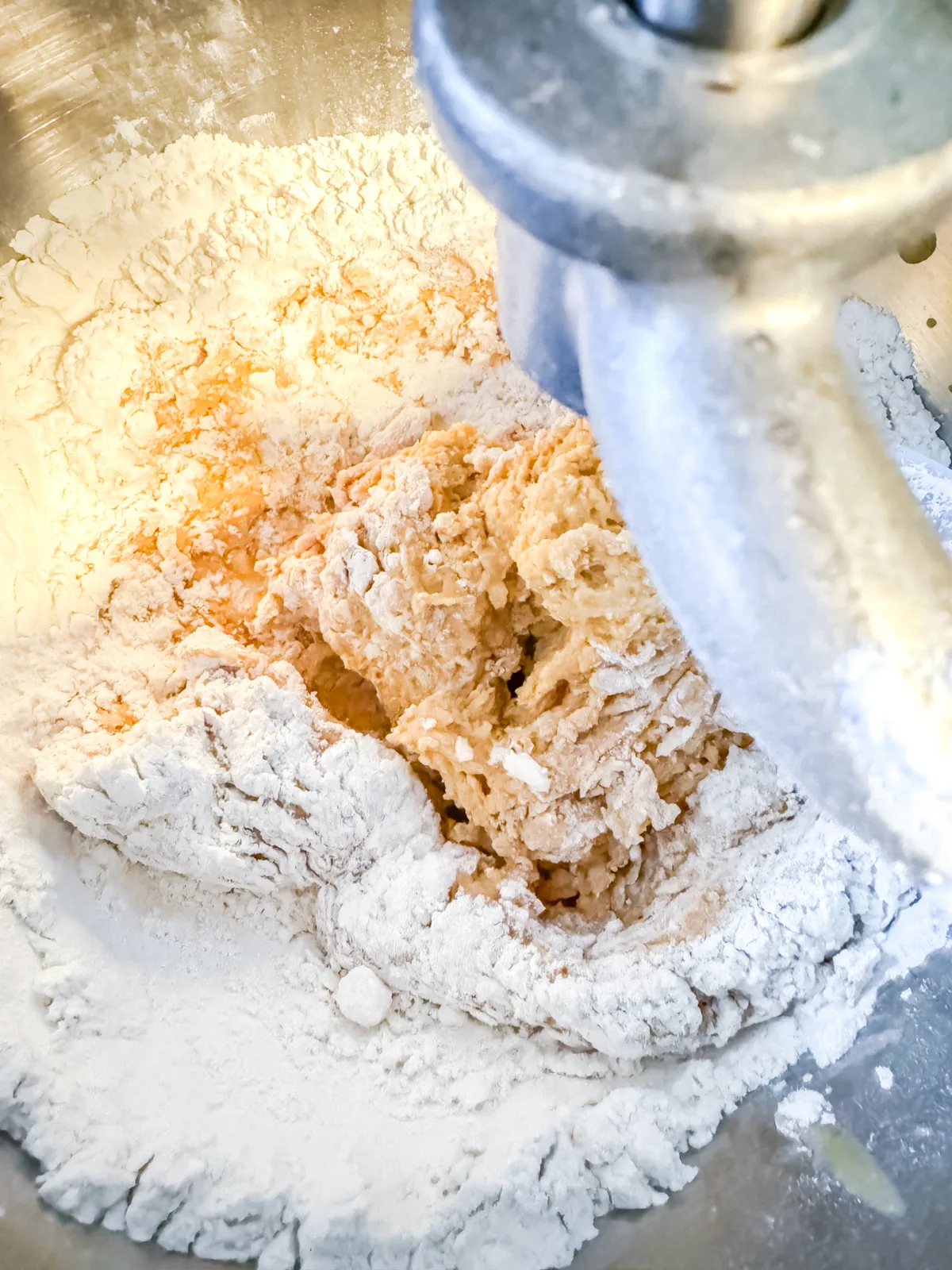 4. Add more flour and the pumpkin mixture. Add in the rest of the flour.
5. Start kneading (keep on level 2 with mixer or by hand on a lightly floured surface), adding more flour if needed until the yeast dough is smooth, slightly elastic, and not overly sticky. This will take about 6 to 8 minutes by hand or 4 to 6 minutes in a stand mixer.
This means the dough shouldn't break off when you gently pull on it nor should your hands end up covered with a gloopy batter-like dough.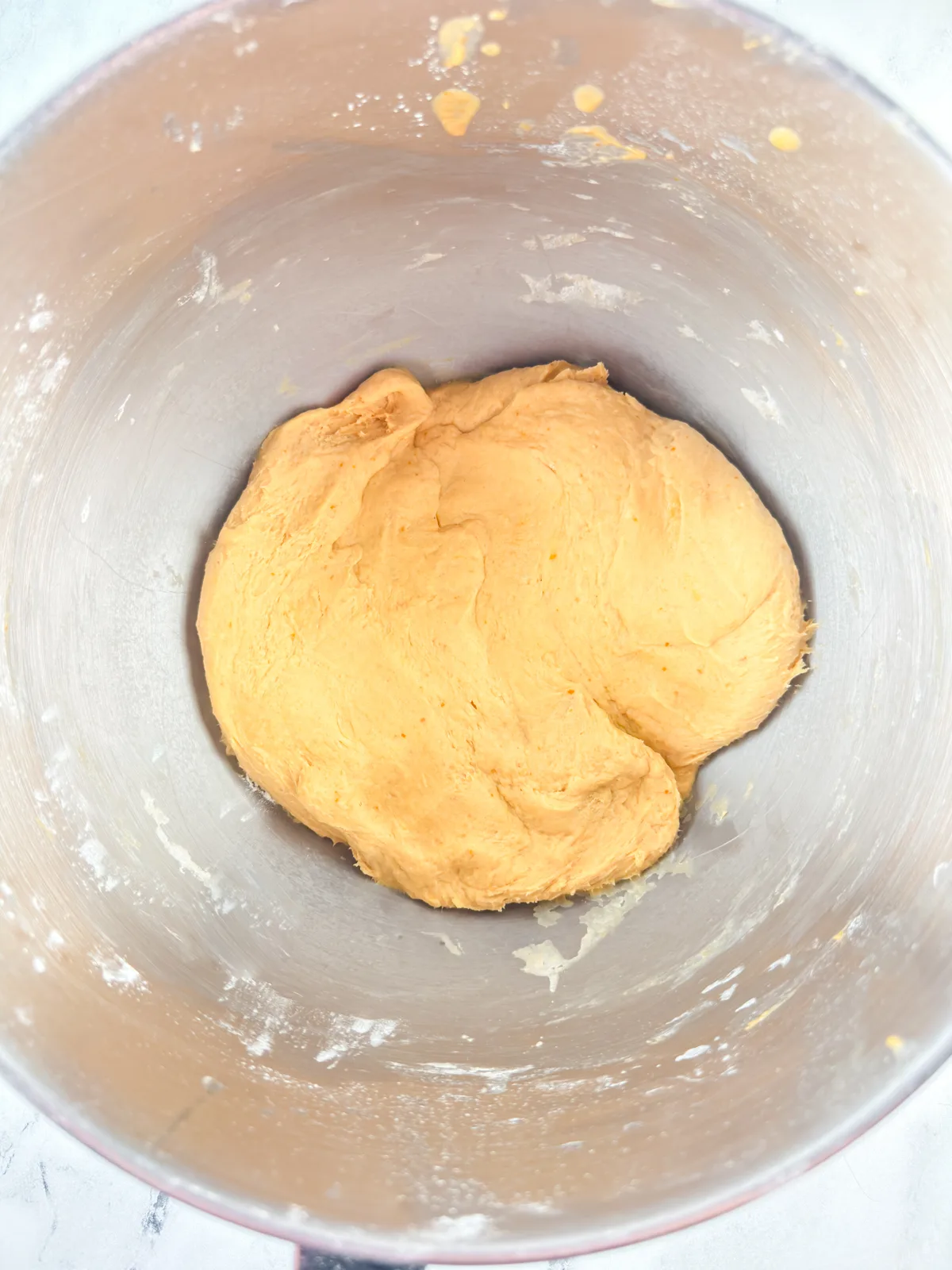 Knead the dough more if it's not sticky but it's also not elastic or if it's not smooth.
Add more flour a tablespoon at a time if the dough is sticky or if the dough isn't forming a ball in the mixer. The dough shouldn't be sticking to the sides of the bowl.
6. Once the dough is kneaded adequately, coat it with a bit of oil. I just keep the dough in the stand mixer bowl and spray some on top. This keeps the dough from drying out while rising.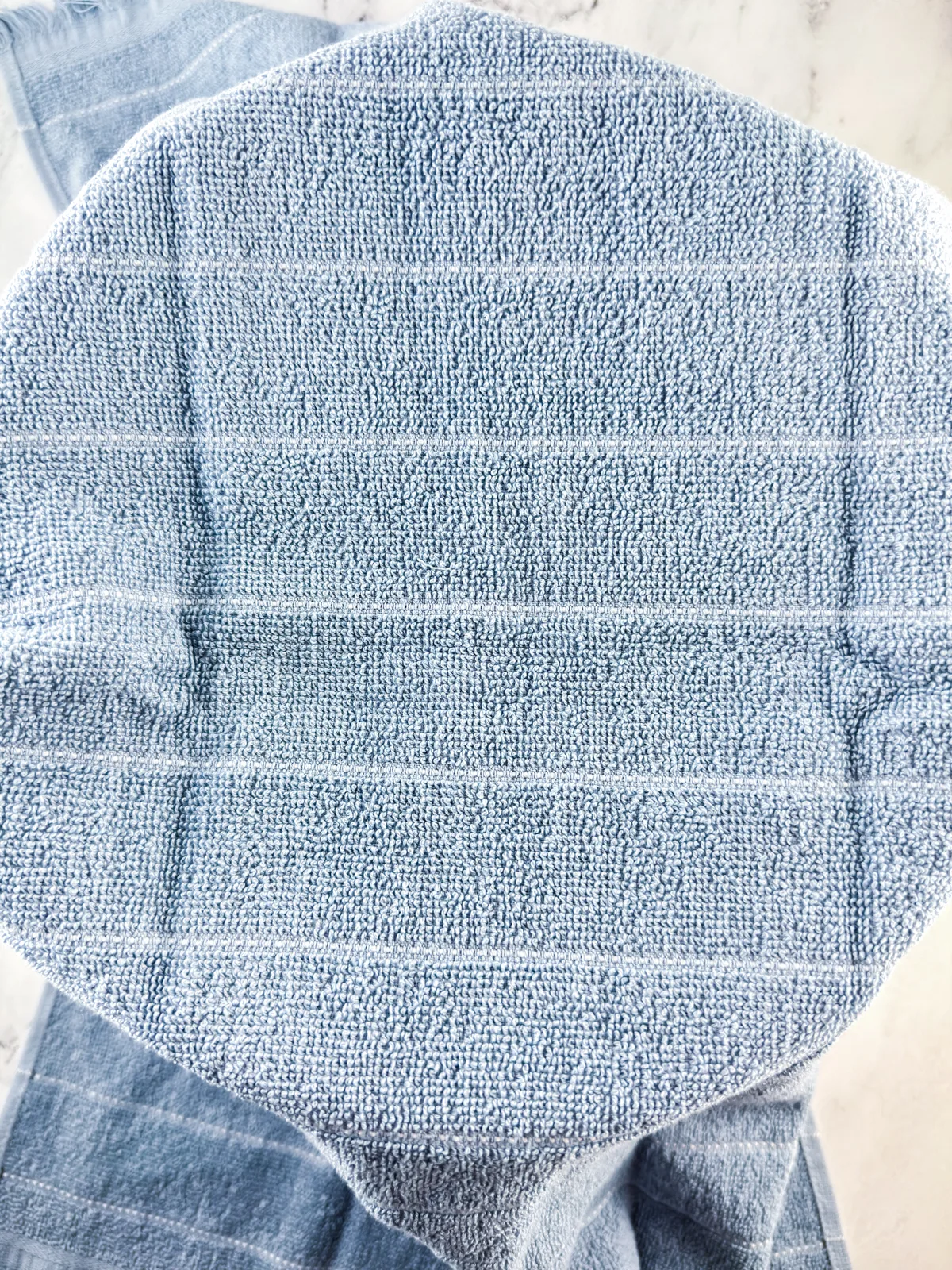 Cover the bowl with a clean towel or plastic wrap. Set aside in a warm place for the first rise until doubled in size.
This usually takes about 1 to 1 and a half hours depending on the temperature of the room.
You want to base it on how much the dough has risen, not the time. These containers are handy to be able to tell easily.
As such, you can speed up the process by putting the dough in a warm, but not too warm space.
Keep in mind that this can hinder how tasty your rolls end up, though. A slower rise usually means a better, yeastier flavor.
If you do want to speed things up there are some options, especially if it's cold in your house.
For example, my toaster oven has a proof setting and the stand mixer bowl fits perfectly with the rack on the bottom level.
Our over-the-range microwave also gets pretty toasty when the hood light is on.
You can also put about one cup of water in a microwave-safe measuring cup and microwave for 2 minutes on high.
Leave the glass of water in the microwave and add your covered bowl of dough to rise. You don't want to use the microwave while the dough is inside.
If you plan on making a lot of bread long term you may even want to invest in an electric proofer.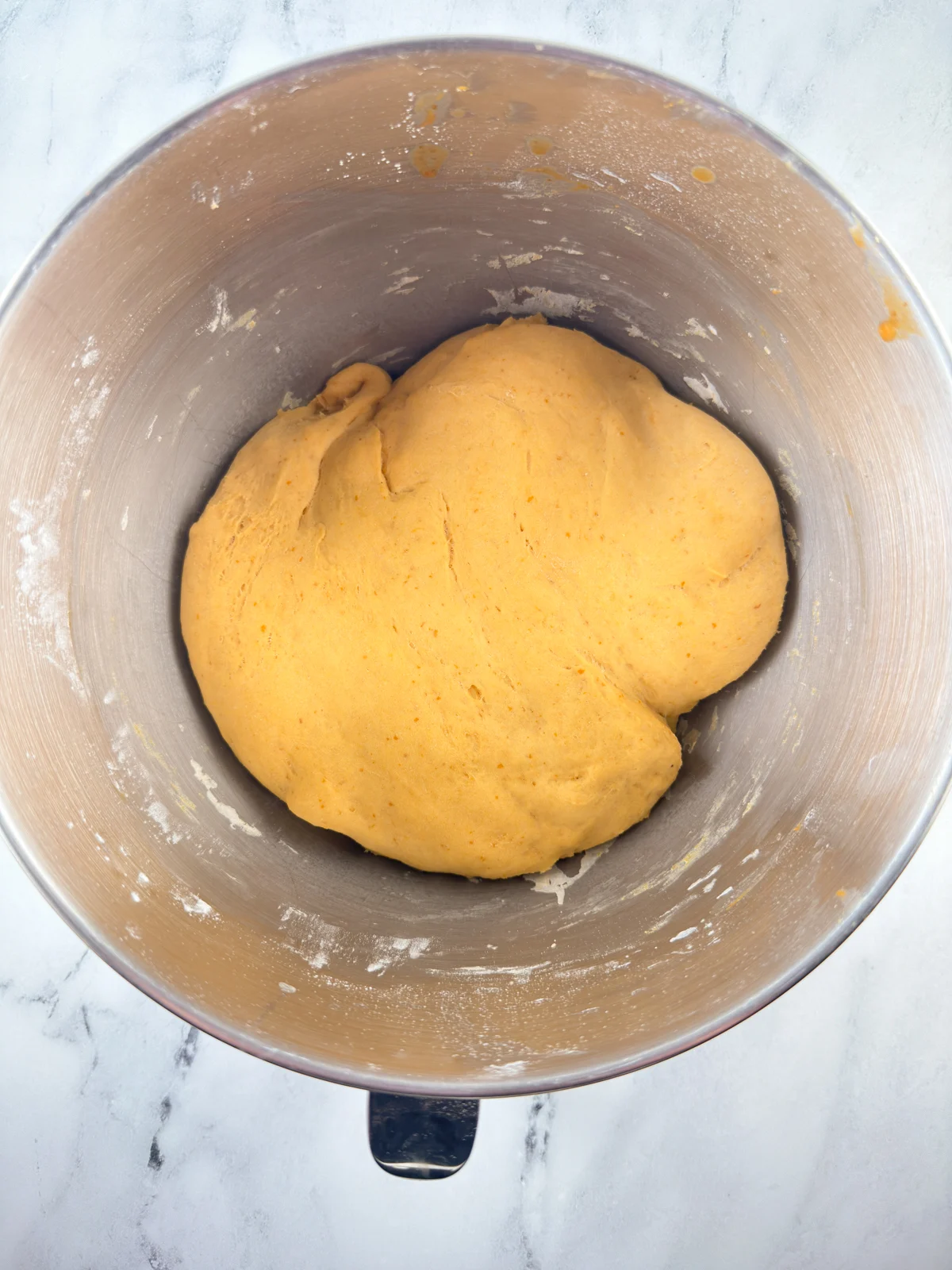 7. Once the dough has doubled in size prepare your baking dish. I find that the dish doesn't usually need to be greased but if you're worried you can use a piece of parchment paper in the bottom, a quick spritz of cooking spray, or a light layer of butter.
Form a fist with your hand and then gently press down on the center of the dough to deflate it.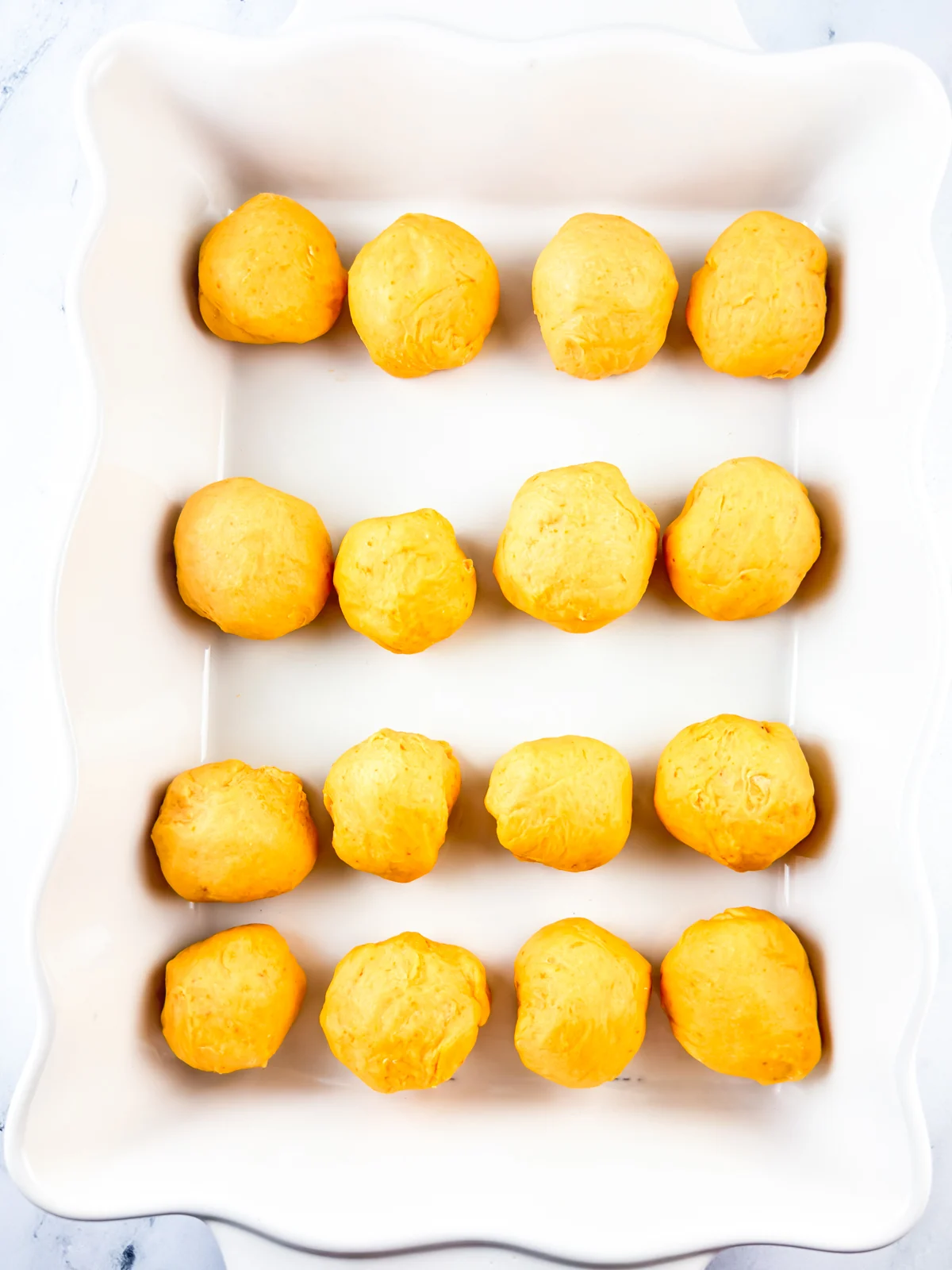 8. Form your rolls.
If you want to be super precise you can weigh a clean empty bowl, tare the kitchen scale, add the dough, check the weight, and then divide the dough weight by how many rolls you wish to make.
Then weigh each individual roll removing or adding more dough to get that number.
My preferred method is to gently pat out the dough into as even of a shape as possible and then cut into squares or triangles (if you made a circle) in as similar size as possible.
I will sometimes just wing it and pinch off pieces of dough in close size to each other.
I aim to form 16 rolls for the average usual dinner roll size.
Form the rolls by folding the edges into the center to create a smooth bottom. Then roll the dough on a clean unfloured surface with your hand until all sides are mostly smooth.
This King Arthur Baking video shows a great visual example.
Place the rolls in the baking dish, spacing them a bit apart so they can grow. Cover for the second rise until doubled in size - this can usually take anywhere between 45 to 90 minutes.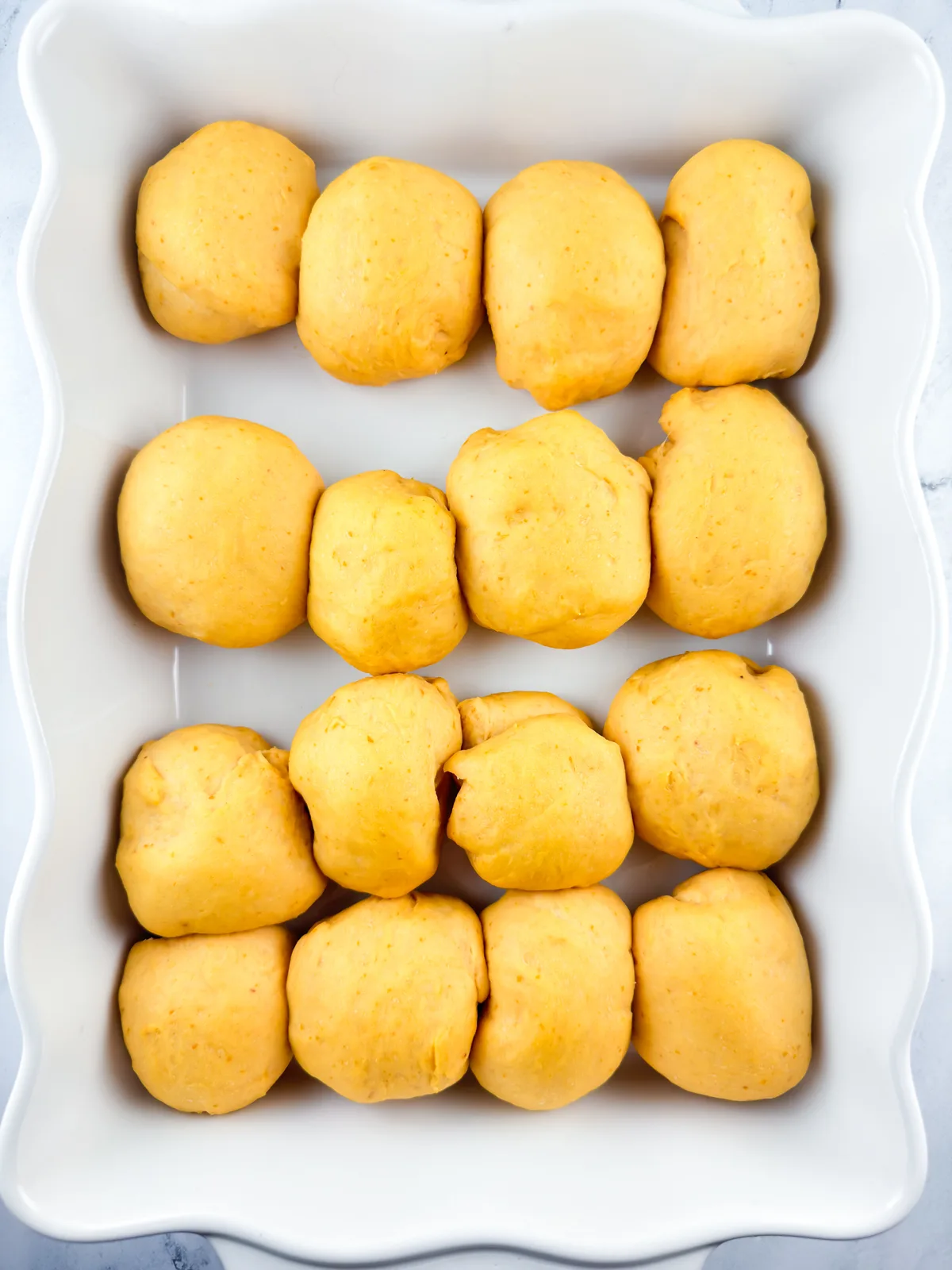 9. When your rolls are nearly doubled in size, preheat your oven to 350°F. When your oven is preheated, uncover the rolls and place on a rack in the middle of your oven.
Bake for about 20 to 25 minutes, until the tops are lightly golden brown. You can also check the temperature of a middle roll, which should be at least 190°F to be considered baked through.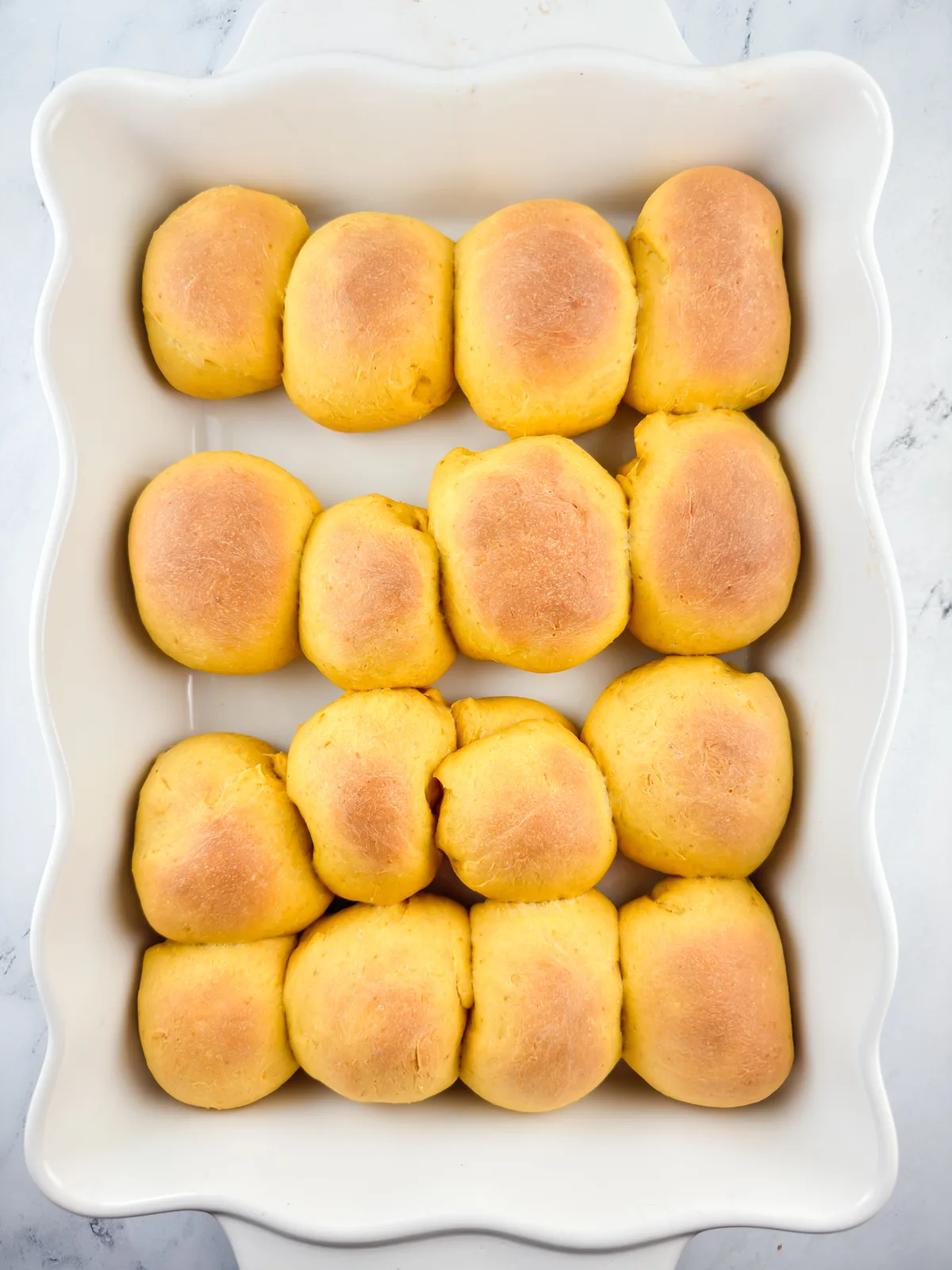 Cool for about 10 minutes in the pan then remove the rolls from the pan to a cooling rack to finish cooling so they don't get soggy on the bottom.
Serve slightly warm or at room temperature with my brown sugar cinnamon honey butter (recipe coming soon) or softened butter.
Hint: If you'd like extra appetizing-looking, soft, and buttery pumpkin rolls, simply brush the tops of the warm rolls with melted butter just before serving.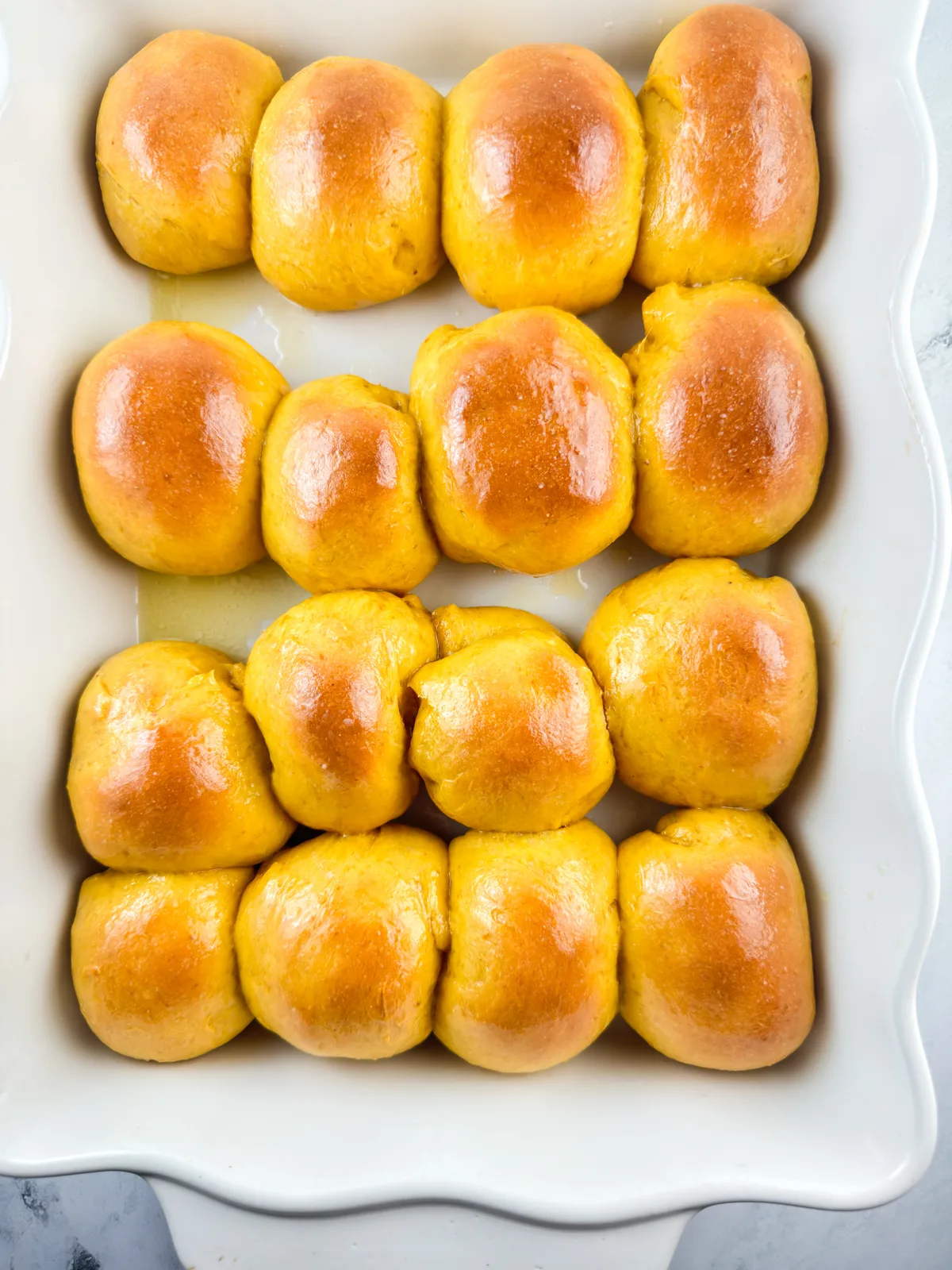 Substitutions
Brown Sugar - I like to use dark brown sugar for the extra molasses flavor that pairs really well with pumpkin but light brown will also work well. You can also use honey or regular sugar if preferred.
Variations
These pumpkin rolls are a slightly altered version of my homemade yeast rolls if you're not in the mood for pumpkin or cloverleaf rolls if you want something a bit more fancy.
Equipment
Here are the items I used to create this recipe. I link to brands I personally use or, if not available, ones that are very similar with highly rated reviews.
Storage
These pumpkin rolls can be stored well-wrapped at room temperature for at least 2 to 3 days. If you live in a humid environment they will spoil faster.
You can also freeze the baked rolls - store them in the freezer well-wrapped. They're best if eaten within a month of freezing.
You can thaw overnight in the fridge or bake from frozen at 350°F until warm and heated through. About 10 minutes for thawed and 20 to 25 for frozen. Cover with foil to prevent over-browning.
Top tip
If you prefer rolls that are a bit crustier you can opt to use a lower-sided sheet pan such as a half-sheet baking pan to expose more of the roll surface.
They won't be baguette crusty but definitely a bit more than using a high-sided dish.
Use a 9 x 13 high-sided baking dish like the one pictured for softer rolls.
Related
Looking for other recipes like this? Try these sweet potato and pumpkin recipes:
Pairing
These are my favorite dishes to serve with soft dinner rolls:
The BBQ turkey would make for great sliders made with the pumpkin rolls!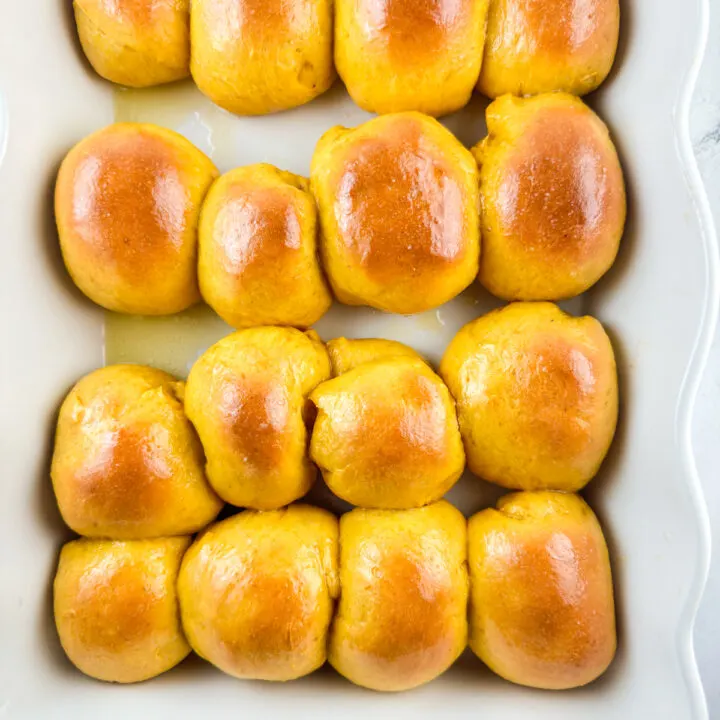 Pumpkin Dinner Rolls Recipe
Total Time:
2 hours
40 minutes
These pumpkin dinner rolls are sure to be a hit at Thanksgiving, Christmas, or just because. Soft and buttery with the flavor of fall without being overly sweet.
Ingredients
¼ cup warm water - not hot, should be around 105-115°F or comfortably warm to stick your finger in for several seconds
1 packet of active dry yeast (or 2 ¼ teaspoons if using bulk)
¼ teaspoon brown sugar
½ cup milk (I always use whole milk)
4 tablespoons (¼ cup) unsalted butter
2 tablespoons brown sugar (I use dark but light also works) or honey
1 teaspoon table salt (I like saltier bread than most so I personally use a heaping teaspoon sea salt)
½ cup pumpkin puree
1 cup + 2 ½ cups all-purpose flour + more for kneading (if it's a humid day you may use closer to 4 cups)
1 large egg
Oil or non-stick cooking spray
Softened butter for spreading or topping
Instructions
*If you'd like extra detailed instructions for this recipe please see the Instructions section of the original article.*
Proof the 1 packet or 2 ¼ teaspoon active dry yeast with ¼ cup warm water and ¼ teaspoon sugar by stirring together in a small bowl and letting it sit for about 10 minutes until it bubbles. If using instant yeast you can skip this part and add the yeast to the flour with the pumpkin mixture.
While yeast proofs, heat together ½ cup milk, 4 tablespoons butter, 2 tablespoons brown sugar, and 1 teaspoon salt. Whisk in the pumpkin and stir until the butter is melted and the sugar and salt are dissolved. Let the mixture cool down if the temperature is over 115°F (130°F if using instant yeast).
While the pumpkin mixture cools, place 1 cup of all-purpose flour in the bowl of a stand mixer fitted with the dough hook. Or a large mixing bowl if kneading by hand. Add in 1 large egg and the yeast mixture and mix on level 2 or with a spatula until just combined.
Once the pumpkin mixture is cool enough, add it to the flour/egg/yeast mixture along with another 1 cup of flour continuing to mix on level 2 or with a spatula.
Add in 1 ½ cups flour and keep mixing on level 2 or until it comes together enough to be kneaded by hand.
Knead the dough for approximately 4 to 6 minutes with the mixer or 6 to 8 if kneading by hand. Add more flour by the tablespoon if needed.
When kneaded enough, the dough should be smooth, elastic, and not overly sticky. Coat the dough with oil and cover, leaving it to rise until doubled in size - usually 1 to 1 ½ hours.
When the dough has doubled in size, punch it down and form into approximately 16 rolls depending on the size you're going for. Do this by folding the edges to the bottom and then rolling the dough ball on an unfloured surface until a mostly smooth ball is formed.
Place into a (greased if needed) baking dish or sheet, leaving a small amount of space between each roll. Cover and leave to double in size, usually about 45 to 60 minutes.
When the rolls have almost doubled in size preheat your oven to 350°F.
Once doubled in size, bake the rolls uncovered on a rack in the middle of the oven until lightly golden brown on top or you can check the temperature and look for at least 190°F, about 20 to 25 minutes. Larger rolls will take longer while smaller will take less time.
After they're done, let them sit in the pan for about 10 minutes and then serve or allow to cool completely on a cooling rack so the bottoms don't get soggy.
Serve with softened butter.
Notes
Granulated sugar or honey can be used instead of brown sugar.
Bread flour can be used instead of all-purpose though the crumb will be slightly different and you may need to use additional flour.
Please see the full article at https://smartsavvyliving.com/easy-pumpkin-dinner-rolls-recipe/ for detailed instructions and tips to make this recipe.
Nutrition Information:
Yield:

16
Serving Size:

1
Amount Per Serving:
Calories:

131
Total Fat:

5g
Saturated Fat:

3g
Trans Fat:

0g
Unsaturated Fat:

2g
Cholesterol:

22mg
Sodium:

170mg
Carbohydrates:

18g
Fiber:

1g
Sugar:

3g
Protein:

3g
Nutrition information may not be accurate. Optional ingredients, garnishes and toppings aren't included. Nutrition information is calculated automatically by and provided by Nutritionix. Exact nutrition information depends on the specific ingredients, brands, and amounts you use. For more precise nutrition values please input the exact ingredients, brands, and amounts into your preferred nutrition calculator.