This post with how to eliminate litter box odors from your home is part of a social shopper marketing insight campaign with Pollinate Media Group®, Litter Genie® and Fancy Feast®, but all my opinions are my own. #pmedia #Catparents http://my-disclosur.es/OBsstV
We are big animal lovers and have a few rescue cats that we love dearly. One of the things I love most about having cats is being able to spoil them and give them as happy of a life as possible. We also want them to be as healthy as possible so they can have a long happy life as well. Because of that, I really like letting them have wet food as they love the flavor and I like that it helps them get more hydration in their diet with less fillers. I can't even try to open a can of Fancy Feast without being almost immediately surrounded by cats.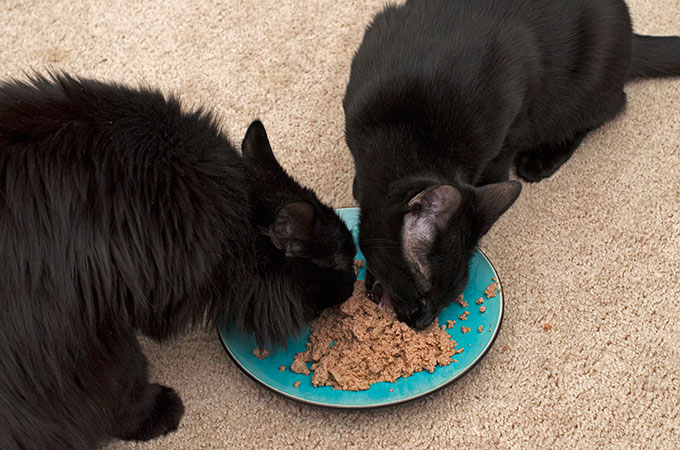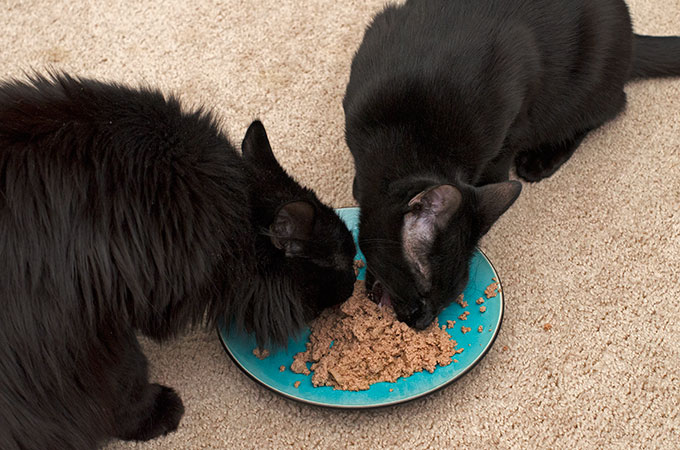 They love their Fancy Feast!
However, wet food has one negative...the OMG did that really come out of my cat unholy stinky poop. Mr. Savvy cringes every time I give them wet food because of it. Whether it's covered in cat litter or at the bottom of the trashcan, it can be difficult to escape the wrath of the stinky poops. Luckily, these tips can answer the question of how to eliminate litter box odors from your home. Plus, you'll likely have less cat litter on your floors because your feline friends won't keep going back to try to cover the evidence. ;)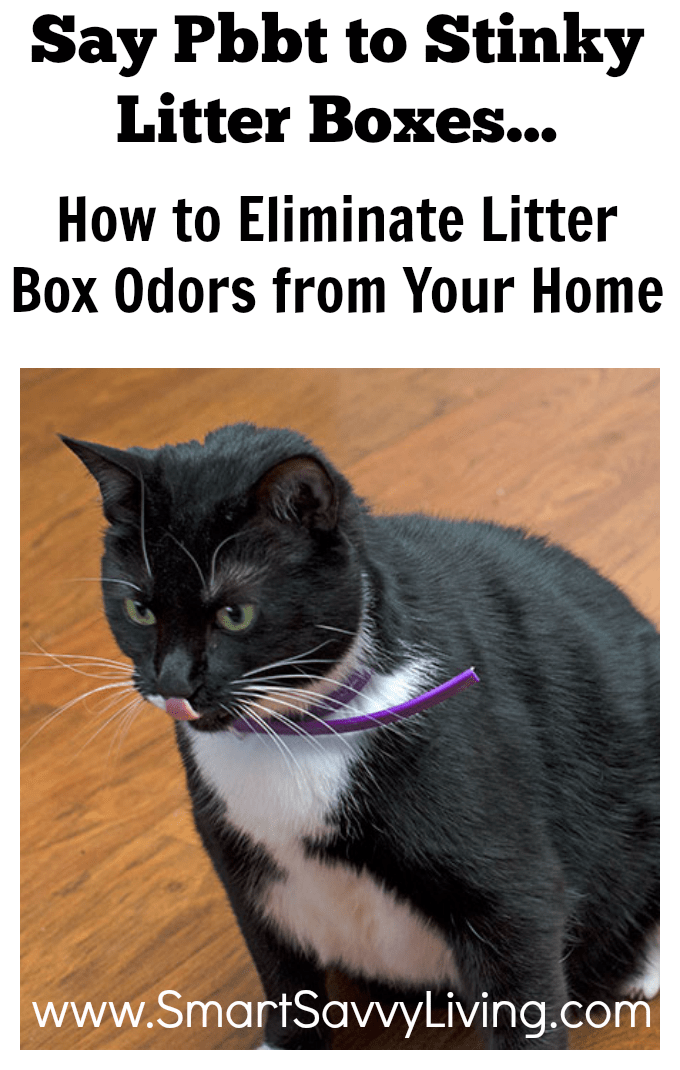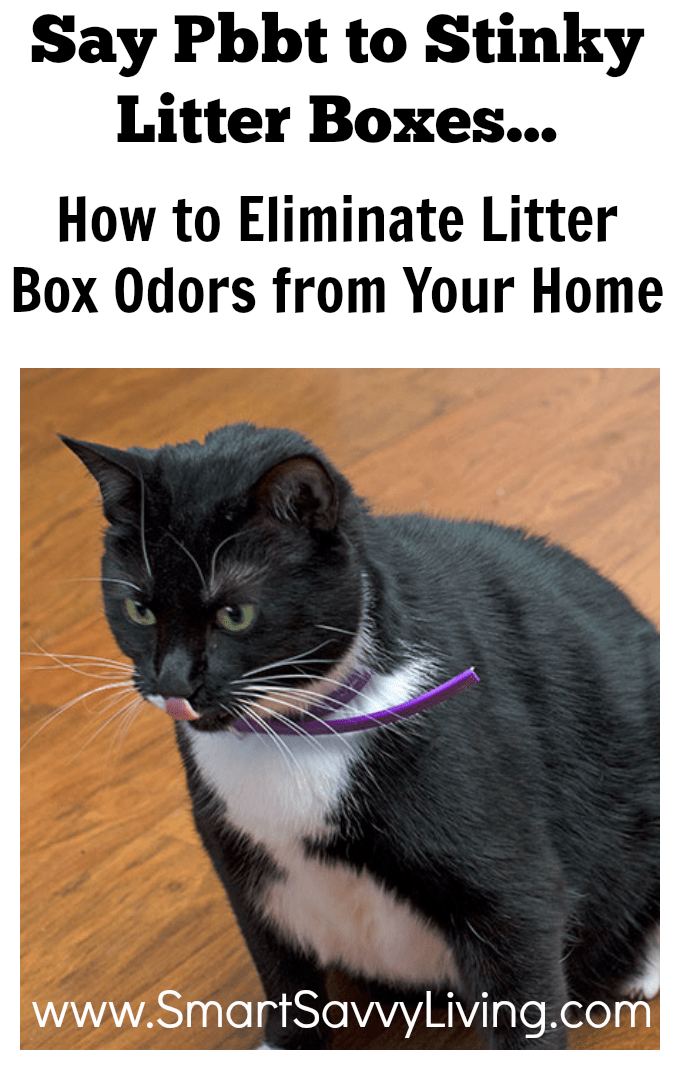 1. Use a scoopable cat litter. Scoopable cat litters make cat waste easier to scoop, so you can get most of the stinky stuff out when you scoop the box. Non-scoopable litters need to be completely replaced more frequently since it's much harder to remove the litter that has absorbed urine.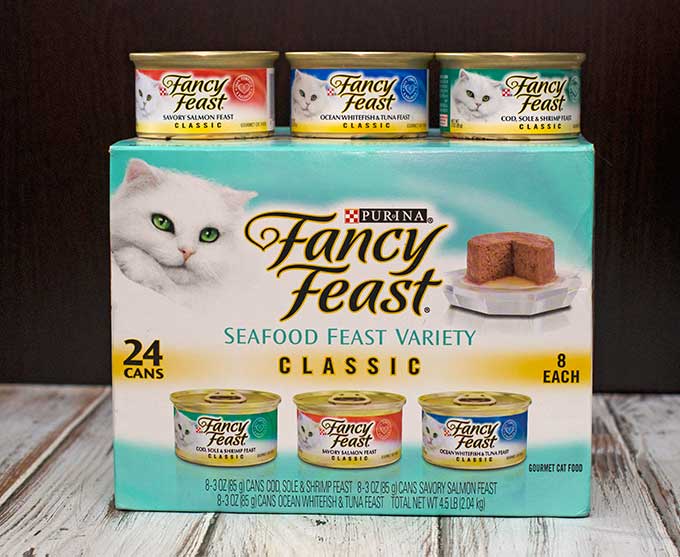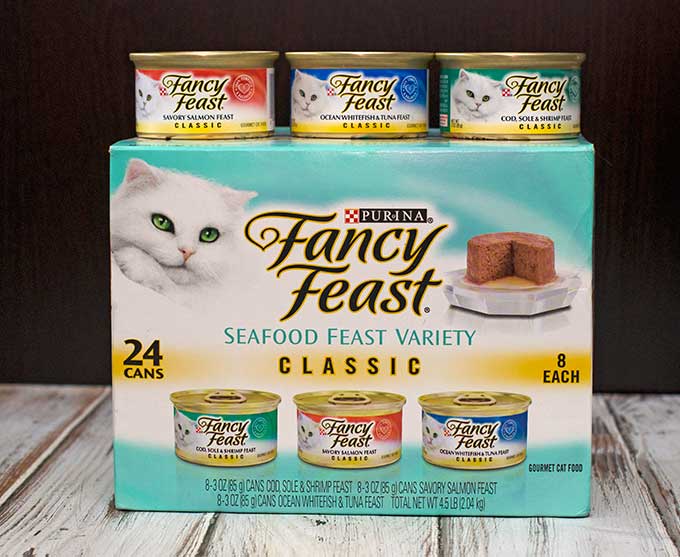 The cats really love the seafood Fancy Feast, but the more seafood the stinkier the poop!
2. Scoop the boxes regularly. No one likes scooping the litter boxes, but as a cat owner it is a must. While you don't have to constantly go behind your cat and immediately scoop, getting into the habit of scooping the litter boxes at least once a day will help cut down odors a ton.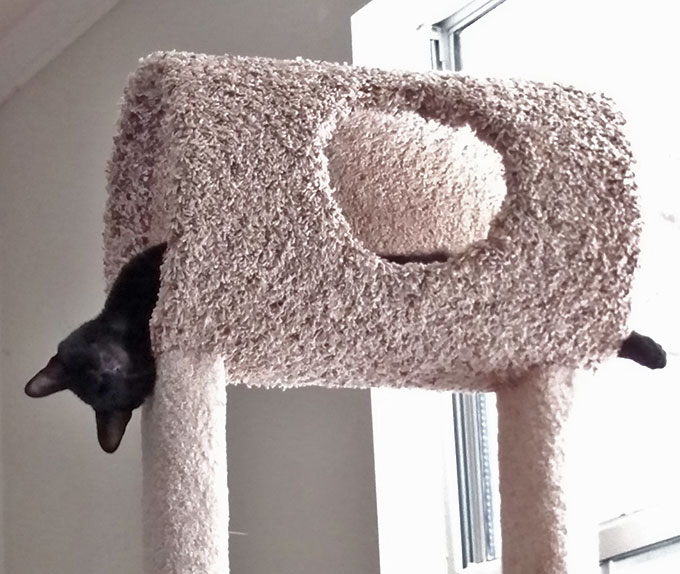 Yes, I promise he really is still alive in there. Cats sleep in the weirdest positions.
3. Wash all litter boxes regularly. If the thought of having to scoop a litter box wasn't bad enough, emptying all that litter, giving the litter box a good scrub and then having to lift all that heavy litter to fill it back up is even worse. However, cat litter is quite abrasive, which means waste can build up on the sides and bottom of the box creating a stinky mess. Cleaning all the litter boxes with warm water and soap at least once a month can go a long way for keeping your home from smelling like a big litter box. According to how soiled the boxes are, you may also want to replace them completely yearly.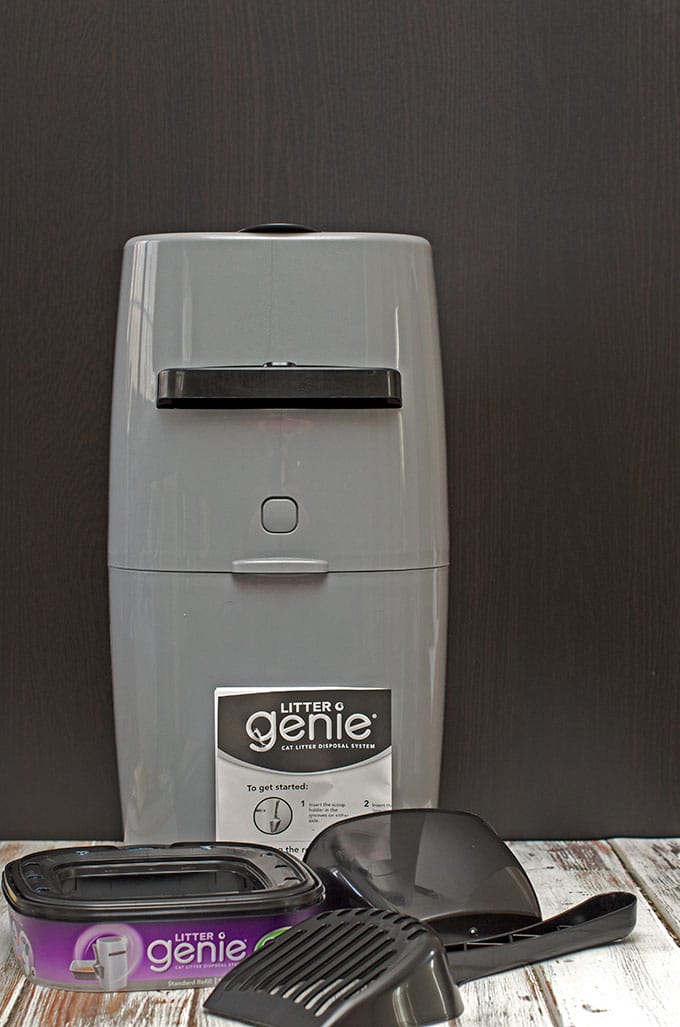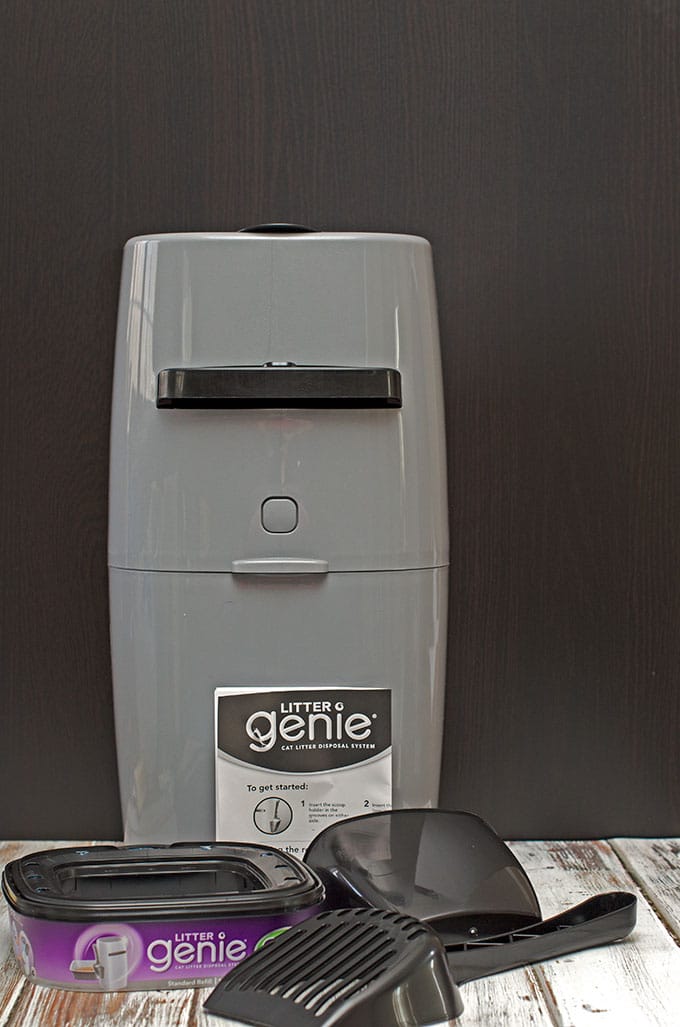 Litter Genie is the savior to the noses of cat owners everywhere!
4. Contain the smell after you scoop. Since we have multiple cats, we have several litter boxes and we keep most of them upstairs to help with tracking. I hate having to bring down a bag of icky trash each day, and tossing the bags into another trash can just leads to more stinkiness and I honestly don't like the idea of all the germs floating around, even if it is a trash can. Needless to say, when I was shopping at Target recently and saw a nice freebie offer (see below for details), I couldn't resist investing in a Litter Genie (psst...if you follow the link you can grab a $5 off coupon to save even more, while supplies last!).
If you aren't familiar with Litter Genie, it works very similarly to a diaper genie and is a gift your nose will love you forever for. Basically, you just set up the bags in the pail, then scoop the box and empty the waste right into the pail. After you're done scooping, just pull the handle to seal in all the stinky. Once the pail is full, all you have to do is tie it off and put it into your outside trash bin. No mess, no fuss, and you can even easily carry the Litter Genie from room to room if you have multiple litter boxes like we do. Having lived in small places in the past, I also love that it' so compact.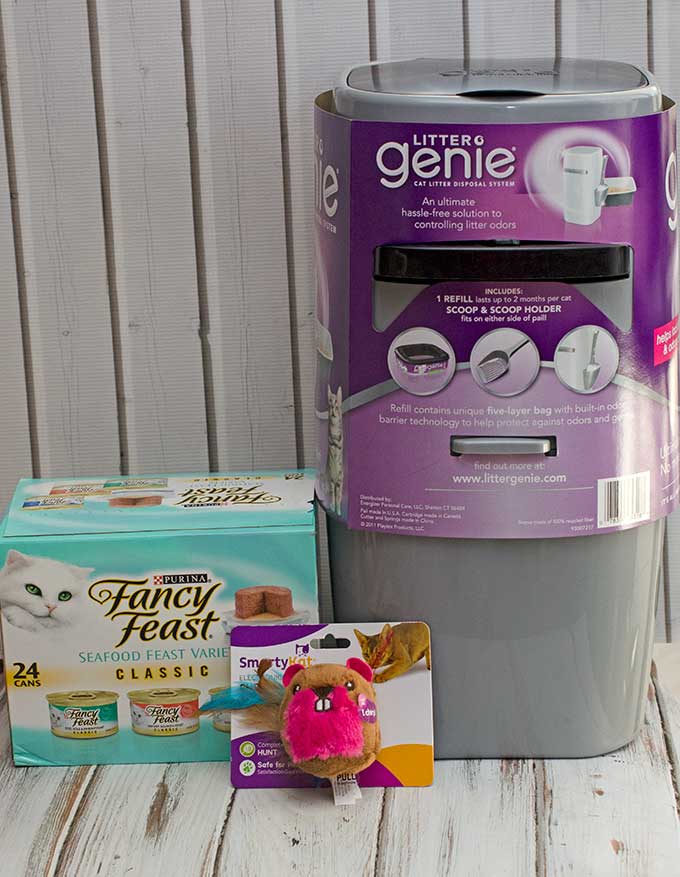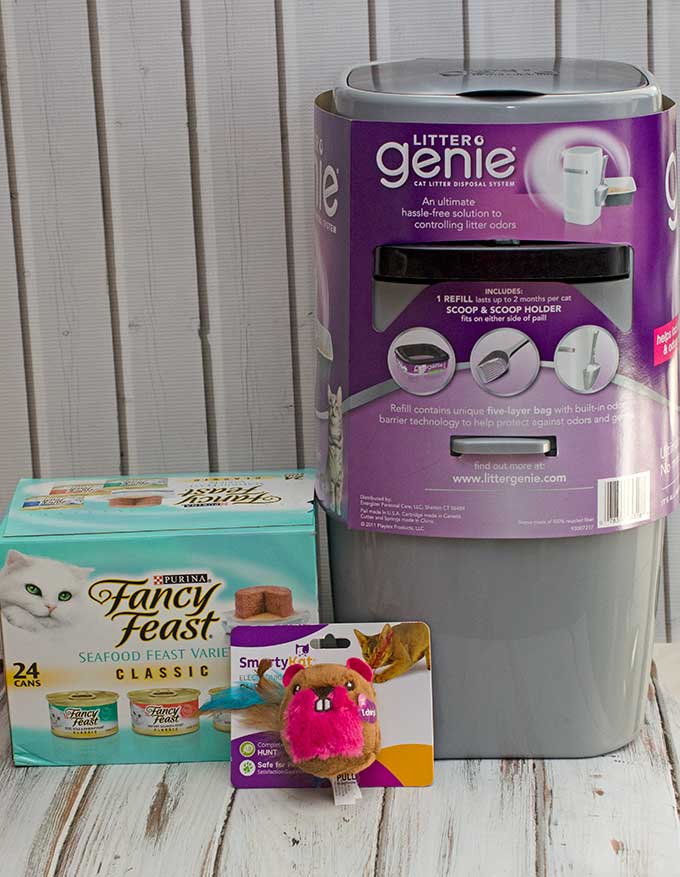 With Target's limited time offer, I was able to get the cats their fave food and a free toy along with the Litter Genie.
Special Limited Time Offer at Target
If you'd like to spoil your cats with some of their favorite gooshy wet Fancy Feast food and save your nose with the Litter Genie, you'll want to take advantage of this awesome offer at Target. Not only will you get an everyday great price at Target on Fancy Feast and the Litter Genie, but when you buy 2 participating products, you can get a free toy (including toys, catnip and laser pointer) or a free bag of Friskies party mix cat treats while supplies last. You'll see all the freebie items clearly marked as part of the offer. The offer is available from 2/15 - 4/11/15.
Here are some combos you may be interested in to take advantage of the offer:
Fancy Feast® 24 pack + Litter Genie® Pail
Fancy Feast® 24 pack + Fancy Feast® 24 pack
Fancy Feast® 24 pack + Litter Genie® Refill
Litter Genie® Pail + Refill
Litter Genie® Refill + Refill
Litter Genie® Pail + Pail
Who will you be inviting over now that you know how to eliminate litter box odors from your home?