Still haven't found the perfect litter box or litter scoop for your feline family? Check out our iPrimio Stainless Steel Litter Box and Litter Scoop Review to see if they may be the perfect fit for you.
Purple Pet iPRIMIO provided Smart Savvy Living with the litter scoops and litter box reviewed below in exchange for our honest review.
I've had cats since I was in high school which means I've tried a ton of different brands and types of litter scoops and litter boxes over the years.
Some are definitely made better and work better than others that are pretty much worth what you're trying to scoop out of the litter box to begin with. I always enjoy trying new brands to see if there is something better out there.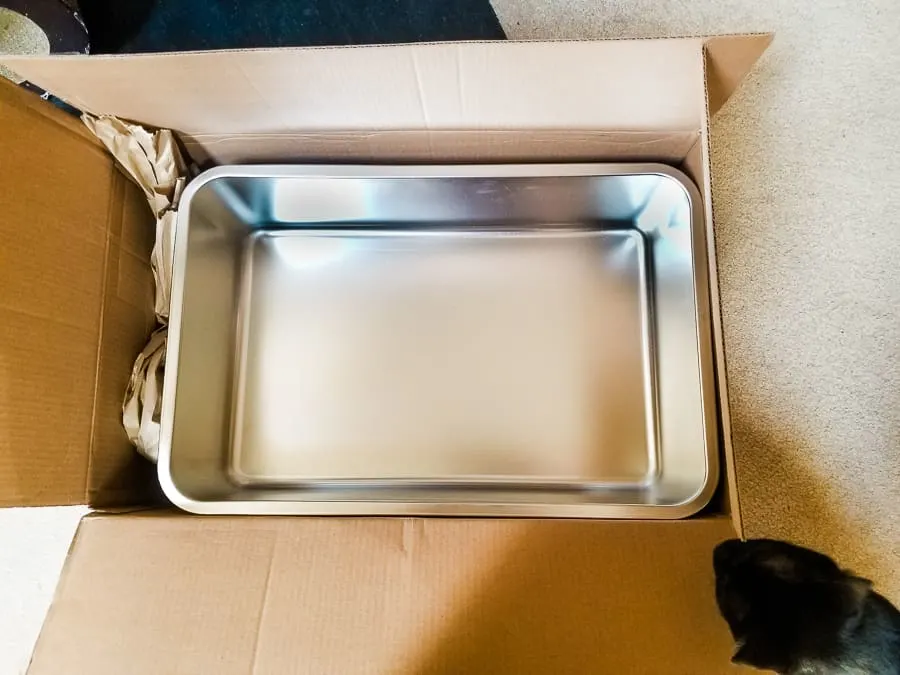 About Purple Pet iPRIMIO
Purple Pet iPRIMIO makes a variety of products for pets, especially cats. One thing that really caught my eye is that the litter box and cat scoops were actually designed by cat owners.
The products we reviewed are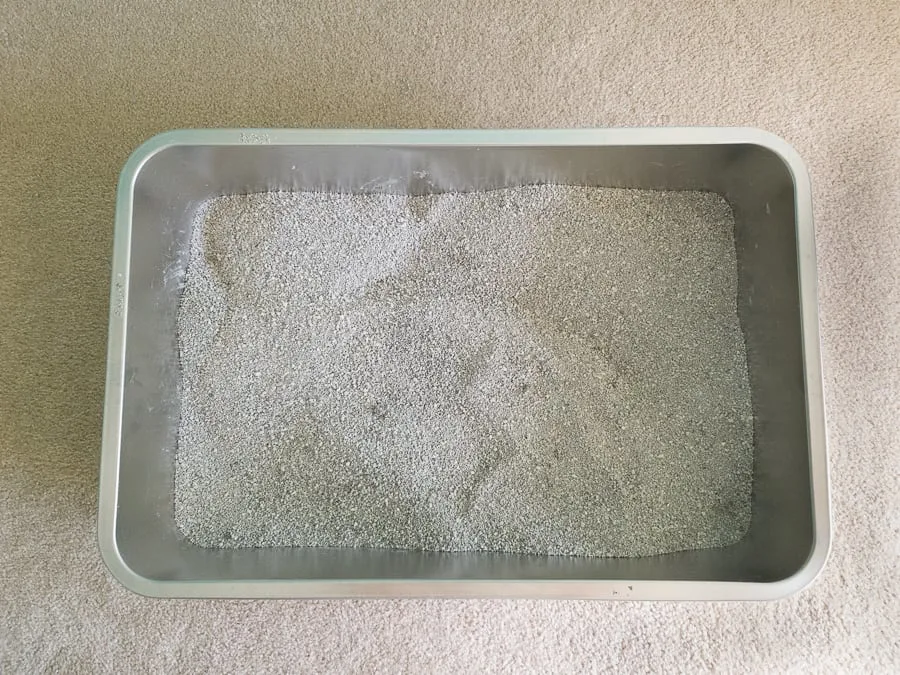 iPRIMIO Ultimate Stainless Steel Cat XL Litter Box Review
Since this litter box is made of stainless steel, it is touted as never absorbing odors and not staining or rusting. I had honestly never seen or thought about using a stainless steel litter box so I was intrigued.
We do replace our plastic litter boxes every year or two because they get rather scratched, stinky, and stained from the constant abrasiveness of the cat litter.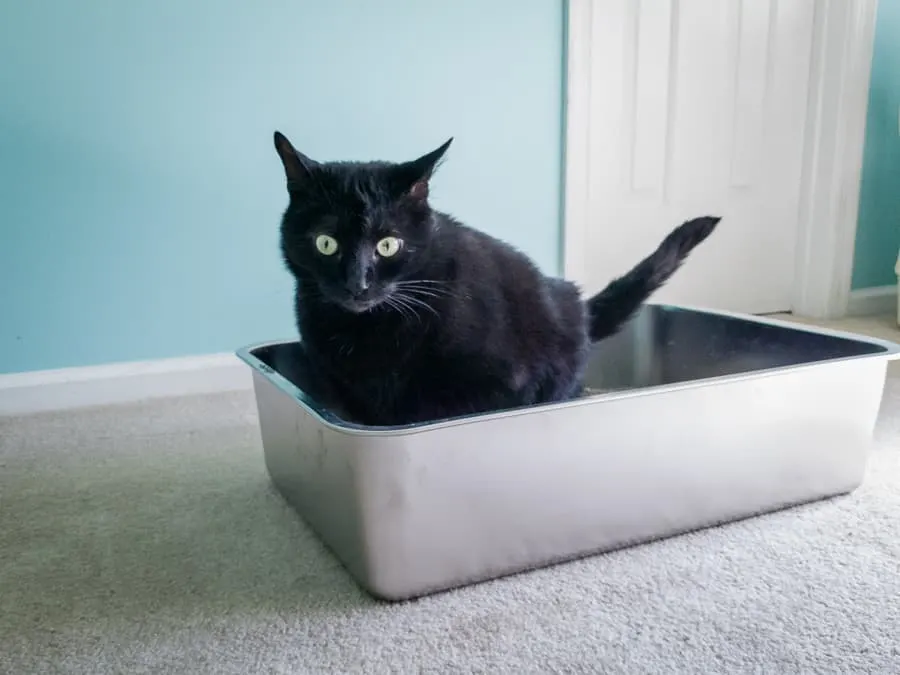 Things I Loved About The iPRIMIO Ultimate Stainless Steel Cat XL Litter Box
Larger than most litter boxes while still being lightweight for easy portability
Rounded edges so even though metal, cats are safe
Has non-slip rubber feet on the bottom so it won't move around or scratch hard floors
Cats seemed to really like using it compared to other boxes in the room
Things I Felt Could Be Improved About The iPRIMIO Ultimate Stainless Steel Cat XL Litter Box
Some of the urine clumps would get stuck to the litter box surface and require extra effort to scrape off
The biggest plus for me is that the cats really liked using this litter box even though there are two other types of litter boxes in their litter box room. It even looks rather nice considering it's a litter box.
When I opened the box, though, I have to admit my first thought was, "When did I order a roasting pan?" It really did remind me of one of those large stainless steel catering pans at first.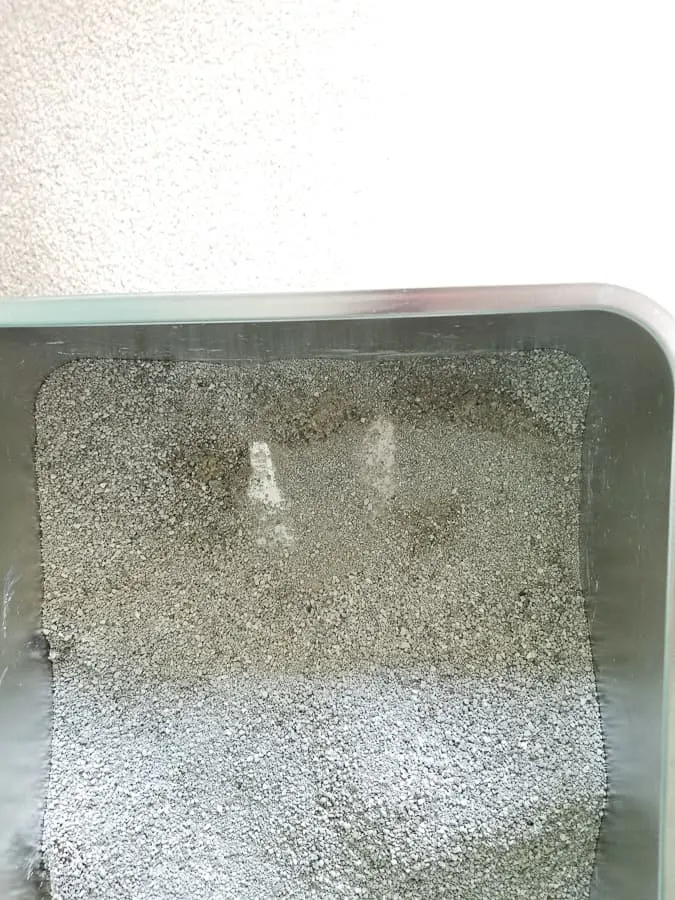 I also appreciated it is a larger litter box than you find on average as we have a couple of cats that are larger than normal.
It's also deeper than many litter boxes, though I do wish it was at least a couple of inches deeper like the other litter boxes we use. That way I could add more cat litter to the box without it being kicked out by the cats instead of having the one issue that I did.
Many of the urine clumps stuck to the bottom of the litter pan and required a lot of scraping with the scoops to get off. If the iPRIMIO was a bit deeper, it may not have been an issue with extra cat litter.
After a few weeks of use, I haven't noticed any issues with scratching of the box and it is otherwise easy to clean.
Overall, I feel like I can recommend this for cat families who have cats that are on the smaller or more average size and that don't like to really dig in the box.
Purple Pet iPRIMIO Perfect Scooper Review
A litter scoop may seem like such a simple, no frills item. If you've ever had to scoop litter boxes on a regular basis you know, however, that some are definitely made better than others.
I could tell that this scooper was likely made very well when I picked it up because it had a nice weight to it without being too heavy. Aka it wasn't likely to snap in half like a lot of plastic scoops I have used in the past.
It is a normal sized scoop compared to the other scoop reviewed below so do be prepared to be more up close and personal with the litter box when scooping.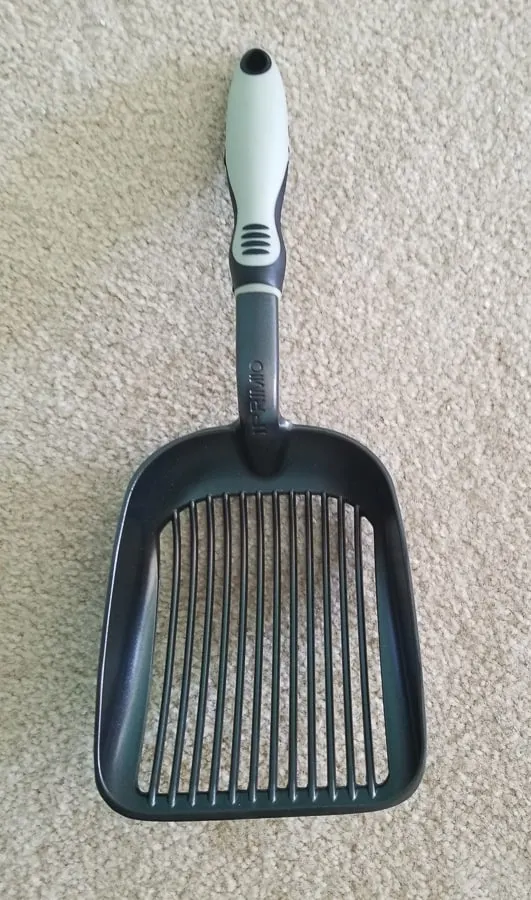 The scoop works really well. It didn't bend or waiver at all even again the sometimes extra huge urine clumps I have to scoop.
It also didn't have much issue at all with sticking which I really appreciate. It does come with a holder you can attach to the wall but, honestly, hanging a litter scoop on the wall doesn't overly appeal to me.
Overall, from my use for a few weeks, I feel confident saying this is a high-quality litter scoop that I would recommend to anyone.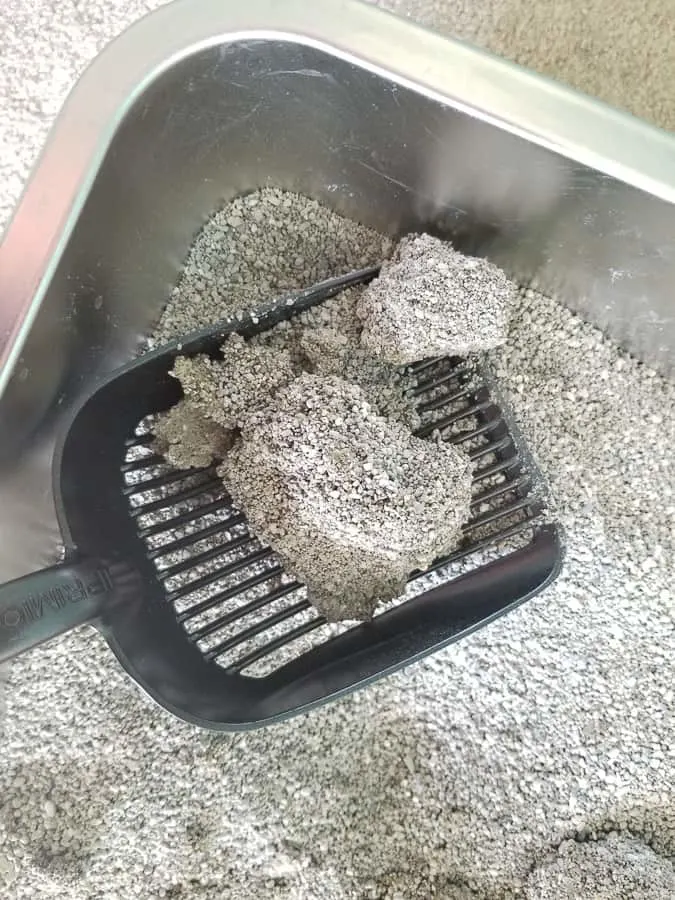 Purple Pet iPRIMIO ScoopMonster Foam Long Handle Scooper Review
A handful of years ago I discovered that there are long-handled litter scoops and my cat litter scooping life was never the same again. As someone that has had years of back issues and needs to scoop multiple boxes a day, it so much less strain.
This particular scoop isn't as long as some of the market so you'll still need to bend over to scoop the box. But it's long enough that you can be far enough away from the icky litter box without feeling like you need to hold your breath the whole time.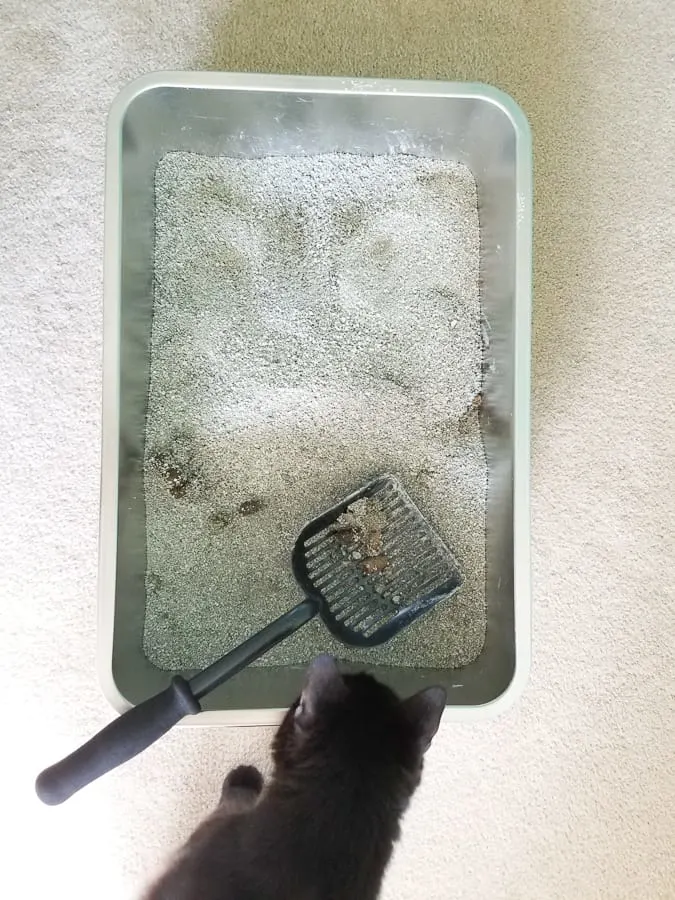 It also holds up just fine to larger urine clumps. I have had longer litter scoops that would eventually bend against them even though they were made of metal.
So, while I do kind of wish it was long enough to where I wouldn't have to bend over to use it, I think this also helps it last longer.
Even though it's larger than the previous scoop, it's still very lightweight and even more comfortable to use thanks to the foam handle.
Some of the urine clumps did seem to stick to this scooper more, but it came off easily with a couple taps on the side of the box.
Overall, this litter scoop also worked really well. If you'd like a scoop that gets you a bit further away from the box when scooping to help with odors and dust right in your face, I think this litter scoop would work really well for you.
All three of the iPRIMIO products worked wonderfully and I would definitely consider purchasing some of their other helpful cat-related products in the future, like this litter trapper mat.
You can find out more about Purple Pet Cat products by checking them out on Facebook and Instagram.